Fresh, tangy, and a bit bitter, this grapefruit paloma is going to be your go-to drink of the summer. Get ready to sip on the zesty elixir of tequila, tangy grapefruit, and zingy lime, all topped with a fizzy burst of soda.
All you need to do is mix tequila, grapefruit juice, lime juice, and a splash of soda in a shaker with ice. Shake it like you mean it, strain into a glass filled with ice, and voila! A glamorous paloma is ready to dazzle your taste buds.
A paloma is tantalizing cocktail blending tequila, grapefruit, lime, and soda. Experience a refreshing burst of flavors that will leave you craving more.
Jump to:
Frequently Asked Questions
What is a paloma cocktail?
A paloma is a popular Mexican cocktail made with tequila, grapefruit juice, lime juice, and a splash of soda. It's known for its refreshing and tangy flavor profile.
Can I use any type of tequila for a paloma?
While traditionally made with blanco tequila, you can experiment with different types based on your preference. Reposado or añejo tequilas can add unique flavors and depth to your paloma.
What can I use as a substitute for grapefruit juice in a paloma?
If grapefruit juice is unavailable, you can substitute it with fresh-squeezed orange juice or a combination of orange and lime juice for a citrusy twist.
Can I make a non-alcoholic version of a paloma?
Absolutely! Simply replace the tequila with sparkling water or a non-alcoholic spirit, and adjust the other ingredients accordingly. It will still be a refreshing and flavorful mocktail.
Are there any variations of the paloma cocktail?
Yes, there are several delightful variations. Some popular ones include adding a splash of agave syrup for sweetness or using different types of citrus fruits like blood orange or pink grapefruit.
What type of glass should I serve a paloma in?
Palomas are typically served in high ball or Collins glasses. These tall glasses showcase the cocktail's vibrant colors and allow room for ice and garnishes.
Why You're Going to Love This Recipe
Refreshing Zing: The combination of tangy grapefruit, zesty lime, and fizzy soda creates an irresistibly refreshing sensation that will revitalize your taste buds.
Tequila Temptation: The bold and invigorating presence of tequila adds a touch of sophistication and a subtle kick to every sip, making it perfect for tequila lovers.
Citrus Riot: The harmonious blend of grapefruit and lime juices creates a citrusy symphony that balances sweetness and tartness in a way that's simply irresistible.
Versatile Vibes: Palomas can be customized to suit your preferences. Adjust the sweetness, experiment with different tequila types, or even explore variations with unique citrus fruits for a personalized twist.
Sippable Sophistication: Whether you're hosting a glamorous gathering or unwinding after a long day, the paloma exudes an air of elegance, making it a stylish and sophisticated choice.
Easy-Breezy Preparation: With just a few simple ingredients and a quick shake, you can whip up this fabulous cocktail in no time, impressing your guests or treating yourself to a moment of indulgence.
Crowd-Pleaser: The paloma's vibrant colors, lively flavors, and effervescent nature make it a crowd-pleasing cocktail that will leave everyone wanting more.
Perfect Anytime: Whether it's a sunny brunch, a lively backyard party, or a cozy night in, the paloma effortlessly transitions from day to night, making it a versatile companion for any occasion.
Pure Bliss: Finally, the sheer bliss that comes with taking that first sip of a paloma is indescribable. It's a moment of pure joy, pleasure, and satisfaction that will keep you coming back for more.
What is a Palmoa?
Originating from Mexico, this enchanting cocktail has a story as vibrant as its flavors. The paloma is a refreshing concoction that combines tequila, grapefruit juice, lime juice, and a splash of soda, creating a delightful symphony of tastes.
The exact origins of the paloma are shrouded in mystery, but it has long been a beloved staple of Mexican cocktail culture. Some say it emerged in the mid-20th century, while others believe it has much deeper roots in traditional Mexican drinks. Regardless of its exact inception, one thing is certain: the paloma has become an iconic part of Mexican culinary heritage.
What sets the paloma apart is its simplicity and accessibility. The combination of tequila, the spirit synonymous with Mexico, and the tangy, invigorating flavors of grapefruit and lime make for a captivating blend that captures the essence of Mexican zest for life. Its refreshing nature has made it a go-to choice for beating the heat in Mexico's warm climate, as well as a popular cocktail worldwide.
While the classic recipe calls for blanco tequila, grapefruit juice, lime juice, and soda, the paloma has also seen creative variations and adaptations. Some variations incorporate additional ingredients like agave syrup for a touch of sweetness or even a splash of bitters to add complexity. This versatility allows cocktail enthusiasts to personalize the paloma to their taste preferences and experiment with unique twists.
A Paloma vs. A Margarita
First off, let's talk about the margarita. This classic cocktail is a tangy blend of tequila, lime juice, and orange liqueur, typically served in a salt-rimmed glass. The margarita is known for its sweet and sour flavor profile, striking a perfect balance between the tartness of the lime and the sweetness of the orange liqueur. It's often served on the rocks or blended with ice, creating a refreshing and tropical sensation.
Now, let's turn our attention to the fabulous paloma. Unlike the margarita, the paloma doesn't rely on citrus liqueurs. Instead, it combines tequila with the bold flavors of grapefruit juice and lime juice. A splash of soda is added for a fizzy touch. The result? A refreshing, tangy, and slightly bitter concoction that tantalizes the taste buds. The paloma's vibrant and zesty character makes it a favorite for those seeking a lively and invigorating drink.
In terms of taste, the margarita is often sweeter and more citrus-forward, while the paloma offers a unique balance of tartness and bitterness with a refreshing twist. Both cocktails showcase the versatility of tequila and highlight different aspects of Mexican cocktail culture.
When it comes to presentation, margaritas are typically served in salt-rimmed glasses, while palomas are often garnished with a wedge of grapefruit or lime, exuding a fresh and colorful vibe.
Ingredients
Blanco Tequila: This vibrant and spirited Mexican spirit forms the base of the paloma. Its earthy and agave-forward profile adds depth and a touch of sophistication to the cocktail.
Freshly Squeezed Grapefruit Juice: The star of the show, grapefruit juice brings a tangy and slightly bitter note to the paloma. Its citrusy brightness balances the richness of the tequila, creating a refreshing and invigorating taste.
Freshly Squeezed Lime Juice: Lime juice adds a zesty and tangy punch, enhancing the overall citrus profile of the paloma. It brightens the flavors and provides a lovely acidity that complements the other ingredients.
Splash of Soda Water: The addition of soda water gives the paloma a delightful effervescence, adding a touch of lightness to the cocktail. It helps to mellow the intensity of the tequila and citrus juices, resulting in a more balanced and refreshing sip.
When combined, these ingredients create a tantalizing palate. The tequila's richness, grapefruit's tanginess, lime's zing, and the soda water's effervescence come together to create a cocktail experience that is vibrant, refreshing, and simply irresistible.
What Type of Tequila Should I Use?
Honestly, any tequila blanco you have on hand should work - but if you're looking for something to really bring out the flavors of the grapefruit, try these:
How to Make a Grapefruit Paloma
Alright, let's get started! Grab a shaker, and let's work our magic. Fill it with ice.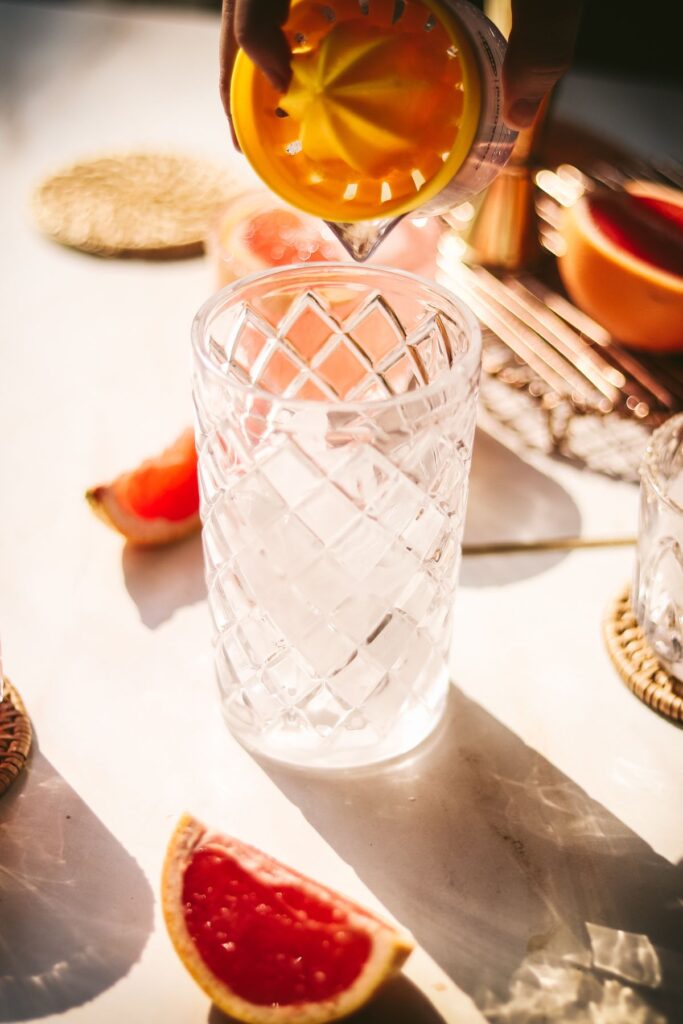 Add a zesty kick with the juice of a lime, about half an ounce or so. It'll enhance that citrus profile and make your taste buds tingle.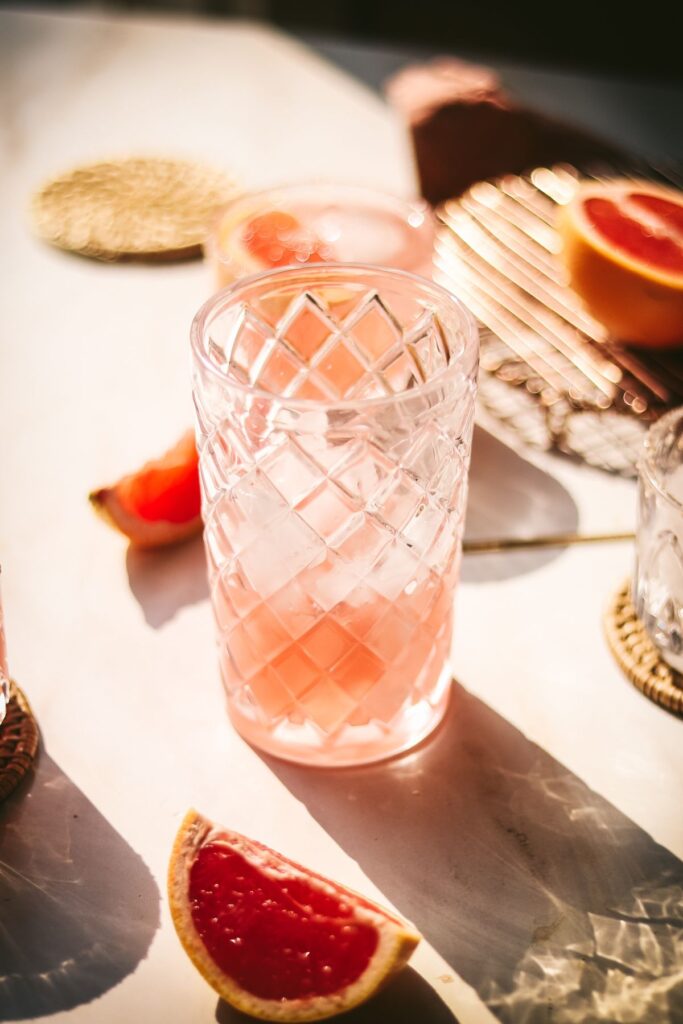 Time to bring in the tangy factor! Squeeze in about 3 ounces of fresh grapefruit juice. We want that citrusy goodness to shine through.
Add about 2 ounces of that fabulous blanco tequila. Remember to choose one that suits your taste.
Alright, let's shake things up! Shake that shaker like you mean it. Mix those flavors and chill them down. You're the master of this cocktail dance!
Once you're done shaking, it's time to unveil your creation. Empty the ice from your chilled highball glass and strain the cocktail into it. Look at that beauty, ready to be admired.
But we're not done yet! Give your paloma a refreshing twist by adding a splash of soda water. It'll give it that lovely fizz and make it even more invigorating.
Final touch time! Garnish your paloma with a fresh grapefruit wedge. It adds a pop of color and a hint of citrusy goodness.
Batching and Making Ahead
You totally batch palomas and make them for a crowd - even ahead of time. Here's what you're going to want to do.
To make this for ten people:
10 cups blanco tequila
15 cups freshly squeezed grapefruit juice
2.5 cups freshly squeezed lime juice
5 cups soda water (for topping)
Grapefruit wedges or herb sprigs (for garnish)
Ice cubes
Mix the Ingredients: In a large pitcher or container, combine the multiplied amounts of blanco tequila, freshly squeezed grapefruit juice, and freshly squeezed lime juice. Stir well to ensure everything is thoroughly mixed.
Adjust Sweetness: If desired, add any sweetener, such as agave syrup or simple syrup, to the pitcher and stir again. Remember to adjust the sweetness to your taste preference and the overall batch size.
Chill and Store: Once your batch is mixed, cover the pitcher or container and place it in the refrigerator. Allow it to chill and let the flavors meld together. You can store the batch for up to 24 hours before serving.
Prep the Glassware: Before serving, make sure your glassware is chilled. You can do this by placing the glasses in the freezer or filling them with ice and letting them sit for a few minutes. Discard the ice just before pouring in the batched paloma.
Serve and Garnish: When it's time to enjoy your pre-made palomas, simply give the batch a good stir to ensure the ingredients are well-mixed. Fill each chilled glass with ice and pour the paloma batch over the ice. Give it a gentle stir, top with a splash of soda water, and garnish with a grapefruit wedge or herb sprig.
Pro Tips & Tricks
Use Fresh Citrus: For the most vibrant and authentic flavors, always use freshly squeezed grapefruit and lime juice. The natural tanginess and brightness of fresh citrus will elevate the taste of your paloma.
Rim with Tajín: Give your paloma a touch of Mexican flair by rimming the glass with Tajín seasoning. It's a delightful blend of chili, lime, and salt that adds a zesty and savory kick to each sip.
Experiment with Grapefruit Varieties: Try using different varieties of grapefruit, such as pink, white, or ruby red, to add unique flavor profiles to your paloma. Each variety brings its own nuances, from sweeter notes to more pronounced bitterness.
Chill Your Glass: Ensure your highball glass is thoroughly chilled before serving the paloma. You can pop it in the freezer for a few minutes or fill it with ice and let it sit while you prepare the cocktail. Chilled glassware keeps your paloma crisp and refreshing.
Balance the Sweetness: If you prefer a sweeter paloma, you can add a touch of agave syrup or simple syrup to the mix. Adjust the sweetness level according to your taste preferences, but be mindful not to overpower the citrus flavors.
Experiment with Tequila Brands: Don't be afraid to explore different brands of blanco tequila. Each brand has its own distinct flavor profile, so try a few and find the one that resonates with your palate. It's all about finding your personal paloma preference.
Garnish with Herb Sprigs: Take your paloma presentation to the next level by adding fresh herb sprigs as a garnish. Mint, basil, or thyme can add a lovely aromatic touch that complements the citrusy notes of the cocktail.
Batch it Up: Hosting a fabulous soirée? Consider batching your palomas in advance. Mix larger quantities of tequila, grapefruit juice, and lime juice, and store it in the fridge. When your guests arrive, simply pour over ice, top with soda water, and garnish. Effortless elegance!
Play with Infusions: Get creative and infuse your tequila with other flavors. Add a twist of jalapeño for some spice, infuse it with fresh herbs like rosemary or lavender for added complexity, or even try a hibiscus-infused tequila for a vibrant twist on the classic paloma.
Have Fun with Glassware: Serve your paloma in different types of glassware to add a touch of glamour and variety. From traditional highball glasses to elegant stemmed glasses or even colorful margarita glasses, let your presentation reflect your fabulous style.
What to Serve it With
Guacamole and Tortilla Chips: The creamy and zesty flavors of guacamole complement the citrusy and refreshing notes of the paloma. Pair it with crispy tortilla chips for a satisfying crunch that balances the drink's flavors.
Ceviche: The bright and tangy flavors of ceviche, with its fresh seafood marinated in citrus juices, harmonize beautifully with the vibrant and zingy nature of the paloma. The combination is a match made in culinary heaven.
Fish Tacos: Delight in the fusion of flavors by serving up some mouthwatering fish tacos alongside your palomas. The light and flaky fish, topped with zesty slaw and a squeeze of lime, complements the refreshing and citrusy elements of the drink.
Grilled Shrimp Skewers: Fire up the grill and prepare some succulent shrimp skewers. The smoky and slightly charred flavors of the grilled shrimp create a delightful contrast to the paloma's bright and invigorating profile.
Fresh Fruit Platter: For a lighter option, serve a refreshing platter of fresh fruits such as sliced watermelon, pineapple, and berries. The juicy and sweet fruit flavors provide a delightful balance to the tangy and citrus-forward paloma.
Variations
Vodka Paloma: For a twist on the traditional recipe, substitute the blanco tequila with vodka. The vodka adds a smooth and clean taste to the cocktail while still allowing the vibrant citrus flavors to shine.
Spicy Paloma: To add a fiery kick to your paloma, incorporate some jalapeño slices or jalapeño-infused tequila. Muddle a few thin jalapeño slices in the glass before adding the other ingredients. The spicy jalapeño flavor will infuse into the cocktail, providing a tantalizing heat that complements the bright citrus flavors. Adjust the amount of jalapeño to suit your desired level of spiciness.
Rosemary Paloma: Infuse your paloma with the aromatic essence of rosemary. Muddle a few sprigs of fresh rosemary in the glass before adding the other ingredients. The herbal notes of rosemary beautifully complement the citrus elements of the drink.
Orange Paloma: Add a touch of sunny sweetness by incorporating orange into your paloma. Squeeze in some fresh orange juice along with the grapefruit and lime juices. The combination of orange and grapefruit creates a delightful citrus medley that's both refreshing and invigorating.
Pineapple Paloma: Give your paloma a tropical twist by adding a splash of fresh pineapple juice to the mix. The sweet and tangy flavors of pineapple pair harmoniously with the citrusy elements of the cocktail, transporting your taste buds to an exotic paradise.
Wine Paloma: For a wine-infused version, replace the soda water with a splash of your favorite white wine. It adds a subtle complexity and a touch of elegance to the paloma. Choose a crisp and citrusy white wine to complement the grapefruit and lime flavors.
Pomegranate Paloma: Infuse your paloma with the vibrant and tangy taste of pomegranate. Add a splash of freshly squeezed pomegranate juice to the mix. The deep ruby color and the sweet-tart flavor of pomegranate add a delightful twist to the classic paloma.
Other Awesome Cocktails
Recipe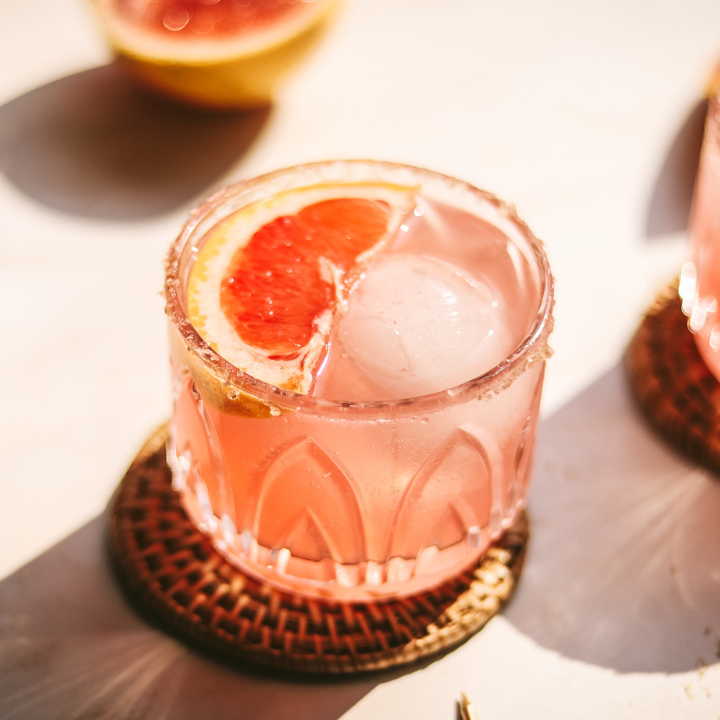 Easy Classic Grapefruit Paloma
Indulge in the classic paloma, a refreshing and citrusy cocktail that combines the zing of freshly squeezed grapefruit juice with the tang of lime and the effervescence of soda water. This vibrant and invigorating drink, traditionally made with blanco tequila, offers a delightful balance of sweet, tart, and bubbly flavors. Served over ice and garnished with a grapefruit wedge, the classic paloma is a go-to cocktail for those seeking a refreshing and effortless sip of elegance. Cheers to embracing the timeless allure of this beloved Mexican libation!
Ingredients
2

oz

blanco tequila

3

oz

grapefruit juice

freshly squeezed or store bought

½

oz

lime juice

freshly squeezed

Splash

club soda

or seltzer

grapefruit

for garnish

salt

for rimming (optional)
Instructions
If desired, rim a highball glass with salt by running a lime wedge around the rim and dipping it in salt.

Fill the glass with ice cubes to chill it.

In a shaker, combine the blanco tequila, grapefruit juice, and lime juice. Fill the shaker with ice.

Shake the mixture vigorously for about 10-15 seconds to chill the ingredients and combine the flavors.

Empty the ice from the highball glass and strain the cocktail into the glass.

Top it off with a splash of soda water to add a delightful fizz.

Give it a gentle stir to incorporate the soda water.

Garnish the cocktail with a fresh grapefruit wedge.
Notes
This is a fairly large drink, so it's typically served in a highball glass. Obviously, I didn't do that for this recipe. Feel free to serve these in whatever you want!
Nutrition
Serving:
6
oz
Calories:
174
kcal
Carbohydrates:
11
g
Protein:
1
g
Fat:
0.1
g
Sodium:
3
mg
Potassium:
155
mg
Fiber:
0.1
g
Sugar:
10
g
Vitamin A:
13
IU
Vitamin C:
27
mg
Calcium:
9
mg
Iron:
0.4
mg