As an Amazon Associate I earn from qualifying purchases.
These truffle parmesan fries are like an umami bomb exploded in your mouth - and it will make you so so happy. These are truly a Gourmet Bon Vivant meal, perfect for date night, or hanging out with your girlfriends. Also fair warning: these are incredibly addicting. Like wildly so.
Another warning: when I say the BEST crispy parmesan fries, I mean the BEST. I tested and re-tested these to get the fries so crispy, crunchy, and golden. I feel like I've got the formula here, and it's not a quick one. #SorryNotSorry #WaitUntilYouTasteThese
Jump to:
So What are Truffle Fries, Exactly?
For this one, let's start with the obvious. The fries are you classic French fries, although you could try it with sweet potato fries too - I definitely have not tested this (yet). Truffle fries come with some sort of truffle seasoning, whether it's in the salt, the oil, or in the accompanying truffle aioli (this is mostly what we're going for here, but if you love truffle, feel free to dump some oil and truffle salt as they come out of the fryer too!).
Ok, but What's a Truffle?
I call truffles yummy yummy mushroom nuggets (which, as I'm reading that, does not make them sound appealing, but trust me, they are *chef's kiss*). Truffles are mushrooms that grow near the roots of trees. They have an earthy, musky, garlicky yet delicate taste, and they can elevate any dish to gourmet levels in 3 seconds flat. The aroma is also super strong (just smell some of the oil if you don't believe me), and leads some people not to like it. It also means that at times, restaurants TOTALLY OVER DO IT WITH THE TRUFFLE OIL and it can completely ruin a dish. That's why we're adding the oil and the overall flavor with a light hand here.
WHY IS IT SO EXPENSIVE???
If you just googled "get me some truffles", you're probably cursing my name and about to throw your computer out the window. And, honestly, I get it. Fresh truffles are incredible expensive. Like ridiculous. For black truffles, they can cost anywhere between $300-$800 per pound. For white truffle? Up to $4,000 per pound. *Passes Out while hyperventilating*.
The reason truffles are so expensive is because they are super rare, really difficult to grow, have a short season, and a short shelf life. They also take many years to fully grow and cultivate. Oh, and the harvesting process isn't really that laid back either. They have to be harvest by hand (or by pig or by dog), and require a very specific climate to grow in (even then, they may not show up).
Luckily, there are less expensive ways to consume truffle. In this recipe, we'll be using truffle oil, but you can also get truffle flavored salt, and a little mixture with truffles that sort of looks like a tapenade. As we mentioned before, truffle is super strong, so go easy with any of these alternatives when you're first adding them.
Parmesan and Truffle: a Match Made in Umami Heaven
Since truffles have an earthy, musky, pungent amazing flavor, they're often credited for bringing the umami to any dish they show up in (much like other mushrooms do as well, this one just like 10x more). Parmesan: also known for it's deep, complex umami components. So, umami + umami = my favourite food in the world. Seriously, that's why you see truffle showing up in so many pasta dishes (that and many of them are grown in Italy). It's hard to think of a better pairing than these too.
To go along with that earthiness from both parties, we're going to be adding some fresh thyme to the whole deal.
Ingredients
There aren't many ingredients, but the truffle part might be a bit difficult to track down. Truffle oil and salt is becoming more widely available in grocery stores, but you may have to go to a specialty Italian market to track it down (again, worth it). If you're going really fancy and want fresh truffle? That's even more specialty. You'll likely have to call around to see where you can find it in North America.
Russet potatoes
Parmesan
Oil, for deep fat frying
Thyme
Salt (or truffle salt)
Eggs
Vegetable oil
Dijon mustard
Garlic
Lemon juice
Truffle oil
How to Make Truffle Parmesan Fries
The most irritating part of this process, by far, is making the fries. I've developed a process, and it's not short - but I promise it will deliver you the best homemade fries you've ever had. Stick with me.
Peel your potatoes, and cut them to about a quarter of an inch thin. The size is super important for the cooking process, try to not to go any bigger than this:
Next, you're going to want to soak these in water for at least an hour, but preferably three hours. This allows the starch to be drawn out of the potatoes, part of what keeps them from getting all crispy.
Once you've done that, we're going to boil the potatoes for 5 minutes MAX. We just want to start the cooking process so they're not totally raw once we put them in the fryer. We don't want to burn them while the insides stay raw. Ew.
Now, it's time to strain and dry the potatoes. Best case scenario: Overnight in the fridge. Worst case: two hours the day of (I told you this was a process). Help them along by drying them in some clean tea towels or with paper towels.
Finally, we're going to start frying them. Fill and heat up a large pot with deep sides with vegetable oil. Bring the oil 350F. The temperature of the oil is going to immediately drop once you add the fries, just try and keep it above 300F if you can. Add your fries, and allow them to cook for 7-10 minutes. They won't be golden by this point, but take them out.
Allow the oil to come back up to temperature (350). Put the fries back in for their second frying. At this point, they should turn golden in about 3-5 minutes.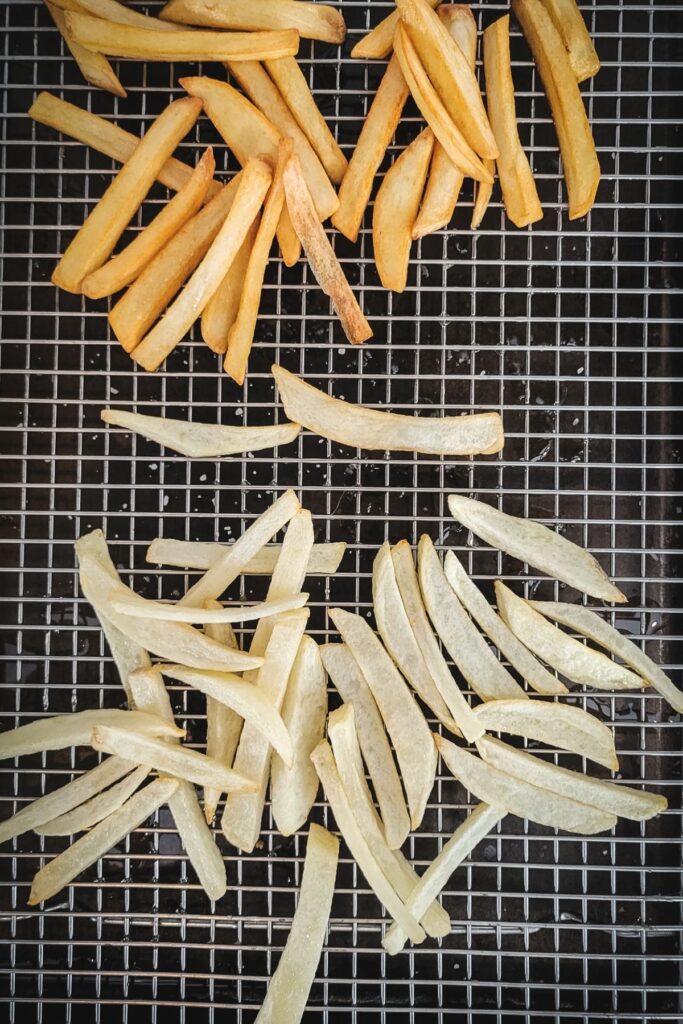 Remove the fries to a wire rack over a baking sheet to let the oil drip off. Hit them with some truffle salt or plain salt here (remember the dipping sauce is going to have truffle as well).
Making the Truffle Aioli
I make aioli using my immersion blender, and it's so easy and fast.
Basically, you combine all your ingredients, including room temperature eggs, oil, garlic, Dijon mustard and lemon juice, and then hit it with the blender. I add the truffle oil once it's done so I can taste-test how much oil I need to add. There's a video included in the recipe card to show you how easy it is!
What to Serve with the Fries
In terms of a meal, these would be perfection as a happy hour snack, alongside some oysters. But if you want them as a side, I would definitely serve them with a steak and a Caesar salad. Amazing.
Wine Pairings
Remember how we talked about truffle and parmesan being bff's? Well, truffle is also bff's with one wine in particular: Barolo. Barolo is a very bold, very strong wine with flavors that are not for the light of heart. It needs a food that can match it's intensity: enter truffle. PLUS: truffles and Barolo are often from the same area in Italy: Piedmont. If you're able to pair your food and your wine based on region, that's a really, really good thing.
Ummm - just a note though. Barolo is often recognized by wine experts as being one of the best in the world. So, if you weren't ready to swear at me before, just google the prices on Barolos. I'm sorry. But you will thank me when you drink it!
Recipe
Truffle Parmesan Fries with Homemade Aioli
I mean, you can't go wrong with truffle, you just can't. It's A beautifully complex flavor that pairs perfectly with the parmesan on these crispy, golden homemade fries. The aioli is yet another vehicle to get the truffle into your mouth. If you're going all out and making this dish with fresh truffles, first, jealous, second, pair it with a Barolo!
Ingredients
For the Fries
2

lbs

russet potatoes

peeled, cut to fries ¼ inch thick

oil

or more, depending on the size of your pot. It come at least half way up the sides of your pot.

2

teaspoon

salt

or truffle salt

½

C

parmesan cheese

grated

1

tablespoon

thyme leaves

for garnish
For the Aioli
2

eggs

one whole egg, one yolk, room temperature

1

c

vegetable oil

1

clove

garlic

diced

1

tablespoon

Dijon mustard

2

teaspoon

lemon juice

½

teaspoon

salt

½

teaspoon

truffle oil

you can add more, to taste, just add a little at a time
Instructions
Place the cut and peeled fries in a large bowl of cold water. Let sit for at least one hour, up to three.

Heat a medium pot of water over high heat. Strain the fries, and add them to the pot. Let them boil for five minutes Strain and cool.

Dry the fries on a cooling rack for two hours (or overnight if you can manage it). Dry them completely before the next step using clean tea towels or paper towels. The drier they are, the crispier they get.

Heat a large pot with oil for deep fat frying over medium high heat. You want the temperature of the oil to be around 350°F. Add the fries in batches, so the form a single layer at the top of the oil. cook for 7-10 minutes, then remove to a wire cooling rack on top of a baking sheet. The fries will not be golden yet.

After all the fries have cooked once, allow the oil in the pot to come back up to 350°F. Repeat the process batching the fries. This time, cook for 3-5 minutes, or until they turn golden brown. Remove to your baking sheet. Sprinkle with salt or truffle salt. Let them rest for 5 minutes.

Place the fries on a serving patter, top with parmesan and thyme leaves.
Make the Aioli
Add the eggs, oil, Dijon mustard, lemon juice, garlic, and salt to a tall and deep dish. Using your immersion blender, work your way up and down the dish until the mixture is thickened and smooth. Add the truffle oil at the end, taste to see if it's enough for you. If not, try adding more, ¼ tablespoon at a time.
Video
Notes
The fry process is lengthy, but worth it, I promise.
Truffle oil is very potent. So even though ½ teaspoon may not seem like a lot for the aioli, start there and add a bit at a time until you find what you like!
Nutrition
Serving:
150
g
Calories:
691
kcal
Carbohydrates:
29
g
Protein:
11
g
Fat:
61
g
Saturated Fat:
11
g
Polyunsaturated Fat:
32
g
Monounsaturated Fat:
15
g
Trans Fat:
1
g
Cholesterol:
90
mg
Sodium:
1735
mg
Potassium:
689
mg
Fiber:
2
g
Sugar:
1
g
Vitamin A:
304
IU
Vitamin C:
13
mg
Calcium:
191
mg
Iron:
2
mg
Jump to: