As an Amazon Associate I earn from qualifying purchases.
The Amaretto Sour, is, in my opinion, one of the best classic cocktails out there - but I find very, VERY few people have actually had one. At least, not in the way it's actually supposed to be made (and no, the Amaretto and Sprite concoction you used to drink at the bar in collage it not what I'm talking about. So, today we're learning how to make an Amaretto Sour the right way - and believe me, you will never go back.
How to Make an Amaretto Sour
An Amaretto Sour isn't that difficult to make, but it might contain a few new techniques if you're just getting into this home bartending thing. The biggest stumbling block for me was figuring out the whether to use the dry shake, or the reverse shake. Dry shaking is when you first add your ingredients, shake them without ice, and then add the ice and shake again. The reverse shake is when you add all your ingredients except the egg whites, shake with ice, strain the ice, and then add the egg whites and shake without the ice again afterwards. Whew. Are you as confused as I am right now? Don't worry, we're breaking both of these techniques down. These shakes are typically used for cocktails that add egg white (which creates this amazing foam on the top, and an incredible creamy texture to the drink). After that, it's as easy as pouring your cocktail, waiting a couple minutes for the foam to form, and adding your garnish.
The Dry Shake
In this particular case, the dry shake is pretty straightforward. You're going to add all your ingredients to a Boston shaker (my personal favourite for cocktails). In this case it's going to be amaretto, whiskey, lemon juice, egg white, and simple syrup. Close it up and shake hard for at least 30 seconds. The harder you shake it, the better the foam ends up being at the end. This is why I often enlist my husband to help me out (pathetic? Yes. Effective? Also yes. Please someone get me a gym membership for my birthday. Please). After you've got this first part done, you're going to open up the shaker, add ice, and repeat the process.
The reason we do this is two-fold. First, the shake itself creates the foam from the egg whites. And while you can absolutely just do this all in one go (adding all the ingredients including the egg whites and ice), you're foam won't be as frothy or as firm. Someone, somewhere along the way, discovered that shaking the egg whites without the ice allowed the air to circulate better - resulting in a better, bigger foam. While I personally find this to be the easier option, someone, of course, came up with a better, albeit fussier way to do it.
The Reverse Shake
The reverse shakes solves the number one problem the dry shake has: mixing the egg whites and your ice. So, while you've spent all this time building up this nice foam, by adding ice after that foam is made, you're essentially beating down all that lovely, luxurious texture you just made. So, the reverse shake adds the ice with all the ingredients except the egg whites (essentially making the drink cold first), and then ditches the ice, and adds the egg for the additional shake. This means that the egg and the ice never meet. The ideal situation for perfect, fluffy, yet firm foam. The tricky part is getting the ice out of the the shaker, although, if you have a strainer, this shouldn't be too hard. Just strain the cocktail into one half of the shaker, and toss the ice down the sink. You're good to go after that!
Watch me (try) to make an amaretto sour below, and laugh. It ends up being delicious, but well, you'll see.
The Difference Between an Amaretto Sour and a Whiskey Sour
There are actually lots of different types of sour drinks: the whiskey sour, the pisco sour, a tequila sour, and so on. These drinks all have a similar sort of base technique but the liquor in it different. So they all have some sort of "sour" element (usually lemon), the egg white foamy top, and some kind of simple syrup. The difference between an amaretto sour and a whiskey sour is that the amaretto sour has, well, amaretto.
The Basics of Amaretto
This leads us to the question: what is exactly is amaretto?
So, it's an Italian liqueur, traditionally made from almonds, giving a sweet, nutty flavour. This is what makes it a favourite of mine for the holiday season - it goes so well as an aperitif or a digestive (I've also been known to have it with a prime rib or steak dinner - especially when you tone it down with the whiskey in an amaretto sour).
Interestingly, some amaretto (ahem, some very large name brand amaretto) contain zero almonds, and are made instead from apricot pits. Yes you read the correctly. So when you're going to buy this stuff, check with the local expert wherever you get your spirits, because not all amaretto is created equal.
Substitutions for Amaretto
For me, there's only one real option for substituting amaretto: Frangelico. This is essentially the same thing as amaretto (an Italian liqueur) but it's made with hazelnuts instead of almonds. So the flavour profile is definitely different, it does hit those nutty/sweet notes that you're looking for with amaretto. Plus, if you haven't tried Frangelico before, it's honestly so so so good. Go buy some!
Looking for other ways to use amaretto? Try out my gingersnap cookie cocktail (one of my all time favourites!) You can't go wrong, I promise.
📖 Recipe
The Amaretto Sour
The classic amaretto sour is a sweet, tart, rich and well balanced cocktail that's perfect for entertaining or sipping in front of the fire. The hint of almond balanced with whisky creates a perfect nutty/vanilla/caramel flavour profiles. Don't be intimidated, you can do this, and you'll be so glad you did.
Ingredients
3

oz

good amaretto

1.5

oz

whiskey

1

oz

egg white

(this will be the white from about one egg)

¾

oz

simple syrup

½

oz

freshly squeezed lemon juice

¼

oz

brandied cherry juice

4

drops

chocolate bitters

optional

2

brandied cherries

for garnish

lemon peel

for garnish
Instructions
Dry Shake
Add the amaretto, whiskey, egg white, simple syrup, lemon juice and brandied cherry juice to a Boston shaker. Shake for 30-60 seconds (basically as long as you can).

3 oz good amaretto,

1.5 oz whiskey,

1 oz egg white,

¾ oz simple syrup,

½ oz freshly squeezed lemon juice,

¼ oz brandied cherry juice

Open up the Boston shaker, and fill one half of it with ice. Gently slide the ice into the half of the shaker with the cocktail in it. Close the shaker and shake for another 30-60 seconds.
Cocktail Assembly
Strain the cocktail into two coupe glasses (5.5 oz if you have them). While the foam is settling, gently pour four drops of chocolate bitters on the top of each glass. Garnish with a brandied cherry and a thin slice of lemon peel.

4 drops chocolate bitters,

2 brandied cherries,

lemon peel
Nutrition
Serving:
3.5
oz
Calories:
243
kcal
Carbohydrates:
26
g
Protein:
2
g
Fat:
1
g
Saturated Fat:
1
g
Polyunsaturated Fat:
1
g
Monounsaturated Fat:
1
g
Cholesterol:
1
mg
Sodium:
34
mg
Potassium:
69
mg
Fiber:
1
g
Sugar:
25
g
Vitamin A:
4
IU
Vitamin C:
3
mg
Calcium:
7
mg
Iron:
1
mg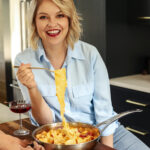 Hi, I'm Cara! I'm a food writer, journalist, and recipe developer. I'm obsessed good food, good wine, good cocktails and entertaining. I've picked up a few tips over the years, and love sharing them with others.