As an Amazon Associate I earn from qualifying purchases.
Champagne mignonette, made either with actual Champagne, or Champagne vinegar, is a classic pairing for oysters. Not the least of which because serving oysters alongside a glass of bubbly is a time honored tradition. This version takes it all up a notch by adding a splash of citrus in the form of a blood orange, which also makes it super pretty!
Jump to: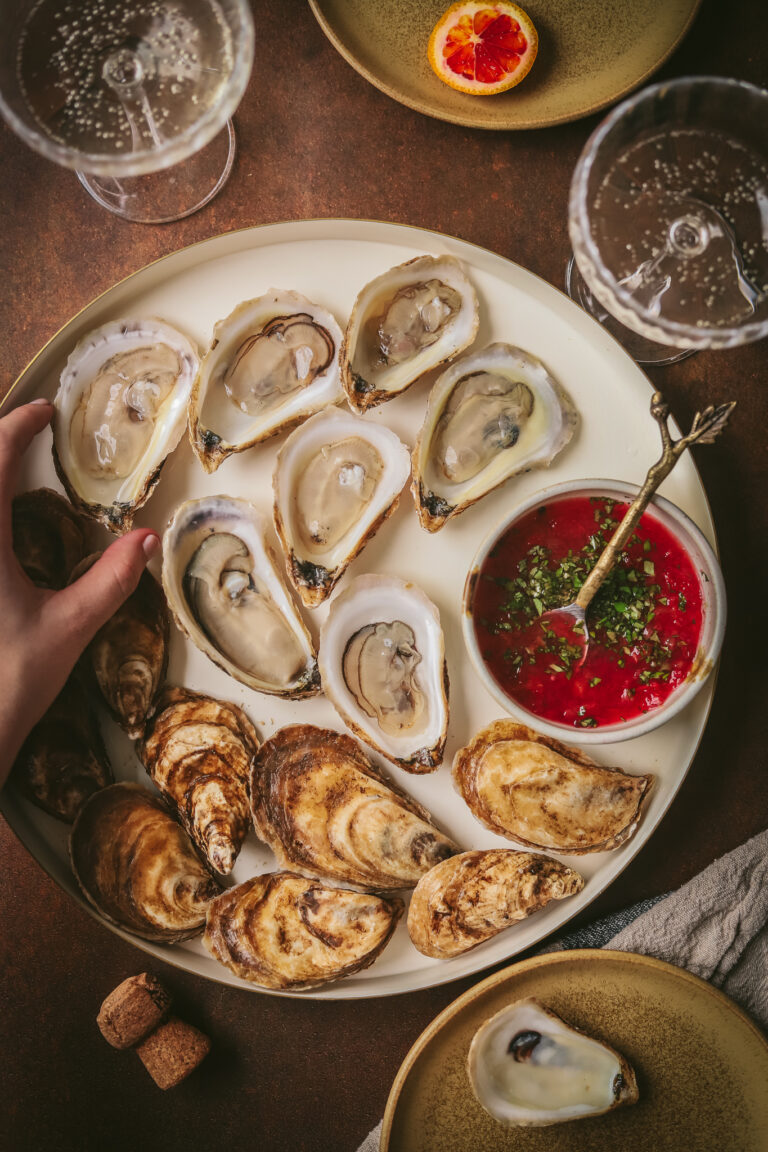 What is Mignonette?
A classic mignonette usually consists of vinegar, shallots and fresh pepper. Sometimes you would add different herbs like cilantro. It's actually considered a vinaigrette dressing, and was typically served as a sauce with oysters, which is how the two became inextricably linked. Now a days, mignonette typically just means a sauce that you serve with raw oysters, and it's a super popular way to eat them to counteract the sweet, briny flavour of the bivalves.
Along with vinegar, it's common to add a dry white wine, or sparkling wine to a mignonette, which is what we're doing with the champagne mignonette. The addition of the citrus along with some fresh basil makes for a bright and sweet sauce that pairs well with the fresh oysters. If you're new to oysters, I'd also recommend this version of a mignonette. This mignonette is made without shallots, so it's a lot less harsh than that traditional version.
How to Make Champagne Mignonette
Luckily, making most mignonettes, including this one, is pretty easy. Many contain less than five ingredients, and you don't want to use many more, because while the flavour in the sauce is important, it shouldn't overpower the oyster. The other nice thing about it is that a little goes a long way. You only need a small spoonful of mignonette for each oyster.
After you gather your ingredients, it's as easy as chopping them up, and mixing them together. That's pretty much it. For most mignonettes, you can actually make them a couple of days in advance, and leave them in the fridge. For Champagne mignonette, you can still do that, but I'd recommend adding the splash of Champagne at the last minute, so you can still get a spark of some of those bubbles.
How to Prepare and Eat Raw Oysters
Note: I actually have a whole guide on how to do this, so if you're a beginner or need a refresher, check it out!
This is actually where most people get tripped up. I get it, ok? I was super intimidated by oysters on the half shell for the longest time. They looked weird, and I could not figure out how that texture was going to work. But I promise once you get past this, they are so worth it. So let's start with the preparation.
First, you need to make sure the little guys are good. Try to get them from a local fish market. Ask questions of your fish monger - they are so knowledgeable! If you're worried, tell them. Ask them about the different sizes and flavours of the oysters they have, and where they're from. Oyster from the pacific tend to have a sweeter flavour, while those from the Atlantic are more salty and briny. Make sure the shells are closed. If you get home and any of them are open, throw them out.
You also don't have to store oysters on ice, although it is nice to serve them on it. You can keep oysters for up to a week in your fridge.
Shucking oysters, especially the first few times you do it, can be a bit of an ordeal. They're wily bastards, and they don't take especially kindly to being forced open. Check out this video I made that walks you through the basics:
And remember, don't give up! You can do it! If you're new, just plan on it taking you a few extra minutes. Oh, and don't forget, you're going to need an oyster shucker and, if you want, oyster gloves for safety.
How to Serve Fresh Oysters
Once you've got the oysters shucked, with most of the liquor in tact, hopefully, you're going to want a very large serving platter covered in ice to lay the oysters on. You can use regular ice cubes, but crushed ice is the preferred method. In addition to the Champagne mignonette, I like to serve fresh lemon wedges, regular hot sauce, and grated horseradish. These are all classic pairings with oysters, and it's great to give people some options.
Wine Pairings
Again, the go to here is Champagne, especially if you're serving it with Champagne mignonette. The bubbles in the Champagne pair so well with the texture of the oysters which is super smooth. Another great recommendation is a Sauvignon Blanc. The high acidity and the notes of lemon make it a particularly great pairing alongside the oysters.
Sides
Typically, I like to serve oysters as an appetizer, but if you're doing more of a cocktail party, or even if you want the oysters to be the main event, there's definitely some great options. Try something like a potato salad, or if you're going with a steakhouse theme, Romesco flank steak and Caesar salad are good options too!
FAQ's
How long does mignonette keep?
It can last up to a month in the fridge.
How many oysters per person should I get?
I would budget 3-4 oysters per person if you're having them as an appetizer or as part of a finger menu.
How do you pronounce mignonette?
Min-yon-ett. The g is silent!
How long will oyster last?
If you shuck them, they should be eaten right away. Otherwise, they can be stored for up to a week in the fridge.
Recipe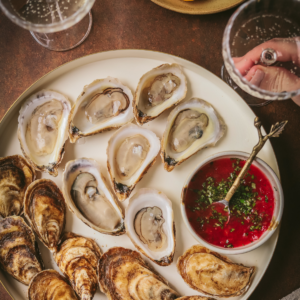 Fresh Oyster Mignonette with Champagne and Blood Orange
This fresh and sweet champagne mignonette is perfect for those who are new to the world of oysters. It's a great balance between salty and sweet, and leaves out the raw shallot which can be a bit harsh tasting on the palate. This is a great recipe for happy hour on a Friday evening!
Ingredients
12

oysters

shucked, served on ice

1

blood orange

segmented and finely chopped, see notes

1

teaspoon

Champagne vinegar

2

tablespoon

Champagne

½

tablespoon

fresh basil leaves

finely chopped

salt and pepper

to taste
Instructions
Combine the segmented blood orange, the vinegar, Champagne, and basil leaves in a small bowl.

Taste for seasoning, and adjust as needed for your taste.

Serve immediately alongside the shucked oysters on ice.
Notes
To segment the blood orange: slice a small circle off the top and bottom of the orange, so it will stand up on a cutting board. Next, run your knife from the top to the bottom of the orange underneath the peel, trying to get as much of the pith off as you can (without taking the fruit). The orange should now be completely peeled. Next, hold the fruit in your hand, and make two vertical cuts between the white, pithy membrane of each slice, one at a time. Continue this process until all the slices are out, and you're left with just the membrane. Squeeze the membrane over the bowl to get all of the juice out. Finely dice the slices of blood orange you've segmented and add to the bowl.
If you can't find Champagne vinegar, substitute for white wine vinegar.
Nutrition
Serving:
25
g
Calories:
8
kcal
Carbohydrates:
1
g
Protein:
1
g
Fat:
1
g
Saturated Fat:
1
g
Polyunsaturated Fat:
1
g
Monounsaturated Fat:
1
g
Trans Fat:
1
g
Cholesterol:
2
mg
Sodium:
4
mg
Potassium:
20
mg
Fiber:
1
g
Sugar:
1
g
Vitamin A:
22
IU
Vitamin C:
2
mg
Calcium:
5
mg
Iron:
1
mg
Jump to: