As an Amazon Associate I earn from qualifying purchases.
This baked crab spinach dip is like normal spinach dip, but on steroids. With just a few extra ingredients, it makes any ho-hum spinach dip taste like a gourmet meal at a five-star restaurant.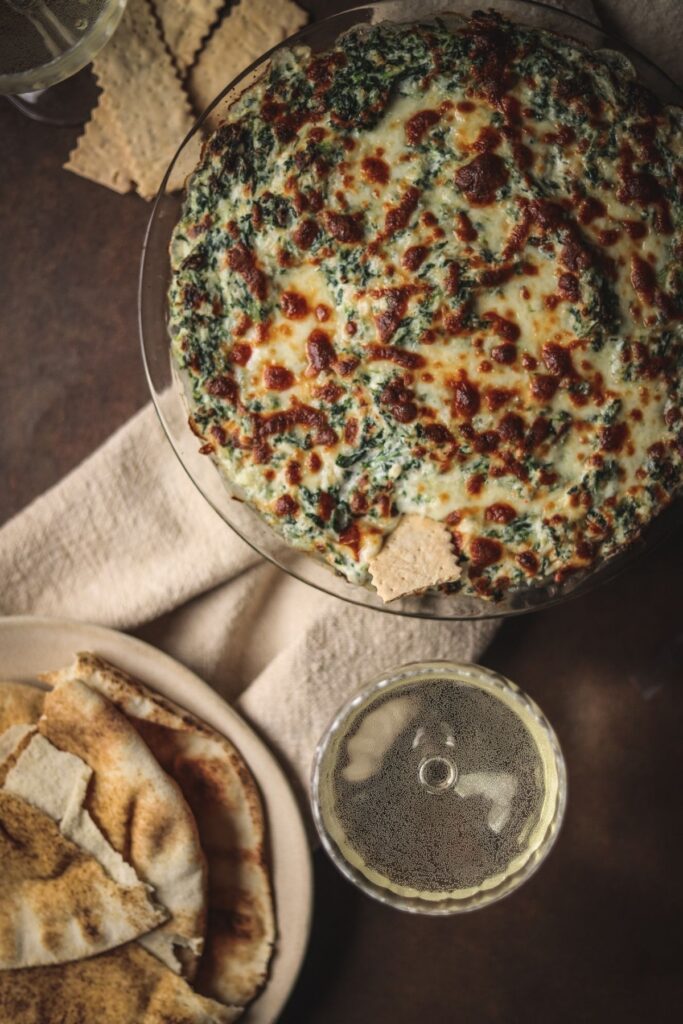 Baked spinach dip was always such a treat when we went out to eat with my family. In fact, it's spinach dip that initially made me like spinach as a kid (are we shocked? This thing is like 30:70 spinach to cheese ratio). This grown-up version with lump crab meat (not imitation, please don't) and roasted shrimp really adds a complexity and sweetness to make it a interesting dish.
Jump to:
Is Spinach Crab Dip Healthy?
I'm going to level with you. Spinach is healthy for you. Spinach covered in cheese, sour cream, and cream cheese is...less healthy for you. It's maybe not a great way to get your daily dose of iron. But it is a good way to get your daily dose of happiness so, weigh those odds.
It is though, depending on what you serve it with (roasted cauliflower, fresh veggies) keto-friendly and gluten free, so yay!
How to Make Spinach Dip with Cream Cheese
This is my favourite part of the recipe, because it's so damn easy. First of all, let's gather all the ingredients. And by the way, this recipe doesn't have any artichoke. Mostly because I'm not a fan. Feel free to add if you want to be weird about it.
Ingredients:
Frozen spinach
Room temperature cream cheese
Sour cream
Mozzarella cheese
Shrimp
Lump crab meat
Garlic Salt
Chili flakes
Lemon juice
Can you make it with Fresh Spinach?
Yes, but honestly, it's a pain. First of all, you're going to need about a metric ton of it, and you're going to need to finely chop it all, and then sauté it, and then squeeze it all out and really just use frozen for this recipe.
Straining your Spinach
For baked spinach dip especially, it's really important that you remove as much moisture as you can' from the spinach. If not, it's going to seep out during the baking process and you're going to have a runny mess on your hands. My favourite way to do this is to get a sieve, and literally just squeeze the spinach out with your hands, until you feel like there's not water left. It really doesn't need to be any harder than that.
Roasting & Preparing the Shrimp
This part is super easy. I used Argentinian shrimp because they're my favourite, but you can use any type that you prefer. For this recipe, use about 15-20 shrimp, deveined, with shells and tails off. Preheat your oven to 375F. Spread the shrimp out evenly on a large baking sheet and season with salt and pepper. Roast for 5-7 minutes, or until the shrimp are transparent and cooked through.
Let the shrimp cool for a few minutes before you transfer them to a food processor. Add about 2 tablespoon of lemon juice, and blitz, until the shrimp meat is finely chopped.
Mix it All Together
Combine the spinach, cream cheese, mozzarella, shrimp, spices, lump crab meat, and sour cream in a large mixing bowl. Using hand mixers or a stand mixer, combine everything. Pour it into a 9" round pie pan or an 8x8" baking pan, pop it in the oven for 30 minutes, and you should be good to go!
What to Serve with Spinach Dip
The list goes on and on really. The classic favourite is with pumpernickel bread, specifically in the shape of a bowl. But you can serve it with your favourite crackers, crostini, raw vegetables, chips, or anything else your heart desires.
Other Appetizers to pair this with at a cocktail party:
Sweet Potato Fries and Dipping Sauces
Fresh oysters with easy tomato and vermouth granita garnish
Cured Trout with Grilled Pineapple
Spring Pea, Mint and Ricotta Dip
Wine Pairing
If you want to get fancy with it (and let's face it, I do, all the time), serving this alongside crisp glass of Sauvignon Blanc would be a great choice. It's tart enough to cut through the fat, with lemon and green herb notes that would pair perfectly with the crab spinach dip.
Another good choice would be a rose - again a wine that offers notes of lemon and herb. This would be a great pairing for Galentine's Day, actually. Clink, clink dahling!
Can you Make it Ahead?
Totally. Make the entire thing, right up until the point you're about to bake it. Keep it refrigerated until then, and then simply bake it off when you're ready to eat.
Freezing and Storage
Spinach crab dip will keep in the fridge for about 2-3 days (you always want to be more cautious with seafood).
You can freeze this, especially when this recipe doesn't have any mayo to break down. Although there's still lots of dairy for some issues to occur. It's probably best if you bake it off before you freeze it, let it defrost at room temperature, and then reheat in the oven for 15 minutes at 350F.
Recipe
Spinach Crab Dip with Roasted Shrimp
This dip is layer on layer of flavor. Cheese, more cheese, sour cream, spinach, crab, shrimp and lemon all combine to make this zesty and creamy appetizer. Be careful though,
Ingredients
15

shrimp

peeled and deveined

2

tablespoon

lemon juice

salt and pepper

to taste

10

oz

frozen spinach

thawed, and moisture removed

8

oz

cream cheese

room temperature

¾

C

sour cream

½

C

lump crab meat

1½

C

mozzarella cheese

grated, divided

¾

teaspoon

garlic salt

½

teaspoon

red pepper flakes

optional
Instructions
Preheat the oven to 375°F.

Spread the shrimp in an even layer on a large baking sheet. Sprinkle with salt and pepper to season. Roast for 5-7 minutes, until opaque. Set aside to cool slightly.

Combine the frozen spinach, cream cheese, sour cream, crab meat, mozzarella cheese garlic salt and red pepper flakes in a large bowl.

Add the shrimp and lemon juice to a food processor, and blitz until the shrimp are finely chopped. Add to the rest of the ingredients.

Mix all the ingredients with a hand mixer or a stand mixer until well combined. Pour into a 9" pie plate or an 8x8 baking dish. Sprinkle remaining half cup of mozzarella over the top. Bake for 25-30 minutes.
Notes
To strain the spinach, place in a sieve and squeeze out as much water as you can with your hands. You can also use paper towel or a tea towel to help you do this.
Nutrition
Serving:
100
g
Calories:
242
kcal
Carbohydrates:
5
g
Protein:
13
g
Fat:
20
g
Saturated Fat:
11
g
Polyunsaturated Fat:
1
g
Monounsaturated Fat:
5
g
Cholesterol:
74
mg
Sodium:
745
mg
Potassium:
281
mg
Fiber:
1
g
Sugar:
2
g
Vitamin A:
6290
IU
Vitamin C:
6
mg
Calcium:
248
mg
Iron:
1
mg
Jump to: