Roasted tenderstem broccoli (also known as broccolini) is a flavorful and easy side dish. Keep this on hand because it's definitely perfect to go with any Sunday dinner, holiday table, or just a weeknight meal - it's that versatile.
Tenderstem broccoli has a mild flavor, making it perfect for different seasonings and toppings. This recipe is by far my favorite way to eat it. It takes it up a notch from just salt and pepper (although that is also really good!) and adds just a couple more ingredients for an amazing side dish.
Roasted tenderstem broccoli (or broccolini) is flavorful, easy, and the perfect side dish with just about any meal.
Jump to:
Why You're Going to Love This Recipe
Quick and Easy: It's a breeze to whip up, perfect for busy millennials.
Irresistible Flavor Combo: The mix of honey, parmesan, and roasted broccoli is a taste sensation.
Healthy Indulgence: Packed with nutrients and antioxidants, it's guilt-free indulgence.
Versatile Side or Main: Pair it with protein or enjoy it on its own, it's a versatile delight.
Visually Stunning: Vibrant greens, golden honey, and shaved parmesan make for a stunning plate.
Balanced Textures: Tender, crisp broccoli with creamy parmesan - a delightful texture contrast.
Impressive for Guests: It looks and tastes gourmet, perfect for impressing your pals at dinner parties.
Frequently Asked Questions
Can I use regular broccoli instead of tenderstem?
Absolutely! Adjust the cooking time to ensure it's tender but not mushy.
Can I substitute the honey?
Of course! Use maple syrup for a lovely alternative.
What if I don't have shaved parmesan?
Grated or shredded will work just fine.
Can I prep this in advance?
You can toss it in the honey mix ahead, then roast when ready to serve.
What is Tenderstem Broccoli?
Tenderstem broccoli, also known as broccolini, is a vegetable that's a hybrid of regular broccoli and Chinese broccoli. It has long, thin stems and small, delicate florets. It's milder and sweeter compared to traditional broccoli, and it's known for its tender texture. It's a versatile ingredient that can be roasted, steamed, or sautéed. A popular choice for its appealing taste and quick cooking time.
Is Tenderstem Broccoli and Broccolini the Same Thing?
Tenderstem broccoli and broccolini are essentially the same thing. They're both a cross between regular broccoli and Chinese broccoli. They have long, slender stems with small florets, and they share a similar taste profile. "Tenderstem broccoli" is a brand name, while "broccolini" is a generic term used to refer to this type of vegetable. So, in terms of cooking or using them in recipes, you can treat them interchangeably.
Ingredients
Tenderstem Broccoli (1 lb): The star of the show! It's tender, vibrant, and packed with nutrients.
Olive Oil (2 tbsp): Coats the broccoli for even roasting and adds a rich, savory flavor.
Honey or Hot Honey (2 tsp): Infuses a sweet, caramelized goodness with a hint of heat for a flavor kick.
Salt (¼ tsp): Enhances the natural flavors and balances the sweetness.
Pepper (⅛ tsp): Adds a subtle kick of spice and complements the honey's sweetness.
Shaved Parmesan (½ C): Offers a creamy, salty contrast to the broccoli's earthy notes, making it simply divine.
How to Cook Tenderstem Broccoli
Preheat the Oven: Crank it up to 425°F (220°C). Let it get all nice and toasty.
Mixing Magic: In a bowl, drizzle two tablespoons of olive oil. Then add two teaspoons of honey (or hot honey if you're feeling bold).
Season Sensibly: Sprinkle in ¼ teaspoon of salt. Don't go overboard, just enough to bring out the flavors.
A Pinch of Pepper: Add ⅛ teaspoon of pepper for a subtle kick.
Whisk it Up: Whisk the olive oil, honey, salt and pepper.
Toss and Turn: Spread the broccolini out on the baking sheet. Drizzle the honey over the spears. Toss to coat.
Roasting Ritual: Pop it in the preheated oven. Let them roast for about 15-20 minutes. We want them tender, not mushy.
Parmesan Prestige: Once they're out, sprinkle on a generous half cup of shaved parmesan.
Variations
Garlic Lover's Dream: Toss in a few minced garlic cloves with the broccoli for a fragrant, garlicky kick.
Lemon Zest Zing: Add some fresh lemon zest before roasting for a bright, citrusy pop.
Chili Lime Fiesta: Squeeze lime juice over the roasted broccoli and sprinkle with chili powder for a spicy, tangy fiesta.
Sesame Ginger Glamour: Drizzle with a mixture of sesame oil, soy sauce, and grated ginger before roasting for an Asian-inspired flair.
Pesto Passion: After roasting, toss the broccoli with a spoonful of pesto for a burst of herbaceous goodness.
Crunchy Almond Bliss: Sprinkle slivered almonds over the broccoli before roasting for added crunch and nutty flavor.
Balsamic Beauty: Drizzle with balsamic glaze after roasting for a sweet and tangy finish.
Serving Suggestions
Pasta Perfection: Toss it with your favorite pasta, olive oil, garlic, and a sprinkle of parmesan for a quick and satisfying meal.
Grain Bowl Bliss: Pile it on top of a hearty grain like quinoa or farro, along with some protein like grilled chicken or tofu.
Eggcellent Breakfast: Serve it alongside poached or fried eggs for a nutritious and flavorful breakfast.
Salad Star: Add it to a salad with mixed greens, cherry tomatoes, and a zesty vinaigrette for a refreshing side dish.
Tapas Time: Serve it as a tapas-style dish with some Spanish olives, crusty bread, and a glass of wine.
Cheesy Sidekick: Pair it with a creamy cheese sauce for an indulgent side dish that's sure to please.
Mezze Magic: Include it in a spread of Mediterranean-inspired dishes like hummus, falafel, and pita bread.
Storage and Reheating
Storage:
Cool Down First: Let any leftover broccoli cool to room temp before storing.
Airtight Affair: Pop 'em in an airtight container or zip-top bag. Seal it up real good.
In the Fridge:
They'll stay fresh for up to 2 days. Any longer, and they might lose their oomph.
Freezer Tips:
While possible, it's not ideal. They might get a bit mushy when you defrost 'em.
Reheating:
Oven Method: Pop 'em back in the oven at 350°F (175°C) for about 10 minutes. They'll crisp right up.
Stovetop Sizzle: Heat a bit of olive oil in a pan. Toss in the broccoli and sauté until heated through.
Microwave Magic: Zap 'em for about 1-2 minutes, but keep an eye on 'em. Microwaves can be a bit finicky.
More Amazing Side Dishes to Try
📖 Recipe
Roasted Tenderstem Broccoli with Honey and Parmesan
This easy and delicious tenderstem broccoli is the perfect side dish for nearly any occasion. With less than five ingredients and under 30 minutes for cook time, you'll be coming back to it again and again!
Ingredients
1

lb

tenderstem broccoli

2

tablespoon

olive oil

1

tablespoon

honey

or hot honey

¼

teaspoon

salt

⅛

teaspoon

pepper

½

C

parmesan cheese

shaved
Instructions
Preheat your oven to 425°F (220°C).

In a bowl, combine olive oil, honey, salt, and pepper. Toss the tenderstem broccoli in this mixture until evenly coated.

Spread the broccoli on a baking sheet and roast for 15-20 minutes, or until tender but still crisp.

Remove from the oven and sprinkle the shaved parmesan over the top.

Serve hot and enjoy your delightful roasted tenderstem broccoli!
Notes
Customize Your Crunch: For an extra crunch, sprinkle with toasted almond slivers before serving.
Make It Vegan: Swap honey for maple syrup and use a plant-based parmesan alternative.
Prep Ahead: Toss broccoli in the olive oil mixture and refrigerate for up to 24 hours before roasting.
Pairing Perfection: Serve with grilled chicken or as a side to your favorite pasta dish.
Don't Overcrowd the Pan: Ensure broccoli is spread out on the baking sheet for even roasting.
Nutrition
Serving:
200
g
Calories:
174
kcal
Carbohydrates:
13
g
Protein:
8
g
Fat:
10
g
Saturated Fat:
3
g
Polyunsaturated Fat:
1
g
Monounsaturated Fat:
6
g
Cholesterol:
9
mg
Sodium:
379
mg
Potassium:
15
mg
Fiber:
1
g
Sugar:
7
g
Vitamin A:
2099
IU
Vitamin C:
104
mg
Calcium:
229
mg
Iron:
1
mg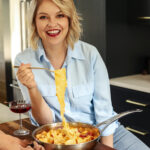 Hi, I'm Cara! I'm a food writer, journalist, and recipe developer. I'm obsessed good food, good wine, good cocktails and entertaining. I've picked up a few tips over the years, and love sharing them with others.