Chicken Fricassee (or fricasseé - pronounced fri-cah-say) is a classic French comfort food dish. Silky cream sauce coats tender and delicious chicken thighs, while white wine cuts the acidity of the sauce. Perfect for when you're looking for something cozy to eat!
The base of the sauce combines garlic, shallot, white wine, chicken stock and mushrooms. It's honestly kind of like the sister of that other extremely famous French stew: coq au vin. This one we'll hit with some tarragon for a slightly sweet anise flavor. And my god, does this sauce have depth. Seriously, when I tried this I literally went cross-eyed for a second.
I've had chicken mushroom fricassee many times over the years and tried many different recipes. For this recipe, I took my favorite parts of all of them and tested them until they came out perfect.
Chicken fricassee is essentially a creamy white wine and mushroom chicken stew. It's decadent, elegant, and absolutely perfect for entertaining.
Jump to:
Frequently Asked Questions
What is Chicken Fricassee?
Chicken fricassee is a classic French dish made with chicken pieces cooked in creamy white wine and mushroom sauce.
Can I use boneless chicken for this recipe?
While bone-in chicken adds flavor, you can use boneless if you prefer. Adjust cooking times accordingly.
Is it necessary to use an oven-proof skillet or Dutch oven?
Yes, as it allows for searing on the stovetop and finishing in the oven. If not available, transfer to an oven-safe dish.
How do I know when the chicken is fully cooked?
Use a meat thermometer. The internal temperature should reach 185°F (85°C) to ensure it's fully cooked.
What if I can't find Tarragon?
Honestly, same. That's why I've included dried tarragon in the recipe. If you can't find fresh for the garnish, just use parsley like I did in this recipe.
Can I make this dish ahead of time?
Yes, you can prepare it a day in advance and reheat it gently before serving.
How can I make this dish dairy-free?
Substitute the heavy cream and creme fraiche with non-dairy alternatives like coconut milk or cashew cream.
What is Chicken Fricassee?
Chicken fricassee is a cherished French culinary creation with roots reaching back centuries. This delectable dish emerged during the Middle Ages and flourished in the Renaissance period. The term "fricassée" derives from Old French, signifying the dual cooking technique of frying and braising (there is some debate on this, however). Or, depending on who you ask, to break (you can absolutely break your thighs and legs into pieces for this recipe, btw. It makes it easier to serve anyway). It became a coveted choice among European aristocracy in the 17th and 18th centuries, featuring prominently in esteemed cookbooks of the era. This dish encapsulates the quintessence of classical French gastronomy, characterized by meticulous preparation, intricate techniques, and a symphony of harmonious flavors. Searing the chicken to perfection before immersing it in a luxurious blend of wine, stock, mushrooms, and vegetables results in a sumptuous stew, emblematic of culinary finesse.
Julia Child, of course, played a big role in introducing chicken fricassee to a more modern American audience when she published 'Mastering the Art of French Cooking'. We love you Julia.
There is also some debate about what a 'classic' or 'traditional' chicken fricassee actually looks like. Some definitely don't sear the chicken to brown it. Also, from my research, it uses a whole chicken cut up into parts, rather than just thighs and legs. We're going to do things a bit differently (again, after many, many tests).
Ingredients
This recipe is not light on ingredients, but most of them are pretty standard (if you can't find fresh tarragon, just use parsley).
Olive oil: Used for searing the chicken, adding flavor, and preventing sticking.
Chicken thighs and legs (bone-in, skin-on): Provide rich flavor and maintain juiciness during cooking.
Salt and pepper (to season the chicken): Enhance the taste of the chicken and contribute to the overall flavor profile.
Shallots (diced): Add a mild, sweet onion flavor to the dish.
Garlic (minced): Imparts a robust, aromatic flavor to the dish.
Celery (diced): Adds a subtle earthy note and a bit of crunch to the dish.
Cremini mushrooms (sliced) and Shiitake mushrooms (sliced): Contribute a savory, umami depth to the sauce.
Flour: Acts as a thickening agent for the sauce, giving it a velvety texture.
White wine: Provides acidity, flavor, and complexity to the sauce.
Chicken stock: Forms the base of the sauce, infusing it with rich chicken flavor.
Dried tarragon: Adds an aromatic, slightly sweet note to the dish.
Salt: Enhances the overall flavor profile and balances the dish's taste.
Black pepper (plus more for serving): Provides a subtle spiciness and complements the other flavors.
Heavy cream: Adds richness and creaminess to the sauce.
Creme fraiche: Contributes tanginess and creaminess to the dish.
Large egg yolks: Thicken and enrich the sauce, giving it a luscious texture.
Lemon zest: Offers a bright, citrusy note to balance the richness of the sauce.
Tarragon (chopped, or parsley as a substitute): Provides a fresh, aromatic finish to the dish.
How to Make Chicken Fricassee
Start by heating up some olive oil in a sturdy, oven-proof skillet or a Dutch oven (I absolutely love my cast iron pan for this recipe). You want it hot enough to make the oil shimmer but not quite smoking.
Now, it's time to introduce the star of the show: the chicken. Season those beautiful chicken thighs and legs with a generous sprinkle of salt and pepper. Sear them in the hot oil until they're gloriously golden on both sides. This is about building flavor and ensuring that crispy skin we're all craving. One of my main goals in developing this recipe was to make sure the skin wasn't soggy. I hate soggy chicken skin. So stick with me.
Once the chicken has reached its golden potential, carefully take it out of the pan and set it aside. If the pan looks a bit dry, add a touch more oil. Alternatively, you might have a ton of chicken fat left in the pan. Scoop some out until there's about two tablespoons left if that's the case. Now, toss in the finely diced shallots, along with the minced garlic and the diced celery. Let them sauté until they're softened and translucent, releasing their amazing aromas.
Time for the mushrooms! Add in those sliced cremini and shiitake mushrooms. They're going to soak up all that deliciousness and bring a wonderful earthy flavor to the party. Cook them until they're tender and have absorbed the flavors of the pan.
Now, let's give the veggies a little flour. Sprinkle it in and let everything get cozy. This will help thicken up the sauce later on. Then, comes the pièce de résistance: white wine. Pour it in and let it sizzle, reducing by half. This step is crucial for infusing the dish with a deep, sophisticated flavor.
Pour in the chicken stock, adding layers of richness to the mix. Toss in some dried tarragon, a pinch of salt, and a bit more black pepper for good measure. Bring this liquid to a gentle boil.
Time to reunite the chicken with its flavorful companions. Nestle those golden pieces into the stew, making sure not to submerge them completely. We want to keep that skin crisp and golden, after all.
Pop the whole ensemble into a preheated oven set at 400°F (200°C) and let it bake. This is where the magic happens, where flavors meld and intensify. Depending on how hot your chicken was when it went in in the pan, it should take about 30-40 minutes.
Once it's done, take it out, and behold the masterpiece! But we're not done yet. Here's where things get a touch indulgent. Mix up some heavy cream, creme fraiche, lemon zest and egg yolks. Gently temper the mixture with a bit of the cooking liquid, then gradually incorporate more until it's all beautifully combined (see below for more on tempering).
Carefully pour this luxurious mixture back into the pan, giving everything a gentle stir. This is where the sauce transforms into a velvety, dreamy masterpiece.
Finish it off with a sprinkle of chopped tarragon (or substitute with parsley if needed), and you're ready to serve up a plate of pure culinary delight. Enjoy your chicken fricassee, a dish that's a testament to both tradition and indulgence!
What is Tempering?
Tempering is a crucial technique in cooking, especially when dealing with delicate ingredients like eggs or creams. It involves gradually raising the temperature of a sensitive ingredient by slowly adding a hot liquid or mixture to it. This prevents the sensitive ingredient from curdling or scrambling due to a sudden change in temperature.
Here's how you do it:
Prepare the Sensitive Ingredient: In your case, you'd have a mixture of heavy cream, creme fraiche, and egg yolks. This mixture is sensitive to high temperatures.
Heat a Portion of the Dish's Liquid: Take a small amount of the hot cooking liquid from your pan. In the case of chicken fricassee, this would be the liquid that's been simmering with the chicken and vegetables.
Add the Hot Liquid Gradually: Very slowly, start adding this hot liquid to your sensitive mixture while continuously whisking or stirring. The key here is "slowly". You want to introduce the heat gently, allowing the sensitive mixture to adjust without curdling.
Continue Gradually: Keep adding the hot liquid, a little at a time, while stirring, until you've added enough to bring the temperature of the sensitive mixture closer to that of the rest of the dish.
This process ensures that the sensitive mixture can smoothly integrate into the overall dish without any adverse reactions. It's a handy technique for achieving a smooth and creamy texture in sauces and custards.
Make it Ahead
You can definitely make this ahead of time, but would advise to finish cooking off the chicken right before you serve it. Also, save the dairy portion until just before serving.
Searing the Chicken: Sear the chicken as per the recipe. Allow it to cool.
Cooking the Vegetables and Mushrooms: Sauté the shallots, celery, garlic, and mushrooms. Allow them to cool.
Combine and Store: Mix the seared chicken with the sautéed vegetables and mushrooms. Store in the refrigerator.
Reheating and Finishing:

When ready to serve, preheat your oven to 400°F (200°C).
Transfer the mixture to an oven-proof skillet or Dutch oven.
Reheat in the preheated oven until the internal temperature of the chicken reaches 165°F (74°C) and the sauce is hot and bubbly. This will take about 20-25 minutes.
Continue with the steps of adding the cream, creme fraiche, egg yolks, and lemon zest as per the original recipe.
This method allows you to do most of the preparation in advance and then finish cooking when you're ready to serve.
Serving Suggestions
Mashed potatoes and buttered noodles are some of the more traditional options, but certainly not the only ones.
Mashed Potatoes: Creamy mashed potatoes create a heavenly combination with the rich, creamy sauce of chicken fricassee.
Rice: Fluffy, steamed rice is an excellent option for soaking up the luscious sauce.
Crusty Bread: A hearty baguette or rustic bread is perfect for mopping up every last bit of the delicious sauce.
Buttered Noodles: Tender egg noodles tossed in butter and perhaps a bit of fresh parsley make for a simple yet delectable side.
Steamed Asparagus: The bright, fresh flavor of asparagus provides a lovely contrast to the richness of the dish.
Green Beans Almondine: Lightly blanched green beans, sautéed with butter and almonds, offer a crunchy, nutty element.
Side Salad: A crisp, refreshing salad with a light vinaigrette can balance the meal.
Roasted Vegetables: Seasonal roasted veggies, like carrots, Brussels sprouts, or parsnips, add depth and color to the plate.
Herb Roasted Potatoes: Potatoes tossed with olive oil and herbs, then roasted until golden and crispy, make a satisfying side.
Sautéed Spinach: Quick-cooked spinach with a touch of garlic provides a nutritious and flavorful accompaniment.
Wine Pairings
Chardonnay: A rich, oaked Chardonnay with its buttery notes complements the creamy sauce and savory chicken.
Pinot Noir: This red wine offers a balanced acidity and light tannins that pair well with the delicate flavors of the dish.
Champagne or Sparkling Wine: The effervescence of a bubbly wine cuts through the richness of the dish, creating a delightful contrast.
Viognier: This aromatic white wine has a floral and fruity character that complements the flavorful elements of chicken fricassee.
Burgundy (White or Red): A classic choice, Burgundy wines, both white (Chardonnay-based) and red (Pinot Noir-based), have the complexity to stand up to the dish's flavors.
Marsanne-Roussanne Blend: This white wine blend brings richness and texture that can mirror the creaminess of the dish.
Sauvignon Blanc: Its bright acidity and citrus notes can provide a refreshing contrast to the creamy sauce.
Grenache Blanc: This white wine offers a mix of stone fruit and herbal notes that can complement the flavors of the dish.
Côtes du Rhône (Red): A blend of Grenache, Syrah, and Mourvèdre, this red wine brings a touch of spiciness and depth that works well with the savory elements.
Beaujolais: A light, fruity red wine with soft tannins that won't overpower the dish.
Storage and Reheating
Storing Chicken Fricassee:
Refrigeration:

Allow the chicken fricassee to cool to room temperature.
Transfer it to an airtight container or a resealable plastic bag.
Store it in the refrigerator for up to 3-4 days.

Freezing (Optional):

If you want to store it longer, you can freeze it.
Place the cooled chicken fricassee in an airtight container or a freezer-safe bag, removing as much air as possible to prevent freezer burn.
Label with the date and freeze for up to 2-3 months.
Remember, that with dairy there is always a risk that the texture changes when freezing and thawing.
Reheating Chicken Fricassee:
Refrigerated Chicken Fricassee:

Stovetop Method:

Transfer the refrigerated chicken fricassee to a saucepan or skillet.
Warm it over medium heat, stirring occasionally, until heated through. This will take approximately 10-15 minutes.

Microwave Method (for smaller portions):

Place a portion of the chicken fricassee in a microwave-safe dish.
Heat on high for 1-2 minutes, stirring halfway through. Adjust the time based on your microwave's wattage.

Frozen Chicken Fricassee:

Thawing:

If you froze it, let the chicken fricassee thaw overnight in the refrigerator.

Reheating:

Follow the same reheating instructions as for refrigerated chicken fricassee.
More Awesome Chicken Recipes
📖 Recipe
Chicken Fricassee
Luxurious, creamy, and oh-so-comforting, chicken fricassee is a traditional French stew that's going to become a new go-to entertaining meal for you. Unlike other stews, this one only needs to simmer for 25 minutes before it's good to go. Garnish with fresh tarragon (if you can find it, parsley if you can't), a good crack of black pepper, and you're good to go. Serve with mashed potatoes, polenta, or even over rice or pasta!
Equipment
Oven-proof skillet or Dutch Oven
Ingredients
2

tablespoon

olive oil

8

chicken thighs and legs

bone-in, skin-on

salt and pepper

to season the chicken

2

shallots

diced

2

cloves

garlic

minced

2

stalks

celery

diced

¾

lb

cremini mushrooms

sliced

¼

lb

shiitake mushrooms

sliced

3

tablespoon

flour

1

C

white wine

4

cups

chicken stock

1

teaspoon

dried tarragon

1

teaspoon

salt

¼

teaspoon

black pepper, plus more for serving

½

C

heavy cream

¼

C

creme fraiche

2

large

egg yolks

1

teaspoon

lemon zest

3

tablespoon

tarragon

chopped, if you can't find it, use parsley instead.
Instructions
Preheat your oven to 400℉.

Heat your oil in an oven-proof skillet or Dutch oven over medium high heat. When the oil is screaming hot (almost smoking), add you chicken. Allow the chicken to thouroughly sear on both sides (3-4 minutuesper side). Remove from the pan.

Add more oil if the pan is dry (see notes). Add your shallot, celery and garlic. Cook until starting to get soft and transluscent (about 8 minutes). Add your mushrroms. Cook until soft.

Coat the veggies with flour and allow to absorb. Add your white wine and let it cook off, until it's reduced by half. Be sure to scrape up any chicken bits from the bottom of the pan!

Add the chicken broth, bay leaves, dried tarragon, salt and pepper. Return chicken to the pan. Do not submerge the chicken, let a good portion of the skin hit the air. Bring the stew to a boil.

Place the skillet in the oven until the chicken has finished cooking (about 30-40 minutes). The chicken should reach an internal temperature of 185℉. Do not cover it - we want that chicken skin to stay crispy and golden!

Add the heavy cream, creme fraich, lemon zest and egg yolks to a small mixing bowl and whisk.

When the chicken is finished cooking, remove from the oven. Add 1 tablespoon of the cooking liquid from the chicken pan to the cream mixture, whisking carefully to temper the egg yolks. Keep adding until you've made your way up to adding ⅔ of a cup of the cooking liquid Carefully add and stir in the heavy cream mixture back into the pan with the chicken.

Top with tarragon or parsley, and serve.
Notes
Pan to Dry or Too Greasy: You may find after you take the chicken out, your pan may be dry, or it might be quite greasy. It just depends on the chicken your using and how much fat it has. If it's dry, add more oil before you add the veggies. If it has tons of chicken fat, use a spoon to remove some until you have about two tablespoons left (don't remove all of it - there's great flavor there!).
Make-Ahead Option: To save time, you can prepare the chicken fricassee up to the point of searing the chicken and sautéing the vegetables. Store in an airtight container in the refrigerator for up to 24 hours. When ready to serve, follow steps for reheating and finishing.
Freezing: While you can freeze chicken fricassee, be aware that dairy-based sauces may experience some texture changes upon thawing. Consider adding heavy cream and creme fraiche after reheating for optimal results.
Tempering Eggs: When adding egg yolks to the cream mixture, be sure to whisk in a small amount of the hot cooking liquid to temper them before incorporating. This prevents curdling.
Substitutions: Feel free to customize this dish to your taste. Try different mushroom varieties, herbs, or alternative dairy products for a unique twist.
Nutrition
Serving:
250
g
Calories:
621
kcal
Carbohydrates:
19
g
Protein:
38
g
Fat:
41
g
Saturated Fat:
14
g
Polyunsaturated Fat:
7
g
Monounsaturated Fat:
17
g
Trans Fat:
0.1
g
Cholesterol:
210
mg
Sodium:
757
mg
Potassium:
1023
mg
Fiber:
2
g
Sugar:
6
g
Vitamin A:
875
IU
Vitamin C:
7
mg
Calcium:
121
mg
Iron:
4
mg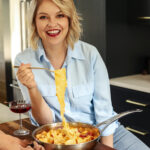 Hi, I'm Cara! I'm a food writer, journalist, and recipe developer. I'm obsessed good food, good wine, good cocktails and entertaining. I've picked up a few tips over the years, and love sharing them with others.