As an Amazon Associate I earn from qualifying purchases.
Truffle mashed potatoes are the perfect way to take a classic side from good to gourmet with one simple ingredient: truffle oil. You definitely need to include these at your next holiday gathering, or whatever meal you need to impress at!
Mashed potatoes are such a common side, that it's easy to overlook them at an impressive spread. But trust me, no one will be able to try these without commenting.
Savory with complex flavor, these truffle mashed potatoes are the ultimate decadent side dish that will leave everyone asking for seconds.
Jump to:
Why You're going to love this Recipe
Because it's so. Dang. Delicious. Honestly.
The truffle oil takes everything to the next level. That earthy sweetness is unmistakable from the moment you smell it.
They're the perfect holiday side, whether it's for Christmas, Thanksgiving, or Easter.
But we're not adding TOO much - just enough to get a subtle hint.
It's just as easy as making regular mashed potatoes.
It starts with my basic (and luxurious) mashed potatoes with cream recipe - and it's a banger.
It's easy to scale the recipe up or down for the number of people you need.
What Are Truffles?
I call truffles yummy yummy mushroom nuggets (which, as I'm reading that, does not make them sound appealing, but trust me, they are *chef's kiss*).
Truffles are mushrooms that grow near the roots of trees. They have an earthy, musky, garlicky yet delicate taste, and they can elevate any dish to gourmet levels in 3 seconds flat.
The aroma is also super strong (just smell some of the oil if you don't believe me), and leads some people not to like it. It also means that at times, restaurants TOTALLY OVER DO IT WITH THE TRUFFLE OIL and it can completely ruin a dish. That's why we're adding the oil and the overall flavor with a light hand here.
Why are Truffles so Expensive?
If you just googled "get me some truffles", you're probably cursing my name and about to throw your computer out the window. And, honestly, I get it. Fresh truffles are incredible expensive. Like ridiculous. For black truffles, they can cost anywhere between $300-$800 per pound. For white truffle? Up to $4,000 per pound. *Passes Out while hyperventilating*.
The reason truffles are so expensive is because they are super rare, really difficult to grow, have a short season, and a short shelf life. They also take many years to fully grow and cultivate. Oh, and the harvesting process isn't really that laid back either. They have to be harvest by hand (or by pig or by dog), and require a very specific climate to grow in (even then, they may not show up).
Luckily, there are less expensive ways to consume truffle. In this recipe, we'll be using truffle oil, but you can also get truffle flavored salt, and a little mixture with truffles that sort of looks like a tapenade. As we mentioned before, truffle is super strong, so go easy with any of these alternatives when you're first adding them.
What type of Potato Should I use?
For me, the answer is always Yukon Gold if you're making mashed potatoes. It has a dense texture and a beautifully sweet, creamy flavor.
You can also use russet potatoes if you prefer a slightly fluffier texture.
Ingredients for Truffle Mashed Potatoes
Listen, if we are putting TRUFFLE in these mashed potatoes, we are not holding back on the decadence. These are indulgent, definitely not every night of the week potatoes.
Yukon Gold Potatoes: the have the most amazing, slightly sweet flavor with the perfect, dense, creamy texture for your mashed potatoes.
Heavy Cream: Here for the flavor, and for the silky smooth texture.
Butter: you have too.
Mascarpone Cheese: this is my answer to adding cream cheese to mashed potatoes. I love the little bit of extra flavor it gives, but it doesn't overpower the other ingredients (like cream cheese tends to do). Again, adds amazing smoothness to the texture.
SALT: Do not skimp on the salt. Mashed potatoes need more of it than you think to flavor them - they absorb a ton!
How to make Truffle Mashed Potatoes
Let's do this.
First of all, peel your potatoes. Add them to a large saucepan. Add water (or, for extra flavor, chicken broth!) until they're covered by about an inch. Boil for 25-30 minutes, until completely soft all the way through.
Strain the potatoes. Use a potato ricer to mash them (if you don't have one, you can use a regular potato masher. But the ricer makes SO MUCH difference in texture!).
Add your cream, butter, and mascarpone cheese and mix until completely combined. Add the truffle oil.
Add your salt. Make sure you taste the potatoes at this point. If you nee more salt, add more.
Serve with a generous dollop of butter on top.
Tips & Tricks
If you want more complex flavor, add a little parmesan to these. Parmesan and truffle are best friends.
Same with thyme - it's a great garnish.
If you find your potatoes are getting a big cold - you can add a little extra liquid and reheat them over medium heat on a burner. Or - better yet - heat the butter, cream, and cheese in the microwave before you add them to the pot. Makes a huge difference.
I've said it before and I'll say it again: a potato ricer is KEY when it comes to texture for mashed potatoes. It mashes them perfectly without them going gluey. GET ONE.
📖 Recipe
Truffle Mashed Potatoes
The perfect decadent treat (especially for the holidays!) these truffle mashed potatoes are over-the-top delicious. We're using butter, heavy cream, and a touch of truffle oil for the savory, complex, and straight-up delicious flavor. These can easily be doubled for a crowd!
Ingredients
5-7

Yukon Gold potatoes

peeled

¼

C

heavy cream

½

C

butter

¼

C

mascarpone cheese

½

teaspoon

truffle oil

½

teaspoon

salt
Instructions
Peel the potatoes. Cut in half to make them cook faster if you wish.

Add to a medium pot. Add enough water so the potatoes are covered by about an inch. Cover, and bring to a boil over high heat. Turn the heat down slightly, so they don't boil over. Continue cooking until soft all the way through, around 25 minutes.

Using a potato ricer, press all the potatoes. You can press them into the same pan they cooked in.

Add the butter, cream, cheese, truffle oil and salt. Mix until thouroughly combined.

Serve with butter, and a crack of fresh pepper.
Notes
To keep the potatoes nice and hot, you can melt the butter and cream together in the microwave before adding them to the potatoes.
Try them with some parmesan cheese for added flavor!
Nutrition
Serving:
150
g
Calories:
485
kcal
Carbohydrates:
38
g
Protein:
6
g
Fat:
35
g
Saturated Fat:
22
g
Polyunsaturated Fat:
1
g
Monounsaturated Fat:
8
g
Trans Fat:
1
g
Cholesterol:
92
mg
Sodium:
498
mg
Potassium:
916
mg
Fiber:
5
g
Sugar:
2
g
Vitamin A:
1129
IU
Vitamin C:
42
mg
Calcium:
62
mg
Iron:
2
mg
Jump to: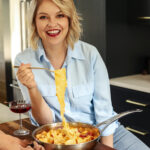 Hi, I'm Cara! I'm a food writer, journalist, and recipe developer. I'm obsessed good food, good wine, good cocktails and entertaining. I've picked up a few tips over the years, and love sharing them with others.