As an Amazon Associate I earn from qualifying purchases.
These old fashioned molasses cookies have been in my family forever, and I have made it approximately one billion times. And I know these are typically saved for the holidays, but honestly, I make them all year because I can't live without them. So without further adieu, let's get into what makes these soft, rolled molasses cookies so undeniably awesome.
This is a super old, family recipe for me. My mom would always start making these guys when the leaves would start to change, and then I just started them making them whenever I wanted, which was like, once a month.
These old-fashioned molasses cookies are total perfection. The combination of strong winter spices, the molasses, and the soft and chewy texture is an amazing nostalgic reminder of the holidays. Plus, they're very easy.
Check out the web story here.
Jump to:
History of Molasses Cookies
Molasses cookies started popping up in the 1800s, and were super popular because they were so cheap to make. Sugar at the time was expensive, so using a combo of molasses and brown sugar made these cookies more accessible.
Ingredients
The real key to this old fashioned molasses cookie recipe is in the ingredients, and one ingredient in particular: vegetable shortening. Yes, you can use butter, but I'm inclined to recommend against it. While butter definitely brings some added flavour, it's the texture that's affected. We're going for top of the line chewiness here, and we also want them to taste just like grandma used to make, so shortening it is.
Molasses is the obvious star of these this cookie recipe. I'm a big fan of using Cooking Molasses, which is a combination of the lighter, sweeter Fancy Molasses, and the more intense, robust flavour of blackstrap molasses. To me, it's the perfect balance to enhance, but not hinder the flavour of the spices. Speaking of spices...
Don't skimp on them! I've modified the original recipe (sorry grandma), to pack more of a flavour punch with extra ginger and cloves. There is no way you can take a bite of these and not think of a snowy night curled up by the fire.
Other Ingredients:
Flour (for structure)
Baking soda (for lift)
Salt
Spices
Brown and granulated sugar
Eggs
Additional sugar, for rolling
Making the Cookies
It really couldn't be easier (another reason it's a favourite recipe).
First, whisk your dry ingredients together (flour, baking soda, salt and spices).
Next, cream together the shortening and sugar in a stand mixer until it looks light and fluffy, like so.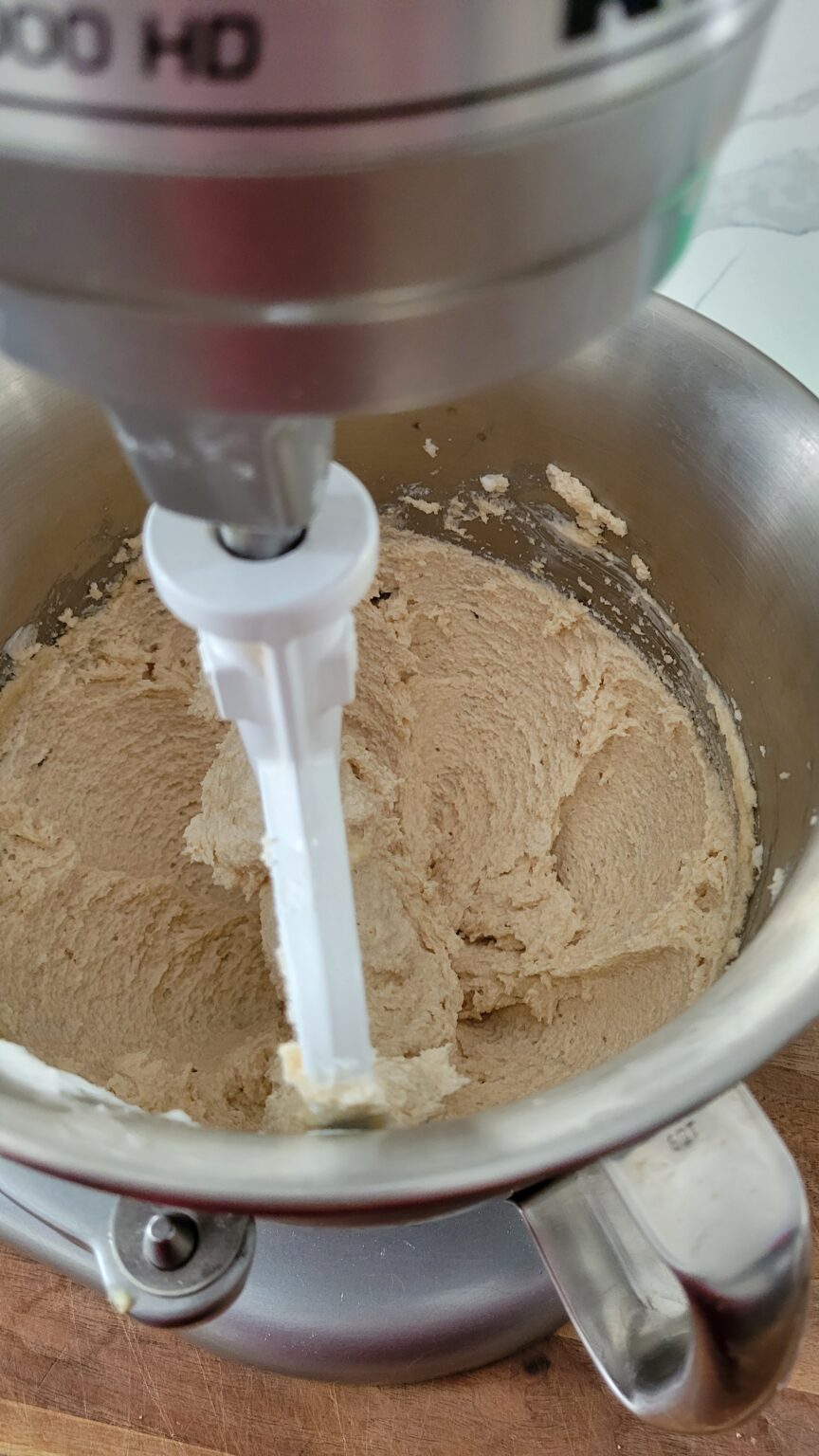 Next, you're going to add your eggs one at a time, and then add the molasses. Stir until it's just mixed.
Now, add your dry ingredients a little at a time, making sure the first batch is fully incorporated before you add more. I recommend adding about 25% of the flour mixture at a time.
Your dough should now look like this:
At this point, it's time to roll the cookies. Using your hands, grab about a tablespoon of dough, and roll until if forms a ball. Roll in additional sugar, and then place on a baking sheet, about an inch apart.
Bake in the oven for 11-12 minutes, until they still look slightly wet on top. You can gently push the top down at this point if you want for more of a crackle effect!
Freezing Old Fashioned Molasses Cookies
Yup! One of the best parts about this recipe is that they freeze incredibly well, either at the dough stage or at the full-baked cookie stage. Make them a month ahead of time and then whip them out as guests arrive for your holiday party, or save them for treats any time of the year.
Freezing the Dough
Make the recipe as normal, getting to the part where you roll the dough into balls and place on a backing tray (don't roll in sugar until you're ready to bake). Place the tray in the freezer for a few hours, until the dough is frozen solid. Toss the balls in a freezer back and throw them back in the freezer.
When you're ready to bake, place the dough back on a baking sheet, let them come to room temperature, and bake as normal.
Freezing the Cookies
Literally chuck them in a bag and put them in the freezer. Defrost and eat!
What to Serve
If, like me, you are thinking, yes, but what alcohol can I serve with these? And can I in fact, drink them? The answer is YES. I made a cocktail that tastes exactly like these cookies. Find it here.
Other Amazing Cozy Foods
Recipe
The Best Old Fashioned Molasses Cookies
These soft and chewy rolled old fashioned molasses cookies really are the best. Made with shortening and strong holiday spices, the texture and the flavour commination knock these out of the part. Plus it makes a HUGE recipe to share (or not), with family and friends!
Ingredients
4

c

flour

2

teaspoon

baking soda

2

teaspoon

salt

1½

teaspoon

cinnamon

1½

teaspoon

ginger

1½

teaspoon

cloves

1½

c

vegetable shortening

1

c

granulated sugar

1

c

brown sugar

packed

2

eggs

½

c

cooking molasses

½

c

additional granulated sugar

for rolling
Instructions
Mix your dry ingredients (flour, baking soda, salt and spices) in a large bowl. Whisk thoroughly, set aside.

In a stand mixer or in with a hand mixer, cream shortening and sugars together until light and fluffy. Add your eggs one at a time, and stir in molasses.

Add your flour mixture a little at a time, letting it fully combine with the wet ingredients before adding more (I like to do about 25% of the flour at a time).

Shape the dough into 1 inch balls, rolling them in your hands (about 2 tbsp. at a time). Roll in the additional flour, place on a baking sheet about an inch apart.

Bake for 11-14 minutes, until the tops still look a bit wet but the edges are dry. You can gently pat the tops for a flatter cookie with more of a crackle top.

Enjoy!
Notes
If you're not a huge fan of the amount of cloves I've got here (it's a lot), you can definitely cut it back. I'm just obsessed with the strong spice flavors.
Same with the ginger!
This makes a HUGE recipe - feel free to cut it in half!
Nutrition
Serving:
1
cookie
Calories:
163
kcal
Carbohydrates:
23
g
Protein:
1
g
Fat:
7
g
Saturated Fat:
2
g
Polyunsaturated Fat:
2
g
Monounsaturated Fat:
3
g
Trans Fat:
1
g
Cholesterol:
7
mg
Sodium:
162
mg
Potassium:
79
mg
Fiber:
1
g
Sugar:
15
g
Vitamin A:
11
IU
Vitamin C:
1
mg
Calcium:
16
mg
Iron:
1
mg
Jump to: