As an Amazon Associate I earn from qualifying purchases.
I really and truly believe that polenta is so incredibly underrated. Picture the best oatmeal you've ever had, but make it savory and for dinner. Now picture it levelling up: jalapeno bacon polenta. I've been experimenting with it for the last few winters and can honestly say only good things about it (check out my basic creamy polenta recipe here).
For this jalapeno bacon polenta, I've taken that basic recipe and kicked it up a notch. These ingredients make for a classic flavour pairing, and they would be amazing under some runny eggs in the morning, or just on their own. Out of the pot. Like I eat it.
Method
Polenta is so straightforward and easy to make. The basic ratio is 4-1 liquid to cornmeal, and after that, you're good to go with any add-ins you want. Many recipes call for the liquid to be water, but like why? When there are so many better alternatives? We shall discuss further in the ingredients section.
All you need to do is heat your liquid in a medium-large saucepan until it's simmering. Slowly add the polenta, whisking the entire time. Continue to whisk as the polenta thickens, which it should do really quickly (for me, it usually happens within about a minute). You definitely want to take it off the heat before it gets to the thickness you want it, because let me tell you, as this stuff cools, it gets real thick real fast. So keep it runny in the pot.
That being said, if you need to let it sit for a bit and it starts to get to hard, just add a couple more tablespoons of liquid and whisk it in again - it will be good as new.
Ingredients
These are pretty straightforward. Bacon adds salt, fat, and flavour. The jalapeno brings the heat (I opted to use the seeds and everything, but to each their own.) The jalapenos cook in the bacon fat, and then that sort of serves as a flavour base for everything else.
For the liquid, I almost always opt for a combo of chicken broth, and 2% milk. The broth adds depth of flavour, and the milk adds creamy richness. Again, why would we use water? Not here. No thank you.
For an extra bit of freshness at the end, I highly recommend chopping up some fresh cilantro just before it hits the table. So. Good.
And - if you're looking for a recipe to put this underneath, try it with scallops! I'll have another recipe with those out soon!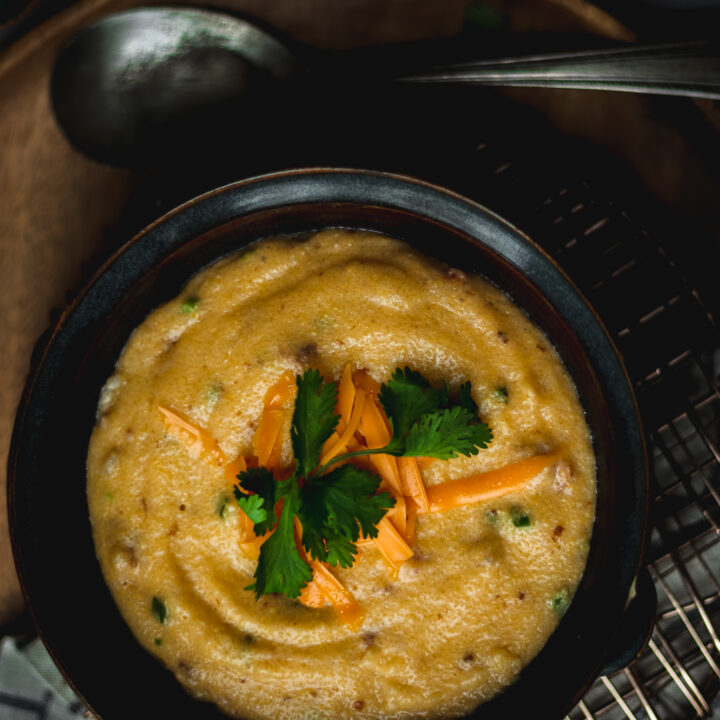 Jalapeno Bacon Polenta
This jalapeno bacon polenta is salty, creamy, and spicy. It feels like a warm hug for your stomach on a cold winter's night.
Ingredients
6

slices

bacon, finely chopped

1

jalapeno pepper, diced

2

C

chicken broth

2

C

milk

1

C

cornmeal

salt and pepper, to taste

fresh cilantro, for garnish

¾

C

cheddar cheese, shredded
Instructions
Heat a medium sauce pan with over medium high heat. Add the bacon and cook until crispy.

Add the jalapeno. Cook until it starts to soften, about two minutes.

Add the chicken broth and the milk. Use a wooden spoon to scrape all the brown bacon bits off the bottom of the pan. Bring to a gentle simmer. (Keep your eye on this, as the milk will quickly boil over).

Slowly whisk in the cornmeal. Continue to whisk until the mixture thickens, about 1-4 minutes. It should have the consistency of a thick pancake batter.

Remove from the heat. Stir in the cheddar cheese until it melts. Add salt and pepper.

Place in a serving dish, and garnish with fresh cilantro.
Video
Notes
The polenta will start thickening almost as soon as it's off the heat. You want almost a brownie batter consistency. If it gets to thick just add a couple of tablespoons of chicken broth or water, and whisk it in. It will be good as new!