As an Amazon Associate I earn from qualifying purchases.
Pasta e piselli (pasta with peas) is a classic Italian comfort food. There are very few ingredients; it comes together in less than 30 minutes, and best of all, everything happens in one pot!
This pasta is simple, rustic, and honestly, so cozy and good. It's perfect for a weeknight meal. The traditional version is even more simple than what's listed here, but when I was testing this recipe I decided to make a few tweaks (adding chicken broth, lemon zest and just a hint of butter at the end).
Pasta e Piselli - a classic Italian dish combining ditalini pasta, sweet peas, and pecorino romano in a flavorful broth. Quick, flavorful, and perfect for busy foodies!
Jump to:
Why You're Going to Love This Recipe
Quick & Easy: Ready in no time for busy foodies like you.
Comforting Flavor: Hearty pasta and peas in a warm, flavorful broth.
Spice Kick: Red pepper flakes add a delightful zing.
Cheese Heaven: Pecorino romano brings rich, savory goodness.
Versatility: Perfect for solo dining or entertaining guests.
Nutritious Balance: Peas pack a healthy punch of nutrients.
Minimal Ingredients: Simple pantry staples turn into a gourmet delight.
Soul-Satisfying: A bowlful feels like a warm culinary hug. Enjoy every bite!
What is Pasta e Piselli?
Pasta e Piselli is a classic Italian dish that translates to "pasta and peas" in English. Its roots trace back to the Southern Italian region of Campania, particularly Naples. This comforting culinary creation is a harmonious blend of pasta, typically small shapes like ditalini, combined with peas cooked in a flavorful broth.
Its origin story lies in the heart of traditional Italian cucina povera, which translates to "peasant cuisine" in English. This culinary style centers around the use of simple, readily available ingredients to craft hearty, fulfilling meals. Pasta e Piselli emerged during times of economic hardship, when peas were a staple due to their affordability and widespread availability. The ingenious combination of peas with pasta resulted in a dish that was not only economically viable but also nutritious and satisfying, capable of sustaining families through trying times.
To prepare this dish, onions are sautéed in fragrant olive oil, creating a flavorful foundation. A touch of heat is introduced with red pepper flakes. Water is added next, though in this case we're using chicken broth, infusing the dish with layers of depth. Frozen peas are then incorporated, contributing both texture and vibrant color. Ditalini pasta is cooked directly in this broth until achieving the desired al dente texture. Finally, the dish is generously adorned with pecorino romano, enhancing its overall flavor profile.
Ingredients
Ditalini Pasta: These small, tube-shaped pasta lend themselves well to absorbing flavors and have a satisfying bite. Their compact size makes them ideal for this dish, ensuring a balanced pasta-to-pea ratio. If you're looking for something similar with a different type of pasta, try this amazing farfalle with chicken and roasted garlic!
Olive Oil: The heart of Mediterranean cuisine, olive oil infuses a rich, fruity flavor. It also serves as a medium for sautéing the onions, adding a layer of depth to the dish.
Onion: Sautéed onions provide a foundational flavor. Their natural sweetness balances the dish, while their aromatic quality elevates the overall taste.
Red Pepper Flakes: These bring a subtle kick of spice. It counterbalances the sweetness of the peas and onions, adding a dynamic flavor dimension.
Chicken Broth: Acting as the base, chicken broth imparts a savory depth to the dish. It infuses the pasta and peas with a hearty flavor, creating a cohesive and satisfying meal. You can also use water if you don't have broth - still totally delicious.
Frozen Peas: These vibrant green orbs provide both a pop of color and a delightful burst of texture. They're also packed with nutrients, adding a healthy element to the dish.
Butter: Gives some body to the sauce.
Pecorino Romano Cheese: This aged, salty cheese is the final flourish. Its robust flavor complements the sweetness of the peas and adds a creamy, rich quality to the dish.
Lemon Zest (Optional): Gives a bright kick at the end.
How to Make It
Each numbered photo below corresponds with the cooking step above it.
Step 1: Sauté the Onions Heat the olive oil in a large pot over medium heat. Once it's shimmering, add the chopped onion. Sauté until it's translucent and has a gentle golden hue. This builds the foundational flavor.
Step 2: Add the Red Pepper Flakes Sprinkle in the red pepper flakes. Adjust the amount to your preferred level of spiciness. Sauté for another minute to infuse the oil with that little kick.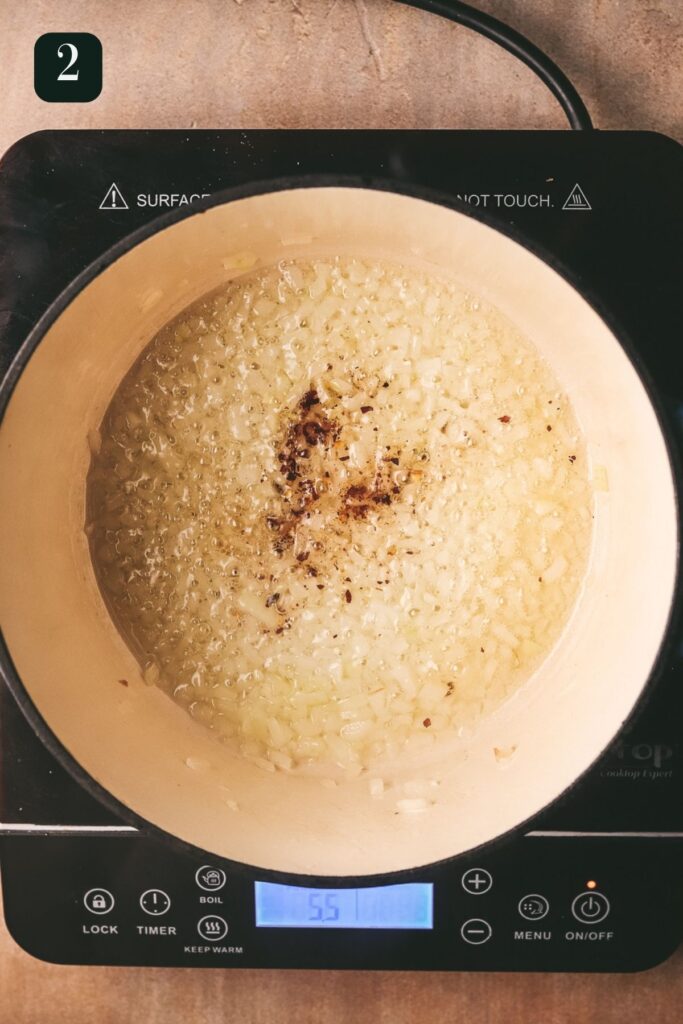 Step 3: Incorporate the Peas Toss in the frozen peas. They add a vibrant color and delightful texture. They'll cook beautifully in the simmering broth.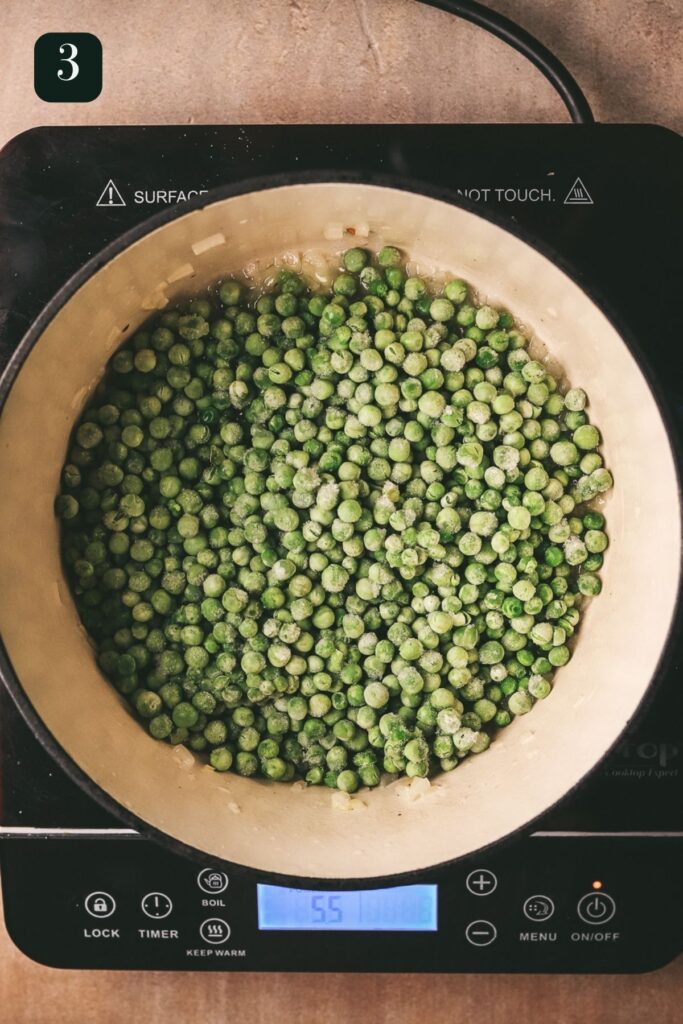 Step 4: Introduce the Chicken Broth Pour in the chicken broth. This brings a rich, savory base to the dish. Let it come to a boil. Add your salt and pepper here as well.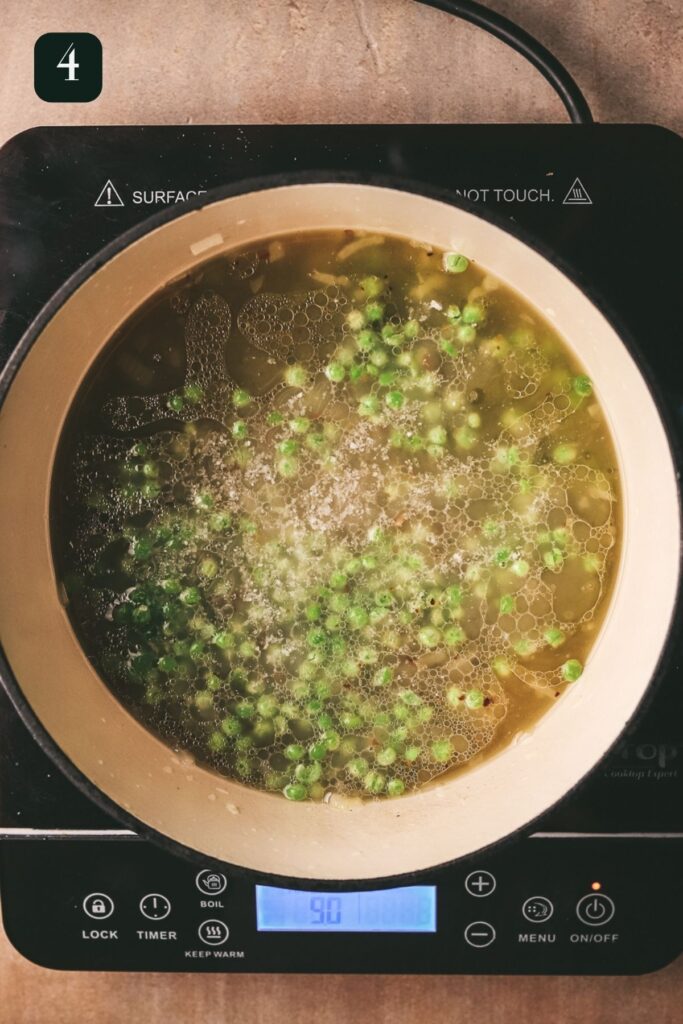 Step 5: Add the Pasta Now, it's time for the star of the show – the ditalini pasta. Once you add the pasta, turn the heat down so it's simmering. Keep an eye on it and stir frequently to prevent sticking.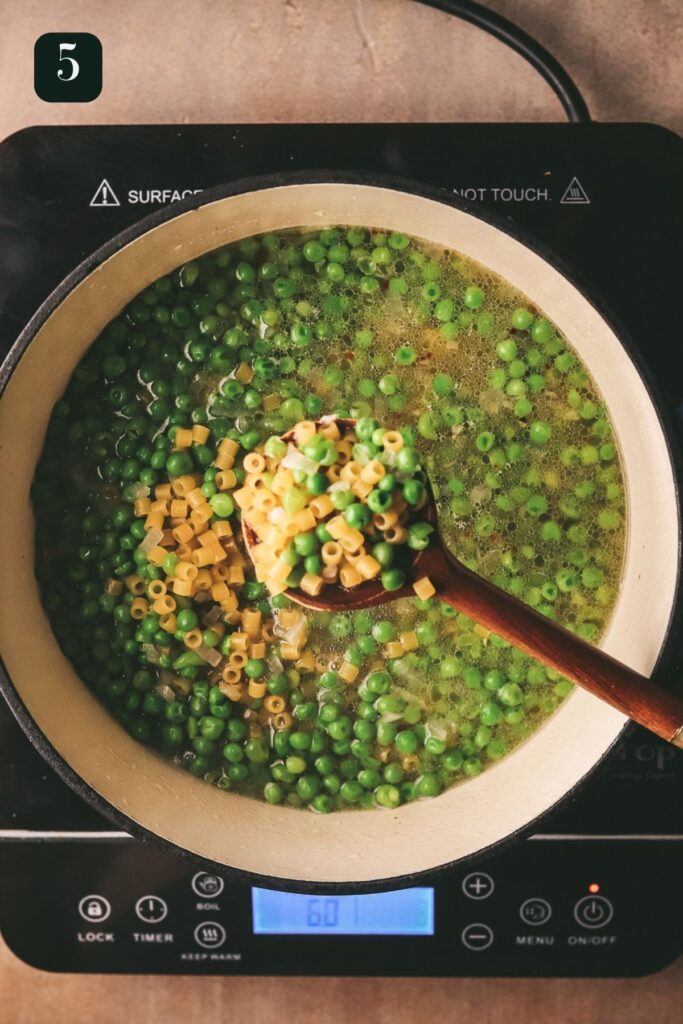 Step 6: Cook to Al Dente Keep simmering until the pasta reaches that perfect al dente stage. It should be tender yet still have a slight bite. This ensures a satisfying texture.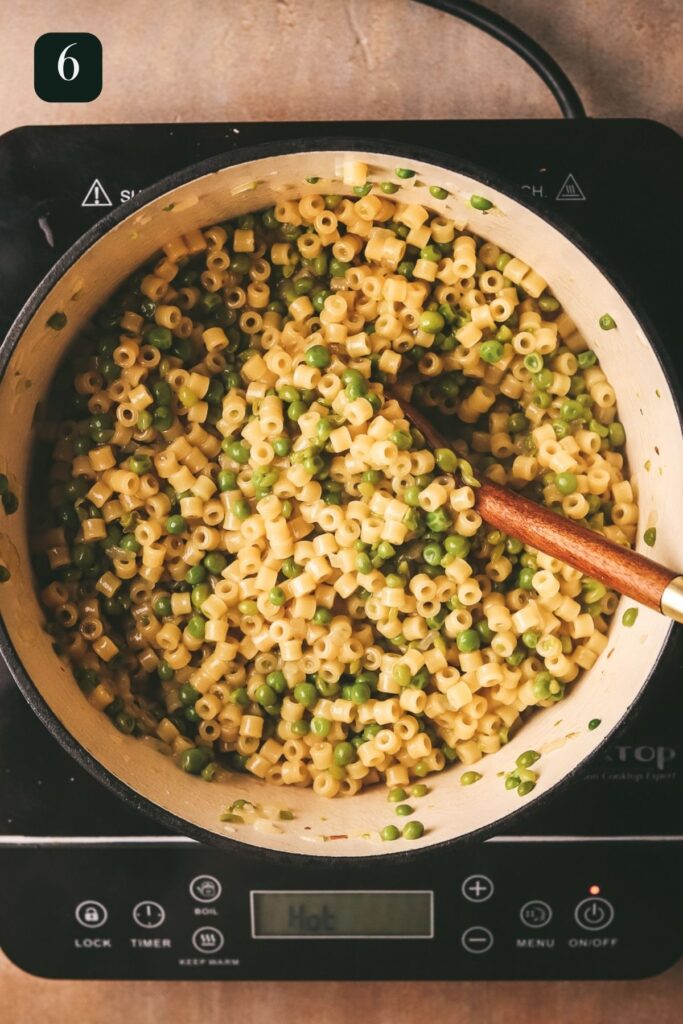 Step 7: Pecorino Romano Finale Once the pasta is just right, sprinkle in the grated pecorino romano cheese. It's also time to add the butter. This adds a creamy, salty finish that ties all the flavors together. Taste for seasoning. Adjust with salt and pepper if needed. If you want, add some lemon zest and parsley right at the end for a bright flavor.
Step 8: Serve and Enjoy Ladle the Pasta e Piselli into bowls. It's best enjoyed hot, so serve it up promptly. Maybe even top it with a little extra cheese for good measure.
Variations
Pancetta Perfection:
Cook diced pancetta until crispy before adding the onions. Its smoky, salty notes elevate the dish to a whole new level. This is often incorporated in the traditional version of the dish.
Herbaceous Twist:
Infuse the broth with fresh herbs like rosemary, thyme, or basil. This adds a fragrant, aromatic dimension to the dish.
Lemon Zest and Parmesan:
Grate lemon zest into the dish just before serving. The bright, citrusy notes complement the richness of the pecorino romano.
Creamy Dream:
Stir in a dollop of mascarpone or cream cheese at the end for a luscious, creamy finish. It creates a luxurious texture.
Vegetarian Delight:
Swap chicken broth for vegetable broth and omit pancetta for a vegetarian-friendly version. You can add some smoked paprika for depth.
Spicy Sausage Surprise:
Brown some spicy Italian sausage in the pot before adding the onions. It brings a hearty, meaty element to the dish.
Tomato Tango:
Add a can of diced tomatoes when you introduce the broth. This introduces a sweet, tangy contrast to the peas.
Mushroom Magic:
Sauté sliced mushrooms with the onions for an earthy, umami boost. Shiitake or cremini mushrooms work beautifully.
Pro Tips & Tricks
Toast Your Ditalini: Before adding the broth, briefly toast the ditalini with sautéed onions and olive oil. This adds a nutty depth to the pasta.
Homemade Broth: If you have the time, consider using homemade chicken broth. It imparts a richer, more nuanced flavor to the dish.
Add more Liquid: If you find your pasta is drying out during the simmering process, turn your heat down a bit, add some more broth, or put a lid on it.
Parmesan Rind Infusion: Toss in a parmesan rind while simmering. It imparts a subtle, cheesy depth to the broth. Remove it before serving.
Finish with Fresh Herbs: Sprinkle with fresh parsley or basil just before serving for a burst of vibrant flavor and color.
Balance the Cheese: Adjust the amount of pecorino romano to your taste. It's a potent ingredient, so a little goes a long way.
Reheat with Broth: If reheating leftovers, add a splash of chicken broth to refresh the dish and prevent it from becoming too dry.
Wine Pairings
White Wine - Pinot Grigio:

Its crisp, citrusy notes and light body complement the fresh, vibrant flavors of the peas and the pecorino romano.

White Wine - Chardonnay:

A buttery Chardonnay with notes of green apple and a touch of oak can stand up to the richness of the cheese and add a luxurious touch.

Red Wine - Sangiovese:

This Italian red with its bright acidity and cherry notes pairs well with the tomato base and the savory aspects of the dish.

Red Wine - Chianti Classico:

With its medium body, good acidity, and flavors of red berries, it complements the earthy elements if you've added mushrooms.

Rosé - Provence Rosé:

Its light, floral notes and crisp acidity make it a versatile choice. It can enhance the freshness of the peas and balance the richness of the cheese.

Sparkling Wine - Prosecco:

A dry Prosecco can add a refreshing contrast to the dish, its effervescence cleansing the palate with each sip.
Storage and Reheating
Storage:
Refrigeration:

Allow any leftover Pasta e Piselli to cool to room temperature. Transfer it to an airtight container.
Store it in the refrigerator for up to 3-4 days.

Freezing:

If you have a surplus or want to prepare ahead, you can freeze it. Place cooled pasta in a freezer-safe container, leaving some space for expansion.
It can be stored in the freezer for up to 2-3 months.
Reheating:
From the Refrigerator:

For refrigerated pasta, you can reheat it in a saucepan on the stovetop. Add a splash of chicken broth or water to maintain moisture.
Heat on low to medium heat, stirring occasionally until it's heated through.

From the Freezer:

If reheating from frozen, it's best to thaw it in the refrigerator overnight.
Once thawed, reheat in a saucepan with a bit of chicken broth or water on low to medium heat, stirring occasionally.

Microwave Option:

If you're in a hurry, you can also use the microwave. Place a portion in a microwave-safe dish and cover with a microwave-safe lid or a damp paper towel.
Microwave in 30-second increments, stirring in between, until it's heated to your liking.
Frequently Asked Questions
Can I use a different type of pasta?
Absolutely! While ditalini is traditional, other small pasta shapes like orzo or small shells work well too.
I'm vegetarian. What can I substitute for chicken broth?
You can easily swap chicken broth with vegetable broth for a delicious vegetarian version. Or, to make it even easier, the traditional version of this recipe calls for water, not broth.
Can I use fresh peas instead of frozen?
Fresh peas can be used, but they may cook faster than frozen. Add them a bit later in the cooking process.
How do I make it creamier?
Add a dollop of mascarpone or cream cheese towards the end of cooking for a creamier texture.
Can I prepare this ahead of time?
Certainly! Store leftovers in an airtight container in the refrigerator for up to 3-4 days or in the freezer for up to 2-3 months.
More Awesome Pasta
📖 Recipe
Pasta e Piselli
This Pasta e Piselli dish is a comforting Italian classic originating from Campania, Naples. It combines ditalini pasta and sweet peas in a flavorful broth, enriched with pecorino romano. Sautéed onions and a hint of red pepper flakes add depth, creating a hearty, satisfying meal. Customize with optional pancetta for an extra layer of flavor. Perfect for busy foodies seeking a quick, delicious meal with an adventurous twist. Enjoy it hot, straight from the stove!
Equipment
Dutch Oven

or other large, heavy bottomed pot
Ingredients
1

lb

ditalini pasta

or other small pasta, such as shells

½

C

extra vigin olive oil

1

onion

chopped

¼

teaspoon

red pepper flakes

up this to your taste

1

lb

frozen peas

4

C

chicken broth

unsalted

1¾

teaspoon

salt

or to taste

¼

teaspoon

black pepper

2

tablespoon

butter

1

C

pecorino romano

grated

1

tablespoon

lemon zest

optional
Instructions
Heat olive oil in a large pot over medium heat.

Add chopped onion and sauté until translucent and lightly golden.

Sprinkle in red pepper flakes and sauté for an additional minute.

Add frozen peas, chicken broth, salt and pepper. Bring to a boil. Then, turn down to a medium simmer.

Toss in ditalini pasta and cook directly in the broth until al dente, stirring often.

Taste and adjust seasoning with salt and pepper if needed.

Add butter and pecorino to the pot, stir until well combined.

Add lemon zest and parsley at the end, if desired.
Notes
Stir Often: While cooking, be sure to stir frequently to prevent the pasta from sticking to the bottom of the pot.
Adjusting Consistency: If the dish becomes too dry during cooking, you can add a bit more water or chicken broth as needed. Alternatively, placing a lid on the pot can help retain moisture.
Cheese Variations: Feel free to experiment with different cheeses for a unique flavor profile. Grated parmesan or asiago can be delightful alternatives to pecorino romano.
Serving Suggestions: Pair this Pasta e Piselli with a crisp green salad or some crusty bread for a complete and satisfying meal.
Nutrition
Serving:
250
g
Calories:
416
kcal
Carbohydrates:
45
g
Protein:
12
g
Fat:
21
g
Saturated Fat:
6
g
Polyunsaturated Fat:
2
g
Monounsaturated Fat:
12
g
Trans Fat:
0.1
g
Cholesterol:
23
mg
Sodium:
614
mg
Potassium:
182
mg
Fiber:
2
g
Sugar:
3
g
Vitamin A:
161
IU
Vitamin C:
2
mg
Calcium:
155
mg
Iron:
1
mg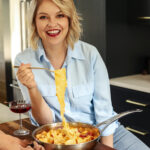 Hi, I'm Cara! I'm a food writer, journalist, and recipe developer. I'm obsessed good food, good wine, good cocktails and entertaining. I've picked up a few tips over the years, and love sharing them with others.