As an Amazon Associate I earn from qualifying purchases.
You don't have to make a reservation at the fanciest restaurant in town to have a romantic meal on Valentine's Day. There are plenty of amazing recipes you can make from the comfort of your home that will impress your significant other. Plus, is anything more romantic than staying in, pouring a great glass of wine, and spending time together in the kitchen?
From the classic filet mignon to a creative sesame-crusted ahi tuna, these recipes are fun, delicious, and definitely gourmet. If you're a bit apprehensive about approaching some of these new ingredients or cooking techniques, don't worry; the recipes come with detailed step-by-step instructions and videos.
What are you waiting for? Scroll through this slideshow and find a recipe that looks appealing to you - and then surprise your partner with an amazing gourmet meal this Valentine's Day.
1. Seared Scallops with Lemon Butter
Seared scallops are light, delicate, and delicious - perfect for any special occasion. Or a Friday night when you've got a good Chardonnay. This recipe is super easy and comes together in about ten minutes. Win-win-win!
2. T-Bone Steak
Nothing says a special date night like a gorgeous steak, some red wine, and perfectly cooked vegetables. This t-bone steak is total perfection. From the perfect flavor (with only salt and pepper), to the tender texture, it's a recipe you'll head back for again and again! This grilling method works great for any steak, by the way.
3. Fresh Oysters with Champagne Mignonette
This fresh and sweet champagne mignonette is perfect for those who are new to the world of oysters. It's a great balance between salty and sweet and leaves out the raw shallot, which can be a bit harsh tasting on the palate. Plus, oysters are considered by some to be an aphrodisiac, so it's a great choice for Valentine's Day 😉
Fresh Oysters with Champagne Mignonette Recipe
4. Lobster Ravioli
It takes a special sauce to be able to hold up to but not overpower the delicate sweetness of lobster ravioli. This is that sauce. Lightly flavored with garlic, shallot, white wine, tomato, and lemon, it strikes the perfect balance for the ultimate luxury dish.
5. Braised Beef Short Ribs
Beef short ribs are deeply flavorful, fork-tender, and just so stratifying to eat. The meat simmers all day in a complex braise, making for an elegant and delicious meal at the end of the day.
Braised Beef Short Ribs Recipe
6. Lobster with Lemon and Garlic Butter
Is there anything better than fresh lobster dunked in garlic butter? Definitely not. Now, you can make it at home without being intimidated. Try and get the liveliest lobsters you can, and make sure you keep them in the coldest part of your fridge until you're ready to eat. Boiling and making the garlic butter couldn't be easier.
Lobster with Garlic Butter Recipe
7. Sesame Crusted Ahi Tuna
This ahi tuna is seared in a flavorful sesame crust to a perfect rare temperature. It's delicious, beautiful, and so satisfying!
8. Lobster Pasta with Champagne Cream Sauce
Lobster pasta is rich, luxurious, and oh-so-decadent. This champagne cream sauce for Valentine's Day will take it over the top.
Lobster Pasta with Champagne Cream Sauce Recipe
9. Braised Beef with Red Wine
Red wine braised beef is the perfect meal to impress your significant other. Rich in flavor and texture, the beef falls apart after braising and simmering in the red wine all afternoon. Make sure you plan ahead a bit for this one - it takes a while in the oven!
10. Tagliatelle Carbonara
Creamy, luxurious, decadent, and dead easy, tagliatelle carbonara is comfort food at its finest. With simple ingredients, this classic dish becomes greater than the sum of its parts.
11. Cast Iron Steak
Steak in a cast-iron skillet is the meal that keeps on giving. It's quick, easy, satisfying, and impressive.
12. Mushroom Sauce for Steak
This rich and luscious mushroom sauce for steak is the perfect pairing with an amazing slab of meat. If you're cooking your steak in a cast iron skillet, use the pan drippings for extra flavor. If you're doing it on the grill, no problem; start with a clean pan and follow the same recipe.
13. Truffle Mashed Potatoes
The perfect decadent treat (especially for Valentine's), these truffle mashed potatoes are over-the-top delicious. We're using butter, heavy cream, and a touch of truffle oil for the savory, complex, and straight-up delicious flavor.
Truffle Mashed Potatoes Recipe
14. Smoked Salmon Pasta with Crispy Capers
This indulgent, decadent, flavor-packed smoked salmon pasta is such a comforting treat at the end of the day. It's elegant enough to serve to guests but easy enough to make it for two at the end of a busy work week (or on Valentine's Day!).
15. Classic Filet Mignon
This is truly a special occasion steak and the best part? It's so easy to cook (we promise). The rich flavor and delicate texture is sure to wow any special guest this Valentine's Day.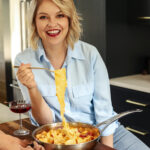 Hi, I'm Cara! I'm a food writer, journalist, and recipe developer. I'm obsessed good food, good wine, good cocktails and entertaining. I've picked up a few tips over the years, and love sharing them with others.