This guide to oysters on the half shell will give you everything you need to know for making and serving the best oysters from the comfort of your home. Oysters can be an intimidating food, from the storing to the preparation, to the actual look and texture of the food (seriously, who was the first human to look at an oyster and think...yeah, I'm definitely going to ingest that?!) but once you know the lay of the land, they are so worth the effort.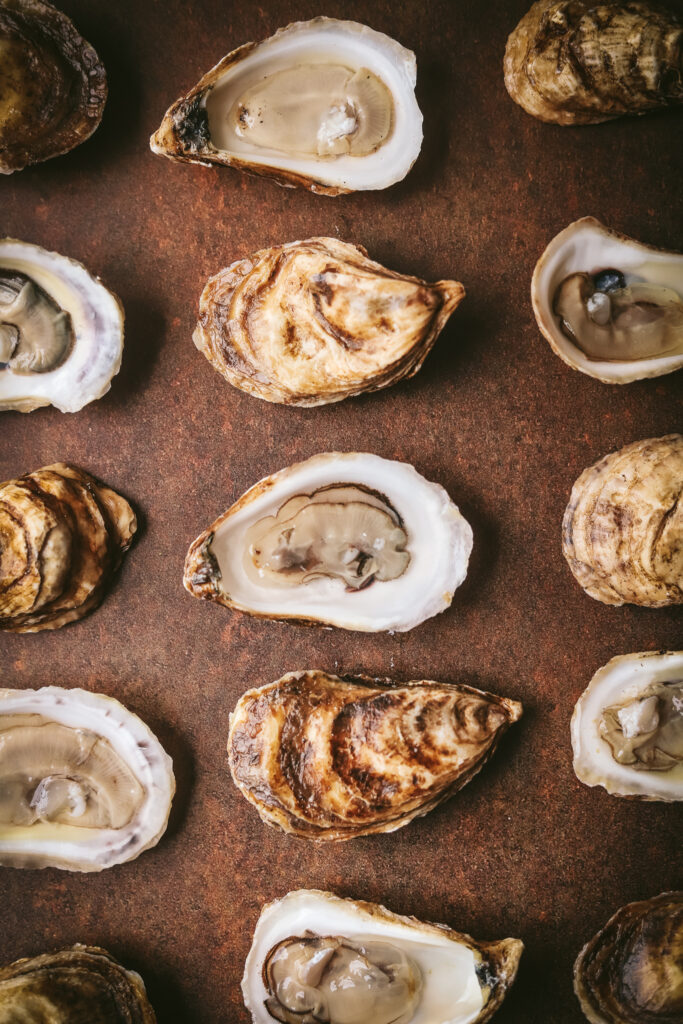 Jump to:
It took me a long (LONG) time before I had the courage to actually eat an oyster, so if you're feeling a bit squeamish about it, I hear you. That's why we're going to walk through this step by step, because, truly, the flavour of these guys is unreal. It always reminds me of what oceans should taste like. Perfectly briny, with a hint of umami, and depending on the type you get, lots of other flavour notes as well (more on that later). These guys started as a staple in my family for every holiday get together, and now they're on mine and my husband's weekly date night menu.
What are Oysters on the Half Shell?
This is just a term used for the particular preparation. It simply means that the oysters are served raw (alive) and on the shell they came in. It's a very common preparation, and it's totally delicious.
The Background on Oysters
So, we're not going to cover the entire history of oysters, because they are actually one of the oldest things on this earth (or at least a version of them was. They're part of the bivalve family, like clams, and those things have existed for 500,000,000 years). But - to my original question in the intro - who the hell looked at an oyster and thought, yes, this would be delicious? Archeologists think that may have happened around 164,000 years ago. There's evidence in South Africa that people enjoyed shellfish dinners in caves from around that time. They likely would have eaten the oysters cooked over a fire though, because oysters open up when they are cooked (similar to mussels).
Oysters were an important part of the diet for both the Greek and Roman Empires, and were considered a delicacy. The Greeks were actually the first to begin farming them. And oysters even made their way into political life - they were used as ballots in the voting process.
But, are They, You Know, an Aphrodisiac?
This is actually a fun one. We just talked about how important oysters were to the Greeks. Not only were they part of the diet, the political scene, but they also worked their way into mythology as well. Aphrodite, the Greek Goddess of Love, was born in the form of an oyster. And that's actually where the term aphrodisiac comes from. So take from that what you will - but science tells us that there's little evidence that any substances thought to be natural aphrodisiacs are real. Boo. Downers.
Oysters for All!
We're skipping over several centuries of history here (but if you're interested in learning more, check out The History of Oysters: Its Rise as a Delicacy and a Staple Food Beloved by Many) By the late 19th century, fresh oysters had become prevalent throughout Europe, and they weren't just reserved for the upper classes any more. In fact, they became one of the cheapest foods around. Major oyster markets quickly opened up in the States as well, especially in New York. You could even get oysters from street vendors.
Of course, because we can't have nice things, the high demand for oysters lead to overharvesting. And we all know what that means: prices go up. It also meant though, that oyster farms became more and more common, rather than harvesting wild oysters (which were susceptible to disease and human development).
Today, oysters remain expensive, but not astronomical in price (they often sell for between $1.50-$3.00 each). Because of that, they are still seen as a bit of a luxury item (especially since they are often served with champagne), but they honestly go so well with so many different flavours, this is totally not necessary.
Best Types of Fresh Oysters
The world is your (fresh) oyster (sorry I had to) when it comes to selection these days. There are many, many different species of oyster, but they are typically broken down into four large groups based on where they are raised.
Atlantic Oysters
These are the famous ones in North America - first discovered in Chesapeake Bay in Maryland. These are typically considered to be fairly large oysters, and have a strong, sea-like or briny flavour (my personal favourite). The cold-water growing oysters tend to have a more firm texture, that some would even describe as "crispy" or "crunchy", although I personally wouldn't go that far.
The flavours of Atlantic oysters can vary greatly depending on where they come from, but are generally described as more savory than their Pacific counterparts. The further north you go, like up into the East Coast of Canada, the brinier they get.
Pacific Oysters
These guys grow on the west coast of North America and the Pacific coast of Japan (though they are also farmed in the UK, New Zealand and Australia). They are typically pretty large - between 3 and 6 inches. They usually taste sweet and creamy, and aren't as briny tasting as their Atlantic counterparts. Other flavours can often include fruity notes, like melon or cucumber.
Kumamoto Oysters
Some people would lump these in as a Pacific Oyster, but they are actually different. Native to Japan, they are small and sweet, and don't have an overtly fishy or briny taste. Their texture is also softer than their Atlantic cousins. They are considered a delicacy, and have a fruity finish. If you can get your hands on some of these, they would be great to try, especially if you're a beginner.
European Flats
Not surprisingly, these oysters are from Europe and go by names such as Belon oysters, or mud oysters. Small compared to Pacific or Atlantic oysters, they have a salty taste, the almost goes over into the metallic. They have a very firm texture though, which makes them great for cooking with (this article is going to focus on the fresh oysters though).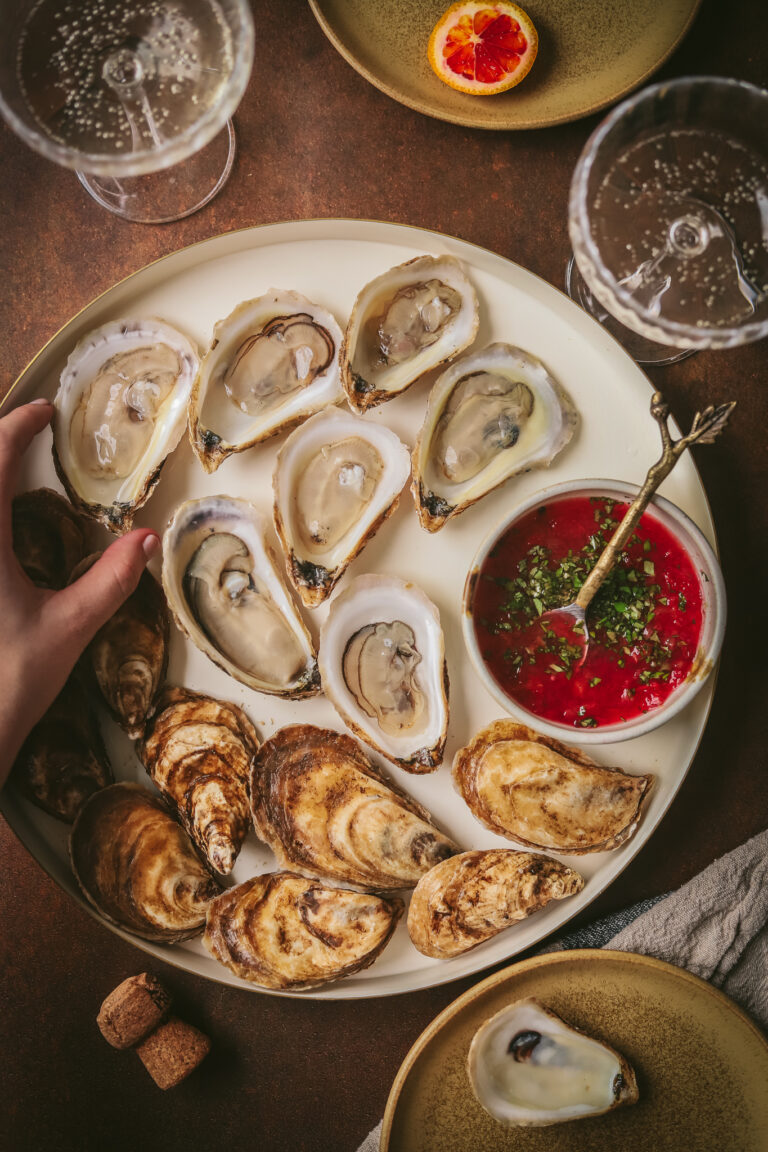 Where to Find Oysters
The best place to start is at your local fish monger or fish market. These guys always have the freshest product, and the most knowledge about oysters. They can tell you what kind they are, the flavour profile, where they're from, and advise you in a certain direction if you're a beginner. You can also sometimes get them at your grocery store fish counter, although I will say I've had bad luck with these in the past. Maybe it's just my experience, but I tend to get more bad oysters from here. Costco also has oysters now, and they've been great!
You can also find oysters on the half shell at many different bars and restaurants (steakhouses especially). There's actually oyster bars around for centuries, and this could be a great place to start if you've never had oysters before. That way you don't have to deal with the whole finding, buying, preparation, and toppings game - someone else can do that for you.
Storing Oysters
Storing oysters is actually pretty easy. Contrary to popular believe, you don't have to store them on ice (although serving them on ice is a good idea). You just have to put keep them in the fridge - and they should be good for up to a week.
How to Shuck Oysters
How to Know if an Oyster is Still Good
There's a couple of ways to know if an oyster is still good. First, make sure it's closed. If the shell is starting to open, that means it needs to be tossed. Second, smell it. It should smell like the ocean. In my experience, it's very easy to tell when an oyster has gone bad - it smells like death and decay. You're going to want to burn your house down when you smell it, definitely NOT eat it.
How to Eat an Oyster
Eating oysters on the half shell is a matter of some debate, so for here's what I'm going with, based on my research and my own experience. When you eat an oyster, you're there for both the flavour and the texture. While some people say just swallow the whole bite, that's not going to get you the full experience. I'm a fan of the two bite method - so let's walk through it.
Grab the oyster, and dress it as desired (with lemon, hot sauce, mignonette etc).
Bring the edge of the shell to your mouth, and tip your head back, the oyster along with it.
The meat of the oyster should slide right out of the shell if it's been shucked properly. If it doesn't, use a small spoon or fork (or a finger) to dislodge the meat from the shell and you should be good to go.
Chew the meat twice, and then swallow.
You're done!
Note: if you're a beginner and the texture is (understandably) freaking you out just a bit - just swallow without the chewing. You'll still get lots of that delicious flavour until you're ready for the next level.
Serving & Recipes: The Ultimate Guide to Oysters on the Half Shell
When I serve oysters on the half shell, I like to serve them with a couple of options. First, you need to have lemon wedges, a bottle of hot sauce, and some grated horseradish for the purists. For Anyone else who likes a little variety, here's a round up of some of my favourite oyster toppings.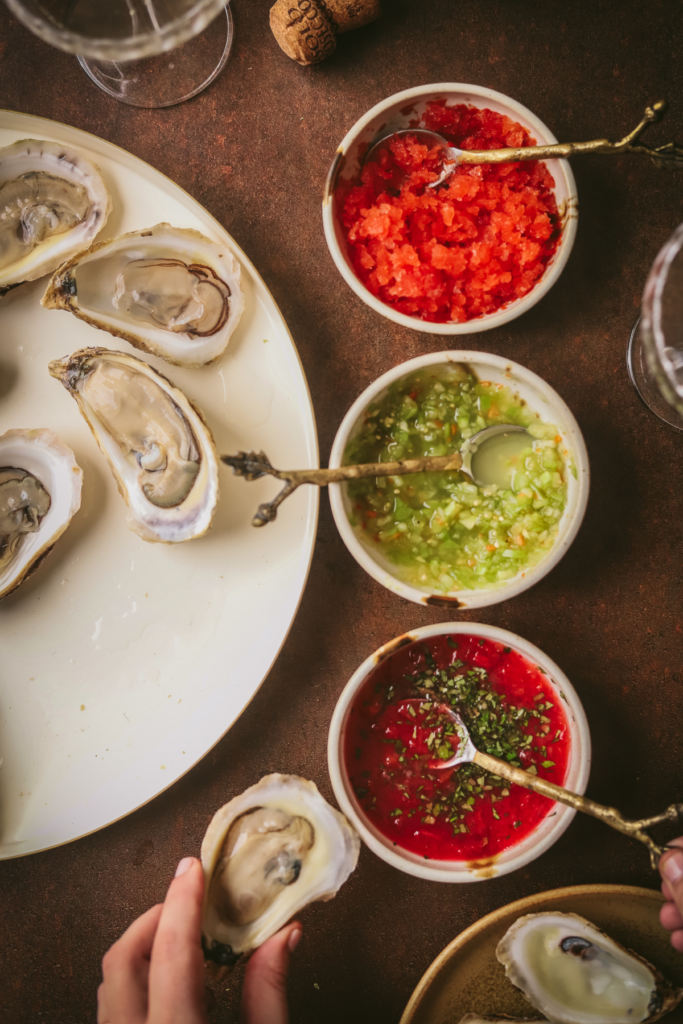 Oysters on the Half Shell with Tomatillo and Habanero Mignonette
Oysters on the half shell are a delicious preparation. The tomatillo habanero mignonette brings the freshness the kick!
Check out this recipe
Fresh Oysters with Easy Tomato and Vermouth Granita Garnish
This savory oyster garnish combines with the salty bivalve to create a perfect bite of food. With only three ingredients, it's a cinch to make, and the texture will keep your guests and your mouth guessing all night.
Check out this recipe
Fresh Oyster Mignonette with Champagne and Blood Orange
This fresh and sweet champagne mignonette is perfect for those who are new to the world of oysters. It's a great balance between salty and sweet, and leaves out the raw shallot which can be a bit harsh tasting on the palate. This is a great recipe for happy hour on a Friday evening!
Check out this recipe
Wine Pairings
Let's keep this simple: for wine, the easiest go-to is always Champagne. It has a great dry body to it that pairs well with oysters - but the texture is even better. The contrast between the silky smooth oyster and the bubbles in the Champagne is to die for. If you're not into Champagne, then go with a Sauvignon Blanc. Again, dry, but with citrus notes that pair well with the salty ocean flavour of the oysters.
Food Pairings
There's two different ways I like to go here. The first is serving oysters at a cocktail party that's full of appetizer and finger food dishes. For this, I like to go with lots of different variety so people can always find something they like. For example, there's always some homemade ricotta and a charcuterie board, carb-y option, like smoked gouda and blackberry wheels, and something super savory, like duck confit dumplings with maple blueberry sauce. And of course, smoked salmon never goes amiss either.
The other option is to make the oysters the main appetizer of the evening, as people are arriving at your house. For this, I would stick with the mignonettes listed above, and you can pretty much serve anything you want for dinner. A classic surf and turf is always a nice option.
Conclusion
Oysters on the half shell can be intimidating, I get it. It took me a long time to get to the point where I even wanted to try them. But, as with most things in life I waited decades to try, I totally regret it. If I have one piece of advice - go try them at an oyster bar first. This makes the whole experience much more approachable and less intimidating in my mind. And the restaurants are usually super knowledgeable about all things oysters. As always, if you have any questions, let me know - I love chatting about this!
FAQ's
What are good oyster on the half shell toppings?
The classic would be a mignonette, a dressing made from vinegar, raw shallot, and black pepper. There are lots of flavour variations on this though. Other popular choices include lemon juice and hot sauce or horseradish.
Are raw oysters alive when you eat them?
Totally! In fact, it's not safe to eat them if they're dead. They will smell horrible after you open them, so you should be able to tell.
What is mignonette?
It's a traditional French topping (usually for oysters) made with vinegar, shallots and black pepper.
What do raw oysters taste like?
It depends on where they're from. Atlantic oysters taste briny or salty, and have a firmer texture the further north you go (like the East Coast of Canada). Pacific oysters tend to a have a sweeter flavour, with a more floral or fruity finish.
How do you eat oysters on the half shell?
Put on your desired toppings, lift the shell to your mouth, slide it in using a spoon to make sure it's not still attached to the shell. Chew twice and swallow.
Jump to: