As an Amazon Associate I earn from qualifying purchases.
Welcome to the post that's all about dip for shrimp! Shrimp is a super popular appetizer at any time of year. It's easy, versatile, and you can add just about any flavor you can imagine to it. So, in this blog we're going to talk different ways to make shrimp, different dips for shrimp, and what goes well with what. It's going to be a shrimp and dip smorgasbord, so buckle up!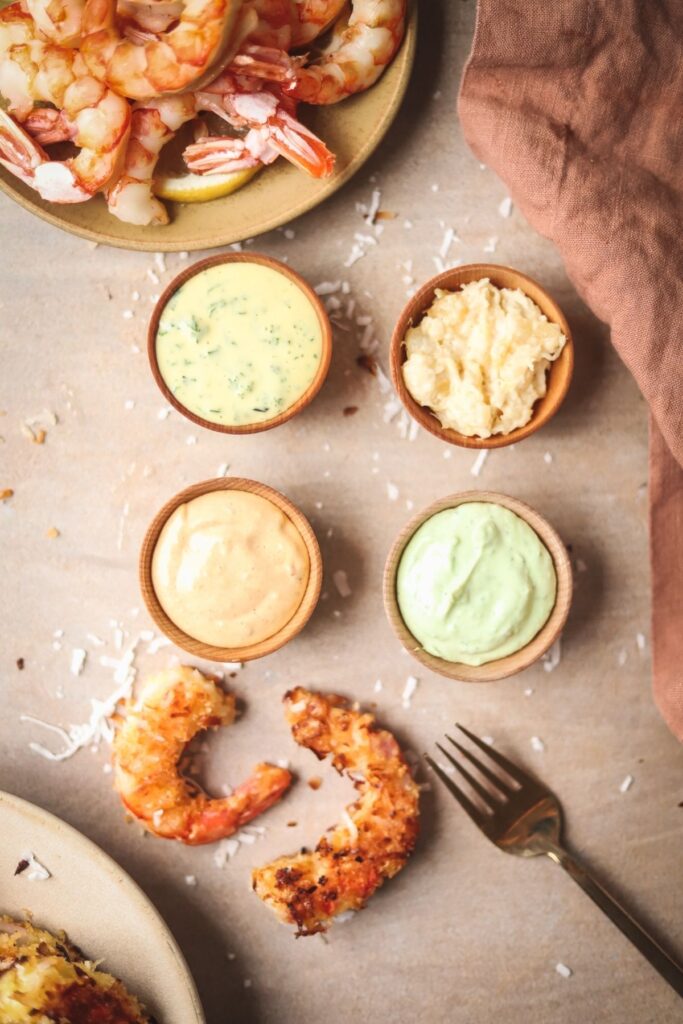 Jump to:
What Dip Goes Well With Shrimp?
There are so many possibilities for dips that pair well with shrimp, it really comes down to a matter of personal taste. Likewise, the different types and methods of shrimp are hugely varied. Not to go all Forest Gump here (but, also, kind of), there's roasted shrimp, coconut shrimp, bacon-wrapped shrimp, shrimp rings, grilled shrimp, popcorn shrimp, and grilled shrimp, just to name a few. The dips and sauces we'll go over today will cover a wide gamut of these (and more), but we'll talk about what's best paired with what, and also provide you with some killer recipes.
I personally love serving shrimp as an appetizer, and then making three or four dipping sauces that people can try and enjoy. I love (LOVE) having variety when I entertain, so opting for smaller portions of lots of different types of appetizers, dips and sauces is my favourite.
How to Make the Shrimp
For the purposes of this blog (which is more about the dip), we're going to stick with super easy lemon-roasted shrimp. It only takes about 15 minutes to whip up, and it goes well with virtually any of the sauces we're going to be talking about (but don't worry, we'll get into what pairs best with different types of shrimp later on).
Ingredients
The ingredients for the shrimp itself are really easy. All you need is one pound of shrimp (I prefer Argentinian, more on that later), garlic, lemon, salt, pepper and olive oil.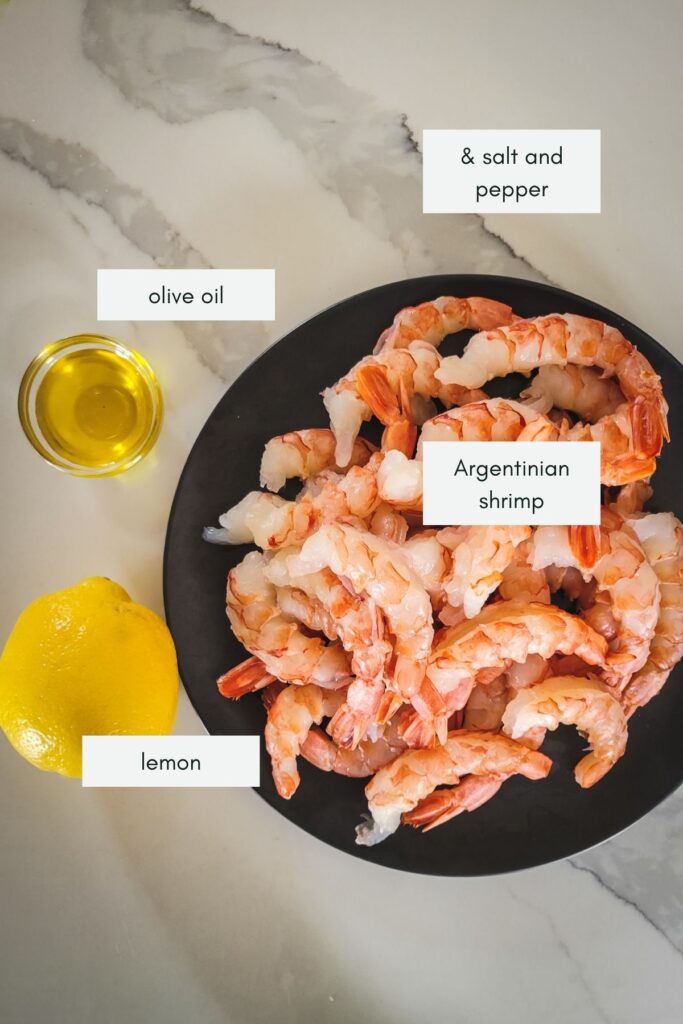 What is Argentinian Shrimp?
Argentinian shrimp are caught off the coast of, you guessed it, Argentina. Unlike other species of shrimp, the are red when they are pulled out of the ocean, and when they're raw (so the shrimp turning pink isn't necessarily an indicator of doneness). They have a super sweet flavour and a beautiful meaty texture that some have compared to lobster. Once I tried them, I haven't looked back.
You can absolutely sub your favourite type of shrimp in this recipe though. They all work!
Can You Use Frozen Shrimp?
Yes, absolutely. I live in an area where fresh shrimp is extremely hard to come by, so this is all I use!
Making the Shrimp
Preheat your oven to 400F. Shell and devein the thawed shrimp (if you can buy this already done, yay!) You can leave the tails on or off, whatever you prefer. Dry the shrimp on a paper towel and sprinkle with salt.
Spread the shrimp on a single layer on a baking sheet. Drizzle with olive oil, pepper, and add lemon slices to the pan. Sprinkle with diced garlic.
Roast the shrimp for 6-9 minutes, until it reaches an internal temperature of 120F.
Serve on a large platter with dipping sauces.
Mix & Match
These are just my recommendations for what I think goes best with different types of shrimp. But more often then not when I'm entertaining, I make all four of them, and let people mix and match to see what they like the best! The smoky chipotle, for example, is a great sauce for coconut shrimp (so is the creamy avocado). So don't be afraid to try them all!
Dip for Roasted Shrimp (Herb & Garlic Aioli)
Now that our shrimp is done, let's get into the dipping sauce. For roasted shrimp with bright, citrus flavors, I absolutely love a savory aioli with herbs to freshen it up. Luckily, this is super easy to make.
For this dip, we'll need an immersion blender. It's so easy, and comes together in less than five minutes. It's also great with chicken, fish or burgers, so keep any leftovers you have in the fridge!
Ingredients
Vegetable Oil
1 room temperature egg yolk & 1 room temperature egg
Lemon juice
Dijon mustard
8-10 fresh basil leaves
¼ C fresh parsley
1 clove of garlic, diced
Salt and pepper
I've made this aioli countless times, and this method is FOOLPROOF (see video below for more info). But basically, you combine all the ingredients, immersion blend for 10 seconds (literally, not exaggerating) and your done.
Dip for Bacon-Wrapped Shrimp (Smoky Chipotle)
Another aioli based sauce, this one combines creamy texture with peppers in adobo to get that perfect balance of smoky, spicy and sweet! You can easily make the herb and garlic aioli and smoky chipotle sauce at the same time (just like a do in the video below) by splitting the aioli in half. Add the herbs to one half, and then blend the chipotle pepper in the other. Basically, make the above aioli (see video), and then just add one chipotle pepper in adobo sauce to it (more or less, depending on your taste.
Coconut Shrimp Sauce (Pina Colada Sauce)
Coconut shrimp has got to be one of the most popular ways to eat shrimp. And why not, it's so sweet, crispy, and a perfect match for delicate meat inside. P.S. Looking for a great coconut shrimp recipe? I've got you covered. We're going to stick with a theme here and go for the tropical flavors with this amazing Pina colada sauce.
This sauce is so easy to make. Possibly even easier than the aioli. You need just three ingredients:
Cream of Coconut
A can of diced pineapple
lime juice
Throw it all into a medium pot over medium high heat. Let the sauce reduce by about a half. Garnish with a little fresh lemon zest and coconut flakes, and you're good!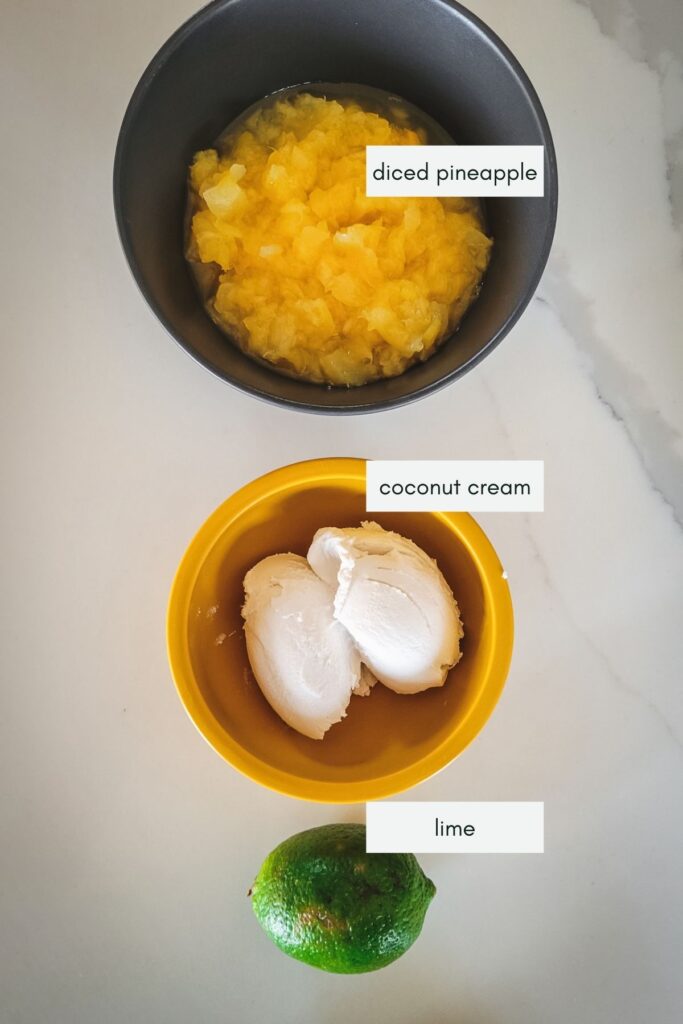 Dip for Grilled Shrimp (Creamy Avocado)
Grilled shrimp are absolutely amazing. The smoky flavor that the grill brings to these sweet crustaceans is unmatched - so we need a dip that's going to hold up to it. Enter creamy avocado and cilantro dip. Here's what we're going to need:
Avocado
Greek Yogurt
Cilantro
Lime Juice
Salt and Pepper
You can make this dip for shrimp using your immersion blender or a food processor (my preference is the immersion blender). This dip is so easy - throw it all in the container for the blender, and blend until it's smooth and creamy. Adjust the amount of lime juice, cilantro, and salt and pepper to your taste.
Recipe
Dip For Shrimp (plus Shrimp Recipe)
These four dips for shrimp will go well with pretty much any type of shrimp you want to serve. Feel free to try them out with other foods too, like chicken or fish! They're super versatile, and definitely deserve a place in your kitchen.
Equipment
Immersion Blender or Food professor
Ingredients
For the Roasted Shrimp
1

lb

Argentinian Shrimp

peeled, deveined, thawed

½

teaspoon

salt

1

tablespoon

olive oil

1

lemon

thinly sliced

2

cloves

garlic

diced
For the Herb & Garlic Aioli
1

egg

room temperature

1

egg yolk

room temperature

1

C

vegetable oil

2

tsp

lemon juice

2

teaspoon

Dijon mustard

1

clove

garlic

diced

8

basil leaves

¼

C

fresh parsley

torn
For the Pina Colada Sauce
diced pineapple

coconut cream

2

tablespoon

lime juice
For the Creamy Avocado
1

avocado

¾

C

greek yogurt

¼

C

cilantro leaves

2

teaspoon

lime

salt and pepper

to taste
For the Smoky Chipotle
1

egg

room temperature

1

egg yolk

room temperature

1

C

vegetable oil

2

teaspoon

lemon juice

2

tsp

Dijon mustard

1

chipotle pepper in adobo sauce

salt and pepper

to taste
Instructions
For the Roasted Shrimp
Preheat your oven to 400°F. Pat your shrimp dry with paper towels, then sprinkle with salt. Spread in an even, single layer on a large baking sheet. Season with pepper, and tuck the lemon slices around, between, and underneath the shrimp. Sprinkle garlic over the pan. Cook for 6-9 minutes, until the shrimp have reached an internal temperature of 120°F. Serve immediately on large platter with selection of dipping sauces (see below).
Herb & Garlic Aioli
Combine all the ingredients in immersion blender. Blend for 10 seconds, or until smooth. Keep in the refridgerator until ready to serve.
Pina Colada Sauce
Combine all the ingredients in a medium pot over medium high heat. Reduce to a simmer, and allow the sauce to reduce by about a half. Serve in a medium bowl, garnish with lime zest and coconut flakes.
Creamy Avocado
Combine all the ingredients into a food processor or an immersion blender. Blend until smooth. Season to taste with salt and pepper.
Smoky Chipotle
Combine all the ingredients in an immersion blender or a food processor. Blend until smooth.
Video
Notes
Mix and match these sauces with all your favorite types of shrimp. It doesn't just have to be roasted, try it with coconut, popcorn, grilled or fried!
Jump to: