As an Amazon Associate I earn from qualifying purchases.
Yes, you read that correctly. We're calling it grilled cheese with caramelized onions and gruyere, but IYKYK: it's French onion grilled cheese.
Making Caramelized Onion Grilled Cheese
As you've probably guessed, it's pretty easy to make the grilled cheese. Making caramelized onions on the other hand - that's a different story. It involves cooking them low and so slow for a very long time. Luckily, I made a video about it:
And! If that's not enough, I also made a whole post on how to do it, complete with hacks (but no shortcuts, sorry 🙁 )
Once we're through the caramelized onions, it's time to build our triple-decker grilled cheese (and yes, you can 100% make this as a normal-decker grilled cheese, but where's the fun in that?).
Ingredients
Once you've got your caramelized onions, the rest of the ingredients are so straightforward and simple:
Caramelized onions
White bread (or any kind of soft bread you prefer)
Mayo
Gruyere cheese
Easy!
Building and Cooking the Triple Decker Sando
We're going to break this down in steps. I did have a whole video on it, but during the most important part of the process I forgot to hit record I ran into some technical issues so here we are.
Grab three slices of bread. Spread mayo on one side each. These are going to be on the outside of the sandwich when it goes in the pan.
On the dry side of one of the slices, pile on some grated gruyere, then caramelized onions, then more gruyere. Top it with a second slice of bread, again, mayo on the outside.
Heat a non-stick skillet to medium/medium-low (we don't want the grilled cheese to burn before the cheese melts, so it's better safe than sorry at this point.
Put the grilled cheese in the skillet. Cook until it's golden brown and the cheese is beginning to melt. Carefully flip it over, and repeat the process.
This is where we build the third layer. While the sandwich is still in the pan, and you have a golden side facing you, layer the gruyere and the caramelized onion just like we did in step two. Top it with your last slice of bread, mayo on top.
Flip it one last time, and this time, use your cooking utensil to press down on the entire sandwich. It needs to flatten out a little bit to be edible.
Once it's golden and the cheese is melted, remove from the pan, and cut on the diagonal (non-negotiable).
Enjoy!
Flavor Variations
This flavor combination was obviously inspired by the classic French onion soup. This is the most basic version, but you can definitely make some really interesting variations. Try:
Caramelized onions + rosemary + balsamic vinegar
Caramelized onions + bacon + apple + brie
Caramelized onions + mushrooms + ham
Caramelized onions + arugula + oxtail (I KNOW RIGHT?)
Freezing and Storage
I mean, you can store this in the fridge for a couple of days, but why? If you really want to do that, the best way to reheat is likely on a baking sheet in the oven.
Honestly, you can freeze it but don't. Just...don't. Eat it immediately.
📖 Recipe
Triple Decker Caramelized Onion Grilled Cheese
Grilled cheese with caramelized onions and gruyere might be the most comforting food known to earth. Hearty, delicious and so fun. And, now that you know the triple decker technique, you can make all your grilled cheeses this way!
Ingredients
3

slices

white bread

3

tablespoon

mayonnaise

½

C

gruyere cheese

grated
Instructions
Preheat a non-stick frying pan to medium low heat.

Spread mayo over one side of each slice of bread. Building on the dry side, layer cheese, onions, and more cheese. Top with second slice of bread, mayo facing out.

Add sandwich to the pan. Flip when first side is golden brown and cheese is starting to melt.

Once you've flipped the sandwich, it's time to add our third layer. While still in the pan, once again layer cheese, onion and cheese on the top surface of the grilled cheese. Add the last slice of bread, mayo facing out.

Flip the sandwich one last time to cook on the last face. Press down on the grilled cheese with your cooking utensil to make it a bit thinner.

Once the cheese is melted and the last side is golden brown, remove, slice, and eat immediately.
Notes
You can use as little or as much cheese and onion to fill the grilled cheese as you want.
Remember to cook it low and slow. If the pan is too hot when you put the sandwich in, it'll burn on the outside, and the cheese won't melt. Yuck.
Nutrition
Serving:
1
sandwich
Calories:
804
kcal
Carbohydrates:
48
g
Protein:
28
g
Fat:
55
g
Saturated Fat:
18
g
Polyunsaturated Fat:
21
g
Monounsaturated Fat:
14
g
Trans Fat:
1
g
Cholesterol:
90
mg
Sodium:
861
mg
Potassium:
320
mg
Fiber:
4
g
Sugar:
10
g
Vitamin A:
656
IU
Vitamin C:
9
mg
Calcium:
893
mg
Iron:
3
mg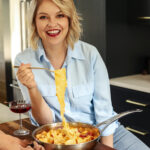 Hi, I'm Cara! I'm a food writer, journalist, and recipe developer. I'm obsessed good food, good wine, good cocktails and entertaining. I've picked up a few tips over the years, and love sharing them with others.