As an Amazon Associate I earn from qualifying purchases.
There is nothing quite so satisfying to me as a golden, crispy, buttermilk chicken sandwich that's been deep fried to perfection. I have tried them all (truly), and it's my go to order at a restaurant when I'm not sure what else to get. And then I judge the entire restaurant based solely on what I think of that sandwich. Harsh, but true.
Eventually, I decided to give my own a go. This recipe, I can tell you, has been tested, and eaten, many, many, many times. I've even got some delicious chipotle and slaw variations on it. But today, we're sticking to the classic.
Jump to:
An Ode to Fried Chicken Sandwiches Everywhere
Listen, there's a reason these sandwiches are so popular: they are freaking delicious. I'm sure you all have your favourite place to get one (McDonald's, Popeye's, Chik-Fil-A, Carl's Jr., please fight it out in the comments. I'm a Popeyes girl myself), and you've no doubt seen these things go totally viral more than once. In Canada, it was a legit hype-fest when Popeyes FINALLY gave us their iconic version back in 2020.
While I definitely enjoy taking a break from gourmet cooking and dining to indulge in one of these fast-food delights once in a while, I also love this homemade version. It comes out piping hot, crispy yet tender, and with just a hint of spice from the buttermilk marinade. Speaking of which...
Your Buttermilk Chicken Sandwich Questions, Answered
So what's the deal with buttermilk and fried chicken, you ask? Great question. Let's dive in.
What does soaking in buttermilk actually do?
Short answer: it tenderizes the meat while keeping it nice and juicy. Things like acid (vinegar, lemon juice) can also make the meat tender, but they sometimes dry it out. This is why buttermilk is the ultimate tool for marinating fried chicken.
How long should I let it soak?
For best results, you should let it soak at least 12 hours, and up to 24. However, when you're in a pinch, 30 minutes will impart some flavor, if not so much tenderizing the meat.
Can you use milk instead of buttermilk?
Nope, sorry. The reason this works is because there's acid in the buttermilk. Soaking in milk won't make the meat tender.
Can you marinate raw chicken in buttermilk overnight?
Totally. This is actually great, because it allows the acid in the milk to do it's job (it takes a while to make the meat tender).
Can you flavor the buttermilk?
Yes, you definitely can! Try adding some hot sauce to it for amazing fried chicken.
Ingredients
There's nothing too complicated (yay!) about this ingredient list:
Boneless, skinless chicken thighs (or, if you can find bone-less with skin on, do that!) These are going to be super tender and juicy, even if you don't marinade in buttermilk overnight. They're also smaller, the perfect size for sandwiches, and easier to fry than chicken breasts.
Buttermilk: the perfect ingredient for making the meat tender while keeping it juicy, and also a flavor vehicle.
Hot sauce: We're going to add this to our buttermilk to give these crispy buttermilk chicken sandwiches a kick. I love that it gives some flavor, while being a slow, not overpowering burn. So good.
Salt: obviously
Flour: for the breading, that combined with the cornstarch is going to give us a beautifully crispy finish
Oil: for deep fat frying. Definitely pick a neutral oil with a high burn temperature. Something like vegetable or canola oil will do the trick.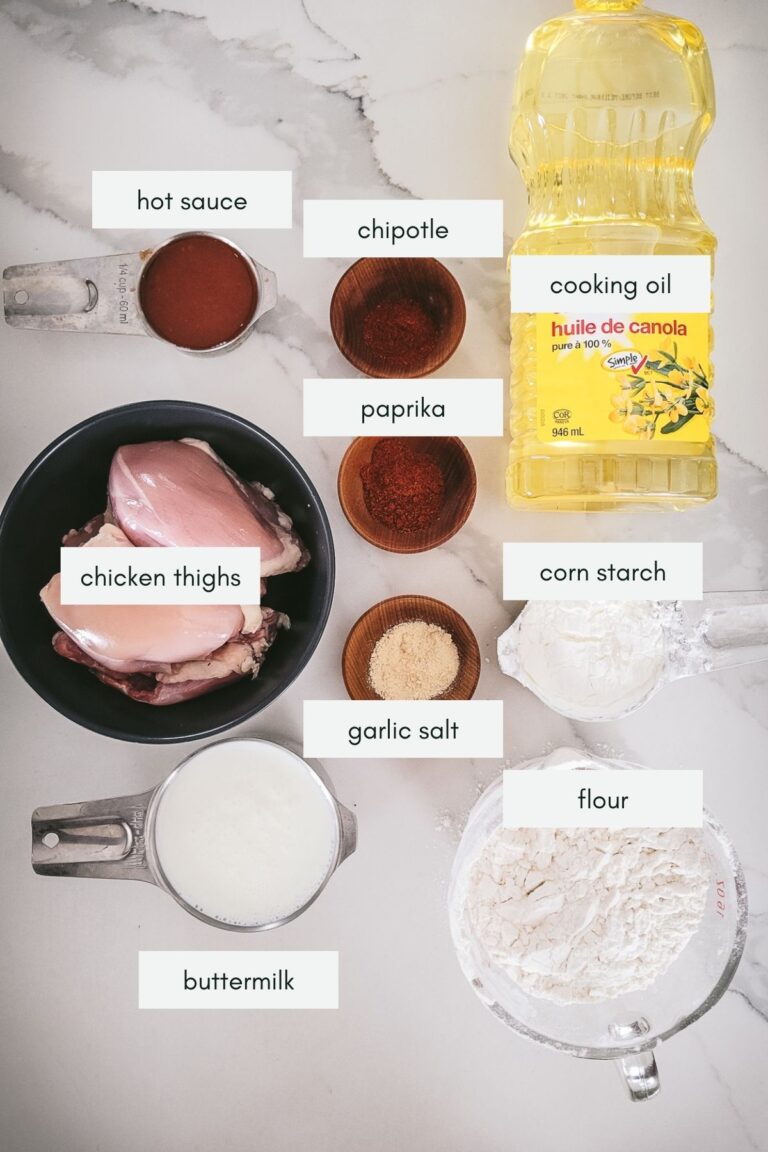 Toppings
We can't have a fried chicken sandwich without the toppings! Feel free to experiment, but I prefer to keep mine simple for this sando:
Brioche hamburger buns: there's just something about the contrast of the sweet flavor of the brioche with the spicy savory flavor of the chicken. Not to mention the soft texture with the crunchy chicken. It's *chef's kiss*. You can definitely use regular buns, but try to grab something with a soft and squishy texture.
PICKLES: and I cannot stress this enough. You can do what you want, but in my opinion, it's not a buttermilk chicken sandwich without a buttload (technical term) of pickles.
Homemade Mayo (aioli): to me, the aioli just brings it to the next level. Before you ask, yes, of course you can use store-bought. Just make sure to slather it on there real good.
How to Make a Fried Chicken Sandwich
Making a crispy buttermilk chicken sandwich isn't hard, but if it's your first time (especially deep frying), it can be intimidating. Don't worry, we're going to walk through this step by step, talk about some of the tools I use, and tips I swear by! Plus, there's a video at the end if you want some more visuals. It's also really important to have a meat thermometer available.
Flatten out your thighs
The first thing we're going to do is flatten our chicken thighs - or make them thinner. To this, lay some plastic wrap down on your counter or cutting board. Lay two chicken thighs out side by side, as flat as possible. Cover them with plastic wrap, and smash them with a rolling pin (or a meat mallet, if you have one). Repeat the process with the remaining two thighs. You don't have to go crazy with this, we're just trying to make them as even as possible so we can get the cooking time right.
Marinate in Buttermilk and Hot Sauce
Next, we're going to mix our buttermilk and hot sauce in a medium sized bowl. Add the chicken thighs, cover, and put in the fridge for at least 30 minutes four hours, or up to 24 hours. (Listen, if 30 minutes are all you got, I'm not going to judge. You do you).
Bread Your Chicken (and Preheat your Oil!)
Time to get your oil and breading ready! I like using my Dutch oven for deep frying, but you can also use a deep saucepan as well. Fill it until the oil reaches about halfway up the sides (it'll be a lot, I know), and turn the heat on to medium high. It takes a while for oil to heat up (in my experience it can be 20 minutes or more), but we're aiming for a temperature of 350°F.
Meanwhile, combine the flour, cornstarch, salt and pepper in shallow bowl or pie plate. Pull your chicken out of the buttermilk, and allow excess buttermilk to drip off. Dredge the chicken in the flour mixture.
And, we're going to double-dredge these. So once it's been in the flour mixture once, dip it back in the bowl with the buttermilk and hot sauce, and give it another coating of flour. It should look something like this after the second time:
Deep-Fry Time
Once your oil hits 350°F, it's go time. Add the chicken thighs, two at a time, and cook until the outside is golden brown, and the internal temperature is 165°F. Keep an eye on the temperature of the oil, you may have to adjust the temperature of your burner after you add the chicken, because it will cool down the oil.
Let the Chicken Rest
Set up a cooling rack overtop of a baking sheet, and allow the chicken to rest for 10 minutes and the excess oil to drip off. This is going to ensure you get that crispy skin!
Build your Sando
Slather on some mayo, load it up with pickles, and voila! You're good to go!
Tips and Tricks
If this your first time making a chicken sandwich from scratch, here are some things to keep in mind that will make the process easier!
Get a meat thermometer, and use it for both the oil temperature and the internal temperature of the chicken. You really, really don't want to put the chicken in oil that's too cold. It just soaks into the breading, and you'll have a hard time getting it crispy!
Let the chicken come up to room temperature before you dredge and fry it. This serves a couple of purposes. First, if the chicken is at room temp, it won't cool the oil off as much when you put it in, and second, it will cook more quickly, without burning.
Use oil with a high smoke point! Olive oil IS NOT WHAT YOU WANT for deep fat frying. Use vegetable oil or canola oil.
Don't let your chicken dry off using paper towels. Will it soak up the oil? Yes. Will sitting in it's own oil make the chicken soggy? Also yes. This is why we use the wire rack/baking sheet method.
Let it rest! First of all, never a good idea to put searing hot meat directly from the deep fryer anywhere near your mouth. Second, it allows the oil to drip off, the skin to dry and totally crisp up. And you won't burn the roof of your mouth off. So. Bonus.
What to Serve
There are so many great dishes to serve with crispy buttermilk chicken sandwiches. Here's a few that pop to the front of my mind immediately:
Wine Pairings
The best wine choice with any type of fried chicken is bubbly. So bust out the Champagne and enjoy! Champagne always pairs well with fatty foods, as the acidity cuts it way through it. It also goes super well with salt, so it's a home run here. Of course, Prosecco and Cava are also great options. Since this sandwich is also a bit spicy, a sparkling Rose pairs well with the heat!
And don't just stick to this when you're making these sandwiches. Next time you're bringing home the KFC bucket, get your sparkling wine on! You'll never go back, I promise you!
P.S. This pairing works with other salty, fatty foods as well. If you want to get creative, try sparkling wine the next time you have pizza, potato chips, or French fries. There's something super appealing to me about that atmosphere too!
Storage and Reheating
Listen. You can and should keep the leftovers of fried chicken. But we all know that these sandos are going to be best day of. If you want to reheat them, I would put them on a baking sheet in the oven at 350F. If you can put them up on a baking rack so the air can circulate, even better. This is your only chance at crispiness in the leftover situation. (But it's going to taste delish not matter what, let's be real).
For storing: airtight container in the fridge for up to three days.
Recipe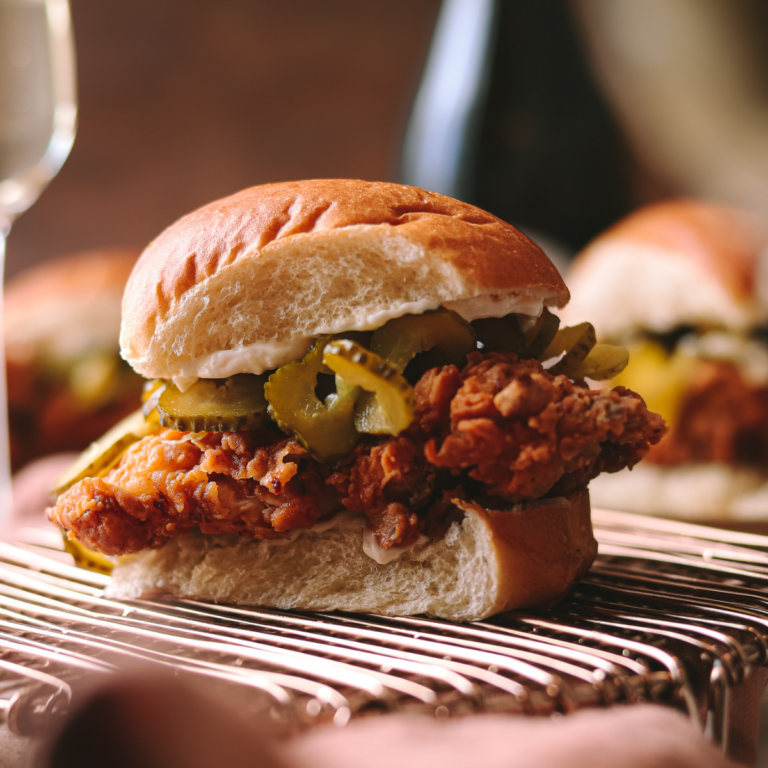 Crispy Buttermilk Chicken Sandwich (with Homemade Mayo)
Spicy, tender, crispy, delicious. This is the only buttermilk chicken sando recipe you will ever need. Pair it with some bubbly and some Netflix on a Friday night, and you've got the recipe for a perfect date night in.
Equipment
Large, deep sided pot for deep-fat frying
Ingredients
For the Buttermilk Marinade
4

boneless, skinless chicken thighs

1

C

buttermilk

¼

C

hot sauce

2

teaspoon

salt

divided

1

teaspoon

pepper

divided
For the Breading
vegetable oil

for deep fat frying

1½

C

flour

½

C

cornstarch

1

teaspoon

paprika

1

teaspoon

garlic salt

1

teaspoon

chipotle chili powder
Homemade Mayo
1

egg

room temperature

1

egg yolk

room temperature

1

C

vegetable oil

1

tablespoon

lemon juice

1

tbsp

Dijon mustard

1

teaspoon

salt
Toppings
4

Brioche buns

4

tablespoon

mayo

2-4

pickles

spiraled, or thickly sliced
Instructions
Marinade the Chicken in Buttermilk
On a cutting board, place a piece of plastic wrap. Lay two chicken thighs out, and then place another piece of plastic wrap on top. Pound with a rolling pin or a meat mallet until the thighs are a fairly even thickness. Repeat with remaining thighs. Set aside.

Combine the buttermilk, hot sauce, 1 teaspoon of salt and ½ teaspoon of pepper. Add the chicken thighs and cover. Refrigerate for at least 4 hours, up to 24 hours.
Dredging & Frying
When you're ready to fry the chicken, take it out of the fridge and let it come up to temperature on the counter. Start heating your vegetable oil in a deep sided pot over medium-high heat. The oil should come halfway up the sides of the pot. While the oil is heating, make the breading.

Combine the flour, cornstarch, paprika, garlic salt, chipotle chili powder, and remining 1 teaspoon of salt and ½ teaspoon of pepper in a shallow dish or pie plate. Whisk to combine.

Let the excess buttermilk drip off the chicken. Dredge in the flour mixture, making sure it gets into all the cracks and crevices. Now, dip it back in the buttermilk and hot sauce mixture (it's ok that the other chicken thighs are still in there). Coat it once again in flour, and set aside. Repeat for remaining chicken thighs.

When the oil is at 350°F, add two of the chicken thighs. Fry until golden brown on the outside, while reaching an internal temperature of 165° internally. Remove to a wire rack over a baking sheet. Fry the remaining chicken thighs. Let the chicken rest for 10 minutes before building the sandwiches.
Build the Sando
Spread Brioche buns with mayo. Layer on the pickles, and add the chicken thigh. Top with the rest of the bun, and serve.
For the Homemade Mayo
Add all the ingredients to a high sided bowl. Using an immersion blender, slowly work your way from the top to the bottom of the ingredients, until smooth and creamy. Can be made ahead.
Notes
Use a meat thermometer to check the temperature of the oil - don't try and guess. I have done this. It ends in disaster.
Make sure you let the chicken rest! It's important for the crispy process!
Don't let the chicken rest on paper towel, use a wire rack.
Nutrition
Serving:
1
sandwich
Calories:
425
kcal
Carbohydrates:
94
g
Protein:
39
g
Fat:
37
g
Saturated Fat:
15
g
Polyunsaturated Fat:
8
g
Monounsaturated Fat:
5
g
Trans Fat:
1
g
Cholesterol:
263
mg
Sodium:
3072
mg
Potassium:
482
mg
Fiber:
2
g
Sugar:
4
g
Vitamin A:
1128
IU
Vitamin C:
13
mg
Calcium:
155
mg
Iron:
4
mg
Jump to: