As an Amazon Associate I earn from qualifying purchases.
Welcome, friends, to one of my favorite drinks: the maple old fashioned. This cocktail is booze-forward but balanced out by the maple flavor, hit with some citrus and cherry for an amazing, nuanced drinking experience.
While I think you can totally drink this any time of year (what can I say? I'm Canadian, and maple syrup season is 12 months a year), it definitely goes best with a cozy fire, a thick pair of socks, and a well-worn novel.
It's also incredibly easy and has basically three ingredients. You can totally customize it to your level of sweet preference as well.
Discover the rich, sweet twist to a classic cocktail with our maple old fashioned recipe. Perfect for when you're needing something to feel cozy.
Jump to:
What is a Maple Old Fashioned?
A maple old fashioned is a modern-day ode to the classic cocktail culture. It's a drink that marries tradition with a touch of maple flair. Imagine a smooth, amber elixir in a rocks glass, exuding an inviting aroma that whispers of smoky oak and a hint of maple sweetness. Tres romantic, non?
The heart of this libation lies in the carefully chosen whiskey. Its robust character forms the foundation. But here's where it gets intriguing - instead of the usual sugar or simple syrup, enter the star of the show: maple syrup. This natural amber nectar brings a warm, earthy sweetness, elevating the drink to a whole new level of indulgence.
A dash of aromatic bitters is added, imparting a subtle complexity. To garnish, a twist of fresh orange peel unfurls its citrusy perfume, while a plump bourbon cherry adds a touch of whimsy and a final sweet note.
Sipping a maple old fashioned is like embarking on a flavor journey. It's a rendezvous of smoky, sweet, and aromatic elements, crafted for those with a penchant for both tradition and a daring twist.
Ingredients
One of the best parts about this cocktail is how few ingredients it takes, and how easy it is to make. It consists of:
Whiskey: Provides a rich, smoky base flavor, setting the stage for the cocktail.
Maple Syrup: Adds a natural, earthy sweetness, elevating the drink's depth.
Bitters: Balances the sweetness with subtle complexity and depth.
Orange Peel: Infuses a bright, citrusy aroma and zesty flavor.
Bourbon Cherries: These bring a burst of fruity sweetness and a playful pop of color.
And that's it. If you can't find orange bitters (obsessed with these orange and juniper bitters from Bittered Sling, btw), you can definitely swap them out for something else, think cherry, cinnamon or some other warming winter spice. Don't skip out on them entirely though, they're pretty necessary to balance out the overt sweetness of the maple syrup.
Also, I feel like this should not need to be said, but please, for the love of god, use real maple syrup in this recipe.
How to Make a Maple Old Fashioned
Step 1: Get your cocktail mixer ready. Fill it half full with ice.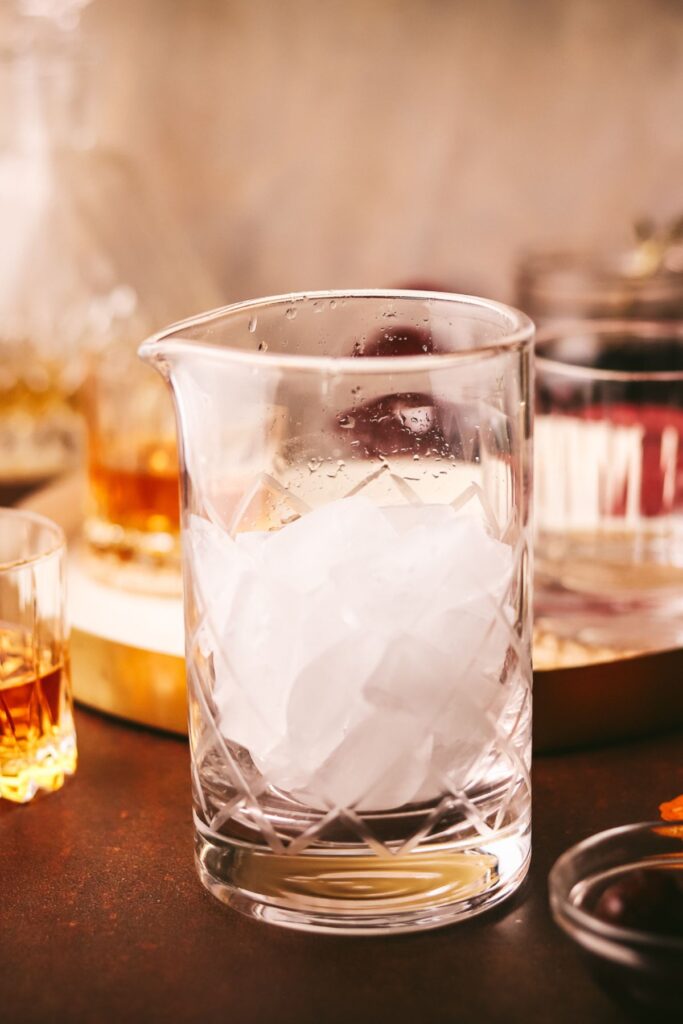 Step 2: Add 1.5 ounces of your chosen bourbon/rye into the mixer. This will be the heart and soul of your drink.
Step 3: Follow up with half an ounce to one ounce (I'm a sweet girly, so it's definitely the full ounce for me) of maple syrup. This is where the sweetness comes in, giving your cocktail its unique twist.
Step 4: Add a couple of dashes of bitters. I personally love orange bitters in this drink, but you can use Angostura as well. They're like the secret spice that brings everything together.
Step 5: Now, grab an orange and peel a strip of zest. This adds a zesty kick to your drink.
Step 6: Give it all a stir.
Step 7: Prepare your rocks glass with ice. Go for the good stuff, the kind that won't water down your drink too quickly.
Step 8: Strain the mixture from your cocktail mixer into the glass. This is where the magic happens!
Step 9: Drop in a bourbon cherry. Or, put it on a cocktail pick on top of the glass.
The Best Bourbon to Use
I personally love (and have tried) all these bourbons for different reasons, so feel free to pick your favorite (mine is definitely Woodford, followed by Buffalo Trace). Also, you can definitely use rye whiskey as well - it will go great in this drink.
Flavor Notes
The flavors you pick up will vary depending on the whiskey or bourbon you use. Again, a whiskey with notes of winter spices, like cinnamon, clove, and allspice, work well with this recipe. Of course, maple will be one of the predominant flavors. Orange you can pick up from the bitters, but also the aroma of the fresh peel we're going to rub around the rim of the class. Finally, a brandied cherry adds a depth of flavor to the cocktail - making it a winter classic, and with some similarities to the Amaretto Sour.
This is an incredibly popular cocktail to try smoking with, because all of the flavour notes already go so well with that smoky aroma you get. Plus, this will honestly transport you to a mountain cabin beside a roaring wood-burning fire while fat snowflakes fall softly outside the window (aka my version of heaven). If you have a smoking gun, I highly encourage you to give it a try! If you don't have one, getting one will up your home-bartending game by approximately 1000% because it's so much fun.
Variations
This drink is full of flavor on it's own, but if you're feeling adventurous...
Spiced Maple Old Fashioned:
Twist: Incorporate warm spices like cinnamon, nutmeg, or a dash of ginger liqueur to give it a cozy, autumnal feel.
Maple Ginger Old Fashioned:
Twist: Introduce a spicy kick by muddling fresh ginger along with the orange peel. It adds a zesty, invigorating element.
Maple Blackberry Old Fashioned:
Twist: Muddle fresh blackberries with the maple syrup for a fruity, tart contrast to the sweet maple flavor.
Maple Pecan Old Fashioned:
Twist: Infuse the bourbon with toasted pecans before mixing. Garnish with a candied pecan for a delightful nutty crunch. This is only if you're feeling extra. Aka me 100% of all the time.
Pro Tips and Tricks
Quality Ingredients Shine:
Always go for top-notch bourbon, high-quality maple syrup, and aromatic bitters. The better the ingredients, the more exceptional your cocktail.
Balance is Key:
Taste as you go. Adjust the ratios of bourbon, maple syrup, and bitters to find your perfect balance of sweet, smoky, and bitter.
Ice Matters:
Use large, clear ice cubes. They melt slower, ensuring your drink doesn't get watered down too quickly.
Garnish with Care:
Express the oils from the orange peel over the glass before dropping it in. It releases a burst of aroma, enhancing the sensory experience.
Prep in Advance:
Consider infusing your bourbon with complementary flavors like smoked wood chips or spices for an extra layer of complexity.
Experiment with Bitters:
Don't be afraid to try different types of bitters - aromatic, orange, or even specialty flavors like chocolate or walnut.
Customize to Taste:
Feel free to adjust the sweetness by adding more or less maple syrup. It's all about making it perfect for your palate.
Presentation Matters:
Serve your Maple Old Fashioned in a beautiful rocks glass. Aesthetics add to the overall experience.
Temperature Awareness:
If you're stirring with ice, make sure your mixing glass is cold before you start. This helps keep the drink properly chilled.
Other Awesome Cocktails
📖 Recipe
Maple Old Fashioned
The maple old fashioned is a twist on a classic that for me, has become a go-to sipper. The bourbon brings the boozy flavour, the maple brings the sweet, and then we add some bitters and fresh citrus aroma to balance the whole thing out. Best served in front of a fireplace. For smoking tips, see notes!
Ingredients
1½

oz

rye whiskey or bourbon

½-1

oz

maple syrup

1

dash

orange bitters

*One dash is equal to ten drops - so approximately ten shakes of your bitters

1

chunk

fresh orang peel

1

brandied cherry
Instructions
Combine you whiskey, maple syrup, and orange bitters in a cocktail mixer half filled with ice. Stir for 30-45 seconds.

Pour into a rocks glass with a large ice cube (ice cube is optional, the drink should be cold after you stir it with the ice).

Take the outside of the orange peel, and rub it around the rim of the glass. Use the peel as a garnish in the drink if you like more orange flavour.

Garnish with a brandied cherry on a cocktail pick, or a dehydrated orange slice.
Notes
If you want to smoke this cocktail, by all means go for it. If you're making more than one cocktail, I would suggest mixing the whiskey, maple syrup and bitters in the cocktail mixer without ice, and then capturing the smoke in the mixer with plastic wrap, or some heavy piece of wood, like a cutting board.
For individual drinks, again, capture the smoke in the glass with a heavy lid, getting as tight of a seal as you can. If you're adding ice, do this at the end.
Customize Your Twist: Feel free to get creative with your own unique twists. Experiment with different bourbons, syrups, or garnishes to make it your own.
Sip and Savor: This cocktail is meant to be enjoyed slowly. Take your time and relish the rich, layered flavors with every sip.
Nutrition
Serving:
2.5
oz
Calories:
178
kcal
Carbohydrates:
17
g
Protein:
1
g
Fat:
1
g
Sodium:
2
mg
Potassium:
51
mg
Fiber:
1
g
Sugar:
15
g
Vitamin A:
6
IU
Vitamin C:
1
mg
Calcium:
27
mg
Iron:
1
mg
Jump to: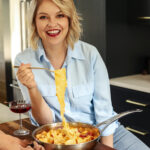 Hi, I'm Cara! I'm a food writer, journalist, and recipe developer. I'm obsessed good food, good wine, good cocktails and entertaining. I've picked up a few tips over the years, and love sharing them with others.