As an Amazon Associate I earn from qualifying purchases.
This pasta al pesto recipe (aka pesto pasta) is quick, fresh, and perfect in its simplicity. Better still, you can make the pesto ahead of time and whip it out when you need a quick meal. All you need to do is boil water!
Pasta al pesto (literally means pasta with pesto) is from Northern Italy. Traditionally it's made by pounding garlic, basil, pine nuts and parmesan using a mortar and pestle. We're going to skip that in favor of a food processor, but if you're a purist, by all means, go for it.
I have a whole post on the pesto we're using here, if you want the rundown.
Indulge in the delightful blend of fresh basil, pine nuts, and parmesan, creating a flavorful pesto sauce. Enjoy the simplicity of this homemade classic Italian pasta dish. And, P.S. for another delicious Italian classic, check out penne al baffo!
Jump to:
Frequently Asked Questions
What type of pasta is typically used for pasta al pesto?
Traditional pasta types used for pasta al pesto include spaghetti, linguine, or trofie, but you can use any pasta you prefer.
Can I make pesto sauce without pine nuts?
Yes, pine nuts can be substituted with other nuts, such as walnuts or almonds, or omitted altogether for a nut-free pesto sauce.
How long does homemade pesto sauce last in the refrigerator?
Homemade pesto sauce can be stored in an airtight container in the refrigerator for up to 5 days.
Can I freeze pesto sauce for later use?
Yes, pesto sauce can be frozen in small portions in an airtight container or ice cube trays for up to 3 months.
Can I make pasta al pesto vegan?
Yes, you can make pasta al pesto vegan by using dairy-free alternatives, such as vegan Parmesan cheese or nutritional yeast, in the pesto sauce.
Why You'll Love This Recipe
The fresh and aromatic basil adds a burst of flavor to the pesto sauce.
The toasted pine nuts provide a delightful crunch and nutty taste.
The Parmesan cheese adds a rich and savory note to the dish.
The simplicity of the recipe makes it easy to prepare at home.
The pesto sauce can be customized to personal taste preferences.
The dish can be made with various types of pasta, allowing for versatility.
The use of high-quality ingredients creates a delicious and authentic Italian flavor.
It's a great option for a quick and satisfying meal that's loved by both kids and adults alike.
Leftover pesto can be used in other recipes or as a condiment for added versatility.
The vibrant green color of the pesto sauce adds an appetizing visual appeal to the dish.
What is Pasta al Pesto?
Pasta al pesto is a traditional Italian dish originating from Genoa in the Liguria region of Northern Italy. It features a simple yet flavorful sauce made from fresh basil, pine nuts, garlic, Parmesan cheese, and olive oil, typically tossed with cooked pasta. The word "pesto" comes from the Italian verb "pestare," meaning "to pound," as the original method involved pounding the ingredients with a mortar and pestle. Its modern form with basil and pine nuts emerged in the 19th century. Today, pasta al pesto is a beloved and iconic Italian dish enjoyed worldwide. And seriously, what's not to love? The basil/pine nut combo is sublime!
Can I Make it Vegan?
Yes you sure can. Here's what to do:
Replace Parmesan cheese with a vegan Parmesan cheese alternative or nutritional yeast for a cheesy flavor.
Ensure the pasta you use is egg-free, as some pasta may contain eggs. Look for pasta labeled as "vegan" or "egg-free" in the ingredients list.
If desired, you can also add additional vegetables or herbs to enhance the flavor and nutrition of the dish, such as cherry tomatoes, roasted red peppers, or arugula.
Types of Pasta to Use
Traditionally, trofie or trenette pasta is used for pasta al pesto. Trofie is a short, thin, twisted pasta, while trenette is a type of long, flat pasta similar to linguine. I had this exact dish while we were visiting Cinque Terre, and I can confirm that the trofie is a fantastic choice.
These types of pasta are preferred for pasta al pesto because their shape and texture help to hold and absorb the pesto sauce, allowing for a more cohesive and flavorful dish.
However, you can also use other types of pasta, such as fusilli, farfalle, or penne, if you prefer or if trofie or trenette are not readily available. The key is to choose pasta with nooks and crannies that can hold onto the pesto sauce, allowing the flavors to meld together with each bite. Ultimately, the choice of pasta is a matter of personal preference, and you can experiment with different types to find the one that you like best with your homemade pesto sauce.
Ingredients
Fresh basil: Fresh basil is the star ingredient of pesto, providing its distinctive aromatic flavor and vibrant green color.
Pine nuts: Pine nuts are traditionally used in pesto to add a rich, nutty flavor and creamy texture to the sauce.
Garlic: Garlic adds pungency and depth of flavor to the pesto sauce.
Parmesan cheese: Parmesan cheese is a classic ingredient in pesto, providing a salty, tangy, and umami taste.
Extra virgin olive oil: High-quality extra virgin olive oil is used to bind the ingredients together and create a smooth, luscious texture in the pesto sauce.
Salt: Salt enhances the overall flavor and balances the taste of the pesto sauce.
Pepper: Freshly ground black pepper adds a hint of spice and complexity to the pesto sauce.
Pasta: Trofie or trenette pasta, traditionally used in pasta al pesto, are chosen for their shape and texture that hold the pesto sauce well. However, other types of pasta like fusilli, farfalle, or penne can also be used according to preference.
How to Make Pesto Pasta
We'll need to gather our ingredients: fresh basil, pine nuts, garlic, Parmesan cheese, extra virgin olive oil, salt, pepper, and our choice of pasta. Make sure you have everything ready to go. Honestly, I know this can kind of be a pain at the start, but it makes the rest of the cooking process so much easier!
Next, we'll blend the basil, pine nuts, garlic, and Parmesan cheese in a food processor until they form a smooth paste. The aroma of fresh basil and the nuttiness of pine nuts are just delightful!
Once our pesto is ready, we'll add in the extra virgin olive oil. Blend it up until it reaches your desired consistency. I prefer mine a little chunky still with some texture, but you do you. Don't forget to season with salt and pepper to taste.
In the meantime, we can cook our pasta according to package instructions.
Once the pasta is cooked al dente, we'll drain it and toss it with our freshly made pesto sauce. The vibrant green color and fragrant aroma of the pesto will be so inviting! You can choose to heat the pesto a bit in a sauce pan before adding the pasta - but it's not necessary. You can just drain the pasta (but reserve some pasta water) and add the pesto directly to the pot.
Finally, we'll garnish our pasta al pesto with some extra grated parmesan cheese and a few fresh basil leaves for a burst of flavor. And there you have it, a deliciously amazing homemade pasta al pesto that's ready to be savored!
Remember to adjust the seasoning and consistency of the pesto sauce to your liking, and feel free to add any additional ingredients or toppings that you prefer. I always advocate for seasoning and tasting as you go along, especially when it comes to pasta and sauces!
Pro Tips
Use fresh and high-quality ingredients: Choose fresh basil, high-quality pine nuts, Parmesan cheese, and extra virgin olive oil for the pesto sauce. Fresh and quality ingredients will enhance the flavor of the dish.
Toast the pine nuts: Toasting the pine nuts before making the pesto can add an extra layer of flavor. Simply heat a dry pan over medium heat, add the pine nuts, and toast them for a few minutes until lightly golden brown. Be sure to keep an eye on them as they can burn quickly.
Cook pasta al dente: Cook the pasta al dente, which means it should be firm to the bite. This will ensure that the pasta retains its texture and doesn't become mushy when combined with the pesto sauce.
Reserve pasta cooking water: Before draining the pasta, reserve some of the pasta cooking water. This starchy water can be used to adjust the consistency of the pesto sauce, making it creamier and helping it adhere better to the pasta.
Mix pesto with pasta off heat: After draining the pasta, mix the pesto sauce with the pasta in a bowl while it's still hot, but off the heat. This allows the flavors to meld together and coat the pasta evenly.
Add pasta water to pesto: When combining the pesto sauce with the pasta, gradually add small amounts of the reserved pasta cooking water to adjust the consistency of the sauce to your liking.
Garnish with extra toppings: To add more texture and flavor, garnish your pasta al pesto with additional ingredients such as toasted pine nuts, freshly grated Parmesan cheese, a drizzle of extra virgin olive oil, or a sprinkle of crushed red pepper flakes.
Variations
Pesto pasta is incredibly versatile, so don't hesitate to switch things up! I love adding shrimp or chicken to make it more filling.
Protein Additions: You can add some protein to your pasta al pesto by tossing in cooked chickpeas, white beans, or grilled tofu. This will add some extra texture and substance to the dish, making it more satisfying and filling.
Veggie Additions: Get creative with veggies! You can add roasted cherry tomatoes, sautéed mushrooms, grilled zucchini, or steamed broccoli to your dish for added color, flavor, and nutrients. Don't be afraid to mix and match your favorite vegetables to make the dish more interesting and wholesome.
Cheese Variations: While parmesan cheese is traditional in pesto, you can experiment with different types of cheese to suit your taste preferences. Try using pecorino romano (highly, highly recommend this one), aged gouda, or goat cheese for a different flavor profile. You can also skip the cheese altogether for a lighter and dairy-free option.
Herb Substitutions: While basil is the classic herb in pesto, you can use other herbs like cilantro, parsley, or arugula to create a unique twist. Each herb will bring its distinct flavor to the dish, allowing you to customize the taste of your pasta al pesto.
Pasta Types: Although traditionally made with spaghetti or linguine, you can use different types of pasta to switch up the dish. Try using penne, fusilli, or farfalle for a different shape and texture. You can also use whole wheat or gluten-free pasta for a healthier or dietary-friendly option.
Wine Pairings
With a bright, fresh pasta like this, we're definitely talking white for the most part. Although, as always, wine pairing is totally based on your own preferences. This is by no means an exhaustive list!
Sauvignon Blanc: This white wine with its crisp acidity, bright citrus notes, and herbaceous undertones can be a great match. The zesty flavors of the Sauvignon Blanc can complement the basil and garlic in the pesto, while the acidity can cut through the richness of the dish.
Pinot Grigio: Another white wine option that can work well with this pasta is Pinot Grigio. It's light-bodied with flavors of green apple, pear, and hints of herbs, which can harmonize with the fresh and herbaceous flavors of the pesto.
Vermentino: This lesser-known white wine from Italy can be a delightful pairing with pesto. It has bright acidity, zesty lemon and lime notes, and a touch of salinity that can enhance the flavors of the pesto and add a refreshing contrast to the dish.
Rosé: If you prefer rosé, look for a dry, crisp option with good acidity. Rosé wines with notes of strawberry, watermelon, and herbs can add a touch of fruitiness and freshness to the pasta, making for a delightful pairing.
Chianti: Chianti can be a great option if you prefer red wine. It's medium-bodied with red cherry, plum, and earthy notes can complement the richness of the dish, while its acidity can help balance the flavors of the pesto.
Storage and Reheating
Storage: If you have leftover pasta al pesto, it's best to store it in an airtight container in the refrigerator. Make sure the pasta is cooled to room temperature before transferring it to the container. Stored properly, pasta al pesto can typically be kept in the refrigerator for up to 3-4 days.
Reheating: To reheat pasta al pesto, you can use a few different methods:
Stovetop: Place the desired amount of pasta al pesto in a saucepan and heat over low to medium heat. Add a splash of water or vegetable broth to prevent it from drying out. Stir occasionally until heated through.
Microwave: Transfer the pasta al pesto to a microwave-safe dish and cover it with a microwave-safe lid or wrap it with a microwave-safe cover. Heat in short intervals, stirring in between, until warmed to your desired temperature.
Oven: Preheat your oven to a low temperature (around 300°F/150°C). Place the pasta al pesto in an oven-safe dish, cover with foil, and bake for 10-15 minutes or until heated through.
Remember to stir the pasta occasionally during reheating to ensure even heating. Be cautious not to overheat, as it may cause the pesto to dry out or lose its flavor.
Other Awesome Pasta Dishes
📖 Recipe
Pasta al Pesto
Indulge in the delightful blend of fresh basil, pine nuts, and parmesan, creating a flavorful pasta al pesto. Enjoy the freshness and the gorgeous simplicity of this classic dish.
Ingredients
12

oz

dried pasta

such as trofie, trenette, or linguine

2

C

basil leaves

packed

3

cloves

garlic

½

C

pine nuts

½

C

parmesan cheese

grated

½

C

olive oil

½

teaspoon

salt

¼

teaspoon

pepper
Instructions
Cook the pasta in a large pot of salted boiling water until al dente, according to package instructions. Reserve about ½ cup of the pasta cooking water, then drain the pasta and set aside.

In a food processor or blender, combine the fresh basil, minced garlic, toasted pine nuts, and grated Parmesan cheese. Pulse until coarsely chopped.

With the food processor or blender running, slowly drizzle in the olive oil until the pesto is smooth and well combined. If the sauce is too thick, you can add a little more olive oil to achieve the desired consistency.

Season the pesto sauce with salt and pepper to taste. Remember that the parmesan cheese is salty, so you may not need much additional salt.

In a large bowl, toss the cooked pasta with the pesto sauce until the pasta is evenly coated. If the sauce is too thick, you can add some of the reserved pasta cooking water, a tablespoon at a time, until the desired consistency is reached.

Serve the pasta al pesto hot, garnished with additional grated Parmesan cheese and toasted pine nuts, if desired.
Notes
Don't forget to reserve the extra pasta water from cooking! You definitely will need it to loosen up the sauce.
Nutrition
Serving:
250
g
Calories:
996
kcal
Carbohydrates:
123
g
Protein:
45
g
Fat:
48
g
Saturated Fat:
9
g
Polyunsaturated Fat:
10
g
Monounsaturated Fat:
25
g
Cholesterol:
9
mg
Sodium:
587
mg
Potassium:
3424
mg
Fiber:
48
g
Sugar:
5
g
Vitamin A:
984
IU
Vitamin C:
2
mg
Calcium:
2823
mg
Iron:
109
mg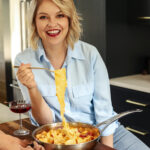 Hi, I'm Cara! I'm a food writer, journalist, and recipe developer. I'm obsessed good food, good wine, good cocktails and entertaining. I've picked up a few tips over the years, and love sharing them with others.