I cannot wait for you to try these boozy pumpkin spice lattes. Seriously. Listen people, there's a reason that the iconic PSL is so popular. It's delicious. In any form. I will drink them all fall long. But this recipe - this recipe right here - is my all time favorite. That's because we're upping the game.
How are we doing this? We're adding bourbon, and maple whipped cream (which also has bourbon). You're welcome.
This homemade boozy pumpkin spice latte with bourbon is the perfect fall treat. Easy, delicious, and full of cozy, warm flavors, the bourbon just takes it up a notch.
Check out the web story here.
Jump to:
Why You're Going to Love this Recipe
Because it combines all the best parts of your favorite chain pumpkin spice lattes, but then kicks it up a notch. It's like PSL for grown-ups.
The bourbon adds so much flavor and complexity!
They're SO EASY.
They taste perfect on Saturday morning.
And with donuts.
They're pumpkin spice lattes. I mean, this recipe is already starting with it's best foot forward.
Frequently Asked Questions
What does a pumpkin spice latte taste like?
While it's in the name - it doesn't taste a lot like pumpkin. It tastes more like pumpkin pie spice, which is a combination of warming fall spices, like cinnamon, cloves and ginger. It also tastes a bit like coffee or espresso.
Does a pumpkin spice latte have caffeine?
Yes, traditionally it does. But you can absolutely make it with decaf!
How many calories does a pumpkin spice latte have?
At Starbucks, it's around 380 for a grande.
Are pumpkin spice lattes good?
Yes they are! They're popular for a reason. PSLs incorporate many of the flavors we love about fall, like cinnamon, cloves and nutmeg.
What is a Pumpkin Spice Latte?
Unless you've been living under a rock for the last 20 years, you've likely at least heard of the (in)famous pumpkin spice latte. First introduced by Starbucks back in 2003, it was a specifically designed fall drink that combined steamed milk, espresso, warm spices like cinnamon, nutmeg and cloves. It was topped with whipped cream and pumpkin pie spice. IMO - it tastes like a hug for your insides.
Initially, it had a fairly limited release as an experiment, but people went wild for it. The next year it was introduced across the country, and the rest, is history.
Since 2003, Starbucks has sold over 200,000,000 PSLs, and every major food chain from McDonald's to Dunkin' Donuts to Tim Horton's has come up with their own version of the drink. It's become synonymous with fall.
The pumpkin spice latte has gotten a bit of a bad rap lately simply because they're so popular. Which, I do not buy, on any level. How is it "basic" to like something that tastes good and that everyone else likes? You don't see me making fun of certain wildly popular consumer beers do you? And the DON'T actually taste good. Let us fans live, ok?
Why are we Adding Bourbon?
First of all you definitely don't have to. These are shockingly good on their own. But the bourbon flavor definitely takes it up a notch, and complements the warm spices that are already in the drink. I think it just makes the whole flavor profile more complex.
Also - I've added bourbon to the whipped cream as well (and used maple syrup as a sweetener). To me, all these things just scream fall and blend so perfectly together!
Variations
You can totally personalize this boozy pumpkin spice latte to your own personal taste and diet. Try it with oat milk, almond milk, soy milk, or any other plant-based beverage.
We're making this with coffee just because it's easier for most people, but if you can do espresso, by all means, go for it.
Not into the whipped cream? No problem, leave it out.
Too sweet? Halve the sugar.
Looking for something a little cooler? Try this iced pumpkin spice latte recipe.
And of course, you can make it without the bourbon - it's just as delicious!
Ingredients
For the Latte
¼ C. strong black coffee
¾ C. whole milk
2 tbsp. pumpkin puree
2 tbsp. brown sugar
1 tsp. pumpkin spice
1 oz. whiskey (some people do this. I don't know who. Very optional. But highly recommended.)
For the Spiked Maple Whip Cream
1 C. cold whipping cream
2 tbsp. whiskey
2 tbsp. maple syrup
1 tsp. pumpkin spice
How to Make A Boozy Pumpkin Spice Latte with Bourbon
Luckily, these are pretty easy (and easy to scale up or down), but let's walk through it step by step.
First, let's make the whipped cream. You can use either a stand mixer, a hand mixer, or an immersion blender for this, but I find the stand mixer does it the quickest!
Pour your cold heavy cream into a bowl, and whip on high until stiff peaks begin for form. Add the maple syrup, bourbon, and pumpkin pie spice, and mix until well combined. Set aside in the fridge while we make the lattes.
Combine all the ingredients for the latte in a medium saucepan over medium heat. Whisk together, and then heat the mixture until it's just starting to simmer. Take it off the heat.
Watch it like a hawk - like anything with milk in it, you turn your back for one second and the whole pot is boiling over.
Pour into two separate mugs, and then top with the whipped cream, and some extra pumpkin pie spice.
Enjoy!
Tips & Tricks
You can adjust all the ratios in this recipe to suit your taste. Add more or less coffee, more or less sugar, more or less bourbon, whatever. I don't find this particular recipe to be overwhelmingly sweet (definitely far, far less sweet than the Starbucks version), so keep that in mind.
You can do the same with the whipped cream!
Watch your milk mixture while it's heating. Whisk it early and often to keep it from scalding.
I wouldn't try to make it ahead of time. I'm sure it would be fine - but honestly, dairy products and making ahead aren't my favorite.
Other Amazing Cocktails to Try
📖 Recipe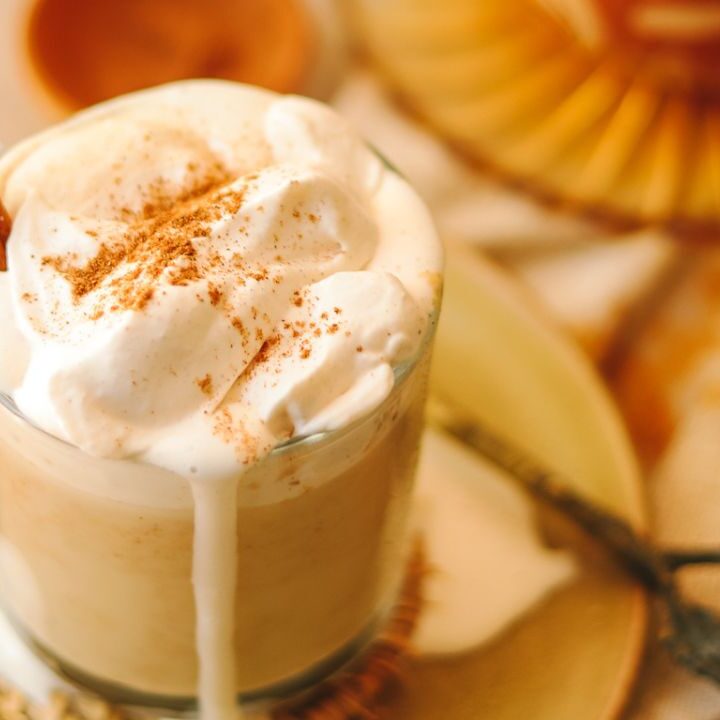 Homemade Pumpkin Spice (Bourbon) Latte with Maple Whipped Cream
These pumpkin spice lattes are the perfect balance between warm spices, sweetness, with a hint of edge from the bourbon. You can't have fall without one, can you?
Ingredients
For the Latte
2

C

whole milk

3

tablespoon

pumpkin puree

¼

C

brown sugar

½

C

coffee

2

oz

bourbon

optional

¾

teaspoon

pumpkin pie spice

maple whipped cream

see below
For the Maple Whipped Cream
1

C

heavy cream

2

tablespoon

maple syrup

1½

oz

bourbon

or to taste

¾

teaspoon

pumpkin pie spice
Instructions
Make the Lattes
Combine all the ingredients except the whipped cream in a medium pot over medium heat. Whisk together.

Heat until milk is steaming, or gently simmering.

Top with maple whipped cream, and enjoy!
Make the Whipped Cream
Pour the heavy cream into a bowl with a stand mixer fitted with a whisk attachment. Whisk on the highest setting until stiff peaks being to form (about five minutes). Add the rest of the ingredients, and whisk for an additional ten seconds. Keep refrigerated until ready to use.
Notes
If you're using a hand mixer, place the cream in a large bowl, and whip on the highest setting. This just took me quite a big longer than the stand mixer, so don't worry if it takes a while.
If you're using an immersion blender, use the whisk attachment, and carry on with the recipe.
Nutrition
Serving:
8
oz
Calories:
327
kcal
Carbohydrates:
41
g
Protein:
8
g
Fat:
8
g
Saturated Fat:
5
g
Polyunsaturated Fat:
1
g
Monounsaturated Fat:
2
g
Cholesterol:
29
mg
Sodium:
103
mg
Potassium:
483
mg
Fiber:
1
g
Sugar:
39
g
Vitamin A:
3899
IU
Vitamin C:
1
mg
Calcium:
335
mg
Iron:
1
mg
Jump to: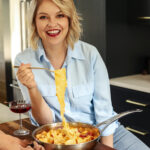 Hi, I'm Cara! I'm a food writer, journalist, and recipe developer. I'm obsessed good food, good wine, good cocktails and entertaining. I've picked up a few tips over the years, and love sharing them with others.