Welcome to the ultimate guide to creating a delightful mojito mocktail, the epitome of refreshment and elegance for those seeking a non-alcoholic alternative. So grab your muddler and prepare to indulge in a sophisticated and alcohol-free beverage that will keep you cool all summer long.
As the temperatures rise and the sun shines brightly, a mojito mocktail offers a rejuvenating way to beat the heat. Whether you're abstaining from alcohol, looking for a refreshing alternative, or simply seeking a mocktail with a touch of sophistication, the virgin mojito is the perfect choice. Join us as we delve into the world of this iconic beverage, exploring its origins, ingredients, preparation techniques, and exciting variations that will make your taste buds dance with joy.
The mojito mocktail is a refreshing and vibrant non-alcoholic beverage that combines zesty lime, aromatic mint, and fizzy soda water for a tantalizing burst of flavors. It's the perfect choice for those seeking a sophisticated and invigorating drink, transporting you to a tropical paradise with each sip.
Jump to:
Frequently Asked Questions
What is a mojito?
A mojito is a classic cocktail that originated in Cuba. It typically consists of rum, lime juice, sugar, mint leaves, and soda water. In our non-alcoholic version, we replace the rum with a suitable non-alcoholic alternative, maintaining the signature flavors that make the Mojito so beloved.
How can I make a virgin mojito taste like the original?
By carefully selecting quality ingredients and paying attention to the muddling technique, you can replicate the refreshing flavors of a traditional Mojito without the alcohol. The combination of fresh lime juice, fragrant mint leaves, and a sweetener like simple syrup or agave nectar will help achieve that classic taste.
Can I use non-alcoholic rum in a mojito mocktail?
Absolutely! There are several non-alcoholic rum brands available in the market that work wonderfully in a mojito mocktail. Look for options like Lyre's Non-Alcoholic Rum, Seedlip Grove 42, or Ritual Zero Proof Rum Alternative. These alternatives provide a similar depth of flavor and aromatic notes to traditional rum, ensuring an authentic mojito experience.
Can I customize the sweetness level?
Absolutely! One of the joys of making a mojito mocktail is the ability to adjust the sweetness to your liking. By experimenting with different amounts of simple syrup or agave nectar, you can find the perfect balance that suits your taste buds.
Can I prepare a large batch of mojito mocktails in advance?
While it's best to prepare a Mojito Mocktail fresh to enjoy its vibrant flavors, you can make a larger batch of the base mixture, including the lime juice, mint leaves, and sweetener. Store it in the refrigerator, and when ready to serve, simply add the soda water and ice for a quick and refreshing pour.
Why You're Going to Love This Recipe
Refreshing: The combination of tangy lime, aromatic mint, and bubbly soda water creates a revitalizing drink that is perfect for hot summer days.
Versatility: The Mojito Mocktail can be customized with various fruit infusions, herbs, and sweeteners, allowing you to experiment and create unique flavor profiles.
Sophistication: The Mojito Mocktail embodies a touch of elegance, making it an ideal choice for formal occasions, garden parties, or enjoying a mocktail at a fancy rooftop bar.
What is a Mojito?
Originating in Cuba, the mojito is a classic cocktail that has captivated cocktail enthusiasts worldwide. It combines the tartness of lime juice, the refreshing taste of mint leaves, the sweetness of sugar, the effervescence of soda water, and the distinct character of rum. The mojito has become a beloved drink, known for its invigorating flavors and ability to transport you to a tropical paradise with each sip.
Non-Alcoholic Rums to Try
Lyre's Non-Alcoholic Rum: This brand offers a range of alcohol-free spirits, including a non-alcoholic rum alternative. It provides a rich and complex flavor profile similar to traditional rum, allowing you to create an authentic Mojito experience.
Seedlip Grove 42: Although not specifically a rum alternative, Seedlip Grove 42 is a citrus-forward non-alcoholic spirit that can lend a vibrant and zesty note to your Mojito Mocktail. Its bright flavors complement the lime and mint perfectly.
Ritual Zero Proof Rum Alternative: Crafted to mimic the taste of rum, this non-alcoholic alternative offers a balanced sweetness and subtle oak notes that contribute to the complexity of your Mojito Mocktail.
Ingredients
Fresh lime juice: Provides a tangy and citrusy base for the mocktail, balancing the sweetness and adding a refreshing zing.
Mint leaves: The fragrant mint leaves contribute a burst of aroma and a hint of herbal freshness to the mocktail.
Simple syrup or agave nectar: Acts as a sweetener to balance the tartness of the lime juice. Simple syrup adds a traditional touch, while agave nectar offers a natural alternative with a slightly different flavor profile.
Soda water: Adds effervescence and a light, bubbly texture to the mocktail.
Ice cubes: Essential for keeping the mocktail cool and refreshing.
How to Make a Non-Alcoholic Mojito
Gather your ingredients: You'll need fresh limes, mint leaves, simple syrup or agave nectar, soda water, and ice cubes.
Slice the limes: Cut the limes into wedges and squeeze the juice into a glass. Remember to remove any seeds.
Muddle the mint leaves: Place a handful of mint leaves in the glass with the lime juice. Gently muddle the leaves to release their aromatic oils.
Sweeten to taste: Add your desired amount of simple syrup or agave nectar to the glass, adjusting the sweetness level according to your preference.
Add ice and soda water: Fill the glass with ice cubes and top it off with soda water, allowing it to mix with the other ingredients.
Stir gently: Use a long spoon to stir the mocktail gently, ensuring all the flavors are well combined.
Garnish and serve: Take a sprig of fresh mint and gently clap it between your palms to release its aroma. Place it in the glass as a garnish. Serve the Mojito Mocktail immediately and enjoy!
Pro Tips and Tricks
For maximum flavor extraction, gently bruise the mint leaves with the back of a spoon before adding them to the glass.
Experiment with different fruit infusions, such as strawberries, raspberries, or pineapple, to add a fruity twist to your Mojito Mocktail.
If you prefer a less sweet mocktail, try using a sugar substitute like Stevia or monk fruit sweetener.
To elevate the presentation, use a highball glass, add a lime wheel and a sprig of mint as garnish, and serve with a colorful paper straw.
Flavor Variations
Berry Mojito Mocktail: Muddle fresh berries (such as strawberries or raspberries) along with the mint leaves to infuse a burst of fruity flavors.
Pineapple Coconut Mojito Mocktail: Add a splash of pineapple juice and coconut water to the mocktail for a tropical twist.
Spicy Ginger Mojito Mocktail: Infuse the mocktail with a kick of ginger by muddling a small piece of fresh ginger along with the mint leaves.
What to Serve with It
The mojito mocktail pairs well with a variety of dishes, enhancing their flavors and providing a refreshing complement. Consider serving it with:
Fresh salads: The zesty lime and mint flavors of the mocktail harmonize beautifully with crisp and vibrant salads, like a citrusy arugula and watermelon salad.
Grilled seafood: The Mojito Mocktail's invigorating qualities make it an excellent accompaniment to grilled shrimp, fish tacos, or a seafood ceviche.
Light appetizers: Serve the mocktail alongside finger foods such as bruschetta, cucumber sandwiches, or caprese skewers for a delightful and refreshing combination.
📖 Recipe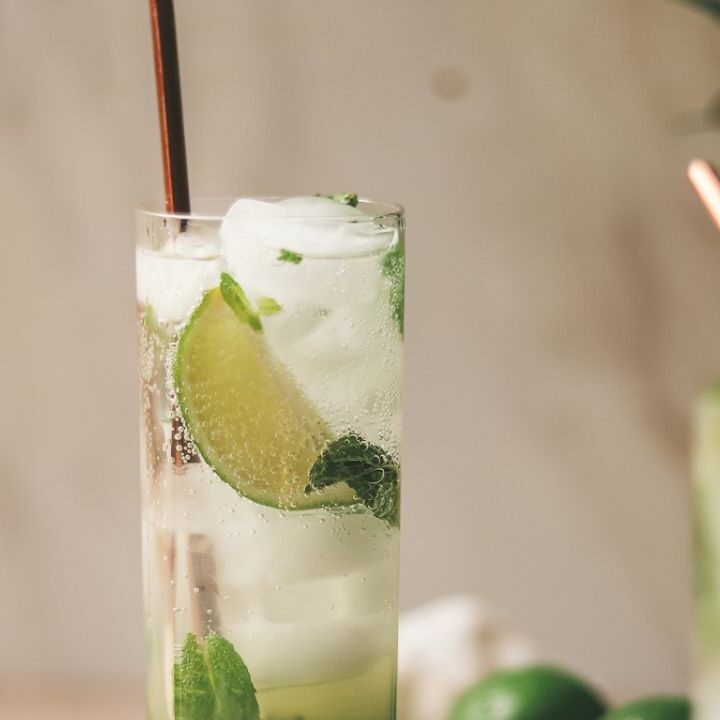 Mojito Mocktail
Perfect for hot summer days or any occasion that calls for a sophisticated and refreshing beverage, this mojito mocktail will transport you to a tropical paradise with every sip. So gather your ingredients, grab your muddler, and let's dive into the art of crafting this delightful mocktail that will leave your taste buds craving more. Get ready to impress your friends and elevate your mocktail game with this invigorating and flavorful recipe. Let's mix and mocktail!
Ingredients
2

oz

fresh lime juice

8-10

mint leaves

1

oz

simple syrup

4

oz

soda water

ice cubes
Instructions
In a glass, combine the fresh lime juice, mint leaves, and simple syrup or agave nectar.

Gently muddle the mint leaves to release their aroma and flavors.

Fill the glass with ice cubes.

Top the glass with soda water.

Stir gently to combine all the ingredients.

Garnish with a sprig of fresh mint.
Notes
Muddling Technique: When muddling the mint leaves, be sure to gently press and twist them against the sides of the glass. This helps release the essential oils and flavors without tearing the leaves.
Lime Juice: For the freshest taste, use freshly squeezed lime juice rather than bottled lime juice. It provides a vibrant citrus flavor that elevates the mocktail.
Simple Syrup or Agave Nectar: Adjust the amount of sweetener according to your taste preference. Start with the recommended measurement and add more if desired. You can also try experimenting with flavored simple syrups, such as mint or raspberry, for a unique twist.
Soda Water: Opt for chilled soda water to ensure a refreshing and bubbly Mojito Mocktail. You can also consider using flavored soda water like lemon or lime for an extra burst of citrus.
Nutrition
Serving:
7
oz
Calories:
96
kcal
Carbohydrates:
27
g
Protein:
1
g
Fat:
0.1
g
Saturated Fat:
0.02
g
Polyunsaturated Fat:
0.1
g
Sodium:
44
mg
Potassium:
132
mg
Fiber:
1
g
Sugar:
22
g
Vitamin A:
368
IU
Vitamin C:
20
mg
Calcium:
37
mg
Iron:
1
mg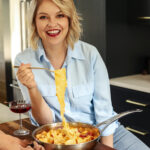 Hi, I'm Cara! I'm a food writer, journalist, and recipe developer. I'm obsessed good food, good wine, good cocktails and entertaining. I've picked up a few tips over the years, and love sharing them with others.