As an Amazon Associate I earn from qualifying purchases.
If you want to instantly take whatever you're eating and make it gourmet, I have two words for you: truffle aioli (or truffle mayo). It doesn't necessarily make everything better, but definitely most of the things. Especially French fries.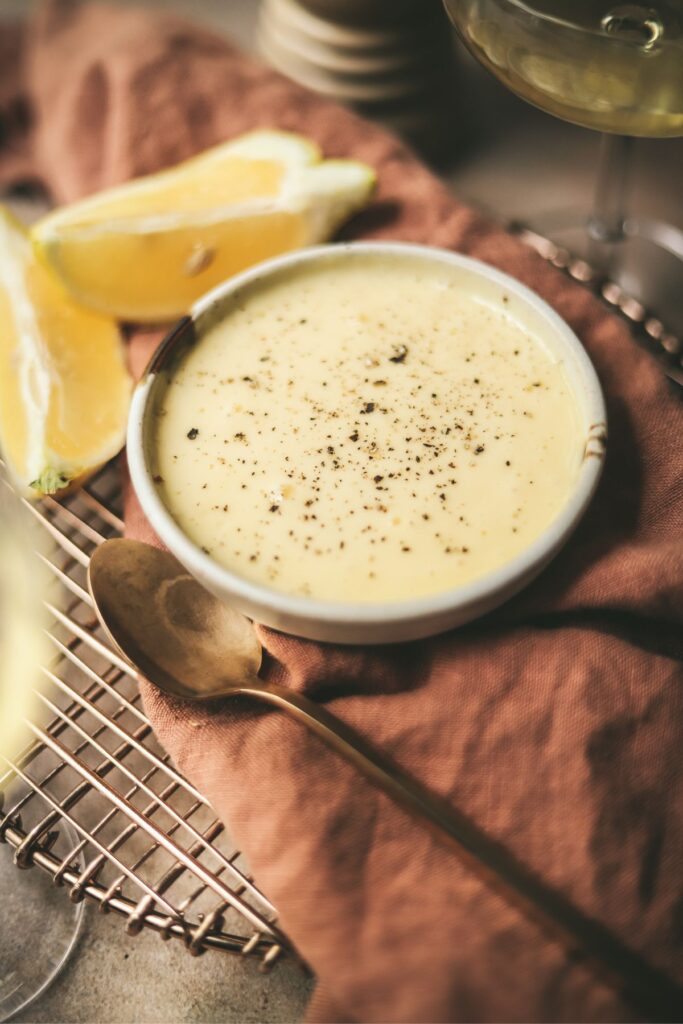 The best part about truffle aioli is that it's super easy to make. I have written a lot about how to make aioli from scratch with an immersion blender, and it's almost as easy as just using store-bought mayo (which you can also do).
Check out the web story here.
Truffle aioli brings amazing umami flavor to whatever you're eating, and it's surprisingly easy to make at home.
Jump to:
How do you Pronounce Aioli?
I mean first things first, that's a lot of vowels going on. Which also means it's my first guess at Wordle - pro tip. But it's not that bad. You pronounce aioli like this:
Ay - oh - lee
What are Truffles?
I call truffles yummy yummy mushroom nuggets (which, as I'm reading that, does not make them sound appealing, but trust me, they are *chef's kiss*). Truffles are mushrooms that grow near the roots of trees. They have an earthy, musky, garlicky yet delicate taste, and they can elevate any dish to gourmet levels in 3 seconds flat. The aroma is also super strong (just smell some of the oil if you don't believe me), and leads some people not to like it. It also means that at times, restaurants and home cooks TOTALLY OVER DO IT WITH THE TRUFFLE OIL and it can completely ruin a dish. That's why we're adding the oil and the overall flavor with a light hand here.
Are Truffles Expensive?
Yes, wildly so. However, this recipe we're going to be using black truffle oil, which is a much more economical way to consume truffle. You can find it at some grocery stores and Italian specialty stores.
Ingredients
Here's what we're going to need:
Truffle oil: find this at grocery stores or specialty food stores. The usually come in tiny bottles - you don't need much to make a huge flavor impact.
Room temperature eggs: to make our aioli thick and creamy
Lemon juice
Olive oil
Dijon mustard
Garlic (optional, it is delicious with truffles, but sometimes I find it can be overpowering.)
How to Make Truffle Aioli
Using your immersion blender, combine all the ingredients in a tall, skinny container with high sides (usually the one that comes with the blender).
Blend all the ingredients for 5-10 seconds. Yes that's it. The aioli thickens immediately.
Taste for seasoning, add salt, pepper and more truffle oil if you wish. Start small and add more until it tastes right to you.
Watch the Video
Tips & Tricks
Hack: you can skip making your own aioli, and use store bought mayo. Just add a dash of lemon juice and (start with) a half teaspoon of truffle oil. I seriously recommend making it from scratch though!
DO NOT OVER-DO THE TRUFFLE OIL. There is nothing that turns people off more than too much truffle, and it can be an easy line to cross. That's why we're starting with a half teaspoon. If you feel like that's not enough, add some more, carefully tasting it as you go.
This stuff goes great on fries, burgers, sandwiches, veggies (like broiled or grilled asparagus!), or on fish. The sky is the limit!
Other Recipes to Use Truffle Oil In
Recipe
Easy Truffle Aioli (Truffle Mayo)
Truffle aioli is a decadent way to take your food game from good to gourmet. It's quick, easy, and much less painful than having to buy fresh truffle and add it to anything. All you need is five minutes, an immersion blender, and some truffle oil.
Ingredients
1

egg

room temperature

1

egg yolk

room temperture

1

C

olive oil

lightly flavored

2

teaspoon

lemon juice

1

teaspoon

Dijon mustard

½

teaspoon

truffle oil

¼

teaspoon

salt
Instructions
Combine all the ingredients in a tall, skinny container (likely the one you got with your immersion blender). Blend for 5-10 seconds, until the mixture has thickened. Taste for seasoning and serve.
Video
Notes
You can make this recipe by hand, it just takes longer and some arm strength! Add everything except the oil to a bowl, and whisk thoroughly to combine. Slowly drizzle in the oil while whisking constantly, until the aioli has thickened (depending on how fast you whisk it, this could take upwards of 10 minutes).
Add some garlic or parmesan for a different flavor profile!
Nutrition
Serving:
100
g
Calories:
257
kcal
Carbohydrates:
1
g
Protein:
1
g
Fat:
28
g
Saturated Fat:
4
g
Polyunsaturated Fat:
3
g
Monounsaturated Fat:
20
g
Trans Fat:
1
g
Cholesterol:
45
mg
Sodium:
89
mg
Potassium:
13
mg
Fiber:
1
g
Sugar:
1
g
Vitamin A:
63
IU
Vitamin C:
1
mg
Calcium:
7
mg
Iron:
1
mg
Jump to: