As an Amazon Associate I earn from qualifying purchases.
The best Manhattan recipe is the one that sticks closely to the original. Manhattans are the king of the classic cocktail world, in my opinion. Boozy, perfectly balanced, and simple in it's execution, anyone can make and enjoy a Manhattan. If you've never had one, here's your chance!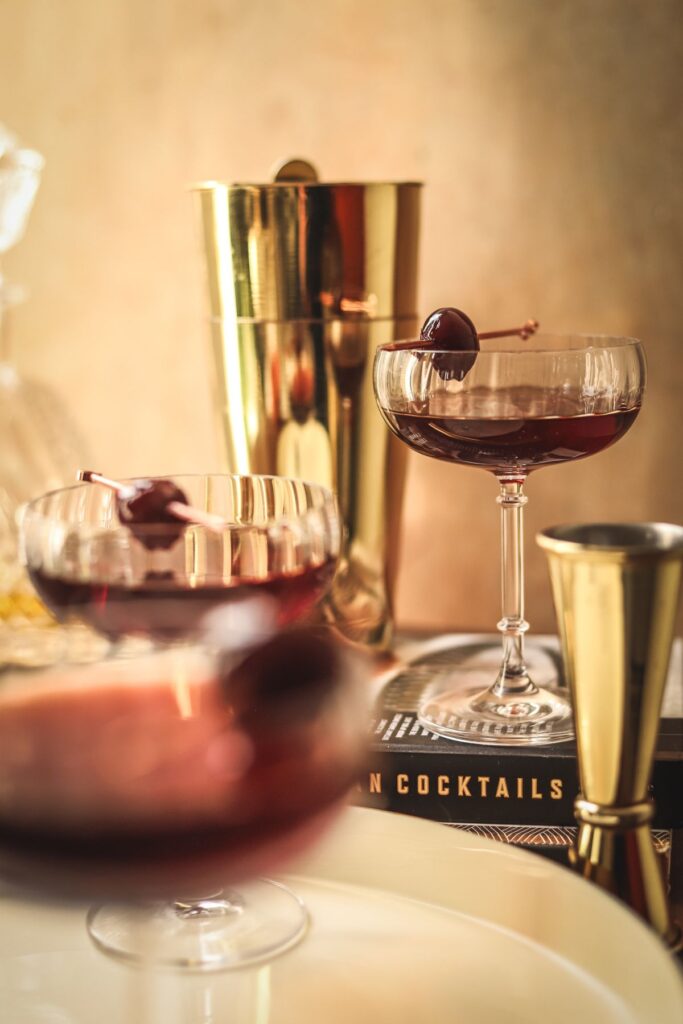 We're going to walk through what Manhattan is, what makes it so special, the best alcohol to use, and a few variations on it that you can try. So buckle in, because I can wax poetic forever about this cocktail, it's definitely in my top three.
The best Manhattan recipe is one that sticks as close the original as possible. It's beautiful in it's simplicity. Three ingredients, a garnish, and you've got a complex, balanced cocktail.
Jump to:
What is a Manhattan?
A Manhattan is a classic cocktail that uses sweet vermouth, rye whiskey, and angostura bitters as it's main ingredients. The bulk of the flavoring comes from the rye, so pick a good one!
The History of the Manhattan
This history of the Manhattan is long, but also shrouded in myth and mystery. We don't know exactly how it came to be, but my personal favourite is that it was invented by a doctor in the 1880's for Winston Churchill's mother at a party. Apparently the party was held at the Manhattan Club in New York City - thus the iconic name. This has been debunked though, because Mom Churchill was either in England or France at the time.
The more likely (and boring) version is that it was invented in the 1880's by a man called Black who owned a bar in Manhattan. And that's basically all we know.
The original Manhattan recipe used American Whisky, Italian Vermouth and Angostura bitters. This changed during the Prohibition era to using Canadian whiskey, because it was the only thing barkeeps could get their hands on at the time (shout-out to my Canadian bootleggers). That tradition has kept on until this day, with Canadian Rye being the ingredient of choice for the whisky element in the drink.
An interesting note - over the decades, the Manhattan has remained almost identical to when it was first invented. This is often not the case with classic cocktails - but this one is truly the King. It's a force, and definitely falls into the "strong" cocktail category, but with some tweaks and variations, you can make it your own. I content though that the best Manhattan recipe is something very close to the original version.
The Best Whiskey
Whiskey makes up the backbone of this drink, so choosing the right one is key to making the best Manhattan. To some degree, it depends on your personal taste. Whiskey flavour notes differ from brand to brand. For me, a rye works well (it's also part of the original recipe, so this is how the Manhattan was meant to be enjoyed).
You can absolutely use your favourite bourbon too - it's totally delicious in this drink. It will lend a bit of a sweeter taste however, so make sure you're ready for that. Here are a couple of my tried and true go-tos when it comes to whiskey for the best Manhattan:
As I said, the type of whiskey you go with is important, but don't let it intimidate you. If you have a favourite whiskey, by all means, go ahead and use it. Honestly the Manhattan is pretty forgiving - it's likely going to taste delicious regardless.
The Best Vermouth
The vermouth is joining the party to temper the boozy punch in the face from the whiskey, so go with your favourite. The classic Manhattan recipe calls for sweet vermouth, not dry (but we'll get into some variations on that later). Vermouth is a wine fortified with brandy to up the alcohol content, and it comes with hundreds of potential flavour and aromatic notes. Most though contain things like cloves, orange, juniper and rose petals - to name a few. So it makes sense that this would be an excellent addition to the whiskey.
There are tons of great vermouths out there, so I would recommend talking to your local spirit expert about your likes and dislikes, and seeing what they recommend. Right now my favourite is the Italian Poli Gran Bassano Vermouth. It's a little on the pricey side, but so so good.
The Difference Between a Classic Manhattan and a Perfect Manhattan
These two drinks are almost, but not quite the same. When you're talking about a perfect Manhattan, that actually calls for a 50/50 split between sweet vermouth and dry vermouth. It'll take the sweetness of the drink down a couple of notches. The classic Manhattan recipe calls for 2:1 whiskey to sweet vermouth only.
A Manhattan versus an Old Fashioned
These are two very different drinks, although both stalwarts in the world of classic cocktails. The both contain whiskey and Angostura bitters, but that's where the similarities end. An Old Fashioned is made by muddling a sugar cube and the bitters together, pouring in the whiskey and then garnishing with an orange peel. The Manhattan on the other hand, brings in sweet vermouth to balance the whiskey rather than sugar.
Ingredients
The ingredients for the best Manhattan are really (really simple). If you're looking to build up your home bar, I would highly recommend just having these on hand at all times.
Rye: It's doesn't have to be rye, a Manhattan will taste good with any kind of whiskey, including Bourbon. But if you want to stick with the classic recipe, rye is the way to go.
Sweet vermouth: This is what brings balance to the glass. Whiskey is pretty strong and booze forward, so the sweetness in the vermouth evens this out.
Angostura bitters: this is a classic cocktail ingredient - and again brings herbaceous, bitter flavor to the drink to add complexity.
Cocktail cherry: for garnish, but don't skip it. It's the best part.
Optional Secret Ingredient: cocktail cherry juice. Just a half ounce or so. This is probably my favorite way to enjoy a Manhattan. But don't tell anyone.
How to Make a Classic Manhattan
One of the best parts about the Manhattan is that it's so incredibly easy to make. But let's go through it step by step.
Step 1: Fill a cocktail Mixer with Ice
I like using my heavy glass mixer for this - but if you don't have one, that's totally cool. Just use any container with high sides that you can stir. Or, if you want, simply serve the Manhattan over ice. It will water the drink down a bit, but the point is, you want it cold.
Step 2: Add your Alcohol
Add the rye and the vermouth. Stir with the ice for 30-45 seconds.
Step 3: Pour
Pour into your favorite cocktail glasses (see below for suggestions).
Step 4: Add the Bitters
Add your angostura bitters to your glass.
Step 5: Garnish!
Add your cocktail cherry to a cocktail pick, and serve! (You can also just throw it directly in the glass. Eat it at the end when it's been soaking in the booze - heaven).
Best Cocktail Glasses
The traditional cocktail glass for a Manhattan is actually a martini glass, but this isn't my favourite. In recent years, more and more bartenders have been serving a Manhattan in either coupes or Nick & Nora glasses, which makes more sense. Serving anything other than a martini or a Cosmo in a martini glass just seems weird at this point.
I'm obsessed with these glasses I just got from Crate and Barrel.
But I also love these classic Riedel Nick and Nora glasses. They work for so many cocktails.
Variations
There are so many potential variations to this cocktail (I love adding a little scotch to mine to up the smoky quality), and by adding flavored simple syrups you can go in almost any flavour directions you choose (purists though would definitely say not to do this).
The more standard variations include swapping out the whiskey for other alcohols, like rum, brandy or bourbon (although many would still classify that one as a classic Manhattan).
The other thing to remember, especially if you're new to the booze-forward cocktail game, is that you can easily switch up the 2 whiskey to 1 sweet vermouth ratio. If you're thinking that 2 oz of whiskey is a bit much, switch it to one to one, or even 2 vermouth to 1 whiskey.
Experiment and find what you like to drink. When you do, this will become a staple of your home bar, especially when it comes to other cocktails.
Other Classic Cocktails to Try
📖 Recipe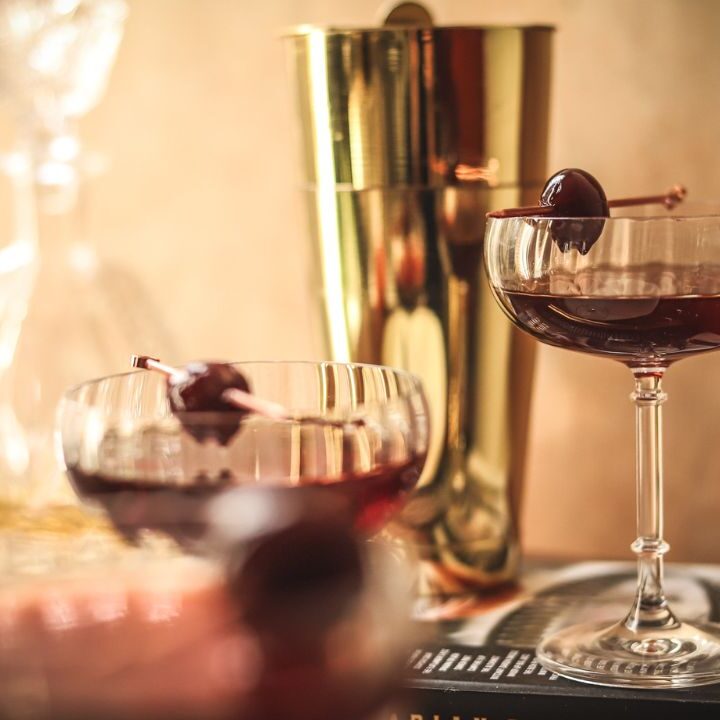 The Best Manhattan Recipe
The Manhattan is a classic for a reason, and for whiskey lovers especially, it's a go-to choice for an easy, well-balanced cocktail. The whiskey makes up the backbone of this drink while the sweet vermouth serves as it's perfect foil. Don't be afraid to switch up the ratios either, especially if you're not a fan of super booze forward drinks.
Ingredients
4

oz

rye whiskey or bourbon

2

oz

sweet vermouth

6

dashes

Agnostura bitters

2

cocktail cherry

for garnish
Instructions
Combine the whiskey, sweet vermouth, and bitters in a cocktail mixer half filled with ice. Stir for at least 20 seconds.

Pour into two Nick & Nora or coupe glasses. Garnish with a cherry on a cocktail pick for each glass. Cheers!
Notes
If you want to sweeten up this cocktail and make it slightly less booze forward, try adding ½ oz of the juice from the cocktail cherry jar. I promise you will love it.
Nutrition
Serving:
3
oz
Calories:
182
kcal
Carbohydrates:
3
g
Protein:
1
g
Fat:
1
g
Saturated Fat:
1
g
Polyunsaturated Fat:
1
g
Monounsaturated Fat:
1
g
Sodium:
2
mg
Potassium:
38
mg
Fiber:
1
g
Sugar:
1
g
Vitamin A:
83
IU
Vitamin C:
4
mg
Calcium:
2
mg
Iron:
1
mg
Jump to: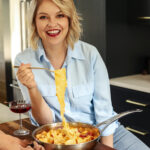 Hi, I'm Cara! I'm a food writer, journalist, and recipe developer. I'm obsessed good food, good wine, good cocktails and entertaining. I've picked up a few tips over the years, and love sharing them with others.