As an Amazon Associate I earn from qualifying purchases.
The dry martini is an enduring classic cocktail, a symbol of urban sophistication, glamor and elegance. Looking at the ingredient list, it can definitely seem a little knock you on your ass boozy intimidating, but I promise, this is one of those cocktails that doesn't actually taste like you're drinking straight up booze.
It's taken me a lonnnng time to get behind the martini. First of all, it's basically gin or vodka and dry vermouth. If you like it dirty (wink, wink), then olive juice as well. It was difficult for me to understand how those ingredients were supposed to taste good on their own, let alone together (thankfully, I got over this). A martini is something that is truly greater than the sum of it's parts, like Manhattan or an Old Fashioned. They come together for form something completely different and totally delicious. Even though I'm new to the martini game, my husband and dad are not. My dad loves a martini, filthy, with extra olives. Again, watching him drink this growing up, it was totally unfathomable to me how these were appetizing.
Jump to:
What is a Martini, and Why are they so Cool?
A martini is a relatively simple drink, but the ways you can order it are pretty much endless. We'll get into more of those variations below, but the basics are this: a martini is cold cocktail made with gin or vodka, and vermouth. That's it. It can absolutely be made with things like a lemon twist and olives, but those are all variations on the classic.
As for why you feel so cool drinking one? It's a bit subjective, but for me, all classic cocktails have a very cool retro feeling vibe to them. You feel like a grown-up ordering one, like you know what you're talking about, like you've done this a million times before. And it's just so effortlessly stylish, decades later, and I mean come on, of course it's cool. Just look at it.
And of course...there may have been a little pop culture something something to help it on it's way over the decades.
We'll also get into the whole "shaken, not stirred" thing later too. I love me some James Bond, but this...is not really what we're going for. I know, I'm sorry, it does sound incredibly cool walking up to a bar and ordering a martini shaken, not stirred. But every bartender is going to see right through you if you do that.
The other amazing thing about martinis is you can customize them in pretty much any way you want. It's so interesting to me that when you order a martini in a bar, the way you order it is like giving the bartender a specific recipe for exactly the ratios, the liquor, the garnish, everything exactly the way you want it. There's no other drink that I'm aware of that get's this specific with the orders, unless you're looking for something custom. So let's talk about all the ways you can enjoy this cocktail, starting with the dry martini (vodka or gin).
Types of Martinis
The Dry Martini
Any martini can be made with either vodka or gin. These days, the flourishing of boutique gin distilleries has made the gin martini very in vogue, but a vodka martini is a very smooth, clean option. The "dry" part of the equation refers to the amount of vermouth that's in the drink. This ration for what exactly qualifies as dry varies greatly depending on who you ask, but but for a dry martini, it should be somewhere between 6:1 gin/vodka to vermouth to 4:1 gin/vodka to vermouth. Some people even go as far as just having their glass rinsed with vermouth, and then the rest liquor.
The Wet Martini
Exactly the same as a dry martini, but with more vermouth. If you're just dipping a toe into the martini world, this is probably where you should start - as the vermouth tends to mellow out the flavor of the gin or vodka. This ratio can be anywhere from 3:1 or higher. And yes, you can totally make a super wet martini that flips the ratio around, for a 2:1 vermouth to gin/vodka ratio (or higher).
The Dirty Martini
Dare I say it? The most popular variation on the martini comes in the form of adding olive juice to the mix. This gives it a distinctly savory tilt to the otherwise refreshing beverage. It often comes garnished with olives as well. Typically, your bartender will add equal parts vermouth and olive brine to the drink, but if you're really and olive person, then...
The Filthy Martini
I mean come on, tell me you don't want to someday order this at a bar. The extra dirty, or filthy martini is just a dirty martini, but with extra olive brine. Oh, and if you want extra olives, make sure you specify that too.
Burnt Martini
Adding single malt scotch to your drink for some smoky flavor. This one isn't super common, but to be honest, it sounds great.
With a Twist
A piece of citrus peel on or in your drink, that releases the aromatic oils. Usually, the choice is lemon. But, these days, gins come with so many different citrus flavor notes, it's totally possible that lime, orange, or even grapefruit would pair better. As your bartender if you're unsure! Honestly bartenders will never steer you wrong.
The Vesper
Any James Bond fan knows exactly what I'm talking about. In Casino Royale (the movie and the first novel), Bond orders his famous martini for the first time, and names it the Vesper. This one is unique, because it combines both gin and vodka (usually it's one or the other), dry vermouth, and lemon peel to garnish. And of course, it's always, ALWAYS shaken.
Shaken or Stirred?
Honestly, there is really no contest with this one. Almost no bartender is going to make you a shaken martini. Shaking a martini with ice will dilute the cocktail more than you want it too. Plus, part of the signature of a martini is a perfectly silky smooth texture. When you shake a drink, you're adding more air too it (and sometimes, agitating ingredients. That's why you usually see drinks with citrus in them shaken vs. stirred). Adding that air, along with the bits of ice that will break off in the shaking process, is going to majorly mess with that texture. So, no. Most definitely stirred, not shaken.
How to Order a Martini
Ok, so after going through all of that, even if you figure out exactly how you want your martini, how the hell do you order it? It should go something like this:
Type of liquor + dry/wet + dirty/filthy/olives (or not) + twist or not (and it doesn't necessarily have to be in that order).
Totally clear right? Lolz.
So, let's say you wanted a gin martini, with a 2:1 ratio of gin to vermouth, with olive brine, olives and no twist. You would say something like "gin martini, wet, dirty with olives", or this might be easier: "dirty gin martini, wet, with olives".
Let's do another one. You want a vodka martini, with a 4:1 ratio of vodka to vermouth, and a lemon peel. I would say something like "dry vodka martini, with a twist." If you're super specific about what you want that ratio to be, make sure you tell your bartender. If you trust them to decide whether it should be 4:1 or 6:1 for a dry martini, then just say you want it dry.
Best Gin for Martinis
Typically, the go-to gin for martinis is a London dry gin. These include the big brands like Plymouth, Bombay, and Beefeater. They tend to give you the classic flavor notes that people look for in a martini, like juniper and woody herbs. That being said, things are changing. The world of gin distilling is exploding, and martinis made with gins that feature citrus notes, or even lavender, floral flavors are also making super interesting martinis. Like any liquor for a cocktail, I recommend a). asking you're local bartender, or spirits guy at the liquor store for their recommendations and then b). testing a few and figuring out what you like the best.
Best Vodka for Martinis
Just because the vodka martini has fallen a bit out of popularity lately doesn't mean you shouldn't try it. There are plenty of people who prefer it to gin. This is largely based on personal preference, just try it with your favourite vodka, and then go from there. I will say for both the gin or vodka martini, the liquor is the star of the show, so you want to make sure you love the taste of it! One good recommendation for all types of vodka martinis: Hangar 1. It's good value for money, and it's got citrus and savory notes, so it'll go well with a dirty martini or with a twist.
The Best Olives for a Martini
This again depends somewhat on the type of cocktail you're making, and your own taste. But here's a tip: if you really want to hack your martini game - get the olives from that charcuterie bar thing at the grocery store or food market, instead of in a jar. Here's a few thoughts to get you started though:
Manzanilla: These are the classic for a dirty martini. The brine is the perfect foil to the liquor and the vermouth, and usually they're stuffed with sweet pimiento peppers to balance out the bitter flavor. And you can definitely buy these ones in a jar.
Queen Olives: These big olives tend to be stuffed with savory, umami forward ingredients like anchovies or blue cheese. Totally delicious, and will definitely bring some new savory flavor to your martini.
Cerignola: Mildly tart with with a beautiful buttery flavor, these are big, meaty olives that usually don't come pitted. They go super well with a dry martini! You can either work the cocktail pick around the olive pit, or just serve it on the side.
Olives in Vermouth: These days, you can get gourmet options for olives that are specifically made for your martini. These come in jars with vermouth, and this option is even stuffed with a lemon twist! Watch out for these at specialty stores and your local spirits store.
How to Make a Martini
The other amazing thing about a martini is how easy they are to make. Simply choose your ingredients, your ratio of liquor to vermouth, if you want it dirty, and any other garnishes. Add the vermouth, liquor and olive brine if you're using it to a cocktail mixer half filled with ice. Stir for 45 seconds, and then pour. Garnish as you please.
Pro tip: Put your martini glasses in the freezer for 10 minute before you serve them, so the whole thing is icy cold.
How to Serve it:
The iconic martini glass is obviously a go-to, but my issue with that is that THEY ARE SO GIGANTIC! I have an enormous pet peeve about serving a 3.5 oz drink in an 8 oz glass. Like why. They look ridiculous and are so difficult to drink out of. If you manage to find a 5 oz martini glass, amazing, or use a Nick and Nora, but I will admit, the shape is significantly less cool for this drink. But again, like everything else in bartending, do what feels good to you. Serve it in a highball, it's still going to taste good.
What to Serve it With
I personally am a huge fan of serving martinis with oysters. The flavor profiles are just so incredibly similar. And of course, they go super well with all manner of bar snacks: olives (obviously), salty nuts, pretzels, etc.
Here's a couple of oyster on the half shell recipes to try:
Oysters on the Half Shell with Tomatillo and Habanero Mignonette
Oysters on the half shell are a delicious preparation. The tomatillo habanero mignonette brings the freshness the kick!
Check out this recipe
Fresh Oysters with Easy Tomato and Vermouth Granita Garnish
This savory oyster garnish combines with the salty bivalve to create a perfect bite of food. With only three ingredients, it's a cinch to make, and the texture will keep your guests and your mouth guessing all night.
Check out this recipe
Fresh Oyster Mignonette with Champagne and Blood Orange
This fresh and sweet champagne mignonette is perfect for those who are new to the world of oysters. It's a great balance between salty and sweet, and leaves out the raw shallot which can be a bit harsh tasting on the palate. This is a great recipe for happy hour on a Friday evening!
Check out this recipe
That tomato vermouth granita one though...that's totally it. It would go so incredibly well with a dirty martini.
📖 Recipe
Classic Dry Martini
Timeless, elegant, delicious, this is a cocktail recipe that every home bartender should have in their rotation. Just two ingredients (unless you like it dirty), stir over ice, and pour. Perfect for a cocktail before or after dinner, and you can customize it nearly any way you like. The dry martini typically has much less vermouth, but feel free to move to a 2:1 ratio for a wet martini.
Ingredients
3

oz

gin or vodka

½

oz

vermouth

lemon twist

optional

olives

optional
Instructions
Combine the gin or vodka and the vermouth in a cocktail mixer half filled with ice. Stir for 45 seconds, and then pour into desired glassware. Cheers!
Notes
To make a dirty dry martini, add ½ oz of olive brine to this recipe.
Don't forget to experiment. If the dry martini is feeling too boozy, then try a 2:1 ratio of liquor to vermouth. This recipe is using a 6:1 ratio - which is huge!
Experiment with the level of olive brine as well - remember that dirty is just the beginning. You can also have it extra dirty or filthy, which means you'll be using more olive brine than vermouth.
Nutrition
Serving:
3.5
oz
Calories:
208
kcal
Carbohydrates:
1
g
Protein:
1
g
Sodium:
1
mg
Potassium:
2
mg
Iron:
1
mg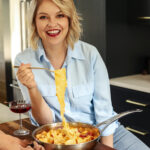 Hi, I'm Cara! I'm a food writer, journalist, and recipe developer. I'm obsessed good food, good wine, good cocktails and entertaining. I've picked up a few tips over the years, and love sharing them with others.