Tuna tartare has got to be one of the best appetizers out there. It's easy, requires zero cooking, and the flavor payout is phenomenal.
There's a reason that it's on so many restaurant menus. The good news is that you can make it yourself at home - and flavor it to your taste!
Tuna tartare is light, full of flavor, and super impressive to make for family and friends. This is definitely one to add to any entertaining menu!
One of the things I love most about this recipe is that you can eat it year round. It's amazingly delicious during the hot summer months when you're looking for something cool and refreshing. It's equally great during the holidays!
Check out the web story here.
Jump to:
Frequently Asked Questions
Is tuna tartare healthy?
Yes it is! Tuna is super nutritious and there's very little in the way of additives in this recipe.
Is tuna tartare safe to eat?
As long as your buying high quality tuna that's frozen, eating tuna tartare is safe.
Can pregnant women eat tuna tartare?
Generally, it's not recommended for pregnant and breastfeeding women to eat tuna tartare.
Is tuna tartare cooked?
Nope! The tuna is served raw, which is why it's important to buy high quality, sushi grade fish when preparing it.
Why You're Going to Love this Recipe
It's great to make any time of the year - it tastes awesome during hot summer months and during the holidays!
It's easy - and requires (almost) no cooking. The only reason to turn on the oven is if you're making the wontons to go with them.
It's so flavorful! The tuna has the freshest taste, and we're going to add some light seasoning to enhance it.
It's a great recipe for entertaining. It looks impressive and is always a crowd pleaser.
I'm going to show you how to serve it two different ways - with wonton chips for sharing, or in individual cups, perfect for parties!
What is Tartare?
Tartare is a classic dish that combines raw meat with some type of sauce. It's typically made with beef, but as long as you're preparing the meat safely, it can be made with many different types of protein.
In this recipe, we're using avocado, but if you want to add mango do it as well, that's a delicious option!
Ingredients
Here's the ingredients we're going to need:
Sushi grade tuna: sushi grade means that this is the highest quality fish that the story has to offer, and you can be confident eating it raw. I was able to find this tuna at my local fish market, already cut up in perfect chunks for me! If you're unsure about how the fish is labelled, just ask your fish monger or the grocery store.
Soy sauce: this is going to be one of the flavors in the tartare. The salty, savory-ness it brings is perfect with the fresh and fatty tuna.
Mirin: mirin is a slightly sweet Japanese cooking wine. It's an absolutely delicious way to bring the sweet flavor to almost any dish without it being overpowering. If you can't find it, substitute dry it for dry white wine, and add a ½ teaspoon of sugar for every tablespoon you use.
Sesame oil: I only used a small amount here because I find this flavor can get so overpowering, but you can definitely add more if you love it.
Green onion: fresh and flavorful for the tuna.
Lime juice: the much needed acid for this dish.
Avocado: this is going to form the base of the tartare, and of course, it pairs beautifully with tuna.
Wasabi paste: I love adding this to the tartare for an extra bit of spicy flavor, but if you're not into it, just omit.
Cucumbers: Slice these guys as thin as you can, they're going to add an amazing bite of freshness and crunch.
Cilantro: for garnish.
Wonton wrappers: for making our chips or the cups.
How to Make Tuna Tartare
Nothing is hard in this recipe, but it does come with a few different actions, so let's go through it step by step.
To make the wonton chips:
Preheat your oven to 350F.
Cut the wontons in half diagonally. Spread in a single layer on a baking sheet, and then brush with oil. Bake for 2-4 minutes, until just starting to turn golden and crispy. Remove, and let them cool while you make the tartare.
To make the wonton cups:
Preheat the oven to 350F.
Brush the inside of a muffin tin with oil. Line each cup with a wonton wrapper, and then brush the wrapper with oil. Bake for 3-5 minutes, until the edges are starting to become golden, and the remove to cool. They should hold their shape once they're cool.
Make the avocado base:
Peel your avocado, remove the pit, and then cut into ½" cubes. Place in a medium sized bowl.
Add your wasabi paste (if using) and salt.
Stir well to combine, but try not to mash the avocado.
Make the Tartare:
Cut the tuna into ½" cubes. Set in a medium bowl.
Make the sauce by combining soy sauce, mirin, sesame oil, lime juice and zest, and green onion. Pour over the tuna, and then stir to combine. Let the tuna mixture chill in the fridge for 20 minutes.
To Assemble the Classic Preparation:
Using a food mold or a large cookie cutter, press the avocado mixture into the bottom of the ring. Pack it down fairly tightly so it keeps it's shape - you want the avocado to be about ¾" deep. Add the tuna on top, again, pack tightly. Add the cucumber in a half circle on top of the tuna, and then add a few cilantro leaves for garnish.
Remove the mold or cookie cutter and serve with wonton chips.
To Assemble the Cups:
Add about a tablespoon of avocado to the bottom of each cup. Then, place three slices of cucumber vertically along one wall of the cup. Add as much tuna as you can fit. Garnish with cilantro and serve.
Tips and Tricks
You can use salmon in place of tuna in this tartare - it's also delicious.
You can definitely skip the wasabi as well if it's not your thing. Just make sure you add salt to the avocado!
You don't have to make the wonton chips or cups, you can serve it with crackers or crostini.
Make sure you keep the fish cold as your prepping - then let it chill in the fridge once the tartare is completely done.
Two Ways to Serve it
I'm showing you two different and equally easy ways of serving this: in the classic tartare preparation and individually served in wonton cups.
In the first version, you prepare the tartare in a food mold (or inside of a cookie cutter ring), and tightly pack the avocado and tuna to keep it's shape (see below). You serve it alongside crackers, crostini, or make the homemade wonton chips.
In the second version, we're going to make those same wonton wrappers in to cups that can serve the tartare individually to each person. They're just as easy to make, and they look gorgeous!
More Awesome Appetizers
Storage
📖 Recipe
Quick and Easy Tuna Tartare
Tuna tartare is light, full of flavor, and super impressive to make for family and friends. This is definitely one to add to any entertaining menu! I'm using wonton wrappers as a serving vessel here, but you can definitely serve this with crackers or crostini as well.
Equipment
Muffin tin

Food mold

or cookie cutter
Ingredients
1

lb

sushi grade tuna

frozen, diced, ½" cubes

12

wonton wrappers

1

tablespoon

neutral oil

such as vegetable oil

3

avocados

diced, ½" cubes

1

tablespoon

wasabi paste

½

teaspoon

salt

3

tablespoon

soy sauce

½

tablespoon

sesame oil

1

tablespoon

mirin

½

tablespoon

lime juice

and zest from one lime

1

tablespoon

green onion

chopped

½

cucumber

very thinly sliced

5

tablespoon

cilantro leaves
Instructions
Preheat your oven to 350°F.

Prep your tuna: chop tuna into ½" cubes. Just try to get them as close to the same size as you can. Set aside in the fridge.

For the wonton cups: brush oil inside of muffin tins. Shape each wonton wrapper in a muffin tin (it should look like a small bowl). Brush the inside with oil. Bake in the oven for 3-5 minutes MAX.

For the wonton crackers: cut each wonton in half diagonally. Spread in a single layer on a cookie sheet. Brush with oil. Bake for 2-4 minutes MAX.

Keep an eye on both of these, no matter which method you're using. They burn QUICKLY.

Remove from the oven and set aside to cool.

Combine the avocado, salt and the wasabi paste in a small bowl, until the avocado is covered with the wasabi. Taste and adjust for seasoning. Set aside.

In a separate bowl, whisk the soy sauce, sesame oil, mirin, lime juice and zest, and green onion together. Add the tuna, and stir well to combine.
Assembly
For the cups: spoon about a tablespoon of avocado in the bottom of the cup. Add the tuna on top. Top with cilantro and cucumber slices.

For the classic tartare presentation: using a circular food mold, or a cookie cutter, tightly pack the avocado in the bottom of the ring. It should be about an inch deep. Add the same amount of tuna. Press both down to pack together so it won't fall apart when you remove the mold.

Remove the mold carefully, then add cucumber and cilantro to the top.
Notes
Make sure you're watching the wontons as they cook. I burnt the first few batches - the cook super quickly!
Feel free to leave out the wasabi paste if you're not into it! But definitely make sure you season the avocado with salt, that's so important for the flavor!
Nutrition
Serving:
150
g
Calories:
360
kcal
Carbohydrates:
20
g
Protein:
22
g
Fat:
22
g
Saturated Fat:
4
g
Polyunsaturated Fat:
5
g
Monounsaturated Fat:
12
g
Trans Fat:
0.01
g
Cholesterol:
30
mg
Sodium:
842
mg
Potassium:
764
mg
Fiber:
7
g
Sugar:
2
g
Vitamin A:
1851
IU
Vitamin C:
13
mg
Calcium:
35
mg
Iron:
2
mg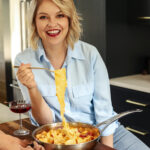 Hi, I'm Cara! I'm a food writer, journalist, and recipe developer. I'm obsessed good food, good wine, good cocktails and entertaining. I've picked up a few tips over the years, and love sharing them with others.