As an Amazon Associate I earn from qualifying purchases.
So, I love meatloaf, but a leftover meatloaf sandwich? Might be the best thing ever. Meatloaf, in my opinion, is one of those leftovers that doesn't get worse the next day (it totally gets better). We're going to make an epic meatloaf sandwich x grilled cheese situation (so it's going to be hot, not cold) that will leave you crying for more.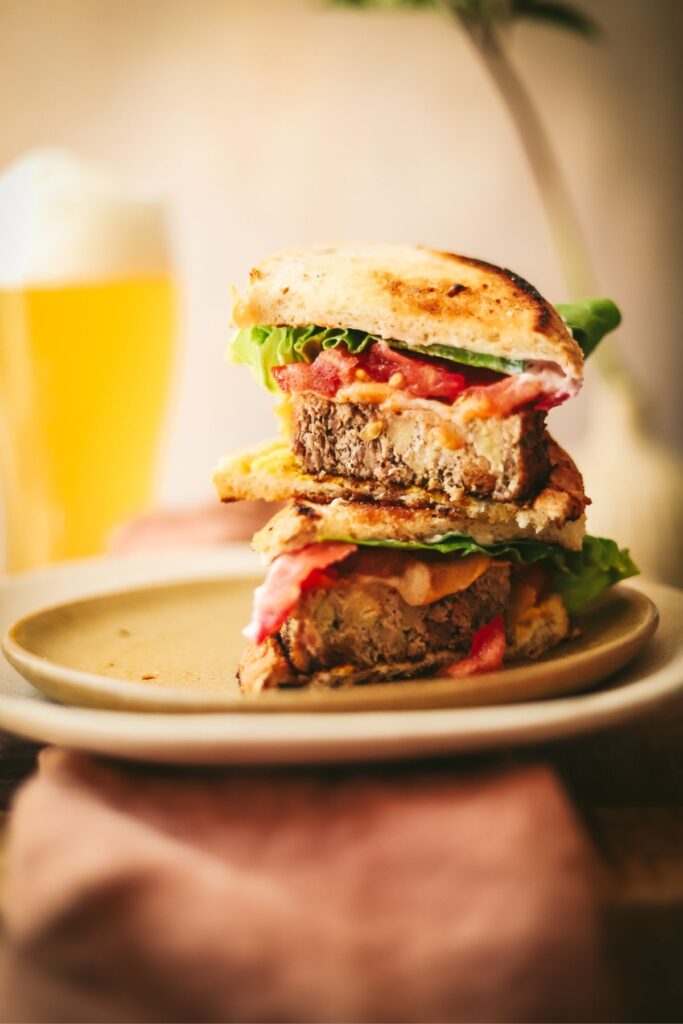 The other great part about this sandwich is that you can customize it any which way you please. I've got tons of ideas for you for toppings, condiments, or even which type of bread to use. So by all means, pick your favorites and make it the best meatloaf sandwich ever!
This leftover meatloaf sandwich is filling, satisfying, savory and just plain delicious. Toasting it and making it warm with melty cheese takes it up a level.
Jump to:
Ingredients
I mean, for the main ingredients it's pretty easy. You need leftover meatloaf, bread, toppings and condiments. Oh and cheese! Keep scrolling for an epic list of ideas for each of those sections.
Toppings
Oh the possibilities....
tomato
lettuce
sauerkraut
pickles
red onion
mashed potatoes
fried egg
fried mushrooms or onions
avocado
cucumber
Condiments
Mayo
horseradish
bacon jam
ketchup
mustard
relish
aioli
tomato jam
applesauce/apple butter
Cheese
I like to stick with something more mild here, but as always, you do you!
cheddar
mozzarella
American cheese
gouda
provolone
brie
blue cheese (I feel like this with caramelized onions and bacon jam could be *chef's kiss*)
Bread
Again, totally personal preference. I'm grilling/toasting this sandwich, so I want something relatively thin that's going to hold up to the meat and toppings (i.e. rye or sourdough).
rye
sourdough
Texas toast
ciabatta
garlic bread (omg, I cannot. How good would this be?!)
rolls
hamburger bun
How to Make a Grilled Meatloaf Sandwich
Ok this is the fun part. Follow along and you'll be eating the most delicious lunch you've had in a very long time (video follows).
First, heat up pan (I love my cast iron skillet for this) over medium heat. Butter two slices of bread and place them butter side down to one side of the pan.
Next, cut a thick slice of meatloaf, and put that in the pan as well.
After 2-4 minutes, flip the meatloaf over, and get the toast out of the pan. Place a slice of cheese on the meatloaf, cover, and let it get all melty for another couple of minutes.
In the meantime, get all your toppings and condiments ready to go. Spread on the mayo, horseradish, whatever and slice your tomatoes and pickles (and anything else you're using).
Once the cheese is melty, place it on the toast, top it all off and slice in half.
Enjoyyyyyyyyyyyyyyyyyyyy.
Awesome Sandwich Sides
You can never go wrong with fries, amirite?
Recipe
Leftover Meatloaf Sandwich
This leftover meatloaf sandwich is filling, satisfying, savory and just plain delicious. Toasting it takes it up a level.
Ingredients
1

slice

meatloaf

2

slices

rye bread

(or whatever type you prefer)

1

tablespoon

mayo

mustard

1

slice

American cheese

lettuce

tomato
Instructions
Heat your pan over medium-low to medium heat. Add your slice of meatloaf to the pan. Cook for 2-4 minutes, then flip.

Butter your bread, and place butter side down in the pan with the meatloaf. Fry for 2-4 minutes until toasted. Remove bread from the pan.

Add your slice of cheese to the top of the slice of meatloaf. Cover, and let the cheese melt (about 1-2 minutes).

In the meantime, prep your toast with the condiments and toppings you prefer. In this case, slicing tomato, adding the lettuce, and spreading the mayo and mustard on the toast.

Place the slice of meatloaf on the sandwich, and top with the other slice of toast. Cut in half, and enjoy!
Notes
Put whatever toppings you want on this! It's really the method that counts - experiment to your heart's content! And let me know what you're favorites are in the comments, I would love to get some inspiration.
Nutrition
Serving:
250
g
Calories:
341
kcal
Carbohydrates:
32
g
Protein:
10
g
Fat:
19
g
Saturated Fat:
6
g
Polyunsaturated Fat:
7
g
Monounsaturated Fat:
5
g
Trans Fat:
1
g
Cholesterol:
28
mg
Sodium:
826
mg
Potassium:
137
mg
Fiber:
4
g
Sugar:
3
g
Vitamin A:
212
IU
Vitamin C:
1
mg
Calcium:
267
mg
Iron:
2
mg
Jump to: