As an Amazon Associate I earn from qualifying purchases.
There is nothing better in this world than a big bowl of chicken and drop dumplings. Full of cozy, comforting flavor, this dish makes you feel better no matter your mood. I've been experimenting with this recipe for years, and definitely feel like this is the perfected version. At least, it's always gotten rave reviews from the audience.
We're making these from scratch - the real deal. No Bisquick, no cream of chicken soup. And, while I would never call chicken and dumplings gourmet (although honestly, with the flavor they bring to the table? They totally deserve it), we're going to add a few ingredients to switch these up a bit in the flavor profile from the traditional. Plus, this recipe totally makes enough to serve a crowd - so bookmark it for your next wintery dinner party!
Jump to:
What are Chicken and Dumplings?
There are so many different types of chicken and dumplings - and everyone has an opinion on what the best ones are. Especially your grandmother. I'm not here to debate (jk, this recipe is the best one), but let's go over some of the different types of recipes and how they differ from each other.
Chicken and Drop Dumplings
Also called chicken and drop biscuits, these are dumplings that your drop directly into the broth and cook on top of the soup/stew. They are light and fluffy, and these homemade ones in particular are flavored with parmesan cheese and parsley. You could definitely use this drop dumpling recipe in other stews (beef in particular would be delish).
Old Fashioned Chicken and Dumplings
So, old fashioned chicken and dumplings are actually made with something called a flat dumpling. It's kind of like a cross between an egg noodle and a biscuit (if you've ever had this dish at Cracker Barrel, this is how they do it). The dumplings tend to be a bit more firm with a bit of a chew, and soak up the broth.
There's also lots of information out there that under no circumstances do you put any vegetables at all in old fashioned chicken and dumplings. I'll let you all fight that out in the comments section.
Southern Style Chicken and Dumplings
This again seems to depend on the dumplings, and where and how they're made. Southern dumplings seem to be the rolled-flat noodle-ish kind, while the puffier ones (like these) are more common in the Northeastern U.S.
How to make Chicken and Dumplings
We're making these dumplings in a Dutch oven, on the stovetop (although, if you follow my link below to how to make chicken stock from scratch, you can do that part in an Instant Pot or a pressure cooker).
Make the Broth from Scratch
I hate to be the one to have to tell you this, but without a doubt, making your chicken broth from scratch is the best way to eat old fashioned chicken and dumplings. The boxed stuff, while pretty decent, can't compare. That being said, if you're short on time, check out my section below on shortcuts and hacks that will still leave you with a great meal in less than half the time.
Making the broth from scratch isn't hard, but it does require a little preplanning and time. Luckily I have a whole post on how to do this, and my recipe uses only chicken thighs and legs for maximum flavor. That makes it a GREAT START for this recipe too. Honestly, using only dark meat is the way to go. I will die on this hill. Don't @ me.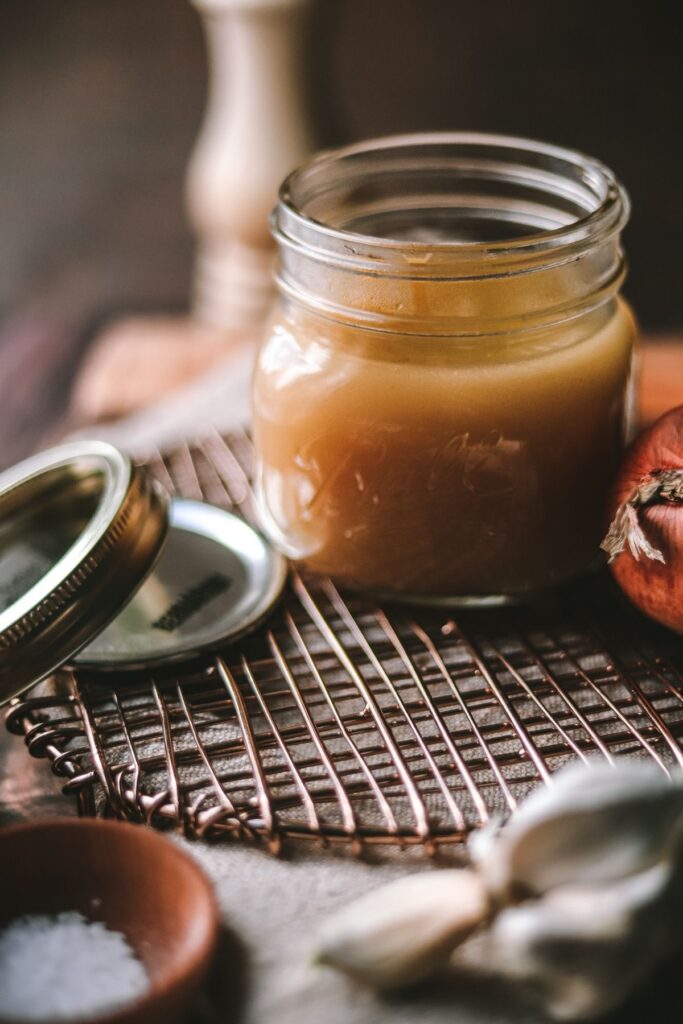 Ingredients
As you can likely guess from the photos, this chicken and drop dumpling recipe doesn't contain the traditional ingredients. We're adding things like mushrooms and parmesan to give it a deeper umami flavor, and adding a tiny bit of cognac to the base of the stew (you won't taste it - it just adds this little something extra to the dish. Otherwise, this is what we're looking at:
Reserved thigh and leg meat from the above recipe
Shallot
Mixed mushrooms (oyster, cremini and shiitake if you can get your hands on them)
Carrots
Flour
Cognac
Heavy Cream (optional)
For the Drop Biscuits
Flour
Baking Powder
Milk
Egg
Salt & Pepper
Parmesan Cheese
Parsley
Shortcuts and Hacks
Let's be real, we don't always have time to make our own chicken broth and let it simmer for three hours before we even start to make the actual dish. So here's how you can cut down that time.
First, use store bought chicken stock (for this recipe, I would use between 5-6 cups). Make sure it's no salt added so you can season to your taste.
Second, make it using a rotisserie chicken. Use all of the meat, and the skin if you want extra flavor!
After that, follow the recipe as usual.
Freezing and Storage
This recipe can store in an airtight container in the fridge for up to 4 days (in fact, I think the flavor gets better the longer the dish gets to hang out. Kind of like lasagna).
For freezing, again, make sure it's got a tight light, and you can keep it for up to six months! Delish.
What to Serve with Old Fashioned Chicken and Dumplings
Sides
This is actually a pretty heavy meal. I would for sure go with something lighter on the side, like a salad, or maybe one of these dishes:
The best homemade Caesar Salad (ok fine, it's not exactly light, but it's a salad. What more do you want from me?)
Roasted Broccoli with Pecorino and Honey
Warm zucchini salad with mint and pistachios
Wine Pairing
For this meal, I would definitely go with Pinot Noir (a classic pairing with chicken, especially with deep flavors), or if you're looking for a white, a classic Chardonnay.
Recipe
Chicken and Drop Dumplings with Mushrooms & Parmesan
This recipe builds on the classic comfort foods with ingredients that bring even more umami flavor, like mushrooms and parmesan. The best way to make it is to use homemade chicken broth and the chicken meat the comes with that, but you can definitely use a few different hacks to make it quicker! Enjoy the coziest of winter comfort foods!
Equipment
Dutch Oven

Pressure Cooker (optional, for the broth)
Ingredients
For the Stew
6-7

C

chicken broth

3

C

cooked chicken meat

If you're making the broth recipe from scratch, it should give you enough leg and thigh meat for this recipe.

2

tablespoon

olive oil

3

shallots

diced

2

cloves

garlic

diced

2

C

shredded or matchstick carrots

3

C

mixed mushrooms

diced

2

tablespoon

flour

2

tablespoon

cognac

3

tablespoon

heavy cream

salt and pepper, to taste
For the Drop Biscuits
1

C

flour

1½

teaspoon

baking powder

1

teaspoon

kosher salt

1

egg

½

C

milk

¾

C

grated parmesan cheese

½

C

fresh parsley

diced
Instructions
For the Stew
Make the broth, set the broth and the dark chicken meat aside. If you're not doing homemade, just skip to the next step!

Heat the olive oil in a Dutch oven over medium high heat. Add the shallots and the garlic, cooking until fragrant, about 1 minute.

Add the mushrooms and the carrots. Cook the veggies until the mushrooms have released their moisture, and the carrots are soft.

Add the flour, coating the ingredients and stirring until it's absorbed.

Add the cognac, reduce by half (this should only take 30 seconds or so).

Add the chicken broth and chicken. Bring to a simmer. Add the heavy cream.

Drop the dumpling dough into the stew, 2-3 tbsp. at a time. Cover and cook, simmering on low, for 15-20 minutes. Check to make sure the dumplings are cooked all the way through.

Divide into bowls and serve immediately.
For the Drop Biscuits
Combine the flour, baking powder, and salt in a bowl. Whisk ingredients together. Add the wet ingredients, including the parmesan and the parsley. Stir until just combined. Add to the stew as described above.
Notes
If you're looking to make this recipe quicker, just use store-bought chicken broth and a rotisserie chicken!
Use what ever type of mushroom mix you like for the mushrooms - my favourite is a combo of cremini, oyster, and shiitake.
Nutrition
Serving:
350
g
Calories:
332
kcal
Carbohydrates:
27
g
Protein:
18
g
Fat:
17
g
Saturated Fat:
6
g
Polyunsaturated Fat:
2
g
Monounsaturated Fat:
7
g
Trans Fat:
1
g
Cholesterol:
70
mg
Sodium:
1238
mg
Potassium:
699
mg
Fiber:
4
g
Sugar:
5
g
Vitamin A:
5943
IU
Vitamin C:
21
mg
Calcium:
212
mg
Iron:
3
mg
Jump to: