Welcome, my fabulous friend, to a tantalizing journey of flavors and fizz! Today, we are diving into the world of mocktails, and in particular, the enchanting Mimosa Mocktail. If you're seeking a delightful and refreshing beverage that's alcohol-free yet bursting with sophistication, look no further! In this blog post, we'll explore everything you need to know about creating this sparkling sensation. So, grab your favorite glass and let's begin!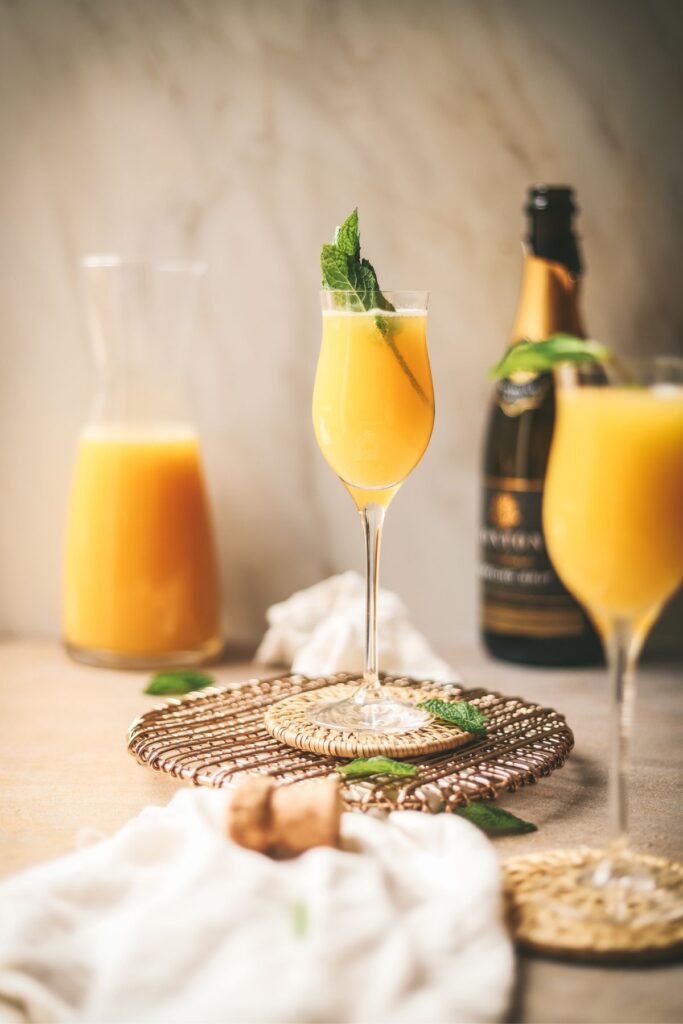 Discover the joy of a Mimosa Mocktail - a non-alcoholic delight that's perfect for any occasion. Learn how to make it, find FAQs, pro tips, flavor variations, and the ideal pairings.
Jump to:
Frequently Asked Questions
Is a Mimosa Mocktail the same as a Virgin Mimosa or Non-Alcoholic Mimosa?
Indeed, they are! A Mimosa Mocktail is a delightful, alcohol-free twist on the classic Mimosa cocktail. It captures the essence of the original with its effervescent blend of flavors but without the boozy kick.
Can I make a Mimosa Mocktail in advance?
While it's best to enjoy your Mimosa Mocktail fresh, you can prepare the ingredients in advance and store them separately. Keep the orange juice chilled and the non-alcoholic sparkling wine sealed until you're ready to serve. When you're ready to indulge, simply combine the ingredients over ice and garnish. This way, you can still enjoy the fizz and flavors without compromising on freshness.
Can I use store-bought orange juice for my Mimosa Mocktail?
While store-bought orange juice can work in a pinch, using freshly squeezed orange juice will truly elevate the flavor profile of your Mimosa Mocktail. Freshly squeezed juice is vibrant, tangy, and offers a more authentic citrus experience. If you're short on time, look for freshly squeezed options available in the refrigerated section of your local grocery store.
Can I add other fruits to my Mimosa Mocktail?
Absolutely! The beauty of the Mimosa Mocktail lies in its versatility. Feel free to experiment with other fruits to create your unique flavor combinations. Consider adding a splash of cranberry juice for a festive twist or a hint of pomegranate juice for a burst of antioxidants. Just be mindful of the balance between the fruit flavors and the sparkling base to ensure a harmonious blend.
Can I make a large batch of Mimosa Mocktails for a party?
Certainly! If you're hosting a gathering and want to serve Mimosa Mocktails to a larger group, you can scale up the recipe accordingly. Prepare the orange juice and sparkling wine mixture in a large pitcher or a punch bowl. When it's time to serve, pour the mixture over ice-filled glasses and garnish individually. This way, you can ensure everyone enjoys a fresh and fizzy Mimosa Mocktail.
Why You're Going to Love This Recipe
It's a refreshing and invigorating beverage that awakens your senses.
The combination of vibrant citrus and sparkling fizz creates a symphony of flavors.
It's a perfect choice for those who prefer non-alcoholic options or choose to abstain from alcohol.
The elegant presentation makes it a show-stopping addition to any brunch, celebration, or relaxed gathering.
You can savor the joy of a classic cocktail without worrying about the next morning's hangover.
What is a Mimosa?
Ah, my dear friend, the Mimosa holds a special place in the hearts of brunch enthusiasts around the world. Originally crafted with equal parts orange juice and champagne, this delightful concoction was created at the Ritz Hotel in Paris. The name "Mimosa" pays homage to the yellow blooms of the mimosa tree, reminiscent of the drink's vibrant hue.
Freshly Squeezed vs. Store Bought Orange Juice
Freshly squeezed orange juice is a game-changer for your Mimosa Mocktail because it delivers a burst of zesty, tangy goodness that simply can't be replicated. The natural sweetness and bright acidity of the freshly squeezed juice awaken your taste buds and elevate the entire drinking experience.
However, while the flavor definitely can't be beat, there are definitely plenty of convenient, high-quality store-bought options that will absolutely work and taste totally delightful.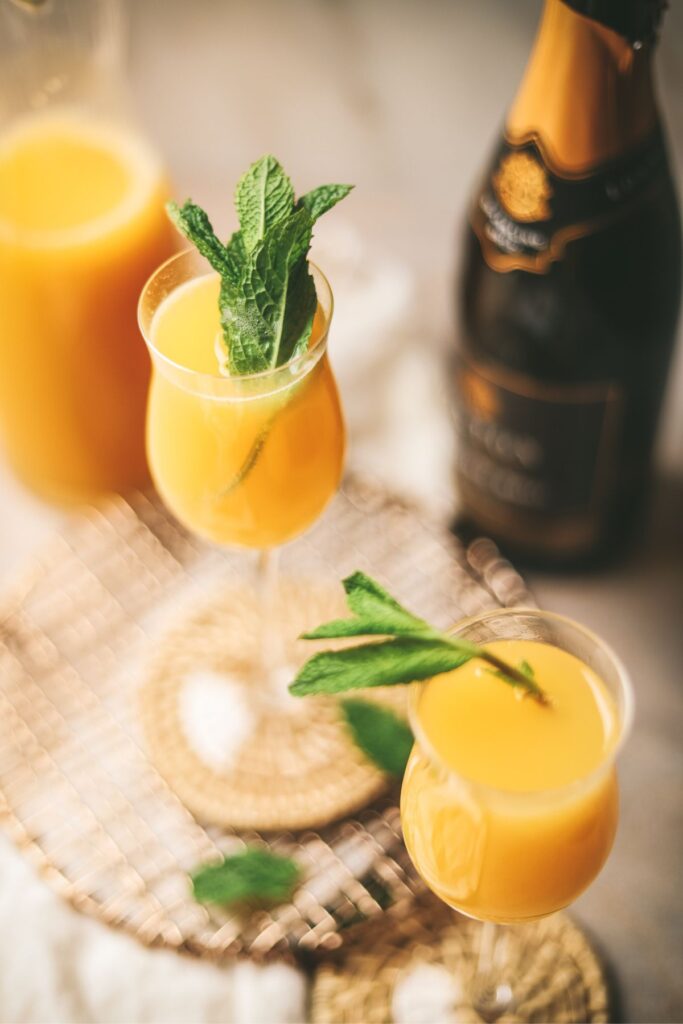 Some Non-Alcoholic Sparkling Wines
The world of non-alcoholic spirits and cocktails is exploding at the moment, so there's no shortage of options to choose from! I remember when I was young, there was like, one option. And it was...gross.
Ariel Chardonnay: This non-alcoholic sparkling wine boasts all the elegance and charm of a classic Chardonnay. It offers a delightful balance of crisp acidity and rich flavors, making it a perfect choice to complement the vibrant citrus notes of the Mimosa Mocktail.
Sutter Home Fre Brut: Known for its exceptional quality, Sutter Home Fre Brut delivers a dry and crisp profile that beautifully harmonizes with the fresh orange juice. Its effervescence adds a touch of celebratory charm to your Mimosa Mocktail experience.
Martinelli's Sparkling Cider: If you're seeking a non-alcoholic option that's family-friendly and universally loved, Martinelli's Sparkling Cider is a delightful choice. With its crisp apple flavors and gentle carbonation, it adds a touch of fruity sweetness to your Mimosa Mocktail.
Lussory Zero Rosé: This non-alcoholic sparkling rosé is a true gem. Its delicate pink hue and refreshing berry flavors create an enchanting combination with the orange juice, adding a subtle floral note and a touch of sophistication to your Mimosa Mocktail.
Pierre Chavin Perle Blanc: With its delicate bubbles and crisp flavors, Pierre Chavin Perle Blanc is a non-alcoholic sparkling wine that exudes elegance. Its bright and citrusy profile perfectly complements the fresh orange juice, making it an excellent choice for your Mimosa Mocktail.
Torres Natureo Muscat: This non-alcoholic sparkling wine showcases the delightful flavors of Muscat grapes. Its aromatic bouquet, hints of tropical fruits, and gentle effervescence create a luxurious and exotic twist when combined with vibrant orange juice.
Leitz Eins Zwei Zero Riesling: Known for its renowned winemaking expertise, Leitz Eins Zwei Zero Riesling offers a non-alcoholic sparkling wine that captivates with its bright acidity and fruity flavors. Its crisp and refreshing nature beautifully pairs with the citrusy zest of the Mimosa Mocktail.
Ingredients
To create the perfect Mimosa Mocktail, you'll need a handful of ingredients that harmonize beautifully. Let's explore the key players and why they work their magic:
Freshly squeezed orange juice: Bursting with tangy sweetness, it forms the foundation of the drink, delivering vibrant citrus flavors. Again though - you can totally use store-bought, I'm not going to tell anyone.
Non-alcoholic sparkling wine: This effervescent elixir brings life and bubbles to the mix, elevating the entire experience.
Orange slices: A garnish of orange slices adds visual appeal and enhances the citrusy aroma while offering a juicy burst with each sip.
How to Make a Virgin Mimsoa
Take a fancy champagne flute or a chic wine glass, dahling. It's all about the presentation.
Grab that freshly squeezed orange juice, pour it into the glass until it reaches the halfway mark.
Now, it's time for the pièce de résistance! Pop that bottle of non-alcoholic sparkling wine and slowly pour it over the orange juice. Watch as the bubbles dance and mingle, creating a glorious fizz.
Give it a gentle stir, just enough to marry the flavors together.
Adorn the rim of the glass with a slice of orange and let it rest on the edge, adding an extra touch of elegance.
Voilà! Your Mimosa Mocktail masterpiece is complete. Sip, savor and relish every effervescent moment.
Pro Tips and Tricks
Opt for freshly squeezed orange juice to maximize the vibrant, zesty flavors.
Chill all the ingredients in advance. A perfectly chilled mocktail is an absolute must for the ultimate refreshment.
Experiment with different citrus fruits like grapefruit or blood orange for unique twists on the classic flavor profile.
If you prefer a sweeter mocktail, add a splash of simple syrup or a few drops of liquid stevia.
Don't forget to garnish your glass with a zest of orange or a sprinkle of edible flowers for an Instagram-worthy presentation.
Variations
Berry Burst: Swap out the orange juice for a medley of mixed berries like strawberries, raspberries, and blueberries. Puree them and strain the mixture before adding the non-alcoholic sparkling wine.
Tropical Twist: Embrace the spirit of the tropics by using pineapple juice instead of orange juice. Garnish with a pineapple wedge and a sprinkle of toasted coconut flakes.
Minty Marvel: Infuse your Mimosa Mocktail with a refreshing burst of mint by muddling a few mint leaves in the glass before adding the ingredients. Garnish with a sprig of mint for a touch of elegance.
What to Serve it With
Brunch Bites: Indulge in a platter of smoked salmon, creamy scrambled eggs, and freshly baked croissants. The Mimosa Mocktail's zesty notes complement these savory delights perfectly.
Fruity Delights: Serve your Mocktail alongside a vibrant fruit salad or a plate of juicy melon slices. The combination of flavors will transport you to a tropical oasis.
Decadent Desserts: Pair your Mimosa Mocktail with a selection of mini pastries or a luscious slice of lemon tart. The citrusy harmony will have your taste buds dancing with delight.
Other Awesome Cocktails
Recipe
Mimosa Mocktail (Non-Alcoholic Mimosa)
Enjoy all the mimosas you want without sacrificing the flavor and the bubbles (just the hangover, win-win-win). This easy and elegant drink is perfect for brunch, patio sipping, or anytime you want to feel sophisticated. Freshly squeezed orange juice is best, but if you're short on time or ambition, store-bought is completely fine.
Ingredients
1

C

orange juice

1½

C

non-alcoholic sparkling wine

orange slices

for garnish
Instructions
In a fancy champagne flute or chic wine glass, pour ½ cup of orange juice (or fill it about halfway, depending on the size).

Slowly pour ¾ cup of non-alcoholic sparkling wine over the orange juice in each glass (again, depends on the size. Just top your flute with the sparkling).

Give it a gentle stir to combine the flavors.

Garnish each glass with a slice of orange.

Sip, savor, and relish every effervescent moment of your delightful mimosa.
Notes
For the freshest and most vibrant flavors, it's highly recommended to use freshly squeezed orange juice. Squeeze those oranges with love and watch the magic unfold!
Feel free to adjust the measurements of orange juice and non-alcoholic sparkling wine to suit your taste preferences and the size of your glassware. Remember, customization is key!
Experiment with different garnishes to add a personal touch. Try a sprig of fresh mint or a twist of lemon peel for an extra dash of sophistication.
To make your non-alcoholic mimosa even more visually stunning, consider using champagne flutes or elegant stemware.
If you prefer a sweeter mocktail, you can add a touch of simple syrup or honey to the orange juice before combining it with the sparkling wine. Taste as you go and adjust sweetness accordingly.
Nutrition
Serving:
1
drink
Calories:
143
kcal
Carbohydrates:
15
g
Protein:
1
g
Fat:
0.3
g
Saturated Fat:
0.03
g
Polyunsaturated Fat:
0.1
g
Monounsaturated Fat:
0.04
g
Sodium:
14
mg
Potassium:
404
mg
Fiber:
0.3
g
Sugar:
12
g
Vitamin A:
248
IU
Vitamin C:
62
mg
Calcium:
30
mg
Iron:
1
mg