This is not a traditional carbonara, obviously, but it is a really easy and bomb way to eat pasta: no boiling water is required!
Ingredients
1 lb of Brussel's sprouts, cut in half length-wise, or sliced up lengthwise
1 C. pancetta, diced
1 package of gnocchi
salt and pepper
2 tbsp. olive oil
4 egg yolks
1 C. parmesan cheese
⅔ C. 10% cream
1 tbsp. freshly cracked black pepper (you should be able to taste this as a flavour in the dish)
Walnuts, parmesan and pepper for garnish
Directions
Preheat oven to 400F.
Combine the Brussel's sprouts, pancetta, and gnocchi in a bowl. Season with salt and pepper, add olive oil, and mix to coat everything with the oil.
Spread evenly on a large sheet pan. Roast everything for 15-20 minutes, stirring once halfway through.
In the meantime, make your sauce. Combine egg yolks, parmesan, cream and pepper in a medium mixing bowl. Whisk to combine, set aside.
Take your pasta out of the oven. The gnocchi and sprouts should be brown and toasty. Dump everything into a large pasta bowl. Pour your sauce overtop immediately (the heat from the pasta will cook your yolks). Combine thoroughly. Let it sit for five minutes (this lets the sauce thicken up), and mix again.
Serve immediately with more fresh parmesan, black pepper and walnuts if you wish.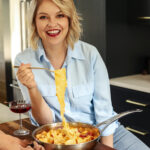 Hi, I'm Cara! I'm a food writer, journalist, and recipe developer. I'm obsessed good food, good wine, good cocktails and entertaining. I've picked up a few tips over the years, and love sharing them with others.