We've all seen the viral butter boards on TikTok or Instagram by now. Could it possible de-throne the charcuterie board? We shall see. But until then, it's an absolutely genius idea for a fun party appetizer. I highly recommend you get on this trend!
This trend went viral when it was posted by Justine Snacks on TikTok and Instagram. But she took inspiration from Chef Joshua McFadden and his cookbook.
The butter board is everything an appetizer should be: easy, creative, great for a crowd, and above all delicious.
One of the things I love about these boards is that the butter is like your flavor canvas. You can put almost any flavor combination you want on top of it and it's going to be delicious. They are going to be AMAZING holiday appetizers this year!
We're definitely going to go over some flavor combinations here, but for the main one, we're doing a roasted butternut squash with maple syrup, sage, and walnuts.
Check out the web story here.
Jump to:
What is a Butter Board?
The basic idea is this - you use room temperature (or even softened) butter and spread it all over a serving board (if you're using something wood, you might want to put parchment paper down, it will make for a way easier clean-up session).
After you've got your butter "base" down, you can top it with pretty much anything you want. There's tons and tons of flavor combos you could do (see below), but it's pretty much up to you and your imagination.
Serve it with crostini, or with soft bread. People can either dip the bread right in it, or use knives to spread the toppings.
Do I have to use Butter?
No actually, you don't. You can definitely swap out the butter for soft cheese, like cream cheese or mascarpone or goat cheese. Or how about whipped feta? Yes please.
Flavor Combinations
Ok, this is the really fun part of the post. Here are just a few of the combos that I could think of. Let me know what you think would be good in the comments!
Butter + radish + parsley + salt : definitely a take on that viral radishes and butter trend from earlier this year. It's a classic French treat.
Butter + figs + arugula + prosciutto : Honestly figs and anything are delicious. Try adding a drizzle of honey if you want to sweeten it up a bit!
Butter + sundried tomatoes + basil : a classic, you can't go wrong with this one.
Butter + olives + lemon + capers : This is a take on the classic flavors of your favorite olive tapenade.
Butter + anchovies + pickled white onion + olive oil : I had this flavor combo at a local restaurant not long ago - it's to die for. And guaranteed not many of your guests will have had this one!
Butter + roasted garlic + parmesan + truffle oil
Cream cheese + smokes salmon + pickled red onions + dill : another classic flavor combo. Smoked salmon is always welcome on any board of mine.
Goat cheese + roasted grapes + rosemary : Roasted grapes are the bomb. If you haven't tried them yet, you definitely should add it to your list.
Whipped feta + dates + bacon + walnuts : Dates are also incredible as an appetizer.
Goat cheese +cranberries + rosemary + bacon
Another thing to think about: different textures. Butter boards are best when they have different texture layers. For example, we've got the creamy down, but it's fun to add something soft (figs, roasted squash), something crunch (bacon, nuts), crispy (panko bread crumbs), and fresh (arugula or microgreens).
Ingredients
These are just the ingredients for this particular butter board. You can make whatever you want!
High quality butter : softened, or at room temperature.
Butternut squash (diced) : for quick cooking and cooling time.
Maple syrup : You definitely need something sweet!
Fried Sage: Have to have it with squash
Walnuts: for flavor and texture
Pumpkin seeds: for crunch
Other ingredients you can try:
dried fruits
fresh fruits
different dried herbs and spices
fruit butter or maple butter
fruit zest
balsamic vinegar
pine nuts, hazelnuts, pecans, seeds
any and all herbs you can think of (this was mostly the topping for the original butter board).
How to Make a Butter Board
First things first, make sure your butter is at the right temperature! I promise you this will be an impossible task with cold butter.
Spread the butter on the board (or parchment paper), of your choice. I picked a marble serving platter because I figured it would be easier to clean. I used one cup of butter for this one.
Next, layer on your other ingredients. Start with the heaviest ones, in this case, it was the butternut squash, then the prosciutto (you can cut it into bite sized pieces to make it easier to eat).
Next, sprinkle on any of your nuts or seeds you have, and any micro greens. Herbs go at the end. But really, just use your creativity. Do what looks good! And have fun with it 🙂
All that's left is to present and serve. You can use soft bread, so people can just swipe it in the butter, or do crostini and crackers with knives to spread.
Other Awesome Appetizers to Try
📖 Recipe
How to Make a Butter Board
The butter board is everything an appetizer should be: easy, creative, great for a crowd, and above all delicious. Not to mention, they are so beautiful! Save this recipe for your next holiday get together, it's guaranteed to be a hit!
Ingredients
2

tbsp

olive oil

1

C

butternut squash

diced

¼

teaspoon

salt

⅛

teaspoon

pepper

1

tablespoon

maple syrup

1

C

salted butter

room temperature

8-10

fried sage leaves

see notes

¼

C

walnuts

roughly chopped

2

tablespoon

salted pumpkin seeds

crackers, crostini, bread

for serving
Instructions
Cook the Squash
In a sautee pan over medium high heat, heat the oil. Add the diced squash, and sautee until tender, about 7-8 minutes. Add the maple syrup, and stir to coat the squash. Set aside to cool to room temperature.
Assemble the Butter Board
Once the squash has cooled, start assembling your board.

Spread the room temperature butter all over the board.

Add the squash evenly over the butter. MAKE SURE it is room temperature, you don't want the butter to melt. Drizzle on the maple syrup.

Sprinkle sage, walnuts, and pumpkin seeds over the top, and serve alongside soft bread, crackers or crostini.
Notes
To make fried sage leaves: cover the bottom of a sauté pan with about ¼" of neutral oil. When hot, add sage leaves one at a time. Let them fry for about 30 seconds, then remove to a paper towel lined plate.
This recipe would also work great if you substituted the butter for goat cheese or cream cheese.
You could definitely also add bacon.
Nutrition
Serving:
50
g
Calories:
337
kcal
Carbohydrates:
12
g
Protein:
3
g
Fat:
32
g
Saturated Fat:
16
g
Polyunsaturated Fat:
4
g
Monounsaturated Fat:
10
g
Trans Fat:
1
g
Cholesterol:
63
mg
Sodium:
280
mg
Potassium:
137
mg
Fiber:
1
g
Sugar:
7
g
Vitamin A:
2572
IU
Vitamin C:
5
mg
Calcium:
31
mg
Iron:
1
mg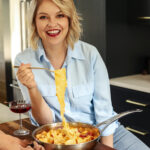 Hi, I'm Cara! I'm a food writer, journalist, and recipe developer. I'm obsessed good food, good wine, good cocktails and entertaining. I've picked up a few tips over the years, and love sharing them with others.