Ready to head to paradise without leaving home? Then these virgin pina coladas are totally for you. Whether you're seeking a refreshing summer drink or a non-alcoholic option for special occasions, this exquisite blend is sure to transport your taste buds to a beachside getaway.
Pina coladas have to be one of my all-time favorite drinks. The creamy coconut, fresh and sweet pineapple, and rum? So delish. But of course, we're going a different direction today and making these ones non-alcoholic for the whole family to enjoy.
Discover the enchanting flavors of a virgin piña colada, a non-alcoholic twist on the classic tropical cocktail.
Jump to:
Frequently Asked Questions
Can I make a virgin piña colada ahead of time?
Yes, you can prepare the base mixture in advance by blending the ingredients together, excluding the ice. Store it in the refrigerator and add ice just before serving for optimal freshness.
How can I make a piña colada mocktail more creamy?
To enhance the creaminess, consider adding a small amount of coconut cream or coconut milk to the recipe. This will give your mocktail a richer texture without compromising the refreshing taste.
Can I use frozen fruit instead of fresh pineapple?
Absolutely! Frozen pineapple chunks work perfectly in a virgin piña colada, and they even add a slushy consistency to the drink. Plus, it eliminates the need for ice cubes, ensuring your mocktail remains chilled without dilution.
Is a virgin piña colada suitable for children?
Yes, this non-alcoholic version is an excellent choice for all ages. Kids will love the tropical flavors and the fun experience of sipping on a fancy drink.
How can I garnish my virgin piña colada?
For a touch of elegance, garnish your mocktail with a pineapple wedge, a maraschino cherry, or a sprinkle of toasted coconut flakes. These simple additions will elevate the visual appeal and add a burst of flavor.
Can I customize the sweetness level of a piña colada mocktail?
Absolutely! Adjust the sweetness to your liking by adding more or less pineapple juice and cream of coconut. Taste as you go and find the perfect balance that suits your palate.
Why You're Going to Love This Recipe
Refreshing: It offers a delightful respite on hot summer days, quenching your thirst with its cool and tropical flavors.
Exotic Escape: Sip on this mocktail and let your imagination whisk you away to a faraway island, surrounded by palm trees and sandy beaches.
Versatility: This mocktail is suitable for a wide range of occasions, from casual poolside gatherings to elegant brunches and everything in between.
Family-Friendly: With its non-alcoholic nature, the virgin piña colada is the perfect choice for creating inclusive experiences that everyone can enjoy.
Healthy Indulgence: The blend of pineapple and coconut provides essential vitamins and minerals, making this mocktail a guilt-free treat.
Easy to Customize: Experiment with different garnishes and flavor variations to create a unique mocktail tailored to your preferences.
What is a Pina Colada?
Originating from Puerto Rico, the piña colada is a renowned tropical cocktail that combines the distinct flavors of pineapple, coconut, and rum. It is often associated with vacation vibes and exotic destinations, evoking images of palm-fringed beaches and turquoise waters. Traditionally made with rum, cream of coconut, and pineapple juice, the piña colada has become a symbol of relaxation and indulgence.
Rum Substitutions
While this drink tastes great without any rum flavor, if you're looking for it - here are a couple of options:
Rum Essence: This concentrated flavoring replicates the essence of rum without the alcohol content. It adds a touch of authenticity to your drink.
Rum Extract: Similar to rum essence, rum extract imparts the distinctive flavor notes of rum. It enhances the overall taste without the need for actual alcohol.
Non-Alcoholic Vanilla Extract: Adding a few drops of non-alcoholic vanilla extract can introduce a subtle layer of complexity and depth to your mocktail, enhancing the overall flavor experience.
You can, of course, also add a shot of non-alcoholic rum spirit to your drink as well! There are plenty of options out there these days.
Ingredients
Pineapple: This vibrant tropical fruit provides a sweet and tangy flavor while offering essential nutrients such as vitamin C, manganese, and bromelain—an enzyme known for its anti-inflammatory properties. You can also use frozen pineapple chunks in this recipe for even more frozen delight!
Pineapple Juice: This adds even more tropical flavor, while bringing some sweetness to the mix.
Coconut Milk: Rich and creamy coconut milk contributes to the velvety texture and tropical essence of the piña colada. It also contains healthy fats and electrolytes, making it a nourishing choice.
Ice: Adding ice to the blend ensures a refreshing chill without diluting the flavors. It helps maintain the perfect consistency of your drink. If you've opted for frozen pineapple, then you can omit the ice.
How to Make a Non-Alcoholic Pina Colada
Gather all your ingredients: pineapple chunks, coconut milk, pineapple juice, and ice.
Grab your blender and toss in about 1 cup of pineapple chunks, ½ cup of pineapple juice, ¾ cup of coconut milk, and a generous handful of ice.
Blend everything together until you achieve a smooth and creamy consistency. You want it to be thick and luxurious.
Give it a taste and adjust the sweetness or creaminess to your liking. Feel free to add a little more pineapple juice or coconut milk if desired.
Pro Tips and Tricks
For a frostier piña colada, use frozen pineapple chunks instead of fresh ones. It will give your mocktail a delightful slushy texture (this is what I do in this recipe).
To make it extra creamy, consider adding a tablespoon of coconut cream or a splash of heavy cream to the mix. It will take your drink to new heights of indulgence.
For an adult twist, serve your mocktail in a chilled glass with a shot of rum on the side. Let your guests choose whether they want to keep it non-alcoholic or add a splash of spirit.
Variations
Tropical Berry Blast: Add a handful of mixed berries like strawberries, raspberries, and blueberries to the blend for a burst of vibrant colors and a tangy twist.
Mango Madness: Replace a portion of the pineapple chunks with ripe mango for a tropical fruit fusion that will transport you to a Caribbean paradise.
Piña Colada Sunrise: Create beautiful layers by blending separate batches of pineapple and coconut mixtures. Pour the pineapple layer into the glass first, followed by the coconut layer, and finish with a splash of grenadine for a stunning sunrise effect.
How to Serve It
This is a versatile mocktail that pairs well with various dishes and occasions. Here are a few ideas to enhance your mocktail experience:
Tropical Appetizers: Serve it with delicious appetizers such as coconut shrimp, pineapple skewers, or mango salsa for a cohesive tropical-themed menu.
Brunch Delights: Pair your mocktail with brunch favorites like coconut pancakes, tropical fruit salads, or coconut French toast for a delightful morning treat.
Mocktail Bar: Set up a mocktail bar where guests can customize their piña coladas with various garnishes, such as toasted coconut flakes, pineapple wedges, or colorful paper umbrellas.
📖 Recipe
Virgin Pina Colada
This mocktail captures the essence of a classic Piña Colada, delivering flavors that will transport you to sun-kissed shores and swaying palm trees. This recipe combines juicy pineapple chunks, creamy coconut milk, and the luscious sweetness of cream of coconut. The result? A luxuriously smooth and refreshing mocktail that will tantalize your taste buds and leave you craving more.
Ingredients
1

C

pineapple chunks

fresh or frozen

¾

C

coconut milk

½

C

pineapple juice

handful of ice cubes
Instructions
In a blender, combine the pineapple chunks, coconut milk, pineapple juice, and ice.

Blend until smooth and creamy, ensuring the ice is fully incorporated.

Taste and adjust the sweetness or creaminess to your preference.

Pour into chilled glasses, garnish as desired, and serve immediately.
Notes
Garnish Creativity: Let your imagination run wild when it comes to garnishing your Virgin Piña Colada. From pineapple wedges and maraschino cherries to toasted coconut flakes and edible flowers, the choice is yours. Have fun experimenting with different combinations to make your mocktail visually stunning and Instagram-worthy.
Make It in Batches: If you're hosting a gathering or simply want to make multiple servings at once, feel free to double or triple the recipe. Simply adjust the ingredient quantities accordingly and blend in batches. Remember to taste and adjust the flavors as needed to maintain the perfect balance in each batch.
Customization Options: This recipe serves as a fantastic base for adding your own unique twists. Consider incorporating other tropical fruits like mango or passion fruit to create a personalized flavor experience. You can also experiment with different ratios of pineapple and coconut milk to achieve your preferred taste profile. Don't be afraid to get creative and make it your own!
Nutrition
Serving:
1
drink
Calories:
269
kcal
Carbohydrates:
28
g
Protein:
3
g
Fat:
18
g
Saturated Fat:
16
g
Polyunsaturated Fat:
0.3
g
Monounsaturated Fat:
1
g
Sodium:
13
mg
Potassium:
410
mg
Fiber:
2
g
Sugar:
23
g
Vitamin A:
62
IU
Vitamin C:
18
mg
Calcium:
42
mg
Iron:
3
mg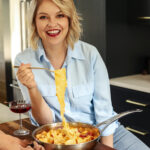 Hi, I'm Cara! I'm a food writer, journalist, and recipe developer. I'm obsessed good food, good wine, good cocktails and entertaining. I've picked up a few tips over the years, and love sharing them with others.