As an Amazon Associate I earn from qualifying purchases.
Homemade gnocchi is simply glorious. Small, soft potato dumplings/pasta that work well with almost any type of sauce you can think of.
I really can't say enough about them. When I was first delving into the world of homemade pasta, these were some of the first things I made. They can be pretty forgiving, and you don't need a fancy pasta roller to make them (although I highly recommend a potato ricer).
Making any homemade pasta, including gnocchi, is super therapeutic and the ultimate act of love for me. The amount of care that goes in each little nugget is amazing. And honestly, the store-bought stuff can't compare.
Pillowy homemade gnocchi, crafted from russet potatoes, eggs, flour, and a touch of salt is a culinary treat for adventurous foodies!
Jump to:
Frequently Asked Questions
What is gnocchi made of?
Gnocchi is typically made from potatoes, flour, and eggs.
How do I know when gnocchi is cooked?
Gnocchi is ready when it floats to the surface of boiling water. This usually takes 2-4 minutes.
Can I freeze homemade gnocchi?
Yes, you can freeze uncooked gnocchi on a baking sheet, then transfer to a freezer bag. Cook directly from frozen.
What sauces pair well with gnocchi?
Gnocchi pairs beautifully with pesto, tomato-based sauces, browned butter, or cream sauces.
Why is my gnocchi tough or chewy?
Overworking the dough or using too much flour can result in tough gnocchi. Be gentle and use a light hand.
Can I make gluten-free gnocchi?
Yes, by using gluten-free flour or alternatives like almond or coconut flour.
Why You're Going to Love This Recipe
Pillowy Perfection: These gnocchi are light, fluffy, and melt-in-your-mouth tender, making for an exquisite dining experience.
Simple Ingredients, Extraordinary Taste: With just potatoes, eggs, flour, and salt, this recipe proves that gourmet can be achieved with basic pantry staples.
Versatile and Customizable: Gnocchi is like a blank canvas. Pair it with a variety of sauces or infuse it with different flavors for a culinary adventure.
Satisfyingly Homemade: Crafting gnocchi from scratch is a deeply rewarding experience, creating a sense of accomplishment and a personal touch to your meal.
Freezable for Convenience: Make a batch and freeze for later, ensuring you always have a gourmet dish at your fingertips, even on busy days.
Perfect for Foodies on the Go: Tailored for working millennials, this recipe strikes a balance between adventurous taste and practicality for busy schedules.
Impress Without the Stress: While gourmet, this recipe is approachable and well-explained, allowing even novice chefs to dazzle their guests.
Nostalgic Comfort with a Twist: Gnocchi carries a comforting, nostalgic appeal, but this recipe elevates it to new heights, offering a familiar yet exciting experience.
Adaptable to Dietary Preferences: Easily modify gluten-free diets by using alternative flours, ensuring all can enjoy this culinary delight.
What Exactly is Gnocchi?
Gnocchi is this awesome Italian dish that tastes like pasta but with a cool twist. Instead of the usual flour and water mix, it's mainly made from potatoes.
So, gnocchi's story takes us back to Italy. It's a classic dish that's been around for ages. The word "gnocchi" itself is Italian and kinda means a little knot, which fits because of their shape. It also could come from the word nocca, meaning knuckle.
Originally, it wasn't made with potatoes. Early versions used things like bread or different kinds of flour.
People started using potatoes, especially in places where they grew well, like in the north of Italy. This switch gave birth to the potato-based gnocchi we're familiar with today.
As time went on, different regions in Italy put their own spin on the dish, using local ingredients and methods. So, you'll find variations all over the country.
What's awesome is its versatility. It's like a blank canvas for flavors and sauces, making it a go-to comfort food. It's not just loved in Italy, but all over the world, thanks to its soft, pillowy texture and that cozy potato taste.
Gnocchi is just one of those feel-good dishes that's loved in Italy and all over. It's got this unique texture and flavor that make it a standout in any food lover's book!
What Kind of Flour Should I Use?
When I was testing this recipe, I stuck to good old-fashioned all-purpose, and it worked out fine for me. I found it gave a great balance of structure and tenderness. Getting this pasta to the right texture is a bit of an art, and all-purpose was the one that did the trick.
What Kind of Potato Should I Use?
Russet potatoes are your best bet. They're starchy and dry, which means less water in your gnocchi dough. This helps keep them light and fluffy. Boil 'em with the skin on, then peel after. This method retains the potato flavor without making them too soggy.
While softer potatoes like Yukon Golds have great flavor, they are going to be too creamy and mushy to hold up in this recipe.
Ingredients
Russet Potatoes: These are starchy potatoes known for their dry texture, which is crucial for making fluffy gnocchi. They provide the main body of the dish.
Eggs: Eggs add moisture and help bind the ingredients together. They contribute to the structure of the gnocchi.
All-Purpose Flour: This is the go-to flour for a wide range of recipes. It provides the necessary structure to the gnocchi without making them too heavy.
Salt: Salt enhances the flavor of the gnocchi and brings out the natural taste of the potatoes.
How to Make Homemade Gnocchi
Step 1: Prep the Potatoes
First off, grab those russet potatoes. Give them a good wash to get rid of any dirt. No need to peel them just yet.
Step 2: Boil Them
Now, we're gonna get these spuds nice and tender. Toss them in a pot of boiling water. Leave the skins on for now; they'll come off later.
Step 3: Mash/Rice and Cool
Once they're all soft and easily pierced with a fork, take them out, peel off the skin, and mash them up. Or, my preference is to use a potato ricer. If you don't have one just make sure you mash them really well. Let them cool down completely.
Step 4: Add in the Goodies
Crack those eggs into the mashed potatoes. Sprinkle in some salt for that extra flavor kick. Give it all a gentle mix.
Step 5: Flour Power
Now comes the flour. Start with a cup, mix it in, and see how the dough feels. You're looking for a soft, slightly sticky dough. If it's too wet, add a bit more flour.
Step 6: Shape It Up
Roll out some ropes of dough, about as thick as your thumb. Cut them into bite-sized pieces.
Step 7: Texture Time
To give your gnocchi those classic ridges, gently roll them on a fork or a gnocchi board. This is optional, though. The ridges may help the sauce stick better, but I like them just as well without! (See more detailed instructions with a board below).
Step 8: Boil and Serve
Pop those gnocchi into a pot of boiling water. They're ready when they start floating up to the top. Scoop them out and serve them up with your favorite sauce!
How to Shape Gnocchi with a Board
Prepare the Dough: Start with a portion of your gnocchi dough, ensuring it's at room temperature. Too cold, and it won't shape well.
Roll it Out: Roll the dough into a rope about the thickness of your thumb.
Cut Into Pieces: Cut the rope into bite-sized pieces, about 1 inch long. These will be your individual gnocchi.
Use the Gnocchi Board:

Take one of the pieces and gently press it against the gnocchi board with your thumb.
While pressing down, roll the piece slightly. This creates a slight indentation and the classic ridges.

Set Aside: Place the shaped gnocchi on a floured surface. Repeat the process with the remaining pieces.
My Gnocchi is Too Tough. What Happened?
If your gnocchi turns out too hard, it's likely because the dough was overworked or you used too much flour. Over-kneading or adding excessive flour can make the gnocchi dense and tough. That's why I've left such a range on the amount of flour to add. Depending on how much water is in your potatoes, you may need to add or subtract varying amounts.
To fix it, try adding a bit of moisture. You can incorporate a lightly beaten egg or a spoonful of water, then gently knead it into the dough. Be cautious not to overdo it, though. You want to strike a balance between adding moisture and maintaining the dough's structure. You can also try adding less flour the next time - that would be my first plan of action.
Next time, remember to be gentle with the dough. Treat it like you're handling something delicate, and you'll get that pillowy gnocchi you're after!
My Gnocchi is Too Soft. Now What?
On the opposite side, if your dumplings are too soft, and are falling apart when you cook, they likely have too much moisture or not enough flour.
To salvage it, you can gradually incorporate more flour. Start with a tablespoon at a time, gently kneading it in until the dough reaches the desired consistency. Be careful not to add too much flour all at once, as it can make the gnocchi tough.
In the future, make sure to drain the boiled potatoes well and let them cool completely to reduce excess moisture. Also, be mindful when adding liquids to the dough – it's better to start with a little and add more if needed. With some practice, you'll find the perfect balance for that ideal gnocchi texture!
Making gnocchi the right texture is a bit of an art. You don't want too much flour, then they're little hockey pucks. But too little, and they fall apart in the sauce (trust me, this happened more than once to me). But I promise you can get it right!
How to Serve Gnocchi
Gnocchi is incredibly versatile, and you can pair it with almost any sauce you like. My personal favorite is a gorgonzola sauce (try it as a side for your next steak. Mind blowing). Here are a few other ideas for some inspo though:
Classic Tomato Sauce: Simmered tomatoes with garlic, basil, and a touch of olive oil. Or, try this amazing pomodoro sauce!
Brown Butter and Sage: Nutty brown butter with fragrant sage leaves, a simple yet elegant choice. You can find the sauce paired with my lobster ravioli recipe.
Pesto: Iconic. The vibrant combination of basil, garlic, pine nuts, Parmesan, and olive oil adds a burst of flavor.
Creamy Alfredo: A rich, indulgent sauce made with butter, cream, and Parmesan cheese.
Gorgonzola Sauce: A creamy, pungent blue cheese sauce that pairs beautifully with the mild gnocchi.
Arrabbiata Sauce: A spicy tomato sauce with garlic, red pepper flakes, and a touch of basil.
Mushroom Cream Sauce: Sautéed mushrooms in a creamy base with garlic and herbs.
Bolognese Sauce: A hearty, meaty sauce with tomatoes, onions, garlic, and ground meat.
Brown Butter and Walnut Sauce: Nutty brown butter combined with crunchy walnuts for a delightful texture contrast.
Lemon Butter Sauce: Bright and zesty, made with lemon juice, butter, and a hint of garlic.
Vodka Sauce: Creamy tomato sauce with a splash of vodka for a unique twist.
Carbonara: A rich sauce with eggs, cheese, pancetta, and black pepper, creating a creamy, velvety texture.
Storage, Freezing, and Reheating
Refrigeration: If you've got leftover gnocchi, let them cool down to room temperature. Then, pop them in an airtight container and store them in the fridge. They'll be good for up to 2 days.
Freezing: To freeze uncooked gnocchi, spread them out on a baking sheet in a single layer. Once they're frozen, transfer them to a freezer bag. They'll last for about a month. For cooked gnocchi, flash-freeze them first on a baking sheet, then store in a freezer bag. They'll be good for up to 2 months.
Reheating Gnocchi:
Boiling: For both refrigerated and frozen gnocchi, drop them into a pot of boiling water. They'll only take a couple of minutes to heat up. Once they float to the top, they're good to go.
Pan-Frying: Heat up some butter or olive oil in a pan over medium heat. Add your gnocchi and let them get a nice golden crust. This adds a delightful crunch to the outside while keeping the inside soft.
Microwaving (Refrigerated Only): If you're in a hurry, you can zap refrigerated gnocchi in the microwave. Just make sure to cover them to keep in the moisture.
More Delicious Pasta Recipes
📖 Recipe
Soft and Pillowy Homemade Gnocchi
Crafted from starchy russet potatoes, eggs, all-purpose flour, and a touch of salt, these pillowy gnocchi are a testament to the art of Italian cuisine. Serve with your favorite sauce for a truly gourmet experience. Whether you're a seasoned chef or a kitchen novice, this recipe promises delightful results. Store leftovers with ease and reheat for a quick, satisfying meal. Elevate your dining experience with this versatile and comforting dish.
Ingredients
2

lbs

russet potatoes

1

egg

1-1½

C

flour

you will need to add more or less depending on how much water your potatoes hold on to.

1

tablespoon

salt
Instructions
Boil potatoes with skin on until tender. Let them cool slightly, then gently rub off the skin. This should take between 25-30 minutes.

Run the potatoes through a potato ricer. Let them cool completely.

Add your eggs and salt. Mix gently. Add one cup of flour and knead until the dough starts to come together. Add more flour gradually if the dough is feeling very sticky. It should come together well, and still feel slightly tacky by the time you're done.

Roll the dough into long ropes. Cut with a sharp knife.

Optional: Shape the gnocchi using a gnocchi board or a fork. For the board: set the gnocchi at the top of the board. Using the straigh edge of a knife, push down and forward, rolling the gnocchi down the board, applying even pressure the whole time.

Bring a large pot of salted water to a boil over high heat. Place the gnocchi in the pot, and cook until they float to the surface (between 30 seconds and 2 minutes.

Drain, and serve with your favorite pasta sauce.
Notes
For fluffier gnocchi, avoid overworking the dough. Gently mix and knead just until combined.
Adjust flour as needed. The dough should be soft and slightly sticky, but manageable.
Experiment with different sauces for a variety of flavor profiles.
To save time, boil the potatoes a day ahead and refrigerate until ready to use.
Freeze uncooked gnocchi for a convenient meal option. Flash-freeze before storing in a freezer bag.
When reheating, be gentle to preserve the delicate texture of the gnocchi.
Nutrition
Serving:
200
g
Calories:
305
kcal
Carbohydrates:
63
g
Protein:
9
g
Fat:
2
g
Saturated Fat:
0.5
g
Polyunsaturated Fat:
0.5
g
Monounsaturated Fat:
0.4
g
Trans Fat:
0.01
g
Cholesterol:
41
mg
Sodium:
1768
mg
Potassium:
691
mg
Fiber:
3
g
Sugar:
1
g
Vitamin A:
61
IU
Vitamin C:
9
mg
Calcium:
34
mg
Iron:
4
mg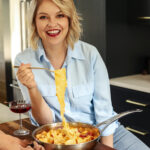 Hi, I'm Cara! I'm a food writer, journalist, and recipe developer. I'm obsessed good food, good wine, good cocktails and entertaining. I've picked up a few tips over the years, and love sharing them with others.