As an Amazon Associate I earn from qualifying purchases.
When you ask how to cook live lobster, everyone has an opinion. And yes, we're going there. I know that this may not be something that everyone is into, but when it comes to culinary adventures in the home kitchen, it's got to be near the top. This post is going to walk you through everything you need to know, from picking out the right lobster, to dispatching it, to cooking it, to breaking the whole thing down so you can eat it (with video!). So buckle up because I know YOU GOT THIS.
While my family didn't grow up on the East Coast of Canada (lobster capital of the world, #sorrynotsorry Maine), it's one of my mom's favourite foods. I've made a ton of it, in various ways, shapes and forms. I've used frozen meat, tails, claws, the whole crustacean, frozen meat from a can, pre-cooked and pre-prepared. There's nothing wrong with any of it, but the really good stuff comes from the lobster being as fresh as possible before you cook it. Which means alive. If this is intimidating to you, don't worry, we're getting to all of it!
Jump to:
Your Lobster Questions, Answered
I know when I first started to prepare and cook live lobster, I had a ton of questions, from the most humane way to dispatch the lobster, to how long to cook it for, to how the heck to get the meat out of shells.
One of the most common questions when it comes to how to cook live lobster is: can they feel pain? I'm not going to get into the nitty gritty of this argument, because it's still up for debate. If you want more information on that, check out this article and this article. What I can tell you is that we're not going to be boiling the lobsters alive. We're going to dispatch them before they hit the water, in a method that seems to be a chef-approved consensus.
How do I cook live lobster?
There's lots of different methods to cook live lobster after it's been dispatched. Some of these techniques include steaming, boiling, grilling, baking or even in a pressure cooker.
How long do I cook the lobster for?
It depends on the size of the lobster, and the cooking technique. For boiling, if your lobster is between 1-2lbs, then it should be between 6 and 9 minutes.
Can a lobster live out of water?
For a couple of days, yes they can, but they have to be kept in a moist and cool place. To be able to get oxygen from the air, their gills have to be wet.
Can lobsters live forever?
Definitely not. But, they do live for a pretty long time. On average, about 31 years for males, and 54 years for females.
Can you cook lobster meat frozen?
It's not the best idea. It tends to be really hard to figure out when the meat is done, and it ends up being overcooked (not good). It's best to let the meat fully thaw before cooking it.
Where to Find Live Lobster
It's not too difficult to track down live lobster no matter where you live these days. I picked up my at my local grocery store, but you can also get them at fish markets, or even farmer's markets sometimes. If you're looking to go the frozen route, I think Costco has some awesome quality seafood (including lobster, shrimp, crab and different types of fish).
If you want to make sure though, just give the store a quick call before you go to see if they have it in stock.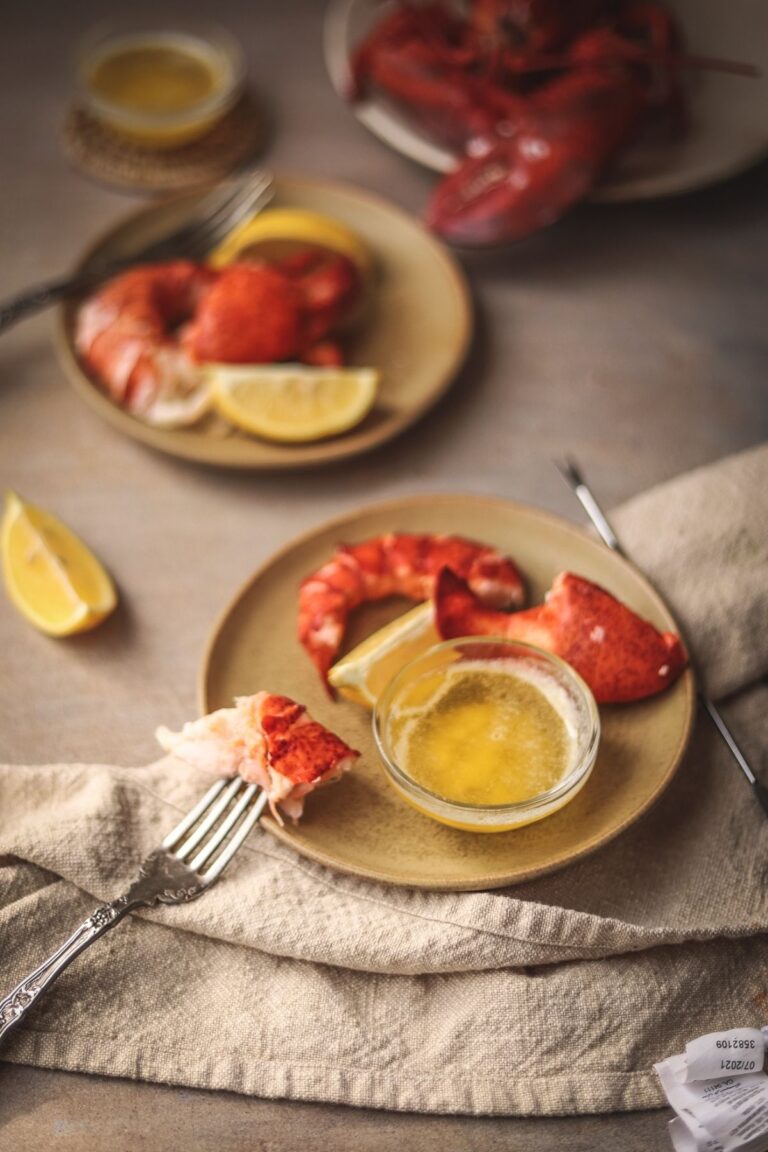 Which Lobster do You Pick?
Look for the ones that are having a party in the tank. Hopefully you can find ones that are up and about, moving around, and just look fresh. The longer they've been in the tank, the more docile they tend to get - so you want the ones that still have a little sass in them.
Also, bigger is not better when it comes to whole lobster. The ones that are between one and two pounds have the sweetest flavor, and the best texture. Anything bigger than that and the meat starts to get tough.
How to Store Live Lobsters
Ok, so you've done it. You've bought your fresh, very much alive, and spunky lobsters. Now what exactly do you do with them until you're ready to cook them? You can keep them in the fridge, but only for up to the 36 hours. And generally, it's best to get them cooked as soon as possible. Keep them in the coldest part of your fridge until then.
One of the main reasons lobsters are kept alive until it's cooking time is because they decay so rapidly after being killed. So we want to keep that window as short as possible. If your lobster dies before you dispatch it yourself, you may not want to eat that one.
Dispatching the Lobster
Obviously, this is the part that everybody freaks out about. How often do we actually have to kill the food we're about to eat? (We can have a whole debate on what that means later). It's just not something we're used to. This method of dispatching the lobster though seems to be the one that most chefs use, and it's supposed to be the most human way to kill them. Essentially, we're going to put a sharp knife through the lobsters central nervous system, killing it instantly. I don't have a video of me doing this, because it's pretty graphic, but if you want to see exactly how to do it, try this one. Also, an important note: the lobsters will still move after they're fully dead - it's involuntary muscle spasms.
So, let's walk through this step by step.
Put your lobsters in the freezer for 15-20 minute before dispatching them. This stuns them, and also makes them a little easier to deal with.
Get a large baking sheet. This is a messy process, so it's nice to have something to collect all the liquid that's going to come out.
Keep the elastics on the lobster claws. There's no need to make this more difficult than it needs to be by getting snapped at the whole time (remember when we picked out the most lively lobsters in the tank? Yeah. Me too).
Place the lobster on the pan. Hold on to the back, just behind the claws. Using your largest, sharpest knife, place the point at the part of the shell where it meets in a cross shape (see below).
The blade of the knife should be towards the lobsters' eyes.
As quickly as you can, plunge the knife down, and follow through with the blade, cutting between the lobster's eyes.
And that's it, you're done. Again, the lobster will likely keep moving, but it is dead at this point. Those are involuntary muscle spasms.
Cooking the Lobster
How to cook lobster? There are two main methods (although definitely not the only methods) of cooking whole lobster: boiling and steaming. Boiling tends to cook the lobster more evenly, while steaming them gives the flesh a more delicate texture. Either way though, it's delicious. So it really just comes down to your personal preference.
Boiling Method
Bring a very large (the biggest you have so the water can circulate around the lobster) pot of salted water to a rolling boil. You should have a tablespoon of salt for each gallon of water. This will help keep the lobster tasting like the ocean, which is 100% what you want. It's also the quickest way to get them cooked. When you put the lobsters in the pot, the water will likely stop boiling for a minute or so. One of the biggest questions people have when it comes to how to cook lobster is how long to cook it for without overdoing it. Start your timer when the water comes back up to boiling, and cook according to weight:
You can tell the lobster is done in a couple of different ways. First, the shell will be bright red. Second, the flesh will be creamy white and opaque, not translucent. Third, if you can get a meat thermometer in through the knuckle of the crab and into the claw meat, it should have an internal temperature of 145F. Take them out of the water, and place them on a tray to the side to cool enough to handle them.
Steaming Method
Steaming is super similar to the boiling method, you just use a steamer instead. It makes sure that the water doesn't start swimming around underneath the shell of the lobster. To steam, bring 2-3 inches of water to boil in the bottom of a large steaming pot. When the water is boiling, place your lobster inside (if you have more than one, don't overcrowd the pot! It makes it difficult to cook the lobsters evenly). Steam according to the chart below:
Take the lobster out, set aside, and let them cool down enough to handle them.
How to Break Down the Whole Lobster
We did it! We finally made it to the part where we get to see that juicy, beautiful, tender sweet meat we prepared. Like anything else, this takes practice, but it's not super difficult to do. If you're a video person, you're in luck, we have one! If not, follow the instructions that are laid out below the video.
The Step-by-Step Breakdown
At the end of the day, all you really need to do is get the lobster meat out of the shell. It doesn't matter what it looks like, it matters what it tastes like. That being said, there's a few tips, tricks and tools that will help you with this.
If you want you can order a set of lobster tools, but you can also do this with some scissors and a rolling pin.
Let's get started. First of all, let's get the claws off by twisting them away from the body. Next, separate the tail by twisting it and the body in opposite directions. Finally, get those little legs off by twisting them away as well.
For the claws, you're going to want to gently crack the shell so you can easily slide the meat out. You can do this with a rolling pin or with a lobster cracker. Take the little thumb off first, and then slide the rest of the shell off. Repeat with the other side. The goal is to get the meat out in one piece, but this can take some practice so don't be too hard on yourself.
The knuckles are tricky. We basically ended up using scissors to cut them out as best we could. C'est la vie on that one.
The tails went super smoothly. Take your scissors and cut vertically down either side where the underside and the top of the shell meet. Peel the underside, and then grabbing the meat at the top, and peel that off towards the bottom. It should come off in one beautiful chunk.
Finally, the little legs. Lots of people discard these, but the meat is excellent, and this hack makes it super easy. First, cut the top where they attach to the body to make a clean line. Next, lie them flat on a cutting board. Starting at the closed end, slowly roll your rolling pin up the leg until it comes out the top, all in one piece.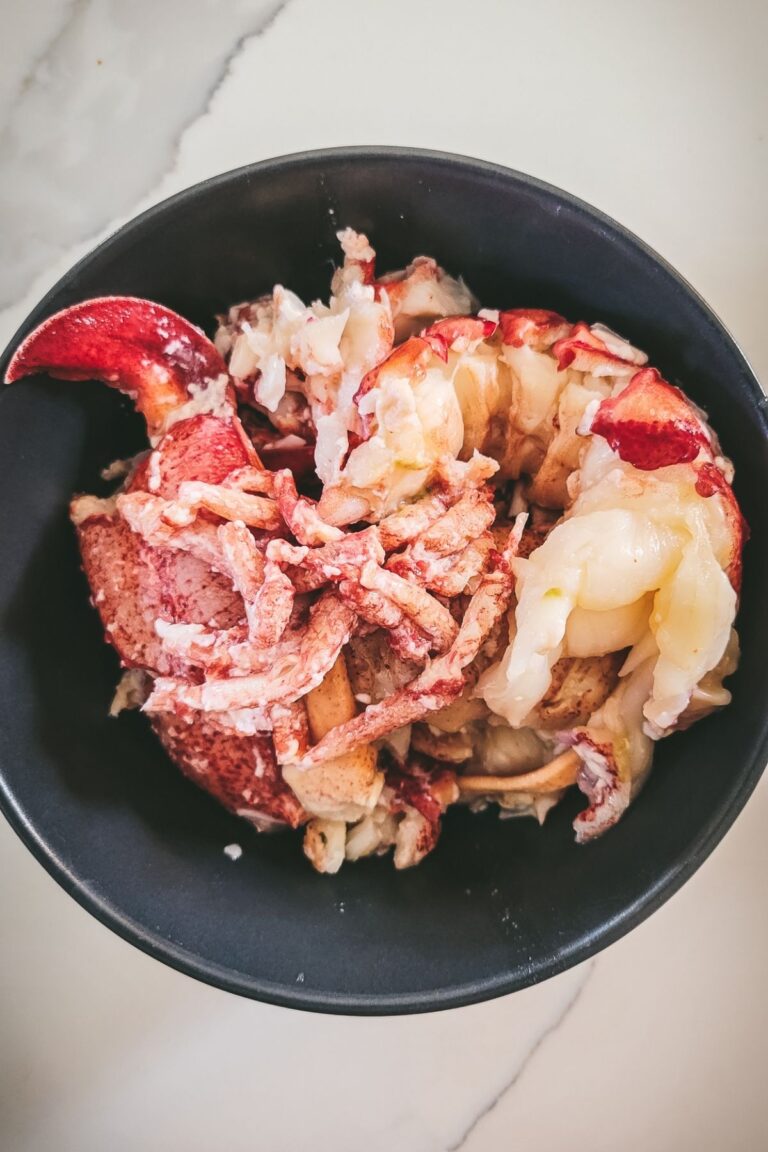 And now, you should have a pile of delicious lobster meat, ready for dipping in melted garlic butter! (That super easy recipe is below).
Oh, and P.S. DON'T THROW OUT YOUR SHELLS! They freeze beautifully and can be added to soup stocks and pasta sauces to add great flavor.
Make the Lemon Garlic Butter
Once you've done all this work to get the lobster fully prepared and cooked, one of the best ways to eat it is actually super easy. A combination of melted butter, garlic, and lemon juice brings out the best flavor in the lobster. So here's how you do it.
Start by melting half a cup of butter over medium heat. Once the butter melts, try to scrape off as much of the foam that settles on the top as you can. I'm...not great at this but you get the idea. Add a few cloves of chopped garlic, 1-2 teaspoon of lemon juice (or more, if you like it more tart), and take it off the heat. Serve it split up among small bowls with the lobster.
And that's it!
How to Serve It
Honestly, the best, most traditional way of serving lobster is straight up, with some butter for dunking. It doesn't need any help to be one of the world's most delicious foods. That being said, if fresh lobster is on the menu, here's what I'm serving for apps and sides:
Wine Pairings
One word: Chardonnay. This is the top choice for boiled or steamed lobster. Chardonnay can be both buttery, or crisp and fruity. But either way, it goes beautifully with the lobster. Another great choice would be a Chablis. The citrus in it will bring out the flavor of the lobster.
Recipe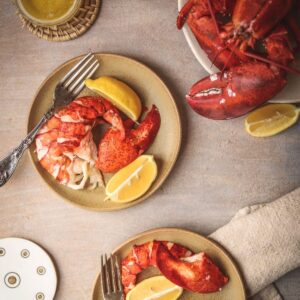 Boiled Lobster with Lemon Garlic Butter
Is there anything better than fresh lobster dunked in garlic butter? Definitely not. Now, you can make it at home without being intimidated. Try and get the liveliest lobsters you can, and make sure you keep them in the coldest part of your fridge until you're ready to eat. Boiling and making the garlic butter couldn't be easier.
Equipment
1 large pot

Rolling Pin

kitchen shears

or lobster crackers
Ingredients
2

1 lb

live lobsters

2

tablespoon

salt

for the water

⅓

C

salted butter

3

cloves

garlic

lemon

zest and juice
Instructions
Just before you're ready to cook the lobsters, bring a large pot full of water to a rolling boil. Add salt to the water, and put lobsters in the freezer for 10-15 minutes to stun them.

Bring lobsters out of the freezer and on a large baking tray or cutting board. Placing a large, sharp knife behind the eyes where the shells meet in the shape of a cross, swiftly plunge the knife in , and bring the blade down between the eyes, cutting the head in half.

Place the lobsters in the boiling water. Wait until the water comes up to a boil again, and then start your timer (6-7 minutes for one pound, 7-8 minutes for 1.5 pounds, and 8-9 minutes for 2 pounds).

Get the lobster out of the pot and set aside until it's cool enough to handle.

Clean the lobsters (see video) or serve in tact, and let guests break them down (this will keep the meat warmer for longer).
For the Garlic Lemon Butter
Melt garlic in a small saucepan over medium-low heat. Dice your garlic, and add it to the pan. Cook until it smells fragrant, about 1 minute. Take off the heat, add 2 teaspoon of lemon juice (or more if you prefer). Serve along side the lobster, with fresh lemon slices.
Video
Notes
After you dispatch the lobster, the legs will still move. The lobster is dead, these are just involuntary muscle spasms that can occur for up to several minutes afterward.
DO NOT overcook your lobster. The meat gets stringy and tough, we do not want that.
Save the shells, they add great flavor to stocks and soups (you can totally freeze them for later as well.
Nutrition
Serving:
150
g
Calories:
279
kcal
Carbohydrates:
2
g
Protein:
1
g
Fat:
31
g
Saturated Fat:
19
g
Polyunsaturated Fat:
1
g
Monounsaturated Fat:
8
g
Trans Fat:
1
g
Cholesterol:
83
mg
Sodium:
7225
mg
Potassium:
31
mg
Fiber:
1
g
Sugar:
1
g
Vitamin A:
946
IU
Vitamin C:
1
mg
Calcium:
22
mg
Iron:
1
mg