As an Amazon Associate I earn from qualifying purchases.
This coffee with vanilla syrup is the perfect way to up your coffee game in the morning. Either way you make it, hot or cold, it's incredibly simple and has only three ingredients. And, it definitely costs less than the Starbucks version.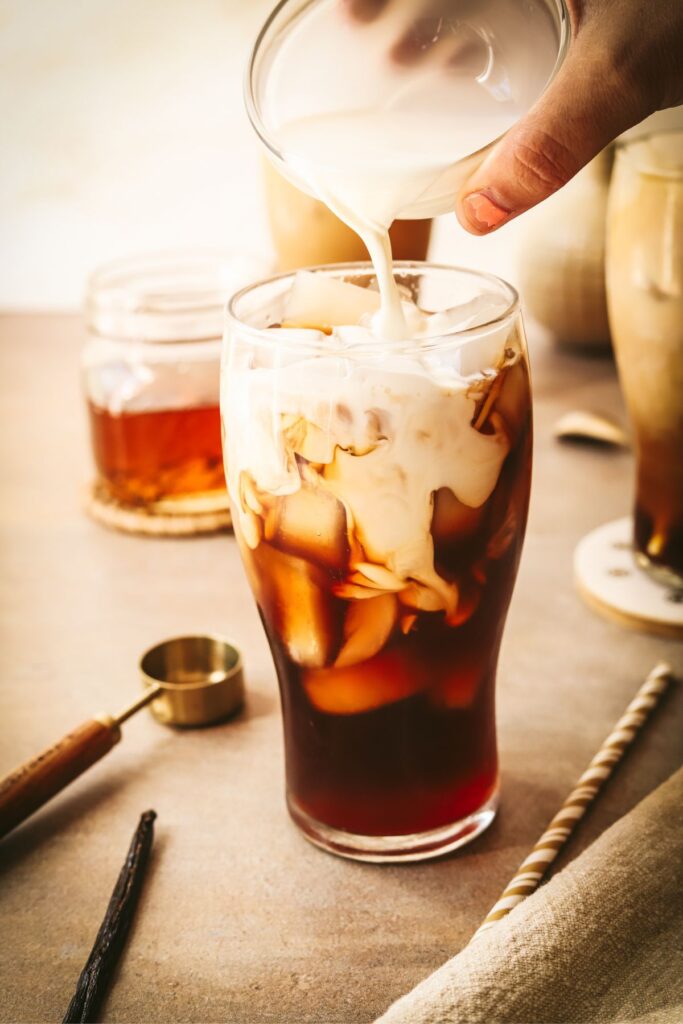 For this coffee, you can either make your own vanilla syrup (it's super easy), or buy yourself some online. Either way, it's delicious.
Coffee with vanilla syrup is satisfying and delicious. You can also customize it to make it as sweet as you like. The perfect morning pick-me-up.
Jump to:
Frequently Asked Questions
Should I make vanilla coffee hot or cold?
Totally up to you, they are delicious both ways!
What's the difference between cold brew and iced coffee?
They are two different methods of making coffee. Cold brew is made by mixing the coffee grounds and water, and letting them sit overnight. Iced coffee is simple hot coffee and letting it cool - usually over ice. Cold brew is usually stronger and tastes better for longer.
Do I need to make my own cold brew or iced coffee?
Nope! Many grocery stores sell it in cartons these days - making it super easy!
Can I make iced coffee with espresso?
Yes definitely. It just depends on your taste!
Can I make it a latte using espresso and vanilla syrup?
Yes for sure - you'll want to use more milk if you're after a latte though, and make sure it's heated through!
How to Make Coffee with Vanilla Syrup
First up - if you're making your own vanilla syrup, do that! It really doesn't take long, but the flavor develops more the longer you let it steep.
Let's make the iced version first.
Ingredients
My favorite ingredient lists are ones with five items or less. This is one of those. YAY!
Coffee (Cold brew, iced, or hot)
Cream (or your favorite type of dairy/non-dairy product)
Making Iced Coffee with Vanilla Syrup
Fill a tall glass with ice cubes. Pour in the cold brew or cooled coffee you're using (about 1 cup).
Add two tablespoons (or whatever level of sweetness you prefer) of the vanilla syrup. Stir to combine.
Add a dash (again, amount is your choice) of your favorite creamer or dairy product to the glass. My favorite for this drink is half and half, but you can definitely use anything you want!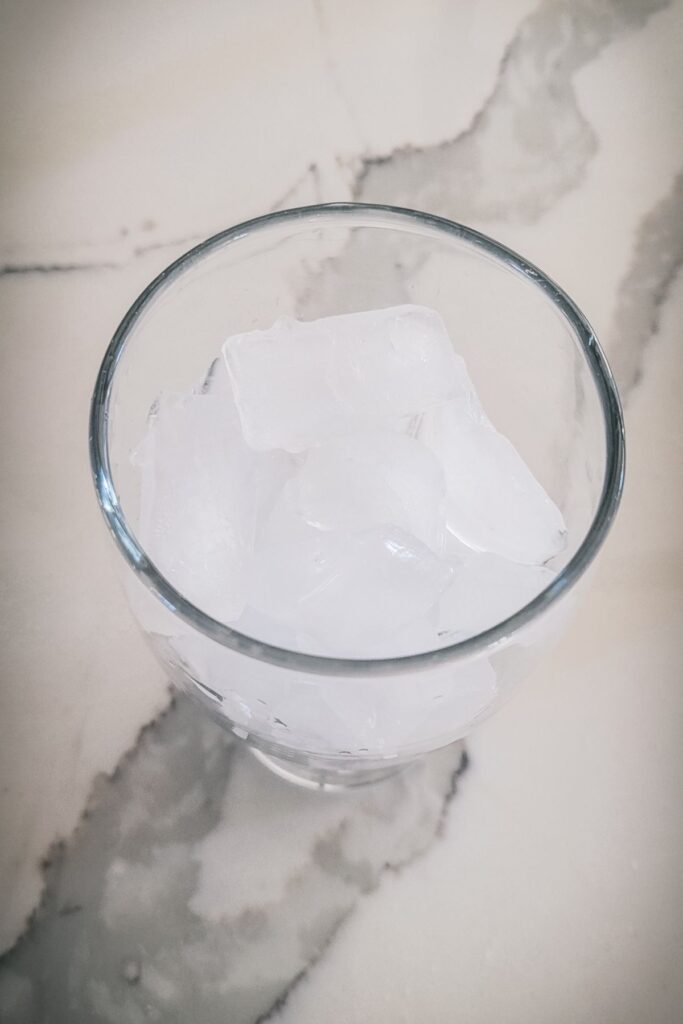 Making Hot Coffee with Vanilla Syrup
This is even easier than the iced one, if possible.
Make your morning coffee as you like it. Pour yourself a cup in a mug.
Add about 1 tablespoon of vanilla syrup (or to taste).
Add your favorite creamer (or not, it's also great black with just the syrup!)
Enjoy!
How Do I Make it a Vanilla Latte?
It's pretty similar actually, with a few key differences.
For a latte, you need espresso as a base rather than coffee (although I've definitely been known to just brew a strong pot of coffee and use that as well).
After that you need steamed (or warm milk) to fill up that mug.
Finally, add your vanilla syrup (as much as you want) and enjoy!
Can I make this Sugar Free?
Totally. In this case I would recommend buying the sugar-free syrup, just to keep it easier on yourself.
Other Amazing Drinks to Make
Recipe
Coffee with Vanilla Syrup (Hot or Iced)
Coffee with vanilla syrup is satisfying and delicious. You can also customize it to make it as sweet as you like. Plus, this is way cheaper than buying at your favorite coffee chain! Enjoy this recipe all year long. Make it with ice in the summer, and cozy up with the hot version in the middle of winter.
Ingredients
1

cup

cold brew

or iced coffee, or freshly brewed coffee

2

tablespoon

vanilla syrup

2-4

tablespoon

half and half cream

or your favorite dairy/non-dairly products
Instructions
Pour your coffee into a glass. If you're making the iced version, add ice to the glass first.

Add the vanilla syrup. Stir to combine.

Add the cream. Stir and enjoy!
Notes
You can make this hot or cold, up to you.
It's also easily customizable, add as much or as little syrup and cream as you want.
You can also make your own vanilla syrup - or buy it if you prefer.
Nutrition
Serving:
250
g
Calories:
147
kcal
Carbohydrates:
31
g
Protein:
1
g
Fat:
3
g
Saturated Fat:
2
g
Polyunsaturated Fat:
1
g
Monounsaturated Fat:
1
g
Cholesterol:
11
mg
Sodium:
42
mg
Potassium:
65
mg
Sugar:
31
g
Vitamin A:
106
IU
Vitamin C:
1
mg
Calcium:
37
mg
Iron:
1
mg
Jump to: