As an Amazon Associate I earn from qualifying purchases.
This beautiful grapefruit cocktail made with gin is a show stopper. The gorgeous blush pink of the grapefruit combined with the frothy egg whites, and just a hint of rosemary? GAME. OVER. It's light, delicious and the flavor combo of grapefruit and rosemary is to die for.
Over the pandemic, getting into cocktail making was something that got me through the day and kept my creative juices flowing. Experimenting with different types of sours was definitely at the top of my list. The foam on the top adds such a luxurious feel to the cocktail, and really, it's not that much extra work. I know you're going to love these as much as I do!
Jump to:
What's a Sour?
A sour is a type of classic cocktail that contains some type of liquor, a sweetener of some sort, and then lemon or lime juice. Often, they also have a foam made from shaking egg whites. We're going to skip the lemon in this one, because I think the grapefruit is citrusy enough to stand on it's own - but all the other elements are there!
A gin sour is a just a sour that's made with gin. The beauty of this grapefruit cocktail with gin is how amazingly the grapefruit and gin go together. Match made in flavor heaven. Fun fact - if you add carbonated water to a gin sour than voila! It becomes a gin fizz! You can absolutely feel free to do that with this drink, but if you want to, I would leave out the egg whites.
Other types of Sours
There are so many, it's really only based on what liquor you're starting with:
Pisco Sour: This classic starts with pisco branding (normally from Chile or Peru), adds lime juice, simple syrup, and the foamy egg whites. Sometimes also served with cinnamon bitters. Totally delicious, highly recommended.
Whiskey Sour: This one is interesting. It starts like a normal sour, but if you add the egg white to it, it actually becomes a Boston sour, just to keep things simple. A delicious variant to try: the Ward 8, which is a whiskey sour with grenadine. Yes, please.
Rum Sour: Technically, the rum sour is actually a Daiquiri! (No egg whites with this one).
Amaretto Sour: My personal favourite, especially around Christmas time. It's Amaretto, lemon juice, simple syrup, egg whites, and for a treat: chocolate bitters.
Ingredients
The list is small! Yay! But we do have to make the rosemary simple syrup, but it's easy, I promise.
Gin
Grapefruit juice (freshly squeezed is awesome, but if you're bartending for a crowd, store-bought is totally fine).
Rosemary Syrup - fresh rosemary + sugar + water
Egg whites
Fresh grapefruit (garnish)
Sprigs of rosemary (garnish)
Can I use Aquafaba instead of Egg Whites?
Yes you totally can. Just substitute one to one!
How to Make a Grapefruit Sour Cocktail
Some people really get intimidated by the egg white shaking part of this, but I'm here to tell you, it's so easy, and you can totally do it! We'll go through a step by step explanation below, and a video where we make it together!
First, the Rosemary Syrup
Making your own simple syrups is so easy, and in my opinion, it's the best way to take your cocktail game from good to gourmet. Here's what you're going to do:
Combine one cup of granulated sugar and one cup of water over a small saucepan on high heat. Once it's simmering, add 3-4 springs of fresh rosemary.
Simmer for five-ten minutes.
Take off the heat, and allow it to steep for up to two hours (although there will be lots of flavor there right away, you can definitely use it).
Strain, and keep in an airtight container in the fridge for up to two weeks.
Let's make the Cocktail
Here's where the shaking method comes in for the grapefruit cocktail with gin. I personally favor the dry shake nine times out of ten. It's just so much easier.
the dry shake
In this particular case, the dry shake is pretty straightforward. You're going to add all your ingredients to a Boston shaker (my personal favourite for cocktails). In this case it's going to be amaretto, whiskey, lemon juice, egg white, and simple syrup. Close it up and shake hard for at least 30 seconds. The harder you shake it, the better the foam ends up being at the end. This is why I often enlist my husband to help me out (pathetic? Yes. Effective? Also yes. Please someone get me a gym membership for my birthday. Please). After you've got this first part done, you're going to open up the shaker, add ice, and repeat the process.
The reason we do this is two-fold. First, the shake itself creates the foam from the egg whites. And while you can absolutely just do this all in one go (adding all the ingredients including the egg whites and ice), you're foam won't be as frothy or as firm. Someone, somewhere along the way, discovered that shaking the egg whites without the ice allowed the air to circulate better - resulting in a better, bigger foam.
While I personally find this to be the easier option, someone, of course, came up with a better, albeit fussier way to do it.
the reverse shake
The reverse shakes solves the number one problem the dry shake has: mixing the egg whites and your ice. So, while you've spent all this time building up this nice foam, by adding ice after that foam is made, you're essentially beating down all that lovely, luxurious texture you just made. So, the reverse shake adds the ice with all the ingredients except the egg whites (essentially making the drink cold first), and then ditches the ice, and adds the egg for the additional shake. This means that the egg and the ice never meet. The ideal situation for perfect, fluffy, yet firm foam. The tricky part is getting the ice out of the the shaker, although, if you have a strainer, this shouldn't be too hard. Just strain the cocktail into one half of the shaker, and toss the ice down the sink. You're good to go after that!
After you're done with all this shaking, strain into your serving glasses (highly recommend coups for this one), and give the foam and the cocktail 30 seconds to separate. Garnish with fresh grapefruit and rosemary and you're done!
What to Serve with a Grapefruit Rosemary Sour
This is the type of grapefruit cocktail with gin that you can serve almost any time of the year. The citrus/grapefruit/rosemary combo makes it ideal for Christmas and the holidays, but the color and bright flavors also make it great for spring and summer.
I think it would perfect for a Sunday brunch, or a Friday afternoon al fresco happy hour on your back deck. Here's a couple of things you could pair with it:
Spring Strata with Asparagus and Dill
Arugula Pesto Pasta with Burrata
Swiss Chard and Polenta Breakfast Bowl
Other Awesome Grapefruit Cocktails
Grapefruit is one of those flavors that goes well with almost any type of liquor. If you're looking for some more inspiration, try these out :
📖 Recipe
Grapefruit Rosemary Sour
This grapefruit gin cocktail is light, refreshing, and oh-so-pretty. Perfect for afternoon cocktail hour basically any time of year!
Ingredients
For the Grapefruit Rosemary Sour
3

oz

gin

2

oz

grapefruit juice

1

oz

rosemary simple syrup

1

oz

egg whites

rosemary sprigs

for garnish

fresh grapfruit

for garnish
For the Rosemary Simple Syrup
1

C

water

1

C

granulated sugar

4-5

sprigs

fresh rosemary
Instructions
For the Cocktail
Combine all the ingredients except for the garnish in a Boston shaker half filled with ice. Shake vigorously for 30-45 seconds. Strain the cocktail into half of the shaker, and then discard the ice. Close the shaker again and shake for another 30-45 seconds, without the ice.

Strain into two coup glasses. Let the drink settle for about thirty seconds. Garnish with grapefruit and rosemary.
For the Simple Syrup
Combine the water and sugar in a small saucepan over high heat. Bring to a simmer, and add the rosemary. Simmer for 5-10 minutes, then take off the heat. Let it steep for two hours. Strain, and keep in the fridge for up to two weeks.
Notes
Make sure when you're shaking, you're going as hard as you can! The better the shake, the better the foam!
Nutrition
Serving:
3
oz
Calories:
93
kcal
Carbohydrates:
21
g
Protein:
2
g
Fat:
1
g
Saturated Fat:
1
g
Polyunsaturated Fat:
1
g
Monounsaturated Fat:
1
g
Sodium:
38
mg
Potassium:
254
mg
Fiber:
1
g
Sugar:
14
g
Vitamin A:
2
IU
Vitamin C:
10
mg
Calcium:
12
mg
Iron:
1
mg
Jump to: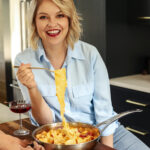 Hi, I'm Cara! I'm a food writer, journalist, and recipe developer. I'm obsessed good food, good wine, good cocktails and entertaining. I've picked up a few tips over the years, and love sharing them with others.