As an Amazon Associate I earn from qualifying purchases.
Lobster ravioli is one of life's greatest gifts, in my opinion. In this guide, we're going to go through the step by step process, from making and breaking down your lobster, to pairing it with the best brown butter sauce. This is the special occasion meal to end all special occasion meals. Once you try it, you're going to be fully addicted.
I started experimenting with lobster and pasta about ten years ago. I'm was pretty decent at making a pasta with a lobster sauce, but the ravioli always stumped me. The filling was always pretty good, but the texture and size of the ravioli dough was...off. It was too thick, too chunky, too chewy, and definitely didn't match the delicate flavor and texture of the lobster inside. Well, no more. After a ton of research, testing and retesting (it's a tough job but someone has to do it) I've come up with the best homemade lobster ravioli recipe. So let's go.
Jump to:
Where to Buy Lobster Ravioli
Look, I'm not going to pull any punches here. This is a PROCESS. If you don't have time but are craving the luxury, then just buy your ravioli. Trader Joe's and Costco both have awesome options if you're coming home from work late on a Friday night and just need something to pair with a buttery bottle glass of Chardonnay. I'm not judging.
How To Make Ravioli
Homemade ravioli, of any kind, is so so delicious, but it makes you work for it. I've also tested pretty much every ravioli tool available, and I'll link my favourite recommendations throughout this recipe. For me though, a stand mixer is almost a must when you're making pasta. You can (and I have done it) with a hand roller, but honestly, the mixer just makes everything so much easier. So that's what we're working with for this recipe.
One other note before we get into this: this recipe calls for making and breaking down your own lobsters for the filling. This is by far the best way to enjoy lobster meat. However, you can now buy frozen, pre-cooked lobster from local fish markets and grocery stores, and just thaw it out and dice it up yourself. Or, get yourself a couple of frozen lobster tails, make those, and chop them up. Last resort: the frozen stuff in the can. It's good, but it just can't compete with those fresh, delicate piece of meat these other methods are going to get you. Plus, I didn't measure out this recipe with those in mind (usually the meat is pretty mushy and homogenized). So use at your own risk.
Make the Filling
This is a pretty simple filling, but don't let it deceive you. We're doing everything from scratch here, including the lobster. For a full breakdown of how to prepare and cook lobster, check out my Ultimate Lobster Guide, or, if you just want the breakdown, here's a video:
Once you've got that done, or if you're using pre-cooked frozen stuff, make sure it's roughly chopped and add it to medium-sized bowl. Next, take your mascarpone cheese and using a stand mixer or a hand mixer with a whisk attachment, add your heavy cream and whip the cheese for 2-3 minutes. Add the cheese to the chopped lobster meat, and then zest your lemon into the bowl. Mix thoroughly and that's that!
Make the Dough
Making pasta dough is definitely something that took me a little while to wrap my head around. Personally, I think this recipe is as close to no-fail as you can get, but the thing is, getting the right consistency in the dough depends on a lot of different factors. So don't be too hard on yourself if this takes a little extra time and effort (especially on your first try). And honestly, while I'm I huge fan of eating fresh pasta, I'm not a huge fan of working with doughs of any kind (I usually force my husband to do it). So this dough is made using a stand mixer to speed it up as much as possible.
Ingredients
The ingredients for pasta are very basic. You've got all-purpose flour, 00 flour, eggs, salt and water. It's getting these ingredients in the right ratio that can be the tricky part.
Mix It & Rest It
The easiest way I've found to do this is to mix the ingredients, except the water, in a stand mixer with the paddle attachment. If your pasta dough comes together, away from the sides of the bowl but still slightly tacky when you handle it, then perfect! If not, add water, a tablespoon at a time, until it reaches the right consistency. It sometimes take some time for the moisture to fully penetrate the flour, so don't rush this process. If you add to much water, you'll be playing a never ending game of add flour/add water to get the consistency back.
Once you've got the dough ready to go, place it on a lightly floured surface, and knead for 2-5 minutes. It should really start to come together now. The dough should be slightly tacky, but shouldn't really stick to your hands. Wrap in plastic wrap and let it sit on the counter for 30 minutes to rest.
Roll it Out
Ok, now we're getting to the fun part. Cut your dough ball into quarters. Fitting the pasta attachment to your stand mixer, turn the speed up to one. Flatten out one quarter of your dough, until it makes a disc (it might still be pretty thick, that's ok). Slowly feed your disc through the pasta roller (see photos below). Dust it with a little flour if it's getting too tacky. Now, fold the dough in thirds, like you were folding an envelope to go in a letter. Send it through the roller again, still at level one. Repeat this one last time, and then move your roller to level too. Add flour if sticky. You only need to roll it once at each level from now on (if the sheets get too long to handle, just go ahead and cut them in half). Move your setting on the roller to three...feed it through, until you get to a level six or seven thinness of the dough. You should be able to see your hand through the back of the dough.
Repeat the process with your remaining dough quarters. Dust the pasta sheets you aren't using right away with flour to make sure they don't stick to your work surface.
Assemble the Ravioli
Ok, this is another part of the process I have always found tricky. I've tried, so many times, doing this by hand and just eye-balling it, and it just doesn't really work. I always end up with massive ravioli, that sometimes come apart in the pot. I've also tried Kitchen Aid's ravioli maker, and as much as I love that company, I cannot get that thing to work to save my life. The best tool I've found, by far, is this ravioli press. It's cheap, and it works. I do have some tips for you below, but by and large, this thing does a good job, and I won't make ravioli without it these days.
So - first, flour the metal shaper and lay a sheet of pasta dough over it. The dough should be large enough to cover the shaper on all sides. Next, lay the mold gently on top of the pasta, lining it up with the metal part underneath. Gently press down to stretch the pasta and make room for filling. Lift the mold, and you should now have 12 little bowls to put the filling in.
Add the lobster filling. Try and get as much as you possible can in there - any space for air bubbles is going to cause problems. It's ok if they overflow a little.
Use an egg wash to brush the edges of the pasta sheet, and in between each mold.
Lay another sheet of pasta on top, and gently press down all over, trying to work out any air from within the ravioli.
Take a rolling pin and slowly press down on all the edges, as hard as you can (you may still have to use a cutter afterward, if the dough doesn't cut all the way through). Finally, flip the ravioli over and gently work it out of the mold.
Make sure you press down firmly on all the edges, again trying to work out as much air as you can so they don't come apart during the cooking process.
Flour a baking tray, and leave the ravioli there until you're ready to cook (or keep them in the fridge/freezer if you're making them ahead of time).
Video Tutorial
Make the Brown Butter Sauce
Phew - we almost made it! Are you still with me? Kudos if you are, this is a freaking monster of a blog post. But I promise, this sauce is so easy it *almost* makes up for the rest of it.
Ingredients
Super easy, butter (that we're browning for an intense, nutty flavor), pine nuts, lemon, garlic, parmesan and tarragon. All coming together to make the perfect, but not overpowering sauce to go with our ravioli bb's.
Brown Butter for Days
First though, we're going to toast our pine nuts. In a sauce pan over medium heat, add your pine nuts. Toss them every once in a while, to make sure they aren't burning. Once They're a nice golden color, take them out of the pan and set aside.
The key to this sauce is the brown butter. It's super simple, but you do have to be a bit patient with it. First, melt your butter in a frying pan over medium to medium-low heat. Start whisking it frequently, but cook it low and slow. The solids in the butter should start to turn a golden brown color after about ten minutes. It will also start to smell a bit nutty and caramel-y. This is when you know it's done!
Also, at this point, get a large pot of salted water boiling, and throw your ravioli in. They should only need about 90 seconds to cook.
After it it's this stage, we're going to turn the heat down so the butter doesn't burn, add our pine nuts back in, and our garlic. Let the garlic cook for about a minute, or until it's fragrant. Add your cooked ravioli to the pan (the water from the ravioli will start to make it foam a bit, but that's ok, don't worry about it). The rest of the ingredients we're going to add through our plating.
In a large pasta bowl, or on individual plates, whatever you prefer, place the ravioli and the sauce. Zest your lemon overtop, grate some parmesan, and then hit it with the fresh tarragon right at the end. Add a little black pepper too if you're into it.
But, that's it! We're done!
Truly, this is a restaurant quality meal at home. Whomever you make this for should be a) worthy, and b) incredibly grateful. It's what my husband and I call a Saturday meal - one of those meals where you just commit to it, being in the kitchen, and being together, and then enjoying all the fruits of your labor (and a bottle of wine) afterwards.
Wine Pairings
Chardonnay is what we need here. It's just the best with any kind of lobster. If it's oaky and buttery, it's amazing with a brown butter sauce. If it's bright and citrusy, then it pairs well with the lemon and brings out the complexity of the lobster. You just can't go wrong.
Freezing & Storage
You can absolutely make these ahead and then freeze them. Just make sure you freeze them laying flat and separately on a large baking tray, and then once they're frozen, pop them in an airtight bag (I've got about 4 dozen of these in my freezer right now). You can cook them straight from frozen as well - just give them about five minutes in boiling water.
📖 Recipe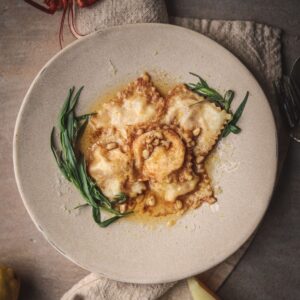 Lobster Ravioli with Whipped Mascarpone & Brown Butter Sauce
This meal is worthy of a 5-star restaurant experience, but it takes some leg work to get it going. It's so delicious, rich, and perfectly balanced - perfect for any special occasion, any time of the year. Pair with a buttery glass of Chardonnay, and you're good to go.
Equipment
Stand mixer with pasta attachment

Ravioli press

Rolling Pin
Ingredients
For the Ravioli Dough
1

C

all-purpose flour

1

C

00 flour

3+1

eggs

divided

½

teaspoon

salt

1-4

tablespoon

water

optional, may not need it
For the Ravioli Filling
1

C

lobster meat

A 1lb lobster will give you about a cup of meat

⅓

C

mascarpone cheese

1

tablespoon

heavy cream

1

tablespoon

lemon zest

½

teaspoon

salt
For the Brown Butter Sauce
⅓

C

pine nuts

½

C

butter

1

tablespoon

lemon lemon zest

2

teaspoon

lemon juice

⅓

C

parmesan cheese

grated

3

tbsp

fresh tarragon leaves
Instructions
Make the Filling
Roughly chop lobster meat, and add to a medium sized bowl.

In a stand mixer with the whisk attachment, whip mascarpone with heavy cream for 2-3 minutes, until silky smooth.

Add the cheese, lemon zest and salt to the same bowl as the lobster and mix thoroughly. Cover and set in the fridge while you make the pasta dough.
Make the Ravioli
Combine both flours, three of the eggs, and the salt in a stand mixer fitted with the paddle attachment. Mix until the dough starts to clump together and come away from the sides of the bowl. If the dough is too dry and not coming together, add some water, a teaspoon at a time, until just enough to form the dough. Place on a floured surface, and knead for 3-5 minutes, shaping it into a ball. Cover with plastic wrap and let it rest at room temperature for 30 minutes.

After the dough has rested, fit the pasta attachment to the stand mixer. Set it at level one, or the thickest option for the dough. Cut your dough into quarters. Take one quarter, and fashion it into a flat disk (it might be thick, that's ok). Dust with flour, and turning the mix master on to speed one, feed it through the pasta roller. Fold the dough into thirds, and pass it through again. Do this one more time, adding flour as needed so it doesn't stick.

Adjust the pasta roller so it's on level two, and pass the sheet of dough through it. Move it to the next level, and repeat, until your dough is at a level six or seven. Dust with flour as needed.

Assemble the ravioli using a ravioli press, or freehand it*. Lay one sheet of pasta down on the metal mold. Gently press with the plastic mold, and fill with lobster ravioli filling. Beat the remaining egg in a small bowl, and brush over the edges of the pasta. Place another sheet of pasta on top, trying to press out as much air as possible. Finally, roll over the top with a rolling pin slowly, but firmly. Flip the mold over and gently work the ravioli out. Cut with a pizza cutter or knife if necessary. Spread flour on a baking sheet and keep ravioli there while you make the brown butter sauce.

*See notes for instructions on hand rolling.
Make the Brown Butter Sauce
Heat a frying pan over medium heat, and add your pine nuts. Cook, tossing occasionally until fragrant and toasted. Remove from the pan and set aside.

Bring a large pot of salted water to a boil. Meanwhile, add butter to your now empty saucepan over medium heat. Let it cook, whisking often, until it starts to brown (the solids will turn golden and have a nutty fragrance).

At this point, add your ravioli to the boiling water, and cook for 90 seconds.

Add the pine nuts, lemon juice and garlic to your brown butter. Cook for about one minute, or until you can smell the garlic. Add you ravioli, and gently stir.

Place the ravioli on a large serving platter. Sprinkle lemon zest, tarragon, parmesan cheese and some black pepper over top.
Video
Notes
This amount of filling will make between 12-16 ravioli.
You will definitely have more dough than filling for this recipe. Cut the remaining dough into your favorite pasta shape and freeze for another time!
The nutrition calculation is way off here - because it's measuring a complete recipe of dough between four people (we didn't use all of it in this recipe).
*Making the pasta completely by hand:
Lay out one sheet of pasta, and place filling down, a tablespoonful at a time, about one inch a part (I can usually get two columns, but don't crowd them if you can't). Beat the remaining egg, and brush between all of the filling. Gently lay another sheet of pasta over top, and firmly press down all the edges, and in between each ball of filling. Try and get all the air out of each one. Use a knife or a pizza roller to cut in between each ravioli.
Nutrition
Serving:
150
grams
Calories:
837
kcal
Carbohydrates:
32
g
Protein:
60
g
Fat:
51
g
Saturated Fat:
18
g
Polyunsaturated Fat:
11
g
Monounsaturated Fat:
15
g
Trans Fat:
1
g
Cholesterol:
1367
mg
Sodium:
1332
mg
Potassium:
859
mg
Fiber:
2
g
Sugar:
2
g
Vitamin A:
2387
IU
Vitamin C:
8
mg
Calcium:
340
mg
Iron:
10
mg
Jump to: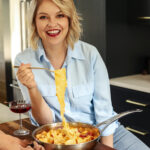 Hi, I'm Cara! I'm a food writer, journalist, and recipe developer. I'm obsessed good food, good wine, good cocktails and entertaining. I've picked up a few tips over the years, and love sharing them with others.