Roasted butternut squash salad is one of those salads that feels like you're getting so much bang for your buck. It's got maple roasted squash, brie cheese, candied hazelnuts, and pumpkin seeds for the most amazingly filling, crunchy, soft, and perfectly balanced salad eva!
It's the perfect salad for fall and winter - and looks gorgeous on any holiday table. There are so many different flavors and textures that it's enough to even bring the salad-haters around (hi, it's me).
Experience a delightful blend of flavors with this maple roasted butternut squash salad. Crispy hazelnuts, creamy brie, and tender squash create a taste sensation you won't forget.
Jump to:
Frequently Asked Questions
Can I use frozen butternut squash for this salad?
Absolutely! Thaw and drain it well before roasting for best results.
Can I substitute other nuts for hazelnuts?
Yes, pecans or walnuts work beautifully as alternatives for added crunch.
Is there a vegan option for this salad?
Certainly! Replace the brie with your favorite vegan cheese or omit it for a equally delightful vegan salad.
How do I store leftovers?
Keep the components separate in airtight containers in the fridge. Reassemble when ready to enjoy.
Can I make the candied hazelnuts ahead of time?
Definitely! Prepare them in advance and store in a cool, dry place in an airtight container.
What other dressings pair well with this salad?
A balsamic vinaigrette or a honey mustard dressing complement the flavors beautifully.
How can I adjust the sweetness of the salad?
Simply adjust the amount of maple syrup in the vinaigrette.
Why You're Going to Love This Recipe
Burst of Flavors: The combination of maple-roasted butternut squash, creamy brie, crunchy hazelnuts, and pumpkin seeds creates a symphony of flavors in every bite.
Textural Variety: From the tender squash to the crispy candied hazelnuts, this salad offers a delightful mix of textures, adding a satisfying crunch to each mouthful.
Wholesome Ingredients: Packed with nutrient-rich butternut squash, mixed greens, and protein-rich pumpkin seeds, this salad not only tastes great but also provides a boost of essential vitamins and minerals.
Versatile: Whether as a hearty side or a light main course, this salad fits various occasions, from weeknight dinners to special gatherings, making it a versatile addition to your repertoire.
Easy Preparation: With simple steps and readily available ingredients, this recipe is approachable for both seasoned cooks and those new to the kitchen, making it a hassle-free option for any meal.
Customizable: Feel free to switch up ingredients based on dietary preferences or what's in your pantry. Swap brie for a vegan cheese or try different nuts for a personalized touch.
Make-Ahead Friendly: Components like candied hazelnuts and roasted squash can be prepared in advance, allowing for quick assembly when you're ready to enjoy a fresh, flavorful meal.
Visual Appeal: The vibrant colors of the butternut squash, mixed greens, and golden hazelnuts make for an inviting presentation, perfect for impressing guests or elevating your own dining experience.
Balanced and Satisfying: With a well-rounded combination of carbohydrates, protein, and healthy fats, this salad provides a balanced meal that leaves you feeling nourished and satisfied.
Warm and Comforting: The maple-roasted butternut squash adds a touch of warmth, making this salad especially comforting during cooler seasons, while still being enjoyable year-round.
Ingredients
Butternut Squash: The sweet, earthy flavor of roasted butternut squash provides a hearty base for the salad. Its creamy texture contrasts nicely with the crunchy elements.
Olive Oil: Used for roasting the squash, olive oil adds richness and helps achieve a caramelized, golden exterior.
Maple Syrup: The natural sweetness of maple syrup enhances the flavor of the butternut squash, creating a delightful contrast with the other ingredients.
Salt and Pepper: These basic seasonings balance the sweetness of the squash and maple syrup, adding depth and enhancing the overall flavor profile.
Mixed Greens: These provide a fresh, crisp element to the salad. They offer a mild, slightly peppery taste that complements the sweeter components.
Candied Hazelnuts: The candied hazelnuts bring a satisfying crunch and a sweet, nutty flavor. They contrast beautifully with the soft squash and creamy brie.
Brie Cheese: Creamy brie provides a luxurious, velvety texture that complements the sweetness of the squash and hazelnuts. It adds a savory, indulgent note.
Pumpkin Seeds: These add a nutty, earthy flavor and an extra layer of crunch to the salad, balancing out the softer ingredients.
How to Make Roasted Butternut Squash Salad
First things first, we're going to tackle that butternut squash (my least favorite thing to do). Peel it up, scoop out the seeds, and give it a good dice. Toss those golden nuggets in a mix of olive oil, a drizzle of maple syrup, and a pinch of salt and pepper. Pop 'em in the oven 'til they're beautifully roasted and tender.
Next, let's talk greens. Grab your favorite mix - something with a bit of bite, like arugula, or maybe a blend of spinach and baby kale. Put them in a salad bowl.
Candied Hazelnuts
Let's make the hazelnuts: Start by grabbing a small saucepan and tossing in a quarter cup of granulated sugar. Heat it up over medium heat, until the sugar completely melts.
Now, this is where the magic happens. Toss in about half a cup of whole hazelnuts into the mix. Keep stirring continuously. You'll start to notice the sugar crystallizing and coating the hazelnuts. This takes about 3-4 minutes.
Once they're all beautifully coated and golden, quickly transfer them onto a baking sheet lined with parchment paper. Be speedy because they'll harden fast.
Let them cool down for a bit, and voila! You've got yourself some perfectly candied hazelnuts, ready to add that fantastic crunch to your salad.
Assembly
Now, let's not forget brie cheese. Slice it up into creamy little cubes and scatter them throughout the salad. They'll add a velvety, rich contrast to the crunchy elements.
For that final touch of magic, whip up a quick maple vinaigrette. Just mix together some olive oil, maple syrup, a squeeze of lemon juice, and a sprinkle of salt and pepper.
Drizzle it over the salad, toss everything together, and top with the candied hazelnuts and pumpkin seeds. You're done!
Variations
Grain Booster: Add a hearty element like cooked quinoa or farro for extra substance and fiber.
Different Toppings: Try adding dried cranberries or different herbs to the salad for more flavor and texture.
Fruity Twist: Incorporate sliced apples or pears for a burst of freshness and a sweet contrast.
Protein Power: Amp up the protein with grilled chicken, chickpeas, or tofu for a more substantial meal.
Herb Infusion: Fresh herbs like sage or thyme can add a fragrant and earthy layer of flavor.
Crunchy Kale Upgrade: Swap out the mixed greens for hearty kale. Massage it with a bit of olive oil for a softer texture.
Cheese Swap: Switch out the brie for feta or goat cheese for a tangy, creamy alternative.
Balsamic Drizzle: Substitute the maple vinaigrette with a balsamic reduction for a deeper, more robust flavor.
Squash Varieties: Mix up the types of squash. Try delicata or acorn squash for a change in flavor and texture.
Spiced Nuts: Use candied pecans or walnuts instead of hazelnuts for a different nutty flavor.
Citrus Zest: Add a zesty twist by including segments of orange or grapefruit for a citrusy kick.
Storage and Leftovers
To keep this salad fresh and delicious for leftovers, here's what you should do:
Separate Components: Store the components separately. Place the roasted butternut squash in an airtight container. Keep the mixed greens, candied hazelnuts, brie cheese, and pumpkin seeds in separate containers or resealable bags.
Vinaigrette on the Side: Store the maple vinaigrette in a separate container. This prevents the greens from becoming soggy.
Refrigerate Promptly: Put everything in the refrigerator as soon as possible after serving to maintain freshness.
Use Within 2-3 Days: Aim to consume the leftovers within 2-3 days for optimal flavor and texture. The greens are best when they're at their freshest.
Reassemble Before Serving: When you're ready to enjoy, take out the components from the fridge. Reassemble the salad, drizzle with the vinaigrette, and toss gently to combine.
Other Side Dishes
📖 Recipe
Roasted Butternut Squash Salad
A vibrant medley of maple-roasted butternut squash, mixed greens, candied hazelnuts, brie cheese, and pumpkin seeds, all drizzled with a luscious maple vinaigrette. This salad is a delightful balance of sweet, savory, and crunchy textures that's sure to satisfy your taste buds. Perfect for a hearty side or a light main course.
Ingredients
For the Salad
1

medium

butternut squash

peeled, seeded, cubed

2

tablespoon

olive oil

2

tablespoon

maple syrup

salt and pepper to taste

6

C

mixed greens

½

C

candied hazelnuts

see below

½

C

brie cheese

cubed

¼

C

pumpkin seeds
For the Maple Vinaigrette
¼

C

olive oil

2

tablespoon

maple syrup

1

tablespoon

lemon juice

salt and pepper to taste
Candied Hazelnuts
½

C

hazelnuts

roughly chopped

¼

C

sugar
Instructions
Preheat oven to 425°F (220°C).

In a bowl, toss the cubed butternut squash with olive oil, maple syrup, salt, and pepper.

Spread the squash on a baking sheet and roast for 25-30 minutes, or until golden and tender.

In a large bowl, combine the mixed greens, brie cheese, and pumpkin seeds.

Place granulated sugar in a small saucepan over medium heat. Let the sugar melt completely.

Add hazelnuts and cook, stirring constantly, until the sugar crystallizes and coats the hazelnuts (about 3-4 minutes).

Transfer hazelnuts to a parchment-lined baking sheet and let cool.

For the vinaigrette, whisk together olive oil, maple syrup, lemon juice, salt, and pepper in a small bowl.

Drizzle the vinaigrette over the salad and toss gently to coat.

Top the salad with the maple roasted butternut squash and hazelnuts.

Serve and enjoy your delicious and flavorful salad!
Notes
Customize to Your Taste: Feel free to switch up ingredients based on your preferences or what's available in your pantry. Get creative!

Make it Ahead: Components like candied hazelnuts and roasted squash can be prepared in advance for a quicker assembly when you're ready to serve.

Nut Allergy? No Problem: Substitute hazelnuts with your favorite nut or seed for that satisfying crunch without compromising on flavor.

Vegan Friendly: Omit the brie or replace it with your preferred vegan cheese for an equally delicious plant-based option.

Don't Rush the Roasting: Ensure the butternut squash is properly roasted until golden for the best flavor and texture.
Nutrition
Serving:
250
g
Calories:
649
kcal
Carbohydrates:
56
g
Protein:
12
g
Fat:
46
g
Saturated Fat:
8
g
Polyunsaturated Fat:
6
g
Monounsaturated Fat:
31
g
Trans Fat:
0.003
g
Cholesterol:
18
mg
Sodium:
139
mg
Potassium:
1076
mg
Fiber:
7
g
Sugar:
30
g
Vitamin A:
20726
IU
Vitamin C:
57
mg
Calcium:
189
mg
Iron:
4
mg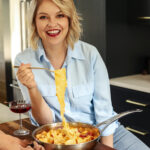 Hi, I'm Cara! I'm a food writer, journalist, and recipe developer. I'm obsessed good food, good wine, good cocktails and entertaining. I've picked up a few tips over the years, and love sharing them with others.