I mean, who doesn't love a rich, decadent lobster pasta? This recipe takes that basic premise, and than kicks it up a notch with the champagne cream sauce. Can you say "date night in"? Believe me, you will not need to go to a fancy restaurant once you've got this recipe in your rolodex.
UPDATE: I've updated all the photos in this recipe, as well as expanding the process and explanation on how to make this pasta. Plus! There's video so you can make it along with me!
This is a recipe I've been experimenting and tweaking for years. It's the one I pull out when I want to impress my very foodie family. It's the one I made when I made fresh pasta by hand for the first time. It's the recipe that actually introduced me to lobster in general. So, I know my way around this dish, and after reading this, you will too.
Jump to:
How to Make Lobster Pasta with Cream Sauce
Lobster pasta the kind of dish that you whip out on a Friday night after a looonnnnnng week at the office because you deserve it, goddammit, or because you *may* have taken some liberties when you were talking about your cooking skills and whelp, now you need to back them up. This is it. This is the dish.
Ingredients
First, let's talk about the flavours we're using to put this lobster pasta together. Because there are some really, really great flavours going on here.
Lobster: Obviously. Lobster is famed for it's delicately sweet flavour and tender flesh. It tends to have less of a "fishy" flavour than crab. This is the building block from which we build the rest of our profile.
Garlic and Shallot: These are go-to aromatics for almost any pasta dish. We'll use less garlic than we would for say, a tomato based sauce - the lobster should be the star here, not garlic. Shallots are perfect because they have a much more mild flavour than onion, perfect to highlight but not overpower our main ingredient.
Cherry Tomato: Tomato and lobster is a great flavour pairing, but we need to make sure that the tomato doesn't crush everything with it's flavour. That's why these fresh, delicate cherry tomatoes are going to do the trick. We'll sautee them until they start to burst and release their juices, and that's going to be the perfect amount of tomato-yness to add to the dish. Bonus: it turns the sauce a beautiful blush pink, perfect for Valentine's Day!
Champagne: Aside from the fancy-pantsness it brings to the dish, a dry champagne or sparkling wine makes a great foil to the rich sauce we're building. It's going to add acidity (not unlike a lemon juice would do) and a complexity that we wouldn't otherwise get. Plus, it means it pairs well with this meal, and I mean...who doesn't like drinking champagne while you cook? Serial killers, that's who. If you don't have any sparkling on hand, it's totally fine. Just substitute for any dry white you have on hand (chardonnay is a good choice for this).
Parmesan: As per usual, bringing the salty, umami complexity to the party.
Lemon Zest: Hear to brighten up an otherwise extremely heavy, fatty dish.
Tarragon: This is optional, but I highly recommend it. Tarragon is an herb that has an anise flavour, so it tastes subtly like black licorice. Again, we're adding to the complexity of the dish here. A handful of tarragon leaves at the end takes this dish to a new level. If you can't find tarragon (which I often can't at certain times of year), use parsley or some micro greens to freshen the dish up.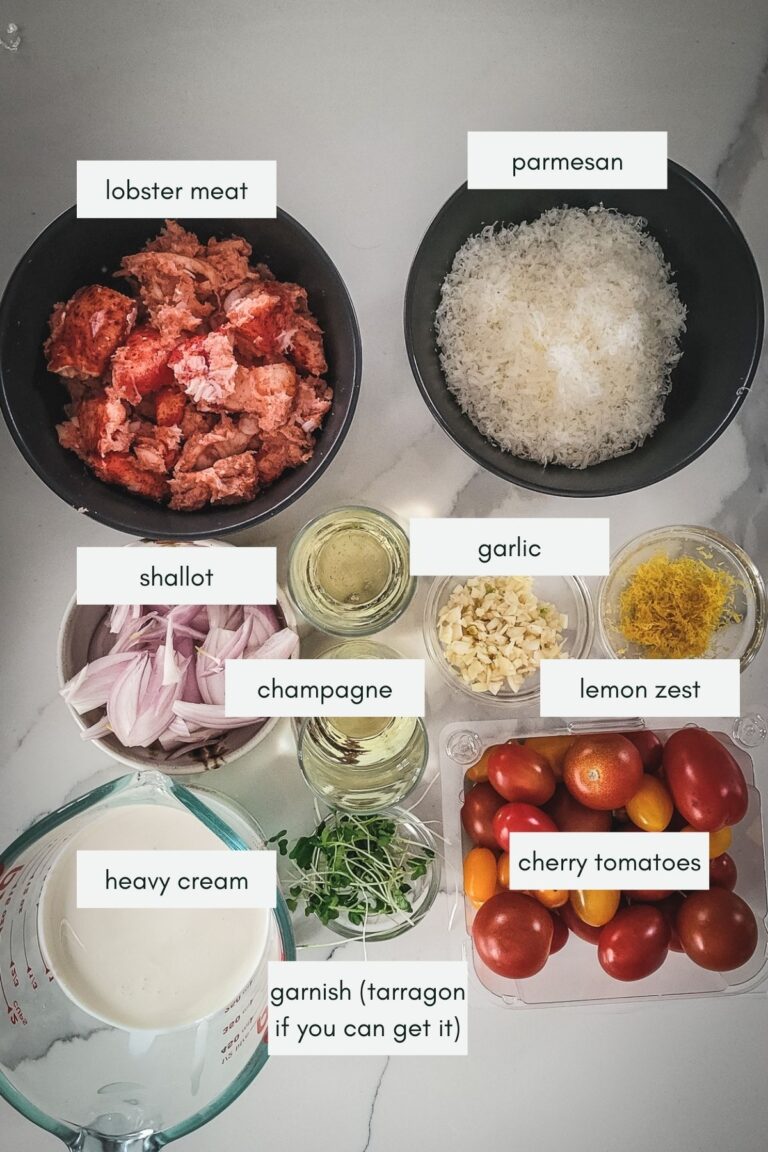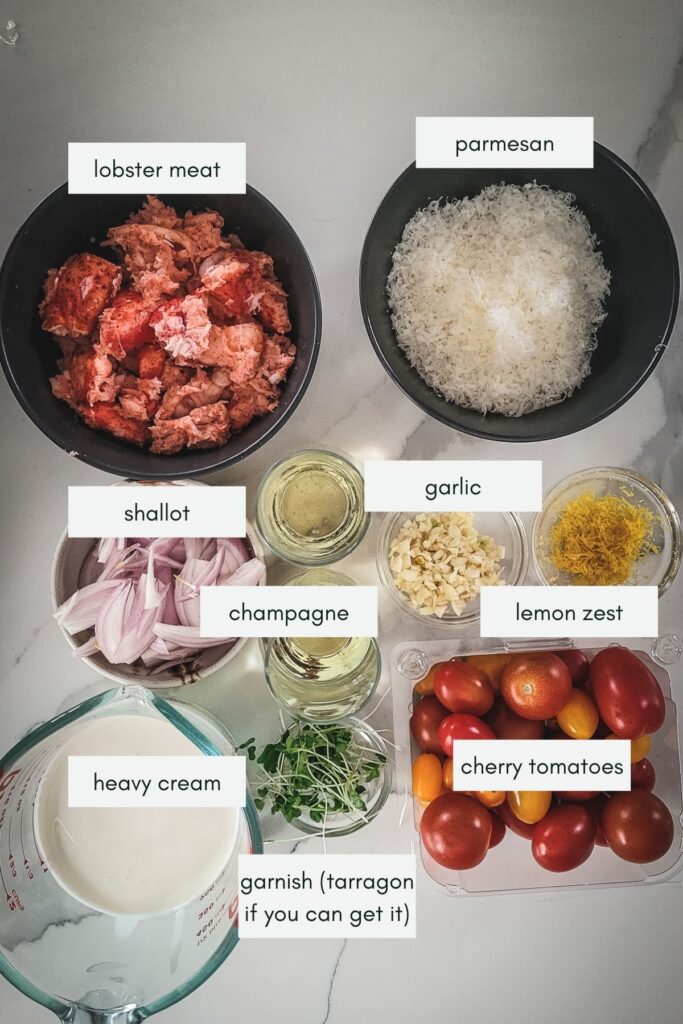 Process
If you've ever made any type of white wine pasta before, this process will look familiar. It does take a little bit longer, as we're going to let the cherry tomatoes cook down and form the base layer of our sauce (but it won't be too tomato-y, it ends up more like a blush sauce. Then we deglaze the pan with the Champagne, reduce it, and keep going from there. The whole process pretty straight forward, and if you start with cooked lobster (rather than breaking it down yourself) it should only take about 30 minutes.
First, we're going to sauté the shallots and the garlic in some olive oil. You want to do this in a fairly large pan (I'm using my cast iron because it's the biggest one I have, but you definitely don't have to). Once the shallots and garlic are just getting fragrant, about a minute or so, we're going to add our cherry tomatoes.
Once we add the cherry tomatoes, we're going to let them cook down for 10-15 minutes. Again keep it on medium heat. We want the tomatoes to cook, but we don't want the garlic and shallots to start browning.
Keep the tomatoes going until they start to burst and release their juices. This will create a kind of stew on the bottom of the pan. This is where we add our Champagne. Pour yourself a glass while you're at it, you deserve it for working so hard.
Next, we're going to let the Champagne reduce significantly, until there's about ¼ to ⅓ of a cup of moister left in the bottom of the pan.
And here, we're going to add the cream, the parmesan, salt and pepper. Let that cook for a few minutes while the cream gets warm. Then add the lobster and the lemon zest. After that, add a little reserved pasta water, the pasta, and toss the whole thing together.
Garnish with tarragon, parsley, or microgreens, whatever you could get your hands on.
Where to Get Lobster
The best place to get lobster is at your local fish market. They usually have access to the freshest meat possible, and sometimes they'll even pre-cook it for you. They're also awesome to answer any questions you might have, including cooking, storage and freezing tips. You can also head to the seafood counter at your local grocery store.
Using fresh, just cooked lobster meat is totally the best way to eat lobster, bar none. So if you have the option and are feeling ambitious, then make and break down the lobster yourself. I've got a whole guide for you right here (including video)!
If you're not feeling totally ambitious (hi, it me), then you can buy frozen lobster meat from places like Costco, or even your local grocery store. It usually comes in cans or in vacuum sealed packs, but it will be frozen. DO NOT buy the stuff in the cans right beside the tuna.
What to Serve With Lobster Pasta
First, let's talk about the wine. The easiest and most obvious is to use the same wine you cooked the pasta with. I'm a firm believer in there being no such thing as "cooking wine" and "drinking wine". If it's not good enough for you to drink, why in the heck would you want to put it in your food? Spring for the good stuff with this dish. If you're not going with a dry sparkling wine, try a buttery Chardonnay (butter, lobster, hello).
In terms of a side, something lighter and green is definitely a good choice. Lobster and asparagus are best friends, and a salad is always a good choice. Try warm zucchini salad with mint and pistachios. Or, go for a classic homemade Caesar salad. For an appetizer, these fiddlehead and morel toasts would be amazing - or stick with the champagne and seafood theme with these fresh oysters!
FAQ's
Where can I find lobster?
The best option is at your local fish market. They have the freshest product and the most knowledge. You can also find frozen lobster at grocery stores and Costco.
What's the internal cooking temperature of lobster?
140°F.
What wine goes well with lobster pasta?
A dry sparkling wine like Champagne, or a buttery Chardonnay.
How big of a lobster should I get?
Get one in the 1-2 pound range. Any bigger and the meat starts to get tougher and less sweet.
Recipe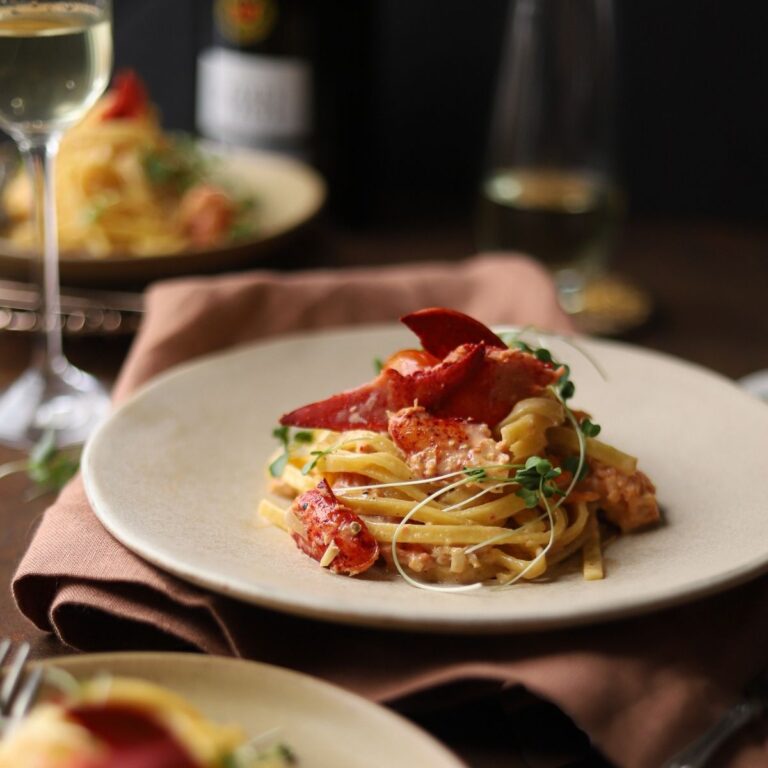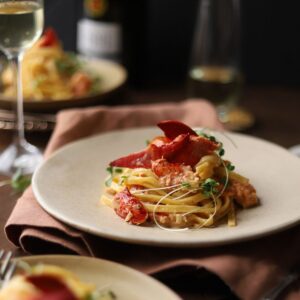 Lobster Pasta with Champagne Cream Sauce
Lobster pasta is rich, luxurious and oh-so-decadent. Take it over the top with this champagne cream sauce for your next date night.
Ingredients
8

oz

pasta, such as tagliatelle

salt, to taste

¼

C

reserved pasta water

1

tablespoon

olive oil

2

cloves

garlic

diced

2

shallots

diced

1½

C

whole cherry tomatoes

½

C

Champagne or sparkling wine

1

C

heavy cream

1

C

parmesan cheese

grated

1

tablespoon

lemon zest

1

teaspoon

fresh black pepper

1

C

lobster meat

either fresh or from frozen. Make sure the meat is dethawed before you cook with it.

3-4

tablespoon

fresh tarragon leaves

optional
Instructions
Bring a large pot of salted water to a boil. Add pasta and cook according to package directions.

Heat olive oil in a large sauce pan over medium high heat. Add the shallots, sautéing until soft. Add the garlic and cook for a minute longer.

Add the cherry tomatoes, and sauté until they burst and release their juices. Add the Champagne, and let it reduce until you have about ¼ cup left in the pan.

Add the heavy cream and heat through. Add the parmesan cheese, and stir until melted. Add the black pepper and lemon zest.

Add the lobster, and heat through. Taste for seasoning. The lobster should add some salt flavour, but you will likely need to add more. Add a little at a time, trying in between each addition, until it suits your taste.

Add your cooked pasta and about ¼ cup of reserved pasta water. Place in a large serving bowl, top with tarragon leaves. Serve immediately.
Notes
Don't forget to reserve some of your pasta cooking water for the end!
Feel free to play around with different amounts of the tomato, tarragon, parmesan, lemon and black pepper.
Nutrition
Serving:
250
g
Calories:
651
kcal
Carbohydrates:
51
g
Protein:
30
g
Fat:
35
g
Saturated Fat:
19
g
Polyunsaturated Fat:
2
g
Monounsaturated Fat:
12
g
Trans Fat:
1
g
Cholesterol:
221
mg
Sodium:
699
mg
Potassium:
687
mg
Fiber:
3
g
Sugar:
4
g
Vitamin A:
1605
IU
Vitamin C:
19
mg
Calcium:
484
mg
Iron:
4
mg