Mac and cheese is a must in the fall, and this creamy brie mac and cheese is the ultimate in luxurious comfort food. Seriously, is there anything better on a cold, rainy, windy November day than curling up with a steaming bowl of this? I think not.
The key to this mac and cheese, is of course, the brie. It has such a delicate flavor, but the texture of it really makes a difference in the sauce.
This creamy brie mac and cheese is the ultimate in cozy, decadent, luxury comfort food. The brie creates a silky smooth texture that just can't be beat.
Jump to:
Check out the web story here.
What is Brie Mac and Cheese?
Quite simply, it's a pretty classic mac and cheese recipe with brie added. The brie adds a delicate flavor, but ups the creamy texture x 10.
Is it Good?
HEEEEECKKKKKKKKK YES. I mean, when you're starting with mac and cheese anyway, you're already 90% to the finish line. But the brie just takes it up another level - from good to gourmet in my opinion, and it's a super easy addition to the whole dish.
Another bonus with this - the brie's flavor is light, so it doesn't overpower anything else in the dish - this means you can still add many of your favorite flavor variations (more on that later).
How to Serve It
Brie mac and cheese is great on it's own, as a main dish, but it would also be amazing along side your holiday staples. It would be perfect paired with turkey, chicken, duck or beef at your Thanksgiving and Christmas table (it actually is going to make an appearance on mine this year).
This recipe is also meant for a crowd, it can easily feed eight people, and make it in a 9x13" pan (I used a smaller one for the photographs here, and didn't put it all in. You should definitely use a 9x13"). You can cut it in half if you want though!
Ingredients
The ingredients for this are fairly straightforward. You can definitely use your favorite cheese mix, but I definitely find that the combo of old cheddar, gruyere, and brie. It's got that perfect flavor/texture/creamy ratio to make the perfect mac and cheese.
Gruyere - great nutty flavor.
Old cheddar - brings a sharpness, and that perfect "cheese" flavor and texture to the dish.
Brie - the creamy texture and light, delicate flavor. Make sure you remove the rind!
Whole milk - for the body of the sauce.
Flour - thickening agent for the sauce.
Butter - flavor and for the roux (how we thicken the sauce).
Nutmeg - Just a touch, to compliment the nutty flavor of the gruyere.
Dry pasta - I prefer elbow macaroni or cavatappi (that's what I used here)
Panko - for the crust.
Garlic - adds a beautiful light flavor to the whole dish in the crust.
Thyme - flavor that compliments the cheese in the dish, the perfect earthiness.
Don't forget salt and pepper!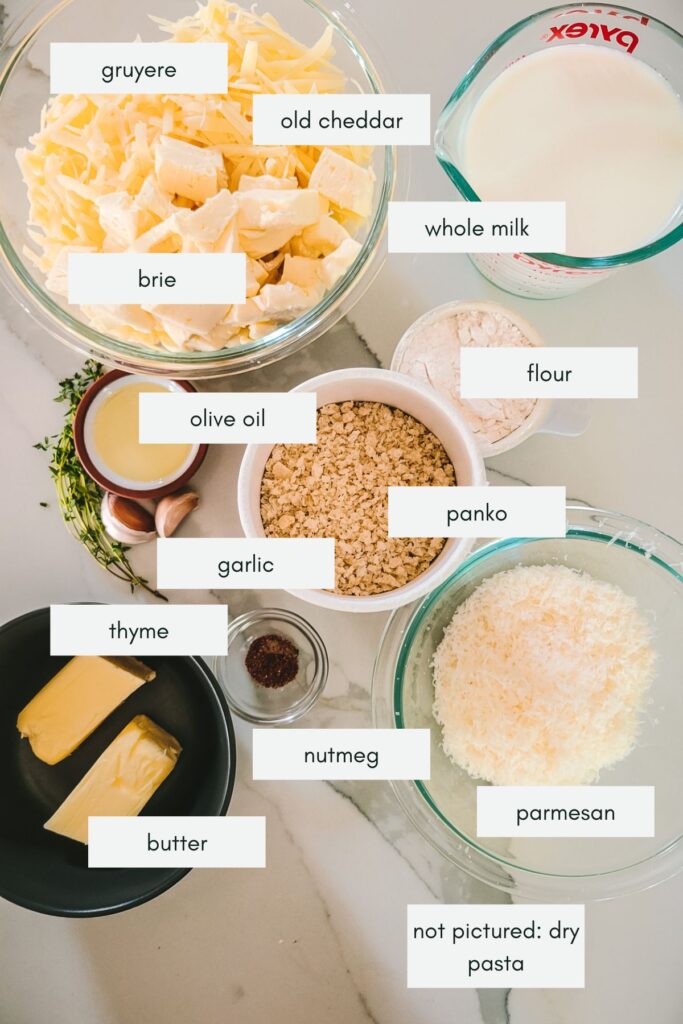 How to Make Brie Mac and Cheese
Let's do this step by step. Making mac and cheese isn't super hard, but there are a few different techniques we need to use. I'll talk you through all of it.
Make the Roux
A roux is a combination of fat and a thickening agent (usually flour and butter) whisked together at the beginning of making a sauce that you need to thicken (usually a cream sauce). It's a great technique that you will use over and over again.
First, start your macaroni. In a large pot of boiling, salted water, cook the pasta according to directions, meanwhile, start your roux.
In a medium to large sauce pan, melt your butter over medium heat (I usually use a 50/50 ratio of butter to flour). Make sure it doesn't start to burn! Also, don't forget to preheat your oven to 350 F.
Next up, add the flour to the butter, and start whisking. Don't stop whisking for about two minutes or so, to let the flour cook off it's raw flavor. It should be bubbling by the end.
Finish the Sauce
Now, we're ready to add our milk. We're going to do this slowly, in a steady stream, whisking the entire time. This is important to make sure the sauce is as creamy as possible with no lumps. Once you've added all the milk, continue whisking fairly consistently until the sauce coats the back of a spoon like this: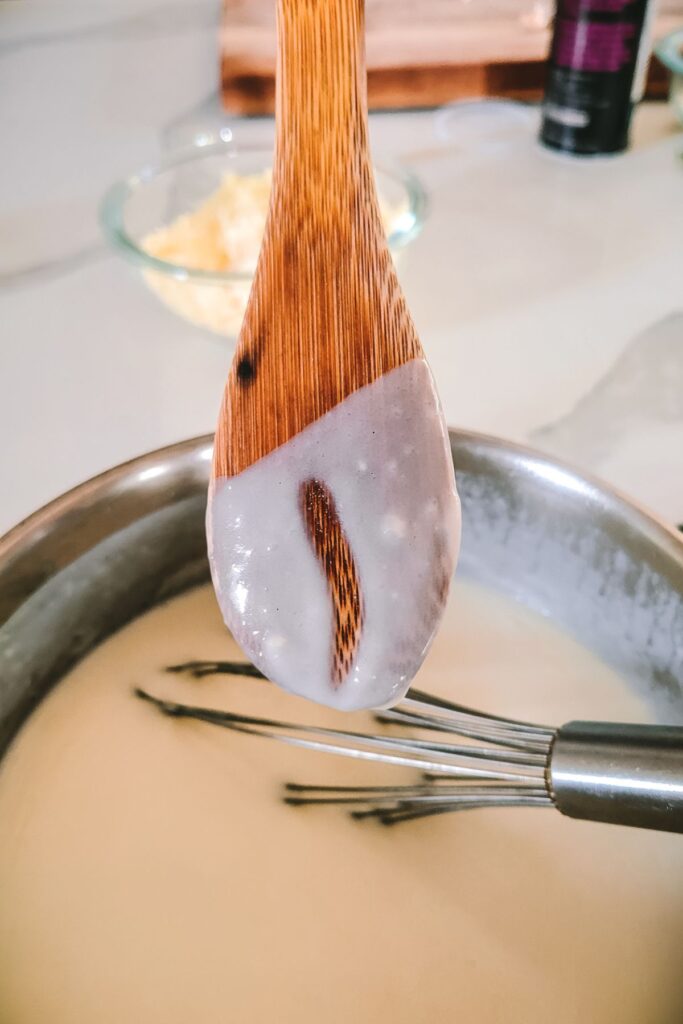 Now, the final steps for our sauce in the brie mac and cheese (this is basically a béchamel, by the way).
We're going to add the cheese, about a handful at a time, and stir until it melts, then add the next handful, until all the cheese is in the pot, and melted down into a perfect, creamy sauce.
Next let's add our salt (I like half a teaspoon, but try it and adjust for your taste), pepper, and nutmeg.
After, we're going to add our sauce to our cooked macaroni, and mix it together completely until it's well coated.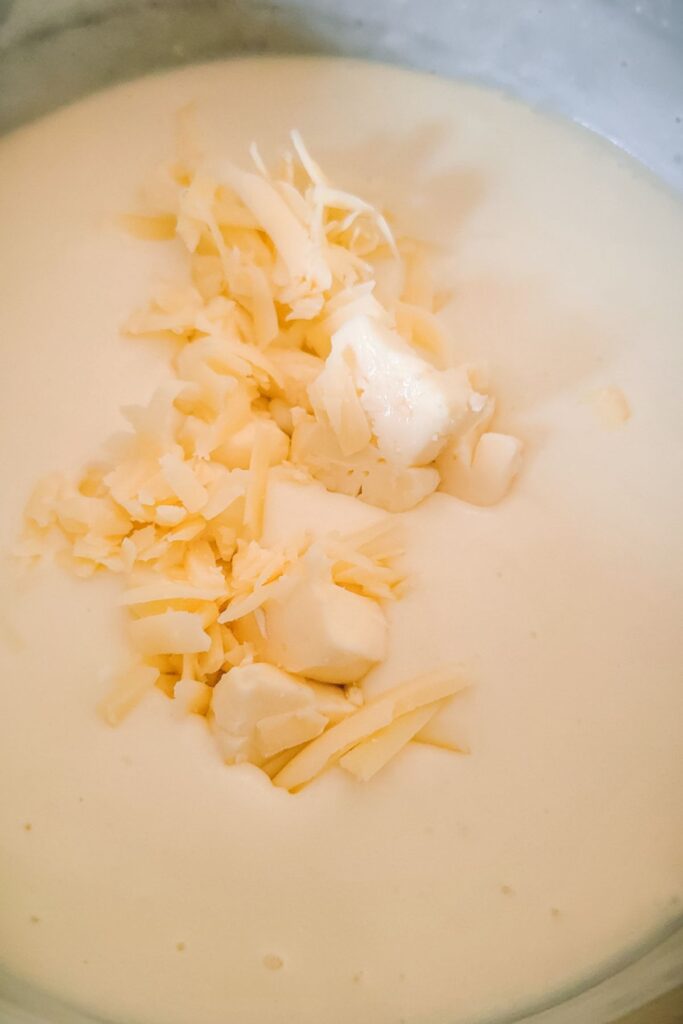 Pour the pasta and sauce into a 9x13" pan.
Make the Crust
Time to make our panko crust! Combine the panko, olive oil, thyme and garlic in a medium bowl, and combine with your hands. Spread evenly over the top of the mac and cheese.
Pop it in the oven for about 30 minutes, until it's bubbly and the top is golden.
And that's it, you're done!
Variations
Because the brie isn't an overpowering flavor, feel free to experiment with adding other flavors and ingredients to the mix. Here's some inspiration:
Bacon
Pesto
Walnut (you could even add these in the panko crust, delish!)
Lobster
Crab
Truffle
Spinach
Smoked gouda
And anything else you want!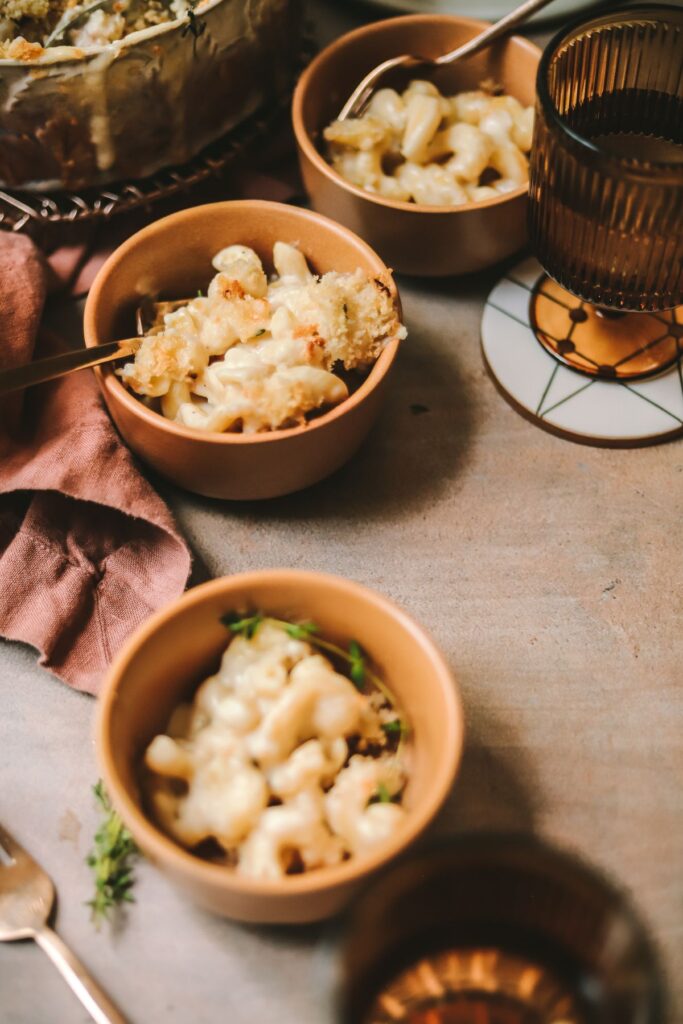 Tips & Tricks
When you're making the roux and the sauce for brie mac and cheese, continuous whisking is key. The milk will overflow if you take your eyes off it.
Remove the rind off the brie! It won't melt properly otherwise.
You can experiment with different cheeses to go with the brie, but the texture and flavor of these is a hit every time for me.
Put a pan underneath the 9x13" pan while it's cooking if your dish is super full.
More Amazing Pastas
📖 Recipe
Creamy Brie Mac and Cheese
This creamy brie mac and cheese is the ultimate in cozy, decadent, luxury comfort food. The brie create a silky texture that can't be beat. It's perfect for cold nights where you're craving all the cozy feelings.
Ingredients
1

lb

elbow macaroni

½

C

butter

½

C

flour

4

C

whole milk

2

C

old cheddar

grated

1

C

gruyere

grated

8

oz

brie cheese

rind removed

½

teaspoon

salt

¼

teaspoon

pepper

⅛

teaspoon

nutmeg

2

C

panko breadcrumbs

3

tablespoon

thyme leaves

2

cloves

garlic

minced

2

tablespoon

olive oil

¾

C

parmesan cheese

grated
Instructions
Make the Mac and Cheese
Preheat your oven to 350°F.

Make your pasta according to package directions, in a pot of boiling, salted water. Strain and set aside in the same pot.

Melt the butter in a medium pan over medium heat.

Whisk in the flour. Whisk continuously for 2 minutes. The mixture (roux) should be bubbling by now.

In one continuous stream, slowly add the milk, all the while whisking continuously.

Once all the milk is added stir frequently until the sauce has thickened enough to coat the back of a spoon (about 7-10 minutes).

Now, add your cheese to the sauce, about ⅓ to ½ cup at a time. Stir, and allow the cheese to melt in between additions.

Once all the cheese has been added, add the salt, pepper and nutmeg. Stir to combine. Next, pour the cheese sauce over the cooked pasta.

Pour the pasta into a 9x13" baking dish, and make the topping.

Combine the panko, olive oil, thyme, garlic, and parmesan in a medium bowl and mix with your hands. Spread evenly over the mac and cheese.

Bake at 350°F for 30-40 minutes, until bubbling and the panko crust is golden.
Notes
Keep an eye on the sauce at all times while cooking! The milk will scald and boil over in a heartbeat.
Feel free to add different flavors and ingredients to make this your own!
I highly recommend tasting the sauce for seasoning before adding it to the pasta.
You can swap the panko for regular breadcrumbs, and it's just as delicious.
The breadcrumbs tend to get very golden quickly, so if you prefer, you can add them halfway through the cooking time.
Nutrition
Serving:
150
g
Calories:
606
kcal
Carbohydrates:
57
g
Protein:
22
g
Fat:
33
g
Saturated Fat:
18
g
Polyunsaturated Fat:
1
g
Monounsaturated Fat:
9
g
Trans Fat:
1
g
Cholesterol:
93
mg
Sodium:
737
mg
Potassium:
201
mg
Fiber:
2
g
Sugar:
4
g
Vitamin A:
905
IU
Vitamin C:
3
mg
Calcium:
464
mg
Iron:
1
mg
Jump to: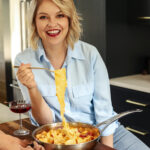 Hi, I'm Cara! I'm a food writer, journalist, and recipe developer. I'm obsessed good food, good wine, good cocktails and entertaining. I've picked up a few tips over the years, and love sharing them with others.