As an Amazon Associate I earn from qualifying purchases.
Mushroom sauce for steak is a no brainer. A perfectly cooked steak on it's own is a thing of beauty, but add a luscious, velvety smooth, savory mushroom sauce? That is next level gourmet cooking, in my opinion.
The best part about this sauce is (depending on how you cook the steak), you can whip it up in the same pan you cooked the steak in while it's resting. In fact, for the best flavor, that's definitely the way to go.
I'm a huge fan of cast-iron cooking for steaks, so that's how we're doing this recipe.
However, if you're a fan of grilling, you can totally just make this sauce in a new pan as well. No worries.
Mushroom sauce for steak is the perfect way to capture all the umami flavor from both the steak, and the mushrooms themselves. Perfectly paired together, you're going to love this duo.
Jump to:
Why You're going to Love this Recipe
The flavor is so deep, intense and complex. It's packed with umami, and goes perfectly with the steak.
It only takes about 10 minutes to come together.
You can play with it and the flavors you use.
It takes a steak from good to gourmet, no question about it. This entire dish will impress the pants off of anyone.
You can cook it in the same cast iron skillet you used for your steak (if that's how you cooked it, if not, just use a clean pan, no prob).
It goes well with almost any type of steak (see below).
What Type of Steak to Use
For this sauce, you can use whatever is your favorite type of steak. However, here are a few of my favorites:
Sirloin
If you're new to cast-iron steak cooking, then this is the cut I would recommend. They're typically smaller, and boneless. This means that they will cook quickly (you likely won't have to transfer it to the oven), and evenly (because of the no bone situation).
T-bone or Porterhouse
This truly might be my favorite steak. It's basically a combo of a strip and a filet. Because of that though, it's trickier to cook. This sauce would still be great with it though.
Rib-eye
Again, if you get a boneless one, this will be easier to cook. But come on, bone in rib-eyes are just SO DELICIOUS. Definitely harder to cook evenly though, and depending on the size, you may need to finish it in the oven (this is not a huge deal though).
Filet mignon
A lean, thick, and tender cut of meat, filets are amazing in a cast-iron. You will, almost without question, need to finish these in the oven. But the texture you get between the perfect steak and the sear on the outside? To die for.
Ingredients
Mixed mushrooms: I like cremini and shiitake.
Butter: this is how we're going to cook the mushrooms.
Garlic: for flavor.
Shallot: same as above.
Thyme: it pairs so well with the steak, mushrooms and everything else about this sauce.
Chicken stock: this is for the body of the sauce. You can also use beef stock, but I find that it can get pretty intense with the flavor sometimes.
Red wine: to deglaze the pan.
Heavy cream: again, for the body of the sauce.
Salt and pepper: I implore you, taste this sauce as you go for seasoning. This is the best way to make sure it's seasoned properly.
How to Make It
There's a couple of ways you can do this, so let's get the options out of the way first.
You can simply make this sauce. Start with the oil and butter in a hot pan, add the mushrooms/garlic shallots etc., and follow the recipe exactly as is. This is perfect for if you're grilling the stake but still want the sauce.
If you're extra though, make your steak first in a cast iron skillet. Then, without cleaning out the skillet, start the sauce. Scrape all of those delicious brown bits off the bottom when you deglaze the pan.
But let's go through it step by step.
Step 1: Cook the Mushrooms
Add your butter and mushrooms to a pan, and let the mushrooms cook. Let them release all of their moisture.
Step 2: Add the Aromatics
At this point, you want to add your garlic, shallot, and thyme sprigs. Throw a little salt and pepper in there too. Let this cook off for about a minute, or until you can smell the garlic.
Step 3: Deglaze
Deglaze your pan with red wine. This is especially important if you've cooked the steak in the same pan beforehand. You want to get all those little brown bits of flavor off the bottom!
Let the red wine reduce until it's almost completely gone.
Step 4: Build the Sauce
Add your chicken stock (or beef stock), cream, and parmesan cheese. Season again with salt and pepper. Taste, and then adjust seasoning.
Step 5: Reduce
Allow the sauce to simmer for 5 minutes to thicken. If it's still looking a bit runny to you, you can add a slurry to thicken it up. I tested this with 1 tablespoon of cornstarch to 1 tablespoon of cold water and it worked great for me.
Likewise, if the sauce is looking too thick, just add some more chicken stock to get it to where you want it.
Tips and Tricks
Use a mix of mushrooms in this sauce. You can pick your favorites, but my favorite combo is cremini and shiitake.
Make sure you're tasting this sauce for seasoning throughout!
If you've cooked the steak in the pan beforehand, you're likely going to need less salt, so keep that in mind.
If you want to really go for it with umami flavor - add ¼-1/3 cup of blue cheese crumbles. To die for.
What to Serve with It
📖 Recipe
Mushroom Sauce for Steak
This rich and luscious mushroom sauce for steak is the perfect pairing with an amazing slab of meat. If you're cooking your steak in a cast iron skillet then use the pan drippings for extra flavor. If you're doing it on the grill, no problem, just start with a clean pan and follow the same recipe.
Ingredients
2

tablespoon

butter

6-8

cremini mushrooms

sliced

6-8

shiitake mushrooms

sliced

2

cloves

garlic

minced

1

shallot

minced

2

sprigs

fresh thyme

⅓

C

red wine

½

C

chicken stock

½

C

heavy cream

⅓

C

parmesan cheese

½

teaspoon

salt

¼

teaspoon

pepper
Instructions
Melt butter in your pan over medium heat. Add the sliced mushrooms and cook until there's no moisture remaining (about 5-8 minutes.

Add your garlic, shallot and thyme. Cook for about another minute, or until the garlic is fragrant.

Add red wine to deglaze the pan. Scrape up any bits of mushrooms or shallot from the bottom. Let the red wine simmer and reduce until it's almost completely gone.

Add the chicken stock, heavy cream, and parmesan cheese. Reduce sauce for 5-10 minutes.* See notes.

Remove thyme sprigs from the sauce. Taste for seasoning, and then adjust to your liking.

Serve with your favorite steak.
Notes
If the sauce is looking too thin for your liking, add a slurry of 1 tablespoon cornstarch, and 1 tablespoon cold water.
Make sure you're tasting this sauce for seasoning throughout!
If you've cooked the steak in the pan beforehand, you're likely going to need less salt, so keep that in mind.
Nutrition
Serving:
50
g
Calories:
155
kcal
Carbohydrates:
5
g
Protein:
4
g
Fat:
13
g
Saturated Fat:
8
g
Polyunsaturated Fat:
1
g
Monounsaturated Fat:
3
g
Trans Fat:
0.2
g
Cholesterol:
37
mg
Sodium:
350
mg
Potassium:
216
mg
Fiber:
1
g
Sugar:
2
g
Vitamin A:
469
IU
Vitamin C:
1
mg
Calcium:
91
mg
Iron:
0.4
mg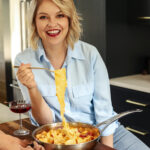 Hi, I'm Cara! I'm a food writer, journalist, and recipe developer. I'm obsessed good food, good wine, good cocktails and entertaining. I've picked up a few tips over the years, and love sharing them with others.