In my opinion, Smoked Gouda Mac and Cheese is normal mac and cheese but dressed up for company. This is 100% a big recipe you can serve to a crowd, the smoked gouda and old cheddar make it refined enough for a dinner party (it's perfect for Thanksgiving!), and of course, it's cozy enough to be oh-so-satisfying. Convinced? Let's go.
Jump to:
The Best Cheese Combo: Smoked Gouda and Old Cheddar
Honestly, making just plain gouda mac and cheese is a great idea, so if you can't find the smoked kind, don't worry about it. I'll also admit I have a bias: smoked gouda is my favourite cheese - ever. Like ever ever. And it's not even close. I love the creamy, yet firm texture, and I'm a total sucker for that salty, comforting feeling that smoke brings. Plus melts amazingly well, so it was a natural fit for me to create this recipe.
Harder though, was what cheese to pair it with. I didn't want the smoke flavour to be the only thing you tasted, and I needed something to balance it out, yet still hold it's own. Enter: old cheddar cheese. This sharp, salty and pungent cheese is the perfect foil to the strong smoke flavour coming from the gouda. In this recipe, I used them in a 1:1 ration (I tested a lot, and this was my preference, but feel free to switch it up if you want!).
Add Depth with Pancetta
There are lots of smoked gouda mac and cheese recipes that call for adding bacon, and yes, you can totally substitute that in this recipe if you want (see my notes for more on how to do this and what to watch out for). When it comes to cooking pasta though, I tend to lean more towards pancetta for a couple of reasons. First, it still brings the salt and the fat, but it isn't as over-powering as bacon. And second, even though there's still plenty of fat, it leaves the perfect amount. In this recipe, that's even more important because...
It's all in the Roux
Normally, you make the base of a mac and cheese sauce using a roux (it's a combination of butter and flour, that serves to thicken the sauce). In this recipe, instead of using butter, we're going to be using the fat from the pancetta. So not only are you going to have lovely little chunks of pancetta throughout the mac and cheese, but it's going to flavour THE ENTIRE SAUCE. This is not one of my worst ideas people. And it beautifully compliments the smoked gouda and old cheddar. DO NOT SKIP THIS STEP (again, you can totally do this with bacon fat, you just might have to get rid of some of it before you make the roux).
How to Make Gouda Mac and Cheese
Honestly, there is really nothing too complicated about this recipe. The only thing that's slightly different is using the pancetta fat to make the roux, but it's really just swapping the butter for the fat. After that, it makes like a pretty classic mac and cheese recipe. So don't be intimidated - we're basically just adding some different flavours.
The Breadcrumb Topping
I am VERY particular about my breadcrumbs on mac and cheese. I realize that this can be a contentious issue. Some people like none. Some people like panko. Some people like a combo of breadcrumbs and cheese. I like a really chunky bread crumb soaked with butter, a little added flavour, and that come out golden and crispy on top. In this recipe, we make our own starting with day-old white bread. It goes without saying that you can switch the breadcrumb out to your particular favourite method...but you'd be wrong. This is the superior way 😛
📖 Recipe
Smoked Gouda Mac and Cheese
This smoked gouda mac and cheese recipe is full of sharp, nutty flavour with salt and smoke coming from the gouda and the bacon. It's like if your normal mac and cheese recipe got dressed up for dinner.
Ingredients
1

lb

elbow macaroni, or cavatappi

8

oz

pancetta, cubed

½

C

flour

4

C

whole milk

12

oz

smoked gouda, grated

12

oz

sharp old cheddar, grated

½

teaspoon

cayenne pepper

optional

½

teaspoon

salt

¼

teaspoon

freshly ground black pepper

7

slices

day old white bread

cubed

3

tablespoon

melted butter

3

tablespoon

fresh thyme leaves
Instructions
Preheat your oven to 375°F.

In a large pot of boiling, salted water, cook your pasta according to package directions.

In the meantime, heat a large saucepan over medium high heat. Add the pancetta, cooking until crisp and the fat has been rendered out. Remove the pancetta using a slotted spoon, leaving the fat behind.

Whisk in the flour, cooking for two minutes, stirring constantly.

Add the milk, about a cup full at a time, letting the mixture thicken and the milk heat as it gets added. Continue whisking frequently. Do not let the mixture come to a boil.

Add both cheese to the milk mixture in batches, about a cup at a time, whisking and letting it melt before adding the next batch.

Add the cayenne, salt and pepper. Taste the sauce for seasoning and adjust as necessary.

In a large mixing bowl (or the large pot you cooked the pasta in) combine the sauce and the pasta. Pour into a large 9x13" pan lined with parchment paper.

Make the breadcrumbs: combine the cubed bread, butter and thyme in a large mixing bowl. Mix with your hands to ensure the butter is evenly distributed. Layer the crumbs over the mac and cheese.

Bake in the oven for 30-45 minutes, until the breadcrumbs are golden brown and the cheese sauce is bubbling. Serve immediately.
Nutrition
Serving:
1.5
cups
Calories:
853
kcal
Carbohydrates:
67
g
Protein:
39
g
Fat:
47
g
Saturated Fat:
26
g
Polyunsaturated Fat:
4
g
Monounsaturated Fat:
15
g
Trans Fat:
1
g
Cholesterol:
135
mg
Sodium:
1147
mg
Potassium:
491
mg
Fiber:
3
g
Sugar:
10
g
Vitamin A:
1182
IU
Vitamin C:
4
mg
Calcium:
826
mg
Iron:
3
mg
Jump to: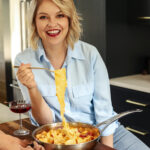 Hi, I'm Cara! I'm a food writer, journalist, and recipe developer. I'm obsessed good food, good wine, good cocktails and entertaining. I've picked up a few tips over the years, and love sharing them with others.