Demerara syrup is rich, flavorful, sweet and complex. It's a great option to have on hand if you love making cocktails!
Demerara syrup plays on the complexities of the demerara sugar itself - leaving notes of butterscotch and caramel (if you have any whiskey cocktails on hand, swap normal simple syrup for this, I promise you won't regret it!).
Demerara syrup give a deep, complex flavor to this syrup. It's perfect for lovers of whiskey-based cocktails - but it's also super versatile!
Jump to:
Frequently Asked Questions
Is demerara syrup the same as simple syrup?
Demerara syrup is different from simple syrup in that simple syrup typically uses granulated sugar. Demerara is just a different type of sugar with a more molasses-based flavor.
How long does it last?
Demerara syrup can last for up to 4 weeks in the fridge.
Is demerara syrup gluten-free?
Yup! It has just two ingredients, sugar and water.
What is Demerara Sugar?
Demerara sugar is a type of unrefined cane sugar. These big, beautiful golden-brown crystals are just begging to be used in baking or as a sweetener in your coffee or tea. But that's not even the best part; the real magic is in the taste! It's got a natural molasses flavor with a hint of butterscotch and caramel, and it's just so unique and delicious. It's crunchy, it's sweet and it's got an aroma that will make your taste buds dance. Unlike refined white sugar, Demerara sugar is minimally processed, which means that some of the natural molasses content of the sugar cane is preserved, giving it a complex flavor that's just so much more satisfying than regular sugar. Trust me, you gotta try it!
What's the Difference between Demerara Sugar and Brown Sugar?
Demerara sugar and brown sugar are both types of unrefined sugars, but they have some key differences.
Demerara sugar is made from sugarcane juice that's been evaporated and crystallized. It's got a light golden color and large, crunchy crystals, and there's a mild molasses flavor. While it's slightly less sweet than white sugar - it's often used as a topping for pancakes, waffles, and other breakfast items.
Brown sugar, on the other hand, is made from white sugar that's had molasses added back into it. The molasses gives it its characteristic brown color and rich, sweet flavor. It's often used in baking and sauces and marinades to add a touch of sweetness and depth of flavor.
So, to sum up, the main difference between Demerara sugar and brown sugar is that Demerara sugar is made from evaporated and crystallized sugarcane juice, while brown sugar is made from white sugar with molasses added back into it. Demerara sugar has a light golden color, large crystals, and mild molasses flavor, while brown sugar has a dark brown color, fine crystals, and strong molasses flavor. Both are unrefined sugars and great for cooking and baking, but their flavors and textures are slightly different.
Where Did it Originate?
This sugar comes from a place called Demerara, which is now part of Guyana. It started back in the 1700s, when the Dutch established a colony there and started growing sugar cane. They found out that the soil and climate in Demerara was perfect for growing sugar cane, and soon the colony became one of the largest producers of sugar in the world.
But here's the thing, the Dutch had a special way of processing the sugar that gave it its unique flavor and texture. They used traditional methods, like using copper kettles and milling the sugar by hand, which preserved some of the natural molasses content of the sugar cane and gave it that distinct, natural molasses flavor that we all know and love.
So, that's how Demerara sugar came to be, and now it's a beloved ingredient among bakers, coffee, cocktail and tea lovers worldwide. It's got a unique taste, a crunchy texture and a strong aroma, that makes it stand out from regular refined sugar.
How Do you Use Demerara Syrup?
It's a pretty versatile sweetener, so there's no end to how you could put it to use. Here are a few ideas, though!
In coffee and tea: it will impart a butterscotch/molasses flavor that will elevate your morning brew.
In baking: it can be used as a sweetener in cakes, cookies, and bread.
In marinades: it can be used to add a subtle sweetness to savory dishes like meats and vegetables.
In cocktails: it can be used as a sweetener in cocktails like the Old Fashioned, because it pairs so well with the liquor flavors in the drinks.
In glazes: it can be used to make glazes for meats, poultry, and fish. The high sugar content will give the glaze a perfect texture.
In dressings and sauces: it can be used to make dressings, sauces, and dips. A good way to think of it is to use it as a substitute anywhere you could use maple syrup or honey!
Ingredients
This syrup is so simple to make. It's a 1:1 ratio of two ingredients:
And that's it!
NOTE: This demerara sugar looks different in my ingredients because I could only find "demerara-style sugar" 🙁 Try to get the real stuff if you can, it looks lighter and has larger granules than this (see photos above).
How to Make Demerara Syrup
Again, really easy. Essentially, all we need to do is get the sugar to dissolve in the water over some heat. But let's go through it step by step.
Start by measuring out equal parts Demerara sugar and water. So, if you want to make a cup of syrup, you'll need 1 cup of Demerara sugar and 1 cup of water.
Next, pour the sugar and water into a medium-sized saucepan. You want to use a medium-sized pan so that the sugar and water are deep enough to easily stir together.
Turn the heat on medium-high and stir the sugar and water together until the sugar is fully dissolved. This usually takes about 5 minutes.
Once the sugar is dissolved, turn the heat down to low and let the mixture simmer for about 10 minutes. This will allow the syrup to thicken and the flavors to meld together.
After 10 minutes, turn off the heat and let the syrup cool. Once it's cooled, you can transfer it to a clean container with a tight-fitting lid.
And that's it! Your Demerara syrup is ready to use. It will keep for about a month in the refrigerator, but it probably won't last that long, it's too delicious.
Optional: Rich Demerara Syrup
A rich simple syrup is simply a 2:1 ratio of sugar to water. So, follow the same instructions as above, but use 2 cups of sugar to dissolve in 1 cup of water. The syrup will obviously come out VERY sweet, but often, you'll need to use less of it in cocktails (this might be desirable if you're looking not to water down the liquor in the cocktail).
Substitutions & Variations
If you don't have Demerara sugar at home - here are a few substitutes (and variations you can use for Demerara syrup:
Substitutes:
Maple Syrup: This is a classic substitution for Demerara syrup. It has a similar sweetness and depth of flavor, but with a distinct maple taste.
Molasses: Molasses is made from the same sugarcane juice as Demerara sugar, so it has a similar flavor profile. It's a bit thicker than Demerara syrup, so you may need to thin it out a bit with water.
Golden Syrup: This is a type of syrup made from sugarcane juice that's similar to Demerara syrup. It's a bit sweeter and has a more delicate flavor, but it's a great substitution if you can't find Demerara syrup (or sugar).
Honey: Honey is a great substitution for Demerara syrup if you're looking for a natural sweetener. It has a similar sweetness and flavor, but with a distinct honey flavor.
Agave Syrup: Agave syrup is a natural sweetener that's similar to Demerara syrup. It's a bit sweeter and has a more delicate flavor, but it's a good substitution if you're looking for a vegan option.
Variations
As for variations of Demerara syrup, you could try adding different herbs or spices to give it a unique flavor. Some ideas include:
Add a cinnamon stick to the saucepan while simmering to infuse the syrup with a warm and spicy flavor.
Adding some fresh ginger while it's simmering gives it a unique and refreshing taste.
Add some vanilla extract or a vanilla bean to the saucepan while simmering to give it a subtle vanilla flavor.
Add some dried chili flakes to the saucepan while it's simmering to give it a bit of heat.
These are just a few ideas, but you could get creative and experiment with other flavors to suit your taste.
Storage
Store it in an airtight container: Using it will prevent air and other contaminants from entering the syrup and potentially ruining it.
Keep it in the refrigerator: Demerara syrup is best stored in the refrigerator, where it will stay fresh for up to a month.
Label it clearly: Label the container with the date the syrup was made so you know how long it has been stored.
Keep it away from light: Store the syrup in a cool, dark place to prevent light from affecting its flavor and texture.
Avoid contamination: Make sure to use clean utensils when handling the syrup, and wash your hands thoroughly before and after handling it.
Discard if it smells or looks strange: If the syrup has any unusual odors or appearances, it's best to discard it and make a fresh batch.
By following these simple storage tips, your Demerara syrup will stay fresh and delicious for a long time. Enjoy!
📖 Recipe
Demerara Syrup
Demerara syrup is a rich, sweet, and complex simple syrup made from Demerara sugar. It's quick and easy, and will elevate everything from cocktails to salad dressings to pancakes.
Ingredients
1

C

Demerara sugar

1

C

water
Instructions
Combine the sugar and the water in a heavy bottomed saucepan. Turn on heat to medium or medium high. Stir to combine the sugar and water.

Bring the sauce to a simmer, stirring occasionally to make sure the sugar doesn't burn to the bottom of the pan. Continue to simmer until all the sugar is dissolved, and the syrup starts to thicken slightly (about 10 minutes).

Turn off the heat and allow the syrup to cool. Transfer to a glass jar or airtight container and keep in the fridge for up to 4 weeks.
Notes
The sugar will dissolve quickly in this recipe - and if you want, you can take if off the heat right then. For a deeper flavor, let the syrup simmer for about 10 minutes.
Nutrition
Serving:
1
oz
Calories:
100
kcal
Carbohydrates:
25
g
Sodium:
2
mg
Potassium:
7
mg
Sugar:
25
g
Calcium:
4
mg
Iron:
0.1
mg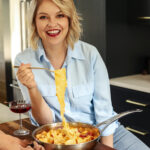 Hi, I'm Cara! I'm a food writer, journalist, and recipe developer. I'm obsessed good food, good wine, good cocktails and entertaining. I've picked up a few tips over the years, and love sharing them with others.