This glorious maple whiskey sour with candied bacon has all my favourite things in it, and it feels oh-so-Canadian to me. It was inspired by a drink I had at my favourite breakfast place in Calgary: Queen's Breakfast and Cocktails. They call it the Wakey Wakey Eggs and Bakey, and I IMMEDIATELY went home to try and replicate it - this is the result. It's the perfect curling up by the fire on a November morning in Calgary type of drink (yes I said morning. Don't @ me). Here me out on why this is a cocktail you should drink in the morning, or at the very least, for brunch.
Jump to:
First, and most obviously, the bacon. Is there a more perfect breakfast food? Methinks not. Are we making it even more glorious by coating it in maple syrup? 100%. The bacon is just so incredible here, and I spent an entire day perfecting the recipe. The maple brings the candy, and the extra brekky feeling, the mustard hits the savory, and of course, some cracked black pepper for a bit of a kick. It all complements the flavours in the cocktail super well.
The maple whiskey sour is a classic cocktail and a really fun drink to make. It includes a dry shake, and egg whites (see! more breakfast!) to create a luxurious foam on top. If you've never done a dry shake before, don't worry, it's super easy.
The Dry Shake
Put all your ingredients, including the egg white in a cocktail shaker. Shake as hard as you can for 30 seconds.
Open the shaker and add ice.
Shake for another 30 seconds.
Pour into a cocktail glass through a double strain.
That's it! Keep in mind the harder you shake it, the better the foam will be.
If you're wondering why we do this, it's because the egg whites emulsify better at a higher temperature (i.e. without the ice). So shaking them without the cold first makes for a better foam. But of course, no one wants a room temperature cocktail, so we add the ice afterwards, and voila! Cocktail heaven.
The Reverse Shake
The other shaking technique you can try is the reverse shake. I've found that this makes a better foam, but it's also more annoying to do. The reverse shakes solves the number one problem the dry shake has: mixing the egg whites and your ice. So, while you've spent all this time building up this nice foam, by adding ice after that foam is made, you're essentially beating down all that lovely, luxurious texture you just made. So, the reverse shake adds the ice with all the ingredients except the egg whites (essentially making the drink cold first), and then ditches the ice, and adds the egg for the additional shake. This means that the egg and the ice never meet. The ideal situation for perfect, fluffy, yet firm foam. The tricky part is getting the ice out of the the shaker, although, if you have a strainer, this shouldn't be too hard. Just strain the cocktail into one half of the shaker, and toss the ice down the sink. You're good to go after that!
Can I use Bourbon Though
Yes, yes 1000 times yes! This drink is easy, use whatever your favourite whiskey or bourbon is.
Don't Forget the Maple Syrup
Finally, this version of the whisky sour includes maple syrup, which ties this whole drink together. Once again, I will point out, classic breakfast ingredient. You're welcome. You can add as much or as little as you want, depending on how much of a sweet tooth you have. Because really, you can't go wrong with maple syrup.
Happy shaking everyone! Let me know if you make this, and how you liked it in the comments below.
FAQ's
Can I use Bourbon instead of Whiskey
Yes, definitely. Pick your favourite and go with it.
Do I need to use the Egg White?
No, but that's what takes the cocktail to the next level and creates the foam on the top. If you're nervous about it though, you can use aquafaba, which is essentially chickpea liquid. (Bonus, this also makes it vegan! Without the bacon of course).
How Long does it Take to Make
For the actual cocktail, about five minutes. For the candied bacon, about 25.
📖 Recipe
Maple Whisky Sour with Candied Bacon
A beautifully decadent cocktail that can be made any time of day. The maple candied bacon really brings it all together.
Instructions
Combine the egg, lemon juice, whisky and maple syrup in a cocktail shaker with NO ice. Shake for 30 seconds, as hard as you can.

Open the cocktail shaker up, and carefully add a couple handfuls of ice. Close and shake for another 30 seconds.

Using two strainers (your cocktail strainer, and another strainer over the glass), pour the cocktails evenly into two Nick and Nora glasses.

Wait for 60 seconds or so until the egg white foam starts to settle.

Garnish with maple mustard candied bacon.
Notes
You can turn this to a classic whiskey sour by removing the bacon and the maple.
You can definitely use aquafaba instead of egg white. This gives you the foam, and it's vegan!
Nutrition
Serving:
2
oz
Calories:
167
kcal
Carbohydrates:
20
g
Protein:
2
g
Fat:
1
g
Saturated Fat:
1
g
Polyunsaturated Fat:
1
g
Monounsaturated Fat:
1
g
Cholesterol:
1
mg
Sodium:
28
mg
Potassium:
102
mg
Fiber:
1
g
Sugar:
17
g
Vitamin A:
1
IU
Vitamin C:
5
mg
Calcium:
33
mg
Iron:
1
mg
Jump to: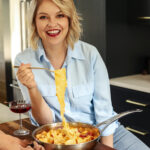 Hi, I'm Cara! I'm a food writer, journalist, and recipe developer. I'm obsessed good food, good wine, good cocktails and entertaining. I've picked up a few tips over the years, and love sharing them with others.