As an Amazon Associate I earn from qualifying purchases.
Eggs benedict bake, or eggs benedict casserole, is one of the most underrated brunch dishes of life. While you don't get the classic runny poached egg with this recipe, you do it all the flavor and deliciousness, with like ⅓ of the effort. Plus, it feeds a crowd!
Rather than going with the traditional Canadian bacon, English muffins, and hollandaise sauce here, we're going to take it up a notch. Let's add lobster, croissants, and tarragon to make this a perfect brunch option for holidays, special occasions, and especially Mother's Day. You can make it the day before in a cast iron skillet, let it soak, and then whip it out the morning of and make the Hollandaise and bake it off. It couldn't be easier!
Jump to:
Ingredients
Here's what you need to make this dish.
For the Casserole
For the Hollandaise
Egg yolks
Dijon mustard
Lemon juice
Butter
Tarragon
Paprika or cayenne pepper
How to Make the Bake
What I love about this recipe: how easy it is and that you can make most of it ahead of time. Crack you eggs, mix them with the milk in a large bowl. Add salt and pepper for seasoning, and then whisk until everything is well combined. Tear up your croissants and throw them in your cast iron skillet. Pour the egg mixture evenly over the top. Cover, and then keep in the fridge overnight. Or, try to let them rest for at least two hours. that gives the croissants a chance to soak up the milk and eggs.
The morning of, set your oven to 350F. Spread your lobster meat evenly over the eggs benedict bake - and if you want it to be more embedded, give everything a gentle stir. Throw it in the oven for 20-25 minutes, until the eggs are set and the croissants are just starting to brown. While it's in the oven, make your tarragon hollandaise sauce.
After it comes out of the oven, sprinkle some fresh tarragon overtop.
How to Make Hollandaise Sauce
I have made hollandaise countless times in countless different ways over the years. I've had the most success with the classic method (although I've definitely messed that up a few times as well, don't worry). If you've got a good blender though, that method can be an absolute game changer. Here's how to do both of them.
The Classic Method
Bring a small pot with 2 inches of water in the bottom to a boil.
Combine the egg yolk, lemon juice, and Dijon mustard. Whisk vigorously until the mixture starts to thicken (2-3 minutes).
Place the bowl over the boiling water (It SHOULD NOT touch the water. The heat from the steam is going to gently cook the egg yolks.)
Whisking constantly, slowly drizzle in the melted butter. Keep whisking until the mixture thickens substantially.
Remove from the heat, add the salt, pepper and paprika or cayenne.
If it's too thick, add a couple of tablespoons of hot water to thin it out.
The Blender Method
Combine the egg yolks, lemon juice and Dijon in a high powered blender. Combine until thickened slightly.
Melt the butter, and make sure it's HOT. It can't just be melted, this is an important part of the emulsifying process. Slowly drizzle it in while the blender is running, until the sauce is quite thick.
Add your paprika, salt and pepper.
Add hot water to thin it out, if necessary.
Add the tarragon at the very end for both of these. It doesn't need to cook, and we want to keep that flavor as fresh as we can.
Variations
Use English Muffins
Instead of croissants, use 6 torn up English muffins. Definitely more traditional for an eggs benedict, and so delicious.
Bake them in a Muffin Tin
Instead of using a cast iron skillet, divide your carb of choice between 24 muffin tins. Evenly pour the egg mixture and lobster over, and then bake in a 350F oven for 15-20 minutes. A super fun way to serve these individually!
Experiment with Your Add-ins
Keep the base the same, but switch out the lobster and tarragon. Crab and thyme? Pancetta and parmesan? Spinach and mushroom? Ham and swiss? The world is your oyster! All make for great eggs benedict bakes!
Tips & Tricks
This is a pretty foolproof, crowd-pleasing recipe, but here are a few things to keep in mind:
It's definitely better if it soaks overnight. If you forget and want to do it the day of, try and soak it for as long as you can, but for at least an hour.
Keep the lobster sealed as long as you can. This is why we don't add it until the very end. P.S. Using pre-cooked, frozen lobster keeps this meal easy and fuss-free.
Storing & Freezing
Obviously you can (and should) make this ahead, and store in the fridge until you're ready to bake it off. But, if you want, after you get it in the pan with the egg mixture, you can definitely freeze it for up to six months.
Once it's been cooked, you can keep it in the fridge for up to four days. The leftovers are actually great!
Reheating
For reheating the casserole, best case scenario is in a 350F oven for 15-20 minutes. But honestly, it works really well in the microwave too.
For the hollandaise, warm up in the microwave in 15 second intervals, until it's at the desired temperature. The eggs can easily scramble here, so be careful! That's why we're only doing 15 seconds at a time.
Serving Suggestions
This is the perfect centerpiece for a spring brunch spread - so here's what I'm eating with it:
📖 Recipe
Eggs Benedict Bake with Lobster and Tarragon
Rich, decadent, delicious, this luxurious casserole is made ahead of time, and easy to pull off for a crowd. It's a big crowd pleaser, and it's so easy that it makes making hollandaise sauce seem well worth it. Perfect for spring brunches or special occasions.
Equipment
Baking pan or cast iron skillet

Blender
Ingredients
For the Bake
1

C

milk

salt and pepper

for seasoning

6

croissants

torn

1

C

lobster meat

3

tablespoon

tarragon

roughly chopped
For the Hollandaise Sauce
4

egg yolks

room temperature

1

teaspoon

lemon juice

1

teaspoon

Dijon mustard

½

C

butter

melted, hot

⅛

tsp

cayenne pepper

2

tablespoon

tarragon

finely chopped
Instructions
For the Bake
Combine the eggs, milk, salt and pepper in a large bowl. Set aside

Tear up the croissants, and place them in a cast iron skillet, or a 9x13" baking pan with high sides.

Pour the egg mixture over the croissants. Cover, and refrigerate for 2 hours, or overnight.

When ready to bake, preheat the oven to 350°F.

Evenly distribute the lobster meat over the top of the casserole. Gently mix it in with a spatula.

Bake in the oven for 20-25 minutes, until the eggs are set.

Sprinkle with tarragon. Serve with hollandaise sauce.
Hollandaise Sauce (in a Blender)
Add the egg yolks, lemon juice, and Dijon to a blender. Blend until it thickens slightly.

With the blender still going, slowly drizzle in the hot butter. Continue to blend until the mixture thickens.

Add the cayenne, salt and tarragon at the end. If it's too thick, thin out the sauce with some hot water.

Serve immediately with the eggs benedict bake.
Video
Notes
When making your hollandaise sauce in the blender, the butter HAS to be hot. If you're using the classic double boiler method, it can just be melted.
If you want, you can let this rest overnight. But if you forget, at the very least, an hour.
Nutrition
Serving:
200
grams
Calories:
418
kcal
Carbohydrates:
30
g
Protein:
13
g
Fat:
27
g
Saturated Fat:
16
g
Polyunsaturated Fat:
2
g
Monounsaturated Fat:
8
g
Trans Fat:
1
g
Cholesterol:
207
mg
Sodium:
527
mg
Potassium:
316
mg
Fiber:
2
g
Sugar:
8
g
Vitamin A:
1157
IU
Vitamin C:
3
mg
Calcium:
146
mg
Iron:
3
mg
Jump to: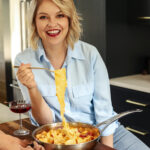 Hi, I'm Cara! I'm a food writer, journalist, and recipe developer. I'm obsessed good food, good wine, good cocktails and entertaining. I've picked up a few tips over the years, and love sharing them with others.