As an Amazon Associate I earn from qualifying purchases.
When you're having lobster ravioli, the question that comes up first is: what does lobster ravioli sauce actually look like? To tell you the truth, it can look like a lot of different things, but by far the best option (in my opinion) is a cream-based or a butter-based sauce. Lobster is such a rich, indulgent ingredient, it needs a sauce that can hold up to it. Plus, butter and lobster are bff's, they have been since the dawn of time.
I love making pasta sauces, and pasta sauces that go with lobster are one of my specialties (just ask my mom, lol). I've been making them for years, and have it down to a science. For this sauce, we're going to up the ante by cooking our lobster shells in the cream itself, which lends a subtle, gorgeous lobster sweetness to the sauce. It's the perfect complement for the lobster ravioli itself. If you aren't using fresh lobster or don't have lobster shells and only have the meat, don't worry, we'll go through that as well.
Jump to:
The Sauce Options
Like I mentioned above, there are so many choices when it comes to lobster ravioli sauce. If you're looking for something butter-based, I have an amazing brown butter and pine nut sauce that pairs beautifully with lobster ravioli (seriously, it's so good). You can also try alfredo, garlic butter (again, similar to my brown butter recipe), vodka sauce, or in this case, pink sauce (we're adding a little tomato paste to bring out the sweetness of the lobster). It makes it the perfect romantic date night meal.
For this sauce, we've got a couple of things going on. First, the lobster shells themselves add amazing flavor. Second, the slight tomato taste adds sweetness, and third, we're going to add white wine, lemon and tarragon to bring everything together. If you've been eating lobster for a while, you'll know these are all classic flavors to pair with the crustacean. P.S. Try to get Chardonnay for the wine. You can use it in this sauce, and it also pairs perfectly with the meal afterward!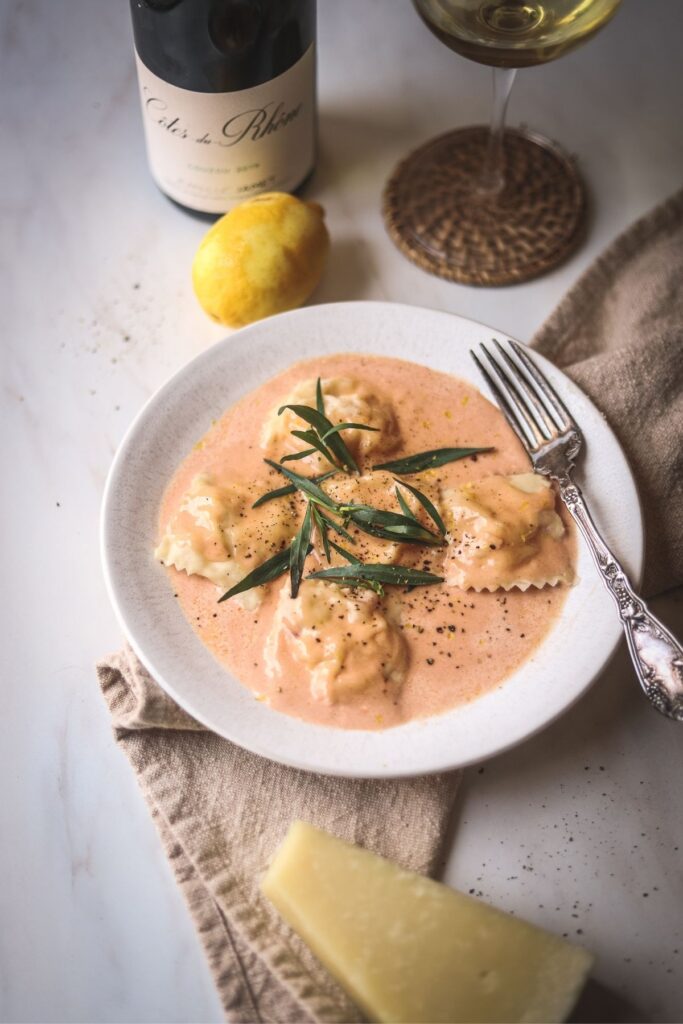 How to Make Lobster Ravioli
Homemade lobster ravioli is divine. Like truly one of my favorite foods of all time. And if you make it yourself, you get to control the ratio of lobster meat (high) to cheese (lower) in each ravioli. It's a fun, but time-consuming task, better left to weekend cooking, but if you're up for a challenge, you will not be disappointed. I've got a whole how-to-make lobster ravioli guide, plus that delicious brown butter sauce I mentioned.
Where to Buy Ravioli
Look, I'm not going to pull any punches here. As good as homemade lobster ravioli is, it's a PROCESS. If you don't have time but are craving the luxury, then just buy your ravioli. Trader Joe's and Costco both have awesome options if you're coming home from work late on a Friday night and just need something to pair with a buttery bottle glass of Chardonnay. I'm not judging.
Ingredients
Call me crazy, but I'm a pretty firm believe that your lobster ravioli sauce should you know, contain actual lobster at some point in the process. So that's what we're going to do. You have several different options here - but the best, by far, is fresh lobster meat, including the shells to flavor the sauce. Luckily, I have a whole lobster guide that includes how and where to buy lobster, how to dispatch it, how to cook it, and how to break it down. It also has this handy how-to video:
So this, in my opinion, is the best way to go for this dish (because you get the meat and the shells this way. If you're not into this whole process, another great way to go is just by using frozen lobster tails. Prepare the tails as you would normally, chop up the tail meat, and use the tail shells as normal in this recipe.
Finally, you can also use frozen lobster meat from a can or a package. This is still good, but you'll have to make the sauce without the shells (which is fine, it will still taste good!), and you want to add your lobster meat right at the end, and just heat it through in the sauce.
NOTE: In the video provided below, I have lobster shells that were left over from another recipe, but I had eaten all the lobster meat, so this sauce doesn't show the meat part (which is also a totally fine way to do this!). If you ever break down live lobster and don't leave the shells, don't throw them out! They freeze beautifully and are perfect for soups, stocks, or pasta sauces.
As for the rest of the ingredients:
Garlic: lots of fresh minced garlic is key for this recipe. It's awesome with the lobster.
Onions or shallots (not pictured): My preference here is shallots, because their flavor is milder and they just go so well with white wine sauces.
Tomato Paste: we're not going overboard here. We just need about a tablespoon to bring out the sweetness of both the tomato and the lobster.
White wine: I use white wine in almost any cream-based pasta sauce I make, and it pairs especially well with seafood sauces.
Lemon: the juice adds freshness to the sauce, and we'll also use the zest right at the end to brighten up some of the heavy cream.
Heavy cream: carries the lobster flavor, and it's richness holds up well to the other ingredients in this sauce.
Salt and pepper: it's so so so important to season this dish properly. You should be tasting it for salt once the sauce is nearly complete, and adjusting it as many times as you need to. If this dish is falling flat for you, I can almost guarantee it's because you haven't added enough salt. Pepper is also important here. It goes so well with any cream sauce, as it brings just a slight kick.
Tarragon: we're not going to use this until near the end, as a garnish, so we get the full, fresh anise flavor of the tarragon. It's an important part of this meal though!
Make the Sauce
Making this sauce is pretty straightforward once you've got your lobster sorted out. Note - if you're using live, whole lobster, it's best to prepare, cook, and break it down before you start on the sauce.
If you're using lobster tails, you can remove the meat from the tail before cooking, chop it, and cook it for a couple of minutes at the same time the garlic is in the pan. Remove it, and add it back in at the end just to warm up in the sauce. Use the lobster tail shells as described below.
If you're using just pure pre-cooked lobster meat, no shells, follow the exact same recipe, you just don't add the shells, and you don't need to strain the sauce.
Finely chop your garlic and shallot/onions. Preheat a large cast iron skillet or a Dutch oven with olive oil over medium heat, and add the garlic and shallots, cooking for about one minute, until the garlic is fragrant.
Pour in about ⅓ of a cup of white wine. Add the lobster shells, and let the wine reduce by about half.
Add the two cups of heavy cream, submerging the lobster shells as much as you can. Bring to a simmer, and let the cream reduce by a half (this should take about ten minutes or so).
Once the cream is reduced, strain the whole mixture back into the same pot you were cooking it in to remove the lobster shells and the garlic (if some of the garlic gets through, no big deal).
You should now have a very smooth, thick cream sauce. Set aside for just a moment.
Turn the heat back to medium-low in the same pan you just had the sauce in. Add a little more oil. Whisk in about a tablespoon of tomato paste and some lemon juice until heated. Add the cream mixture back to the pot.
Add the parmesan cheese and mix until it's melted into the sauce. Taste for salt and pepper seasoning at this point, and adjust as necessary. This is somewhat a matter of taste, but don't hold back on the salt; it's an essential ingredient in this dish.
Add your lobster meat, and just heat through.
Cook your lobster ravioli and add it directly to the sauce. Place the entire dish in in a pasta bowl or a large serving platter. Garnish it with lemon zest, black pepper, and lots of fresh tarragon.
Make it Ahead
This sauce is best fresh, but you can definitely make it ahead of time to make your life easier. Here's how:
Cook and Prep: Follow the recipe up until the point where you've finished making the sauce.
Cooling Down: Allow the sauce to cool to room temperature. This can take about 30 minutes.
Storage: Transfer the sauce to an airtight container. Make sure it's sealed well to prevent any air from getting in.
Refrigeration: Pop it in the refrigerator. It'll stay delicious for up to 3 days.
Reheating: When you're ready to use it, gently reheat it on the stove over low heat. Stir occasionally to ensure even warming.
Variations
I love this recipe as is, and after having tested it many, many times for friends and family - I wouldn't change it. However, if you're looking to branch out a bit - here are a few flavor variations to try out!
Lemon Herb Infusion: Add fresh lemon zest and a medley of chopped herbs like basil, parsley, and chives for a zesty kick.
Pesto Perfection: Embrace the vibrant flavors of pesto with fresh basil, pine nuts, Parmesan, and olive oil.
Cognac Cream Indulgence: Deglaze the pan with a splash of cognac and blend in heavy cream for a luxurious touch.
Spicy Arrabbiata Kick: Incorporate red pepper flakes and a dash of chili powder for a spicy, fiery kick.
Mushroom Medley Magic: Sauté an assortment of wild mushrooms in butter for an earthy, umami-packed sauce.
Storage and Reheating
Storing:
Pop it in an airtight container. It'll stay fab for up to 3 days.
A note on freezing: While you can freeze this sauce, I'm always super hesitant to recommend it. The cream base means that the texture of the sauce could change during the freeze/thaw process.
Reheating:
Stovetop: Warm it gently in a saucepan on low heat, stirring occasionally. This is the way I would highly recommend going. It's incredibly easy to make the lobster in the sauce turn to rubber in the microwave.
Microwave: If you have to use the microwave, zap it in short intervals, stirring in between. Go low and slow!
What to Serve Alongside
This is a pretty heavy dish, so something green and a little on the lighter side wouldn't go amiss. Simple roasted asparagus is always a great choice. On the other hand, if you're looking for the full date-night experience, this could be a side to an equally quality main, like:
Wine Pairing
Always with lobster, is Chardonnay. If you have some on hand and can also use it in this recipe, even better. Chardonnay is buttery, which is perfect, but it can also be citrusy, which is also perfect. If you're not a fan, try out some of these options (the bubbles especially - another favorite of mine with this dish).
Pinot Grigio: Its crispness cuts through the richness, offering a refreshing contrast.
Champagne or Sparkling Wine: Bubbles and lobster are a match made in heaven. The effervescence cleanses the palate.
Sauvignon Blanc: Its zesty acidity adds a lively touch, balancing the dish's richness.
Viognier: This aromatic white wine lends a hint of stone fruit and floral notes, enhancing the seafood's flavors.
Rosé: A dry, light-bodied rosé brings a touch of elegance with its berry notes.
Pinot Noir: If you prefer red, go with a light Pinot Noir. It complements the delicacy of the lobster.
FAQ's
How long does it take to cook lobster ravioli?
For fresh, homemade ravioli, it takes about 90 seconds. If you're cooking it from frozen, it should take between 5-7 minutes.
What's the best lobster ravioli sauce?
A cream or butter-based sauce works the best lobster ravioli. If you can incorporate flavors like lemon, garlic, and tarragon, those will all elevate the lobster flavor.
What's the best wine to serve with lobster?
Chardonnay. It can have a buttery or citrusy flavor (or both) which pair excellently with the lobster.
Where can I buy lobster ravioli?
You can find frozen lobster ravioli at many grocery stores. Costco and Trader Joe's both carry lobster ravioli. Your local Italian market may have fresh options available as well.
Can I use frozen lobster for the sauce?
Absolutely! This makes the whole recipe a lot less work. Just make sure it's thawed and well-drained before incorporating it into the sauce.
How do I prevent the sauce from curdling?
Keep the heat low and stir gently. If using dairy, add it slowly and allow it to incorporate gradually.
Pro Tips & Tricks
Intensify Flavors: Consider letting the sauce simmer a bit longer to concentrate the flavors, ensuring a rich and robust taste.
Adjusting Consistency: If you prefer a thicker sauce, let it reduce a bit further. For a lighter touch, add a touch of broth or cream.
Herb Infusion: Experiment with different fresh herbs like tarragon or chervil to add a distinct flavor profile to the sauce.
Taste Testing: Remember to taste and adjust the seasoning before serving. Sometimes a pinch of salt or a dash of lemon juice can make a world of difference.
Use Frozen Lobster Meat: If you're not using shells and live lobster in this recipe, then you can still add chunks of lobster meat at the end for extra flavor. It's absolutely fine to use frozen! Just make sure it's thawed beforehand.
📖 Recipe
Lobster Ravioli Sauce
It takes a special sauce to be able to hold up to, but not overpower the delicate sweetness of lobster ravioli. This is that sauce. Lightly flavored with garlic, shallot, white wine, tomato and lemon, it strikes the perfect balance for the ultimate luxury dish.
Ingredients
1

C

lobster meat

plus shells, if you have them

2

tablespoon

olive oil, divided

3

cloves

garlic

2

shallots

or one small onion

⅓

C

white wine

such as Chardonnay

2

C

heavy cream

1

tablespoon

tomato paste

1

tablespoon

lemon juice

¾

teaspoon

salt

½

teaspoon

pepper

¾

C

parmesan cheese

grated

¼

C

fresh tarragon leaves

1

tablespoon

lemon zest

more parmesan and black pepper

for garnish

20

pieces

lobster ravioli

(or a whole 15 oz package of frozen)
Instructions
Heat olive oil in a Dutch oven or cast iron over medium heat. Add the garlic and shallot. Cook until fragrant, about 1 minute.

Add the white wine and the lobster shells, if using. Reduce the wine by about a half.

Add the heavy cream. Bring to a simmer, and reduce by about a half again (this should take around 10 minutes). Strain into a separate bowl, and set aside momentarily.

In the same pot your were cooking the sauce in, add the last table spoon of oil, the tomato paste, and the lemon juice. Heat through. Add the cream mixture, and mix until smooth. Add the parmesan cheese, season and taste. Add more salt/pepper as needed. Add the lemon zest. Add your lobster meat. Reduce heat to low.

Cook the lobster ravioli for 90 seconds for homemade, or according to package directions. Drain, and add the ravioli to the sauce.

Serve on a large platter or in a pasta bowl. Garnish with tarragon leaves, more parmesan, and black pepper. Serve immediately.
Video
Notes
This sauce is so excellent on any type of pasta! Don't limit it to just lobster ravioli 🙂
If you're making this with raw lobster tails:
Remove the meat from the tail, and chop. Add it to the pot at the same time you add the garlic and onion, and let it cook for 1-3 minutes, until the meat is opaque. Remove it and set it aside.
Break the lobster tail shells down, and add them as the recipe describes. Continue on with the recipe as usual.
Nutrition
Serving:
200
g
Calories:
629
kcal
Carbohydrates:
10
g
Protein:
21
g
Fat:
56
g
Saturated Fat:
32
g
Polyunsaturated Fat:
3
g
Monounsaturated Fat:
18
g
Trans Fat:
1
g
Cholesterol:
222
mg
Sodium:
1056
mg
Potassium:
460
mg
Fiber:
1
g
Sugar:
5
g
Vitamin A:
2096
IU
Vitamin C:
8
mg
Calcium:
402
mg
Iron:
2
mg
Jump to: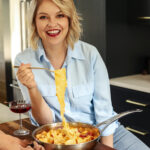 Hi, I'm Cara! I'm a food writer, journalist, and recipe developer. I'm obsessed good food, good wine, good cocktails and entertaining. I've picked up a few tips over the years, and love sharing them with others.