I am obsessed with bourbon cherries. They're a gorgeous, delicious garnish for all my favorite drinks (read: the Manhattan, the old-fashioned, and the Amaretto sour).
But, and I'm not kidding, I have paid up to $30/jar for these things. And I had no idea how easy it was to make them at home (and honestly, I think they taste better!).
Indulge in the luxurious blend of bourbon, sweet cherries, and aromatic spices with this irresistible recipe for bourbon cherries.
And keep in mind, while I tend to eat this recipe mostly in the fall and winter, cherry season is in the summer! So make them while you can get ripe, fresh and in-season cherries. They'll keep in the fridge for up to a year!
Jump to:
Frequently Asked Questions
How long do bourbon cherries last?
Properly stored in a sealed container in the refrigerator, bourbon cherries can last for several months, typically up to 6 to 12 months.
Can I use frozen cherries for bourbon cherries?
While fresh cherries are recommended for the best texture and flavor, you can use frozen cherries as a substitute. Thaw and drain them before adding them to the bourbon mixture.
What can I use bourbon cherries for?
Bourbon cherries are versatile and can be used in various ways. They make a delightful addition to cocktails like Old Fashioned and Manhattan. You can also use them to top desserts like ice cream, cheesecake, or even incorporate them into baked goods for a boozy twist.
Can I substitute bourbon with different alcohol?
Absolutely! If you're not a bourbon fan, you can substitute it with other spirits like brandy or rum. The choice of alcohol will impact the flavor profile of the cherries, so feel free to experiment and find your favorite combination.
Are bourbon cherries alcoholic?
Yes, bourbon cherries retain the alcohol content from the bourbon used during the soaking process.
Why You're Going to Love This Recipe
Irresistible Flavor: The combination of sweet cherries, bourbon, brown sugar, and aromatic spices creates a flavor profile that is simply irresistible.
Sophistication: Adding them to your cocktails or desserts instantly adds a touch of sophistication and elegance to your creations.
Versatility: Bourbon cherries can be used in a variety of ways, from enhancing cocktails like Old Fashioned and Manhattan to topping desserts or incorporating them into baked goods.
Decadent Indulgence: Indulging in bourbon cherries allows you to enjoy the rich, boozy flavors and elevate your culinary experience.
Long Shelf Life: With proper storage, bourbon cherries can last for several months, making them a convenient and long-lasting treat.
Customization: You can experiment with different types of cherries, spices, or even substitute bourbon with other spirits to create your own unique twist on the recipe.
Impress Guests: Serving in cocktails or as a garnish is a surefire way to impress your guests and elevate any gathering or special occasion.
What are Bourbon Cherries?
Bourbon cherries are cherries that have been soaked in bourbon, typically with added sugar and spices, resulting in a boozy and flavorful treat. They are often used as a garnish for cocktails, adding a touch of elegance and enhancing the overall drinking experience.
The exact origin of bourbon cherries is unclear, but they have become a beloved staple in the world of cocktails. Cherries have long been used in various culinary traditions, and the practice of infusing them with alcohol likely evolved over time. Bourbon, with its rich and complex flavor profile, became a popular choice for infusing cherries, creating a harmonious blend of sweetness and the distinctive characteristics of the spirit.
Bourbon cherries gained popularity as a cocktail garnish due to several reasons. First, they add a visually appealing element to drinks, showcasing a vibrant red color against the backdrop of the cocktail. Second, they provide a burst of flavor as you sip your cocktail, with the cherries absorbing the boozy essence of the bourbon and imparting it into the drink. Lastly, they offer a delightful contrast of sweetness and tartness, balancing out the flavors in a cocktail and adding depth to the overall taste profile.
With their irresistible combination of bourbon-infused fruitiness and eye-catching presentation, bourbon cherries have become a popular choice for mixologists and cocktail enthusiasts alike, elevating the sensory experience of sipping a well-crafted cocktail.
What to Use Them For
These guys are more versatile than you might think! You can use them for far more than just to garnish your favorite drink.
Cocktail Garnish: Add one as a sophisticated and flavorful garnish to classic cocktails like Old Fashioned, Manhattan, or Whiskey Sour. It adds a visually appealing element and infuses the drink with a burst of sweet and boozy flavor.
Dessert Topping: Use as a decadent topping for desserts like ice cream, cheesecake, or chocolate mousse. The combination of the rich bourbon flavor and the sweetness of the cherries creates a delightful contrast.
Bourbon Cherries Jubilee: This is a classic dessert that's super fun. It essentially starts with bourbon cherries in a pan, you lighting it on fire, and then adding ice cream to the mix. Fire and ice in the same dessert? Yes please.
Baking Ingredient: Incorporate bourbon cherries into baked goods such as cakes, cookies, or bread. The cherries add a moist and flavorful element to your recipes, making them extra special.
Sauce or Syrup: Blend or simmer the recipe to create a luscious sauce or syrup. Drizzle it over pancakes, waffles, or French toast, or use it as a topping for yogurt or oatmeal.
Charcuterie Board: Add them to your charcuterie board for a touch of elegance. They pair beautifully with various cheeses, cured meats, and crackers, creating a balanced and sophisticated flavor combination.
Gifts or Party Favors: Package bourbon cherries in decorative jars or bottles for unique and personalized gifts or party favors. They make a delightful homemade present for cocktail enthusiasts or as a special touch for weddings and celebrations.
What Type of Bourbon Should I Use?
Woodford Reserve: A classic choice, Woodford Reserve is known for its smoothness, rich flavors, and balanced profile. It offers notes of caramel, vanilla, toasted oak, and a hint of spice. It's a versatile bourbon that works well in a wide range of cocktails and infusions. This is what I used, but I love every bourbon on this list (and yes, I have had them all. Don't judge me).
Bulleit Bourbon: Bulleit Bourbon is renowned for its high-rye content, which imparts a spicier and bolder flavor profile. It boasts notes of toffee, spice, and dried fruits, making it an excellent choice for those who appreciate a robust and slightly peppery bourbon.
Maker's Mark: Known for its distinctive red wax seal, Maker's Mark is a wheated bourbon that is smooth, mellow, and approachable. It features a soft and sweet profile with flavors of caramel, vanilla, and a touch of baking spices.
Knob Creek: If you prefer a bourbon with a full-bodied and robust character, Knob Creek is an excellent option. It's aged longer and offers rich, deep flavors of oak, dark caramel, toasted nuts, and a hint of smokiness.
Buffalo Trace: Buffalo Trace is a widely acclaimed bourbon that strikes a wonderful balance between sweetness and spice. It features flavors of vanilla, honey, toffee, and a gentle oakiness, making it an excellent choice for bourbon cherries.
Four Roses Single Barrel: For those seeking a more complex and layered bourbon, Four Roses Single Barrel is a fantastic choice. It offers a range of flavors, from delicate floral notes to rich caramel and spice, with a smooth and lingering finish.
How to Pit Cherries
Start by washing your cherries thoroughly under cool running water. This helps remove any dirt or debris.
To pit the cherries, you'll need a cherry pitter. This handy tool is specifically designed to remove the pits quickly and efficiently. Alternatively, you can use a small, sturdy straw or a paperclip as makeshift pitters.
Hold a cherry firmly between your thumb and forefinger. Position it over the opening of the cherry pitter or the improvised tool.
Align the cherry's stem end with the pitter's or the tool's opening, ensuring that the pit is facing downward.
Squeeze the cherry pitter or press the improvised tool through the cherry until it reaches the pit. Apply enough pressure to push the pit out while keeping the cherry intact.
Hot Tip: Depending on how juicy your cherries are, you are going to have a wide splash zone. Mine splattered everywhere. Apron highly recommended.
Remove the pitted cherry from the pitter or tool. You'll see a clean hole where the pit used to be.
Repeat the process with each cherry until you have pitted all of them.
Ingredients
Sweet Cherries: Sweet cherries provide a luscious and fruity base for the recipe. They add natural sweetness and a juicy texture that pairs perfectly with the boozy infusion.
Bourbon: The star of the show! Bourbon brings its distinct flavor profile, characterized by notes of oak, caramel, and vanilla, to the cherries. It adds depth and complexity, creating a harmonious blend with the fruit.
Brown Sugar: Brown sugar contributes a rich, molasses-like sweetness to the mixture. It helps balance the tartness of the cherries and complements the warm flavors of the bourbon and spices (and yes, I know there's white sugar in the photo. I switched to brown at the last second, and I'm super glad I did. You can definitely use white in this recipe though).
Cinnamon Stick: The cinnamon stick adds a warm and fragrant element to the recipe. It infuses the cherries with a subtle spiciness that complements the bourbon and enhances the overall flavor profile.
Whole Cloves: These aromatic spice buds provide a hint of earthiness and a touch of warmth. They add depth and complexity to the infusion, harmonizing with the other flavors.
How to Make Bourbon Cherries
So, first things first. You'll need some sweet cherries, about 4 cups worth. Make sure to pit them so you're left with the juicy fruit. It's time to get those mason jars ready because we're going to use them to store our boozy cherries later.
Now, let's move on to the star of the show: bourbon! We'll need about 3.5 cups of this smooth and flavorful spirit. Pick your favorite brand. It's going to infuse those cherries with its rich and distinctive notes.
To add a touch of sweetness and depth, we'll incorporate ¾ cup of brown sugar. This will complement the cherries and bourbon beautifully, balancing out the flavors. And for that extra warmth and spice, we'll toss in a cinnamon stick and four whole cloves. These little darlings will infuse their aromatic magic into the mixture.
Now, it's time to bring it all together. In a saucepan, combine the bourbon, brown sugar, cinnamon stick, and cloves. Heat it up over medium heat, stirring until the sugar dissolves.
Once the mixture is heated and the sugar is dissolved, let it simmer for about five minutes. This allows all the flavors to mingle and intensify. And it smells so good!
Now comes the fun part. Carefully pour that warm bourbon mixture over the pitted cherries in the mason jars. Make sure the cherries are completely covered by the boozy goodness. It's like giving them a luxurious bath.
Seal the jars with the lids and pop them in the refrigerator. Let those cherries marinate in that irresistible bourbon mixture for at least a week. This waiting game will allow the flavors to develop and the cherries to absorb all that boozy essence. However, if you can't wait that long, don't worry about it. They're still good right away, but they definitely get better over time!
Whether you're using them as a garnish for your cocktails or as a delectable topping for desserts, they're going to add a touch of sophistication and pure indulgence to your creations.
Variations
Feel free to experiment with different flavor profiles. Get creative - the sky's the limit here!
Roasted Cherries: Take your cherries to the next level by roasting them before soaking them in bourbon. Roasting intensifies their flavor, adding a hint of caramelization. The result is a deeper, slightly smoky taste profile that pairs wonderfully with the boozy infusion.
Brandy Cherries: Switch things up by using brandy instead of bourbon. Brandy lends its own unique character, with fruity and floral notes, to the cherries. It creates a different flavor profile that is equally delightful and sophisticated.
Sour Cherries: Swap the sweet cherries for sour cherries to add a tangy twist to your bourbon-infused treats. Sour cherries bring a vibrant tartness that beautifully contrasts with the richness of the bourbon and the sweetness of the sugar.
Vanilla-infused: Amp up the flavor by infusing your bourbon cherries with the warm, aromatic essence of vanilla. Simply add a split vanilla bean to the bourbon mixture while heating it up. The resulting infusion will have a delightful hint of vanilla that complements the cherries perfectly.
Spiced Blend: Add an extra layer of warmth and complexity by creating a spiced blend for these guys. Enhance the cinnamon and cloves with a pinch of nutmeg, allspice, or even a touch of ginger. These additional spices will elevate the flavor profile, creating a deliciously spiced infusion.
Maraschino Twist: For a nostalgic touch, try making your own maraschino cherries with a bourbon twist. Use Luxardo cherries or fresh cherries soaked in maraschino liqueur, and then transfer them to a jar with bourbon for an extra boozy kick. The result? Luxurious and irresistibly boozy maraschino cherries.
How Long Do They Keep?
Properly stored in a sealed container in the refrigerator, they can last for several months. Generally, you can expect them to stay fresh and maintain their flavors for up to 6 to 12 months. The alcohol content in the bourbon helps to preserve the cherries and extend their shelf life. However, it's important to note that the texture and quality of the cherries may gradually change over time. So, while they may still be safe to consume beyond the recommended timeframe, their taste and texture may not be as optimal as when they are freshly made.
Recipe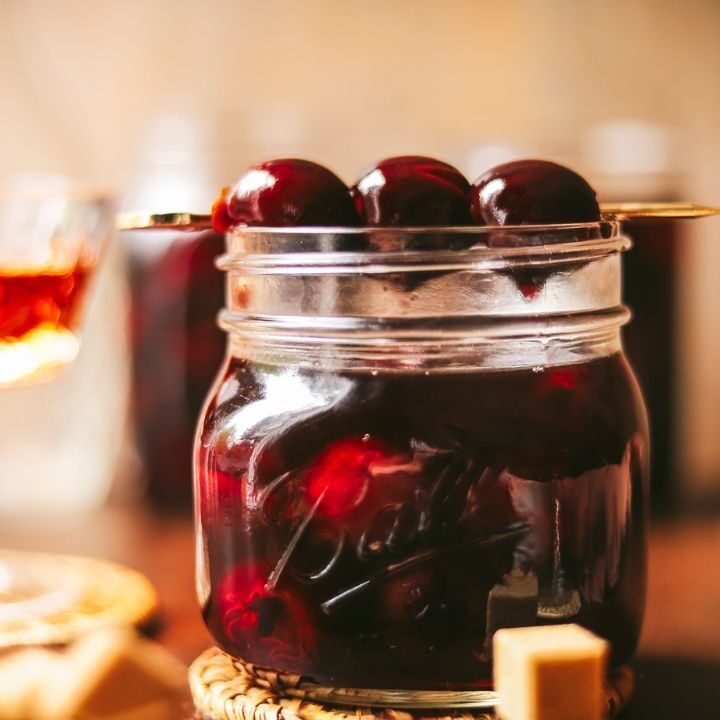 Homemade Bourbon Cherries
Bring your taste buds to life with these irresistibly boozy bourbon cherries. Immerse sweet cherries in a delightful blend of bourbon, brown sugar, and aromatic spices for a touch of sophistication. Perfect for enhancing your favorite cocktails or adding a luxurious twist to your desserts.
Ingredients
4

C

sweet cherries

pitted

3½

C

bourbon

such as Woodford Reserve

¾

C

brown sugar

or white sugar

1

stick

cinnamon

4

whole

cloves
Instructions
Place the pitted cherries in mason jars, ensuring they fit comfortably.

In a saucepan, combine the bourbon, brown sugar, cinnamon stick, and whole cloves.

Heat the mixture over medium heat, stirring until the sugar dissolves.

Let the mixture simmer for about five minutes to infuse the flavors.

Carefully pour the hot bourbon mixture over the cherries in the jars, ensuring they are completely covered.

Seal the jars with lids and place them in the refrigerator.
Notes
You can eat these right away, but the longer they marinate for, the better they'll get!
Try adding a vanilla bean to the bourbon when you're heating it for an extra layer of flavor.
Nutrition
Serving:
1
cherry
Calories:
59
kcal
Carbohydrates:
5
g
Protein:
0.1
g
Fat:
0.03
g
Saturated Fat:
0.01
g
Polyunsaturated Fat:
0.01
g
Monounsaturated Fat:
0.01
g
Sodium:
1
mg
Potassium:
30
mg
Fiber:
0.3
g
Sugar:
5
g
Vitamin A:
7
IU
Vitamin C:
1
mg
Calcium:
5
mg
Iron:
0.1
mg