As an Amazon Associate I earn from qualifying purchases.
Gnocchi alla Sorrentina is a wonderfully easy and delicious classic Italian comfort food dish. It has five ingredients and is perfect for busy weeknights (if you use store-bought gnocchi).
I admit, I tested this recipe so many times, and the homemade gnocchi is definitely the best version. But let's be real, we don't all have time for that every day of the week.
If you're interested, I have a step-by-step guide for making gnocchi here. If not, pick yourself up a pack from the store, and let's go.
Gnocchi alla Sorrentina: Tender gnocchi, rich passata, and gooey mozzarella create a mouthwatering Italian delight.
Jump to:
Frequently Asked Questions
What is Gnocchi alla Sorrentina?
Gnocchi alla Sorrentina is a classic Italian dish featuring soft potato dumplings baked with tomato sauce, mozzarella, and Parmesan.
Can I use store-bought gnocchi?
Absolutely! Store-bought gnocchi works perfectly for this recipe. Look for high-quality options in the pasta section.
Can I substitute fresh basil with dried basil?
While fresh basil gives the best flavor, dried basil can be used if that's what you have on hand. Adjust to taste - and add it to the sauce.
How can I make it gluten-free?
Opt for gluten-free gnocchi, readily available in specialty stores or make your own using gluten-free flour and potatoes.
Can I freeze Gnocchi alla Sorrentina?
Yes, you can. Assemble the dish but don't bake it. Wrap it well and freeze. When ready, bake directly from the freezer.
Why You're Going to Love This Recipe
Decadent Comfort: Gnocchi alla Sorrentina offers a warm, hearty comfort food experience, perfect for cozy evenings.
Effortless Elegance: Impress guests with this seemingly intricate dish that's surprisingly simple to make.
Cheese Lover's Paradise: Layers of mozzarella and Parmesan create a gooey, cheesy symphony that's hard to resist.
Fresh Italian Flavors: The combination of basil, garlic, and passata brings vibrant, authentic Italian taste to the table.
Versatility: Easily customize by adding veggies, sausage, or other proteins to suit different preferences or dietary needs.
Freezer-Friendly: Prepare ahead and freeze for a convenient, homemade meal whenever you need it.
Visual Appeal: The dish's golden, bubbling cheese and vibrant basil make it a feast for the eyes as well as the taste buds.
Nostalgic Comfort: Reminiscent of traditional Italian family meals, it evokes a sense of warmth and nostalgia.
Perfect for Sharing: Whether for a family dinner or a gathering with friends, it's a crowd-pleaser that brings people together.
Satisfying and Filling: Gnocchi, paired with the rich sauce and cheese, make for a satisfying, filling meal that leaves you fully content.
What is Gnocchi alla Sorrentina?
Gnocchi alla Sorrentina is a delectable Italian dish hailing from the picturesque Sorrento Coast in Southern Italy. This culinary gem features pillowy potato dumplings, or gnocchi, enveloped in a luscious tomato sauce, topped with layers of mozzarella and Parmesan cheese, then baked to golden perfection.
While the exact origins are a bit hazy, this dish is firmly rooted in traditional Italian cuisine. The Sorrento Peninsula, known for its fertile soil and abundance of fresh produce, has been a haven for culinary excellence for centuries. Gnocchi alla Sorrentina likely emerged as a way to celebrate the region's rich agricultural bounty, combining locally sourced ingredients in a harmonious and satisfying manner.
Over time, this dish gained popularity and spread beyond its humble beginnings. Today, it stands as a beloved representation of Italian comfort food, cherished by food enthusiasts around the globe. Its enduring appeal lies in its simplicity, yet the combination of flavors and textures creates a truly sublime dining experience.
Passata Vs. Tomato Sauce
You can totally use either passata or tomato sauce in this recipe, it's totally your preference. When I was testing this recipe, I tried both, and I was much more impressed with the passata. Here's breakdown of the differences between the two.
Passata:

Texture: Smooth, thin tomato sauce, strained to remove seeds and skin, resulting in a velvety, liquid-like consistency.
Processing: Made from ripe, fresh tomatoes that are pureed and strained after cooking to achieve a seedless, smooth texture.
Flavor and Consistency: Clean, bright tomato flavor due to its smooth texture. It's unseasoned, making it a versatile base for various recipes.
Usage: Often used as a base for sauces, soups, and stews, or as a topping for pizzas. It's especially favored in Italian cuisine for its pure tomato essence.

Tomato Sauce:

Texture: Can vary widely from smooth to chunky, depending on how it's prepared, and may include additional ingredients like herbs, spices, and sometimes other vegetables.
Processing: Made from various forms of tomatoes, including whole, chopped, crushed, or pureed. It is cooked and seasoned to develop a specific flavor profile.
Flavor and Consistency: The flavor and consistency can vary greatly depending on the specific recipe or brand. It may be seasoned and may have added ingredients for flavor enhancement.
Usage: A versatile ingredient used in a wide range of dishes, including pasta sauces, stews, soups, and as a topping for pizzas. It's a cornerstone of many cuisines globally.
Homemade Vs. Store-Bought Gnocchi
If you're going for authenticity and to really take this recipe to the next level, then making homemade gnocchi is a no-brainer. But really, we don't have time for that every day. I tested with both, and both are totally delicious. The texture is just slightly more chewy with store-bought. This makes total sense, as I try to get away with adding as little flour as possible to my gnocchi to make it super soft.
Ingredients
1 lb gnocchi: The hearty base of the dish, providing a satisfying, pillowy texture.
3-4 garlic cloves, minced: Infuses the dish with aromatic, pungent garlic flavor for depth and richness.
1 jar passata: Creates a smooth, velvety tomato sauce, forming the essence of the dish.
Salt and pepper: Enhances overall seasoning, balancing and elevating the flavors.
1 lb mozzarella cheese, sliced: Adds a creamy, gooey texture and a rich, indulgent cheesy flavor.
¾ c parmesan cheese: Contributes a nutty, salty richness, complementing the mozzarella.
½ c basil leaves, torn, for the top: Provides a fresh, aromatic herbal note, brightening the overall taste.
How to Make Gnocchi alla Sorrentina
Let's walk through this step-by-step. It's really super easy!
Step 1: Bring a large pot of salted water to a boil. Don't add the gnocchi just yet, they cook very quickly. Preheat your oven to 400F.
Step 2. Heat an oven-proof skillet (I love my cast iron for this) over medium-high heat. Add your olive oil and your garlic. Cook for about one minute until fragrant.
Step 3: Add your passata, parmesan, salt and pepper (you can do this to taste, but I added a teaspoon of salt and ¼ teaspoon of pepper). Allow the sauce to heat up. Add your gnocchi to the boiling water at this point.
Step 4: Strain the gnocchi and add it to your pan. Give everything a good stir. Add the shredded mozzarella.
Step 5: Place the sliced mozzarella over the top of the pan in a single layer.
Step 6: Bake the Gnocchi alla Sorrentina for 15-20 minutes until the cheese on top is golden and bubbling.
Step 7: Sprinkle the torn basil leaves on top of the pan. Serve immediately!
Pro Tips and Tricks
Perfect Gnocchi Texture:
Ensure your gnocchi dough is well-balanced - not too sticky or too dry. Test a small batch before proceeding with the full recipe. This might take some practice, so don't beat yourself up if it isn't right the first time!
Season the Passata:
Taste the passata and adjust the seasoning with salt, pepper, and a pinch of sugar if needed. This balances the acidity and enhances the overall flavor.
Fresh Basil Finish:
Tear basil leaves just before garnishing. This preserves their bright color and aromatic oils, intensifying the flavor.
Choosing Cheese:
Opt for quality mozzarella and parmesan cheese for the best flavor and melting properties.
Customize with Vegetables or Protein:
Add cooked vegetables like spinach, mushrooms, or roasted red peppers, or protein like cooked sausage or chicken for additional layers of flavor.
Let it Rest:
Allow the dish to rest for a few minutes after baking. This helps the flavors meld and makes it easier to serve.
Garnish with Fresh Herbs:
For an extra burst of flavor and visual appeal, add a sprinkle of fresh basil or parsley just before serving.
Variations
Want to get a little bit fancy with it? Try out some of these ideas!
Mushroom and Truffle Oil Gnocchi:

Sauté mushrooms in butter until golden, then mix with cooked gnocchi. Drizzle with truffle oil and layer with passata, cheeses, and basil.

Sausage and Roasted Red Pepper Gnocchi:

Cook crumbled Italian sausage and roasted red peppers. Toss with gnocchi, layer with passata, cheese, and basil, and bake.

Pesto and Cherry Tomato Gnocchi:

Toss cooked gnocchi in pesto sauce. Layer with cherry tomatoes, mozzarella, and parmesan. Garnish with fresh basil before baking.

Seafood Gnocchi alla Sorrentina:

Add sautéed shrimp or chunks of cooked white fish to the passata. Layer with gnocchi and cheese, then bake for a delightful seafood twist.

Vegetarian Ratatouille Gnocchi:

Combine cooked gnocchi with ratatouille (a medley of eggplant, zucchini, bell peppers, and tomatoes). Top with cheese and bake.

Creamy Alfredo Gnocchi:

Replace passata with a rich Alfredo sauce. Mix cooked gnocchi with the sauce, layer with mozzarella, parmesan, and basil, then bake.

Spicy Arrabbiata Gnocchi:

Swap the passata for a spicy arrabbiata sauce. Toss cooked gnocchi in the sauce, layer with cheeses, and bake for a fiery kick.
Wine Pairings
Chianti Classico: This red wine from Tuscany, Italy, with its bright cherry and earthy notes, pairs beautifully with the tomato sauce and cheeses in the dish.
Pinot Noir: A light-bodied red wine with red fruit flavors and soft tannins. It complements the gnocchi's delicate texture and the savory elements of the dish.
Barbera: A medium-bodied red wine with bright acidity and red berry flavors. It adds a lively contrast to the rich, cheesy elements of the Gnocchi alla Sorrentina.
Sauvignon Blanc: A crisp and zesty white wine with citrus and herbal notes. Its acidity cuts through the richness of the dish, providing a refreshing contrast.
Vermentino: A lively white wine with citrus and green apple flavors. Its bright acidity and clean finish make it an excellent companion to the fresh basil and tomato flavors.
Freezing, Storage, and Reheating
Storing:
Refrigeration: If you have leftovers, store them in an airtight container in the refrigerator within 2 hours of cooking. It will keep well for up to 3 days.
Freezing:
Preparation: If you intend to freeze a portion, assemble the dish but do not bake it. This helps preserve the texture of the gnocchi.
Wrap and Freeze: Wrap the unbaked dish tightly with plastic wrap and then with aluminum foil to prevent freezer burn. Label it with the date for easy tracking.
Duration: It can be stored in the freezer for up to 1-2 months. Beyond this, the quality may start to diminish.
Reheating:
From the Refrigerator:

Preheat your oven to 350°F (175°C).
Place the refrigerated Gnocchi alla Sorrentina in an oven-safe dish.
Cover with aluminum foil and bake for about 20-25 minutes, or until heated through.

From the Freezer:

Remove the dish from the freezer and let it thaw in the refrigerator overnight.
Preheat your oven to 350°F (175°C).
Place the thawed Gnocchi alla Sorrentina in an oven-safe dish.
Cover with aluminum foil and bake for about 30-35 minutes, or until heated through.
Note: If the dish was initially frozen, it's important to thaw it in the refrigerator first. This helps to maintain the texture and flavor of the gnocchi.
More Awesome Pasta
📖 Recipe
Gnocchi alla Sorrentina
Enjoy the comforting flavors of Gnocchi alla Sorrentina, a cherished Italian classic. Soft, pillowy potato dumplings, enveloped in a velvety tomato passata, create a harmonious blend of textures and flavors. The dish is crowned with layers of gooey mozzarella and nutty Parmesan cheese, offering a comforting, satisfying meal that's sure to please.
Ingredients
1

lb

gnocchi

(homemade gnocchi or store bought)

2

tablespoon

olive oil

4

cloves

garlic

minced

2

C

passata

or tomato sauce

¾

C

parmesan cheese

1

C

mozzarella

shredded

0.5

lb

mozzarella

sliced

½

C

basil leaves

torn
Instructions
Bring a large pot of lightly salted water to a gentle boil. Preheat your oven to 400℉.

In a skillet over medium heat, add a drizzle of olive oil and minced garlic. Sauté for a minute, ensuring it doesn't brown.

Pour the passata into the skillet, stirring it into the garlic. Season with salt and pepper to taste. Let it simmer for about 10 minutes, allowing the flavors to meld.

Add the gnocchi to the pot of boiling water. Strain when they float to the surface (between 1-3 minutes).

Add them to the passata. Add your parmesan cheese and shredded mozzarella. Stir to combine.

Layer the sliced mozzarella on top. Bake for 15-20 minutes, until the cheese is bubbly and golden.

Garnish with torn basil leaves and serve.
Notes
Make-Ahead Tip:
You can assemble the dish a few hours ahead of time and refrigerate until ready to bake. This is a great time-saver for busy evenings.
Ingredient Substitutions:
Feel free to get creative with ingredient swaps. For example, try different types of cheese or add in your favorite vegetables for a personalized touch.
Homemade Passata:
If you have the time, consider making your own passata using fresh, ripe tomatoes. Simmer, blend, and strain for a truly authentic flavor.
Gluten-Free Option:
If you prefer a gluten-free version, look for gluten-free gnocchi at your local grocery store or try making your own using gluten-free flour.
Adjusting Seasoning:
Taste the sauce before layering to ensure it's seasoned to your liking. Adjust salt and pepper as needed for a perfectly balanced flavor.
Nutrition
Serving:
250
g
Calories:
347
kcal
Carbohydrates:
35
g
Protein:
19
g
Fat:
17
g
Saturated Fat:
8
g
Polyunsaturated Fat:
1
g
Monounsaturated Fat:
6
g
Cholesterol:
40
mg
Sodium:
637
mg
Potassium:
710
mg
Fiber:
8
g
Sugar:
4
g
Vitamin A:
788
IU
Vitamin C:
7
mg
Calcium:
681
mg
Iron:
17
mg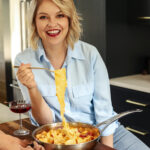 Hi, I'm Cara! I'm a food writer, journalist, and recipe developer. I'm obsessed good food, good wine, good cocktails and entertaining. I've picked up a few tips over the years, and love sharing them with others.