Learning how to cook steak in a cast-iron skillet is an essential life skill, in my opinion. It's quick, so delicious, so satisfying, and once you know what you're doing, very easy.
The best part is - you don't need a grill! YAY! But seriously, there are so many benefits to cooking steak in a cast-iron skillet; including, but not limited to:
So much control over heat and temperature (therefore making sure you get it right, every time).
It's so quick! Depending on the thickness of the steak, it can take between 5-10 minutes. And, if it's really thick, you can finish it off in the oven.
Pan drippings! Cooking a steak in a cast-iron skillet means that you can use the amazing caramelized bits on the bottom of the to make an epic sauce.
Check out the cast iron steak web story here.
Steak in a cast-iron skillet is the meal that keeps on giving. It's quick, easy, satisfying and impressive.
Jump to:
Why You're going to Love this Recipe
Cooking with cast-iron is a true game changer. These pans are just so awesome on every level. Once they're hot, they stay hot, they can go in the oven (or even on a grill), and they never wear out. My dad has one that's been used for close to 100 years!).
They create a fantastic sear/crust on the steak. That means we're big into the flavor.
Being able to cook the steak at a high temperature, and quickly, means you're less likely to overcook it.
You can use the fat and pan drippings left over to create a beautiful sauce, right in the pan, while you're steak is resting.
Frequently Asked Questions
Can a cast-iron skillet go in the oven?
Absolutely. Seasoned cast-iron can deal with temperature up to 700 F (as long as it's not enameled).
Is a cast-iron skillet non-stick?
The more you use and season your cast-iron pan, the more non-stick they become (and they're pretty good). Not necessarily as good as Teflon - but still awesome.
What's the internal temperature for steak?
Medium-Rare: 130F (final temp of 135-140F)
Medium: 145F (final temp of 150F)
Medium-Well: 150F (final temp of 155F)
Well: 160F (final temp of 165F)
What if my steak is seared, but it's not done in the center?
Throw it in a 400F oven for 5 minutes - this will mostly stop the searing process, and allow the inside of the steak to continue cooking.
How do I season steak?
If you buy a high quality steak, salt and pepper is all you really need. But, feel free to experiment with other herbs and spices!
Why Use Cast Iron?
Cast iron is a great method for cooking steak.
They're Hot
This might seem obvious, but hear me out. Cast-iron actually doesn't heat super evenly (this is a myth!), BUT, once it gets hot, it stays hot, unlike other cookware. This is idea, especially when you have a thick steak (like a filet mignon) that you need to finish in the oven.
The Sear
There's really nothing like the sear you can get on a steak with a cast-iron skillet. There just isn't. That flavor is top notch - and in my experience, it's something you can only get with cast-iron.
Sometimes it's Cold Outside
Honestly, there are days when firing up the grill just seems...unappealing. If it's raining/snowing/sleeting/hailing (I live in Canada, can you tell?) then the cast-iron is a fantastic option.
The Leftovers
I don't mean the actual steak leftovers, I mean what's left in the pan. Using a cast-iron makes sure you catch all the juice, fat, and seared bits from the steak. What are we going to do with these, you ask? We're making mushrooms sauce for the steak, obviously.
What cut of Steak should I Use?
Honestly, you can use whatever you like, but here are my top three, and why.
Sirloin
If you're new to cast-iron steak cooking, then this is the cut I would recommend. They're typically smaller, and boneless. This means that they will cook quickly (you likely won't have to transfer it to the oven), and evenly (because of the no bone situation).
Rib-Eye
Again, if you get a boneless one, this will be easier to cook. But come on, bone in rib-eyes are just SO DELICIOUS. Definitely harder to cook evenly though, and depending on the size, you may need to finish it in the oven (this is not a huge deal though).
Filet Mignon
A lean, thick, and tender cut of meat, filets are amazing in a cast-iron. You will, almost without question, need to finish these in the oven. But the texture you get between the perfect steak and the sear on the outside? To die for.
Ingredients
The ingredients for this recipe are very simple. And, most of them are optional flavor-wise. All you really need for the basics is steak, salt, pepper, oil and butter.
Steak - I like to use boneless steaks, like a striploin or a filet. The cook super evenly!
Salt & Pepper - essential seasoning. I'm a bit of a purist with my steaks, so I don't often add more seasoning. Feel free to add your favorite rub though.
Oil and butter - for flavor and to keep the steak from sticking.
Thyme & garlic - this will flavor the butter, and therefore the steak.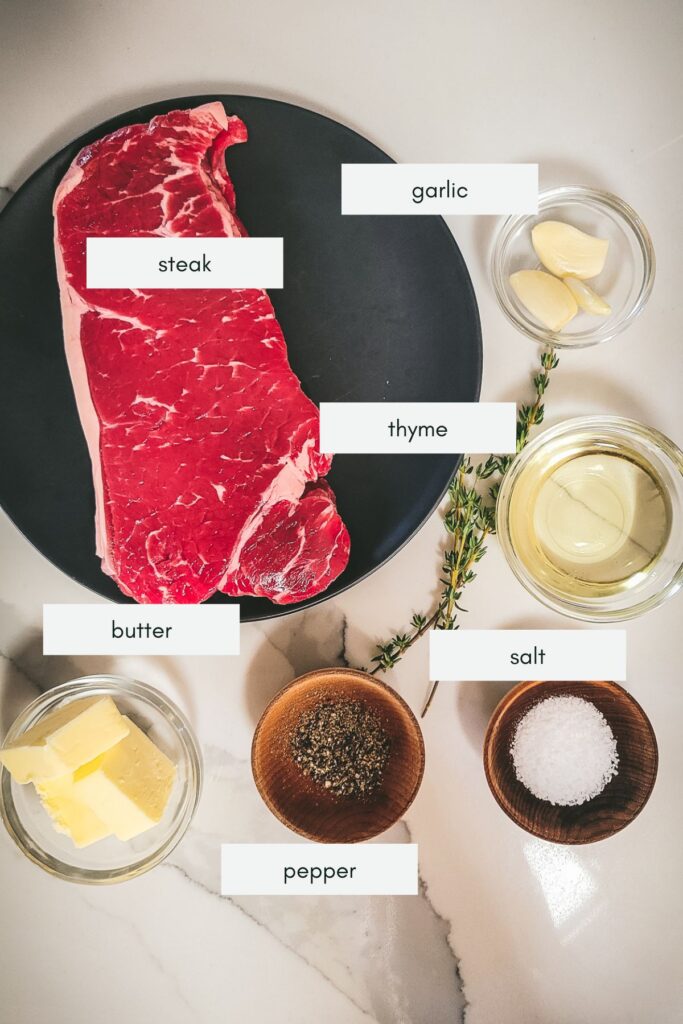 How to Make Cast-Iron Steak
Ok, let's walk through this step by step.
Step 1: Preheat your cast iron
This is really important. You definitely do not want to cook a steak in a pan that hasn't fully come up to temperature, otherwise you're not going to get that crust on the outside. Make sure you're heating your pan over medium-high heat, and it's basically smoking before you add the steak.
Step 2: Add your Oil
It should heat up pretty much immediately. Add the butter too.
Step 3: Add your steak & aromatics
Don't forget to season it first! And once you put it in the pan, don't move it. Just let it sear for 2-3 minutes. Add your thyme and garlic at this point.
Step 4: Flip and Baste
Once the steak has browned on one side, flip it over. Using your spoon, continuously spoon some of the cooking liquid over the steak, making sure it gets nice and flavorful.
Step 5: Rest
Check the temperature of your steak to make sure it's done to your liking. If it is, take it out of the pan to rest. If it needs a few more minutes, put it in the oven at 400F until it's cooked.
Step 5: Slice and Serve!
Tips & Tricks
Make sure your steak is at room temperature before it hits the pan! It will cook more evenly this way.
Use a meat thermometer. This is always my number one, go-to tool when cooking steaks. I'm not a professional chef. I don't pretend to know when a steak is done just by looking at it or feeling it. Seriously - do yourself a favor and just use it!
Make sure your cast iron pan is HOT. We want to to cook these hot and fast, to make sure we don't overcook them in the middle.
Don't ditch the pan drippings! Make a sauce with them!
Make sure you have a good, full-bodied red wine on hand to pair it with.
Serving Suggestions
Here's one of my favorite menus with steak:
📖 Recipe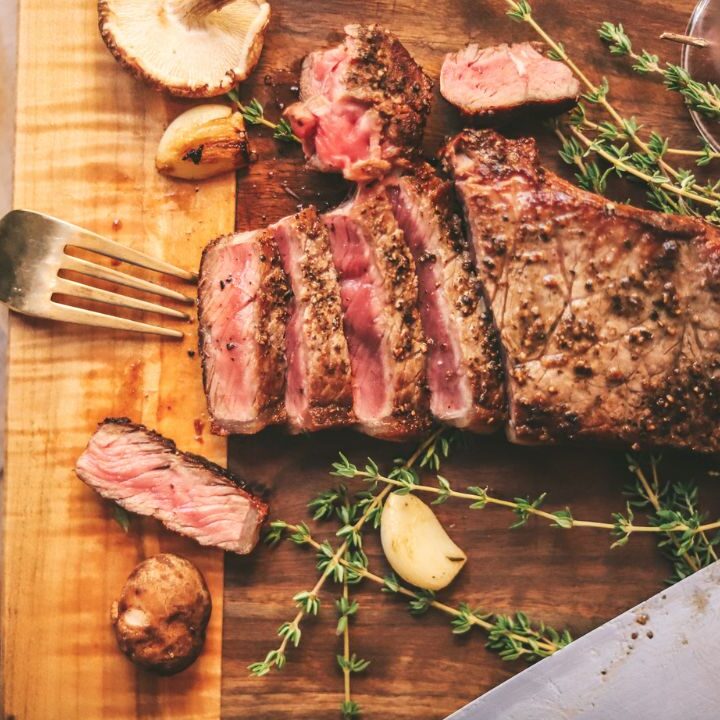 Cast Iron Steak
Steak in a cast-iron skillet is the meal that keeps on giving. It's quick, easy, satisfying and impressive.
Equipment
Cast Iron Skillet

Meat thermometer
Ingredients
1

steak

Ribeye, striploin, or a filet mignon are good choices

½

teaspoon

salt

¼

teaspoon

pepper

1

tbsp

olive oil

2

tablespoon

butter

2

garlic cloves

2-3

sprigs

thyme
Instructions
Preheat your cast iron skillet over medium high heat. The pan should be smoking hot.

Season your steak liberally with salt and pepper.

Add your oil and butter to the pan. Immediately add your steak. Let it sear for 2-3 minutes.

Add the garlic and thyme.

Flip the steak, and sear for another 2-3 minutes. Spoon some of the cooking liquid over the top of the steak for flavor.

Check the temperature of the steak. If it's done, then place it on a cooling rack to rest for 7-10 minutes before serving. If it's not done, put in in the oven at 400°F for another five minutes and check the temperature again.

Slice against the grain and serve.
Notes
USE A MEAT THERMOMETER! Unless you're a professional chef, it's almost impossible to get meat to the right temperature. The thermometer is a game changer. Don't forget to take it off the grill a few degrees cooler from where you want it to end up. The steak will continue cooking during the resting process.
Internal Temperature for steaks:
Medium-Rare: 130F (final temp of 135-140F)
Medium: 145F (final temp of 150F)
Medium-Well: 150F (final temp of 155F)
Well: 160F (final temp of 165F)
Nutrition
Serving:
200
g
Calories:
342
kcal
Carbohydrates:
1
g
Protein:
23
g
Fat:
27
g
Saturated Fat:
14
g
Polyunsaturated Fat:
1
g
Monounsaturated Fat:
11
g
Trans Fat:
0.5
g
Cholesterol:
99
mg
Sodium:
731
mg
Potassium:
328
mg
Fiber:
0.3
g
Sugar:
0.04
g
Vitamin A:
416
IU
Vitamin C:
3
mg
Calcium:
22
mg
Iron:
2
mg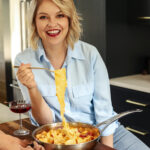 Hi, I'm Cara! I'm a food writer, journalist, and recipe developer. I'm obsessed good food, good wine, good cocktails and entertaining. I've picked up a few tips over the years, and love sharing them with others.