As an Amazon Associate I earn from qualifying purchases.
Adding Boursin to your mashed potatoes is one of the easiest ways to fancy them up. The flavor, herbs, texture, fat, all of it comes in one package for easy cooking. That's what I like to hear, especially during the holiday season.
These Boursin mashed potatoes start with my basic creamy mashed potato recipe, and then we make one key substitution.
Mashed potatoes are one of those side dishes that can be the star of the show, or go horribly wrong. Making them with Boursin cheese makes sure they're the former.
Boursin mashed potatoes are the perfect hack for taking your favorite side dish to a new level. The flavor, the silky texture, and the fat all help to make these potatoes a new classic.
Jump to:
Why You're Going to Love this Dish
These are not your standard mashed potatoes. The Boursin cheese flavoring gives it a subtle kick of fat, salt, garlic and herbs that pair perfectly with the potatoes themselves (without overpowering them!)
The Boursin gives the potatoes the silkiest texture ever.
They are so, so easy. Ridiculously easy.
You can scale the recipe up or down for a crowd.
They're going to fit in perfectly on your Thanksgiving and Christmas menus.
Dry, lumpy mashed potatoes with no flavor? We don't know them.
Ingredients
This ingredient list is pretty straightforward, so let's get to it:
Yukon Gold potatoes: these are by far my preferred potatoes for mashing. They have a dense, silky texture and a beautifully sweet flavor - you just can't go wrong. If you're looking for a slightly fluffier mash, then use russet instead.
Butter: This is a must in mashed potatoes, if you ask me. There are healthy versions of mashed potatoes out there - but this one is indulgent.
Heavy Cream: again, a must. The flavor it brings is just *chef's kiss*.
Boursin Cheese: the key to the recipe. It means a perfect dense and smooth creamy texture, along with a gorgeous flavor. (Hint - you can use whatever flavor of Boursin you want!)
Salt: also a must. Mashed potatoes need a good dose of salt, as they tend to absorb a ton of it!
How To Make Boursin Mashed Potatoes
Let's do this step by step.
First, you're going to want to peel your potatoes, and cut them in half.
Next, place them in a sauce pan, and fill with water until the potatoes are covered by about an inch of liquid (you can also use chicken stock instead of water for extra flavor!)
Place the sauce pan on high, covered, until the potatoes come to a boil. Turn the element down slightly so they don't boil over.
Simmer until the potatoes are soft all the way through, about 25 minutes.
Drain the potatoes.
Using a potato ricer, press the potatoes back into the pot they cooked in. (If you don't have a potato ricer, using a regular masher is fine - the texture will just be slightly less silky).
Add the butter, cream, Boursin cheese and salt. Mix until well combined.
Serve with a pad of butter and chives on top, if desired.
How to make Mashed Potatoes in the Instant Pot
Peel your potatoes, and place in the Instant Pot. Add enough broth or water to just come up to the tops of the potatoes.
Place the lid on and seal.
Select the pressure cook option. Set the timer for 15 minutes.
Once the potatoes are done, quick release the pressure.
Carefully strain the potatoes.
Spooning the potatoes a few at a time into the potato ricer, force the potatoes through the ricer and back into the Instant Pot (it should be on the "Keep Warm" setting at this point). Repeat until all the potatoes are through.
Add the butter, cream, salt and Boursin cheese. Stir until melted and combined.
Keep on the keep warm setting until ready to serve.
Storage & Reheating
Mashed potatoes with cream can keep in an airtight container in the fridge for 3-4 days.
To reheat, the best method I've found is to gently reheat them in a sauce pan in the stove, or in the microwave. Since they thicken as they cool, it's helpful to add a splash of chicken broth or cream as you're reheating the potatoes.
Honestly though, mashed potatoes are best enjoyed fresh.
📖 Recipe
Boursin Mashed Potatoes
Making mashed potatoes with Boursin is one of the best ways to ensure amazing flavor and texture. Add a little butter, cream and salt, you're good to go! You can also easily scale this recipe up to make it for a crowd. It's perfect for a holiday menu!
Equipment
1 Pressure cooker

optional

1 Potato Ricer

Highly recommended, but you can definitely use a traditional potato masher
Ingredients
5-7

medium Yukon Gold potatoes

peeled

¼

C

butter

¼

C

heavy cream

1

pack

Boursin cheese

1

teaspoon

kosher salt

Butter & chives

for garnish
Instructions
Add the potatoes and cover with water in a medium sized pan on the stove (the liquid should cover the potatoes). Turn the heat up to high and cover. Allow the potatoes to come to a boil.

Take of the lid and turn the heat down slightly. You want to liquid to still be boiling, but just not boiling over. Cook for 25-30 minutes, until the potatoes are tender all the way through.

Using a spoon, place several potatoes at a time in the potato ricer, and force them through, back into the same pot you cooked the potatoes in. Repeat until all the potatoes are riced.

Add the butter, cream, Boursin, and salt to the pot. Mix until melted and well combined.

Serve with butter and chopped chives.
Notes
If you're not using a potato ricer, simply mash the potatoes in the pot, and then add the cream, butter, salt and Boursin and mix.
For the Instant Pot: add potatoes and liquid to the pot, making sure the liquid comes up halfway on the potatoes. Shut the lid, set to "Pressure Cook" and set the timer for 15 minutes. Quick release when the timer goes off, and follow regular instructions from there.
Nutrition
Serving:
210
g
Calories:
317
kcal
Carbohydrates:
38
g
Protein:
5
g
Fat:
17
g
Saturated Fat:
11
g
Polyunsaturated Fat:
1
g
Monounsaturated Fat:
4
g
Trans Fat:
1
g
Cholesterol:
48
mg
Sodium:
691
mg
Potassium:
912
mg
Fiber:
5
g
Sugar:
2
g
Vitamin A:
580
IU
Vitamin C:
42
mg
Calcium:
39
mg
Iron:
2
mg
Jump to: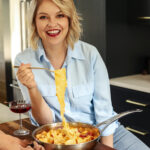 Hi, I'm Cara! I'm a food writer, journalist, and recipe developer. I'm obsessed good food, good wine, good cocktails and entertaining. I've picked up a few tips over the years, and love sharing them with others.