As an Amazon Associate I earn from qualifying purchases.
Pasta al forno is a classic Italian dish. There are so many different ways to make it, but this recipe was designed to be quick, easy, and mostly one pan (sorry - have to cook the pasta in a different pot). Then it all goes in the oven for half an hour, and voila! You've got a comforting, hearty meal your whole family will love.
Any type of baked pasta is totally delicious. And there are so many variations to experiment with (check out this option if you're looking for bechamel - or white sauce - and vegetables). This pasta is made with a quick and delicious meat sauce that includes flavorful Italian sausage, marinara, and tons of cheese. The noodles get baked and crispy for a fantastic texture. Plus, this can feed a whole bunch of people.
Jump to:
What does Pasta al Forno Mean?
The term 'al forno' is an Italian term that means something is baked. So whenever you see it added to a word or phrase, like pasta, pizza, or lasagne, it simply means it's baked in an oven.
Ingredients
Olive oil: Provides a rich, smooth base and adds a subtle fruity flavor to the dish.
1 lb spicy Italian sausage: Adds a kick of heat and robust flavor to the sauce.
1 onion: Imparts a sweet and savory depth to the dish.
2 garlic cloves: Infuses a pungent, aromatic note enhancing the overall flavor.
2 cups of marinara sauce: Forms the hearty, tomato-based foundation of the dish.
1 lb rigatoni: Offers a sturdy, ridged pasta shape that holds the sauce and cheese beautifully.
¾ cup parmesan cheese: Provides a sharp, nutty taste and a creamy texture when melted.
1 teaspoon salt: Balances and enhances the flavors in the dish.
½ teaspoon pepper: Adds a subtle kick of heat and depth to the overall taste.
2 cups mozzarella cheese: Melts into gooey, stretchy perfection, creating a cheesy, comforting layer.
Fresh parsley for garnish: Adds a fresh, herby finish, brightening up the dish.
How to Make Pasta al Forno
Get Your Pasta Cooking: Heat a large pot of water. Bring it to a boil, add some salt, and cook your rigatoni according to package directions. Preheat your oven to 375F.
Heat Things Up: Start by warming up a glug of olive oil in a trusty cast iron skillet.
Sizzling Sausage: Toss in that pound of spicy Italian sausage. Let it sizzle, breaking it up as it cooks. We want it nice and brown. Remove the sausage from the pan.
Aromatics In: Chop up that onion and mince those garlic cloves. Cook for about 5 minutes. Until the onion is starting to soften.
Tomato Tango: Time to pour in the marinara sauce. Let it simmer, letting all those flavors come together.
Mix and Mingle: Add the sausage back to the sauce. Grate in some parmesan cheese, add your salt and pepper. Once the rigatoni's done, let it cozy up with the sauce in the skillet. Give it all a good stir.
Cheesy Blanket: Top it all off with a generous layer of mozzarella cheese. Let it get all melty and golden in the oven.
Bake it Up: Pop that skillet into a preheated oven. We're talking 375°F (190°C) here. Keep an eye on it till it's bubbling and gorgeous.
Finishing Touch: Just before you serve, sprinkle some fresh parsley on top. It adds a pop of color and a burst of freshness.
Pro Tips and Tricks
Sausage Selection: Opt for high-quality, well-seasoned Italian sausage. It's the flavor powerhouse of this dish.
Skillet Savvy: A cast iron skillet is perfect for this recipe. It conducts heat beautifully and gives a nice crust to the sausage.
Garlic: To really amp up the flavor, crush the garlic cloves with the flat of your knife before mincing. It releases those aromatic oils.
Simmer: Let the marinara sauce simmer for a bit. It allows the flavors to meld together and gives that rich, savory base.
Al Dente Alert: Cook the rigatoni just shy of perfect. It'll finish cooking in the oven, and we want it to have a little bite.
Cheese Choices: Mix up the cheeses if you like. Fontina, asiago, or pecorino romano can add their own unique flair.
Broiler Bonus: If you want that cheese extra bubbly and golden, give it a quick run under the broiler at the end.
Herb Highlight: Swap out parsley for fresh basil or oregano for a different herbaceous note.
Make it Yours: Don't be afraid to add your own twist! Maybe some roasted red peppers or a handful of spinach? Or how about a few dollops of pesto? Or, sun-dried tomato pesto!
Leftovers Love: This dish reheats beautifully. Pop it back in the oven at a lower temperature to keep it from drying out (see below for more instructions).
Variations
There are so many different ways to make this pasta your own. Broccoli, zucchini and mushrooms are a super popular way to switch up the flavors, and add some more nutrition. If you're looking for a more vegetable-packed pasta, try this creamy vegetable pasta with toasted hazelnuts.
Bechamel Sauce:

Create a velvety white sauce (béchamel) with butter, flour, and milk. Layer it between the pasta and sauce for an extra luscious touch.

Eggplant Extravaganza:

Roast or grill slices of eggplant. Layer them with the pasta and sauce for a hearty, veggie-packed version.

Ricotta:

Mix ricotta with a touch of lemon zest, salt, and pepper. Dollop it between layers for a creamy, tangy surprise.

Vegetarian Version:

Swap out the sausage for a medley of sautéed mushrooms, spinach, and sun-dried tomatoes. A hearty, veggie-packed delight.

Cheese-less Champion:

For a dairy-free option, skip the cheese altogether. Amp up the flavor with extra herbs, garlic, and a drizzle of good olive oil.

Homemade Gnocchi: for a super indulgent treat, make your own gnocchi and use that instead of rigatoni! Just be careful not to overcook - gnocchi doesn't need nearly as much time in the pot or the pan.
Storage and Reheating
Storage:
Refrigeration: If you plan to enjoy it within a couple of days, store it in an airtight container in the refrigerator. Make sure it's cooled to room temperature before refrigerating.
Freezing: If you want to store it for a longer period, follow the freezing instructions I provided earlier. Remember to label and date the container.
Avoid Overcrowding: When storing in the fridge or freezer, try to keep portions separate to prevent sticking.
Reheating:
From the Fridge:

Preheat your oven to around 350°F (175°C).
Cover the dish with aluminum foil to retain moisture.
Heat for about 20-30 minutes or until heated through.

Microwave Option (for small portions):

Cover the portion with a microwave-safe lid or microwave-safe wrap.
Heat in short intervals, stirring in between to ensure even heating.

Stovetop (for single servings):

Place a portion in a saucepan with a little extra marinara sauce or a splash of water.
Heat over low to medium heat, stirring frequently until heated through.
Can you Freeze This Pasta?
Yes, you definitely can. Here's how.
Cool it Down: Allow the dish to cool completely. This helps prevent condensation inside the container, which can lead to freezer burn.
Portion Control (Optional): Divide the pasta into individual or family-sized portions, depending on your needs. This makes it easier to thaw only what you need later.
Wrap it Up: Use airtight, freezer-safe containers or heavy-duty aluminum foil. Make sure to cover it well to prevent any air exposure.
Label and Date: Don't forget to label the container with the date of freezing. This way, you'll know how long it's been stored.
Freeze Flat: If using a bag, lay it flat in the freezer. This allows for easier stacking and saves space.
Thawing Time: When you're ready to enjoy it, transfer the portion to the refrigerator to thaw overnight. This ensures even thawing.
Reheat with Care: Warm it up in the oven at a low temperature, covered with foil. This helps retain moisture and prevent overcooking.
Wine Pairings
This pasta, while quick, easy, and kind of rustic, can make for a super romantic date-night. Here are some wine pairing ideas to go along with that!
Red Wine Pairings:

Chianti: Its medium body and high acidity complement the savory flavors of the sausage and tomato sauce.
Barbera: This Italian red with its bright acidity and fruity notes can cut through the richness of the dish.
Zinfandel: A bold choice with its ripe fruit flavors and peppery notes, it stands up well to the hearty flavors.

White Wine Pairings:

Chardonnay: A buttery, oaked Chardonnay can complement the creamy bechamel if you've added it to your dish.
Pinot Grigio: Its crisp, citrusy notes can provide a refreshing contrast to the richness of the pasta.

Rosé Pairing:

Dry Rosé: Its acidity and light, fruity profile make it a versatile choice. It can complement both the sausage and vegetarian versions.
Frequently Asked Questions
Can I use a different type of pasta for Pasta al forno?
Yes, you can! While rigatoni is a classic choice, you can experiment with other pasta shapes like penne, ziti, or even shells.
Can I make Pasta al forno ahead of time?
Absolutely! You can assemble the dish, cover it, and refrigerate it for up to a day before baking. This can be a time-saving option for busy days.
How can I make a vegetarian version of Pasta al forno?
To make a vegetarian version, simply omit the sausage and consider adding extra vegetables like mushrooms, spinach, or bell peppers for flavor and texture.
More Awesome Pasta
📖 Recipe
Easy Pasta al Forno
A hearty Italian baked pasta dish featuring spicy sausage, marinara sauce, and a blend of cheeses, all baked to golden perfection.
Equipment
Oven safe skillet

*if you don't have one, just make the recipe as it reads, then transfer pasta/sauce to a baking dish before adding the cheese and baking it.
Ingredients
1

lb

rigatoni

1

C

pasta water

reserved

1

tablespoon

olive oil

1

lb

Italian sausage

spicy or not

1

onion

chopped

2

cloves

garlic

minced

2

C

marinara sauce

¾

C

parmesan cheese

grated

1

teaspoon

salt

¼

teaspoon

pepper

2

C

mozzarella

grated

parsley

roughly chopped, for garnish
Instructions
Preheat your oven to 375℉.

Cook rigatoni in a large pot of boiling, salted water, until very al dente. Reserve 1 cup of pasta water. Set aside.

Heat olive oil in a cast iron skillet.

Add Italian sausage, breaking it up as it cooks.

Toss in chopped onion and minced garlic, sauté until fragrant.

Pour in 2 cups of marinara sauce, let it simmer for about 7-8 minutes.

Combine rigatoni with the sauce in the skillet.

Stir in ¾ cup of parmesan cheese, salt, and pepper. Adjust the seasoning to your taste.

Top with 2 cups of mozzarella cheese.

Bake in a preheated oven at 375°F (190°C) until bubbly and golden.

Garnish with fresh parsley before serving.
Notes
Wine Pairing: Consider pairing with a Chianti for a classic match or a Pinot Grigio for a refreshing contrast.
Variations:

Egg Addition: Whisk eggs with parmesan for a creamy twist.
Bechamel Sauce: Layer in a velvety white sauce for extra richness.
Eggplant Layers: Add roasted or grilled eggplant slices for a veggie-packed version.
Ricotta Dollops: Introduce tangy ricotta cheese between layers for creaminess.
Vegetarian Version: Swap out sausage for a medley of sautéed mushrooms, spinach, and sun-dried tomatoes.
Cheese-less Option: Skip cheese for a dairy-free alternative. Amp up flavor with extra herbs and olive oil.

Storage and Reheating:

Store leftovers in an airtight container in the fridge for up to 2 days.
Freeze for longer storage. Thaw in the fridge overnight before reheating.
To reheat, cover with foil and warm in a preheated oven at 350°F (175°C) for 20-30 minutes.

Additional Tips:

Experiment with different cheeses or herb variations to suit your taste.
Allow the dish to cool slightly before serving for the best flavor.
Nutrition
Serving:
250
g
Calories:
752
kcal
Carbohydrates:
65
g
Protein:
35
g
Fat:
39
g
Saturated Fat:
16
g
Polyunsaturated Fat:
4
g
Monounsaturated Fat:
16
g
Cholesterol:
95
mg
Sodium:
1769
mg
Potassium:
674
mg
Fiber:
4
g
Sugar:
6
g
Vitamin A:
705
IU
Vitamin C:
9
mg
Calcium:
385
mg
Iron:
3
mg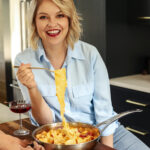 Hi, I'm Cara! I'm a food writer, journalist, and recipe developer. I'm obsessed good food, good wine, good cocktails and entertaining. I've picked up a few tips over the years, and love sharing them with others.