Bellinis are a truly delightful cocktail. Light, sweet, and bubbly, they're popular for a reason, especially in the spring and summer months!
Honestly, there's nothing more refreshing than sitting outside, sipping on a drink with peach puree and prosecco. How could it possibly get better than that!?
Bellinis are a classic cocktail. Bright, fruity, sweet and refreshing, there's nothing not to love here. Plus they're easy to make!
Jump to:
Why You're Going to Love this Recipe
Bellini's fruity, peachy taste is a delight for the taste buds.
The bubbly, effervescent sensation adds an extra layer of refreshment to every sip.
Its light and sweet nature make it an ideal brunch drink or aperitif.
You can easily customize the flavor by swapping the peach puree with other fruits like strawberries, raspberries, or mango.
Its beautiful hue is a hit at any celebration or get-together.
It's a classic cocktail with a touch of sophistication, perfect for special occasions or a fancy night in.
We're using frozen peaches to make the puree - which makes it ten times easier, I promise. If you want to be ambitious and use fresh peaches, it's also pretty easy, but I find frozen to be just as tasty.
Frequently Asked Questions
Are bellinis sweet?
Generally speaking, yes they are. The peaches you use (as long as they are ripe), are sweet, and Prosecco is typically a bit sweeter than champagne. You can also add a little extra sugar to the peach puree if you like them extra sweet.
Can you make bellinis with Champagne?
Totally. It is traditionally made with Prosecco, and the sweetness in it pairs so well with the peaches, so it should be your first choice. But in a pinch, you can use Champagne or cava.
Where were bellinis invented?
Bellinis were invented at Harry's Bar in Venice, Italy.
Can you make bellinis for a crowd?
Yup! In fact, this recipe makes enough for 8-10 drinks.
Bellini vs. mimosa, what's the difference?
A bellini is a classic Italian cocktail made with Prosecco and peach puree, while a mimosa is a French cocktail made with Champagne and orange juice. The key difference between the two drinks is the type of sparkling wine used and the fruit puree or juice.
What are Bellinis?
A bellini is a classic Italian cocktail made with white peach puree and Prosecco sparkling wine. It's a sweet, fruity, and effervescent drink that's perfect for special occasions or just a relaxing evening with friends. The mixture of the fresh peach flavor and the sparkling wine creates a unique and delicious taste that's sure to leave you feeling refreshed and satisfied.
Where did they Come From?
The bellini was created by Giuseppe Cipriani, the founder of the ICONIC Harry's Bar in Venice, Italy back in the late 1940s. He was inspired by the color of the toga robes worn by the saints in 15th-century Venetian paintings, which he likened to the color of the white peach puree he used in his cocktails.
He named the drink after the famous Renaissance painter Giovanni Bellini, who often used the same hue in his own works. And thus, the bellini was born! The drink quickly became a staple at Harry's Bar and soon became a classic cocktail enjoyed all over the world.
Prosecco or Champagne?
You use Prosecco instead of Champagne in a bellini because Prosecco has a lighter, fruitier taste that complements the peach puree perfectly. Champagne, on the other hand, has a more robust and toasty flavor that can overpower the delicate taste of the peach.
Plus, Prosecco is also less expensive than Champagne, making it an ideal choice for a cocktail. The Prosecco adds a crisp and refreshing bubbly texture that balances the sweetness of the peach puree, making every sip a delightful experience.
So, it's a no-brainer - Prosecco is the way to go for a classic bellini!
Ingredients
There are so few ingredients in this drink it's imperative that they all be high quality - but this is especially true of the peaches. This is another reason I prefer to use frozen, as peaches are rarely in season where I'm from, so using frozen is a good bet.
Also - the traditional recipe calls for white peaches - which are even harder to find than regular, ripe, quality peaches. So if you can get your hands on some good ones (I'm jealous), by all means, go for it.
Otherwise, regular yellow peaches are fine (and they look gorgeous in this drink!).
Here's what you're going to need:
Frozen yellow peaches: These provide the sweet, juicy, fruity flavor that is the star of the bellini. Yellow peaches are usually sweeter than white peaches, making them the perfect choice for this cocktail.
Sugar: We're using just a hint to balance out the tartness of the lemon juice and enhance the sweetness of the peaches.
Lemon juice: Adds a touch of tartness to the drink, cutting through the sweetness and adding a bright and tangy flavor.
Prosecco: The sparkling wine provides the bubbles and effervescence that make the bellini so refreshing. Prosecco's light and crisp flavor compliments the peaches' sweetness perfectly.
How to Make a Bellini
First things first, let's thaw our frozen yellow peaches. You can leave them in the refrigerator overnight or place them in a bowl of warm water for about 20 minutes.
Once the peaches are thawed, it's time to make the puree. Add the thawed peaches, sugar, and lemon juice to your blender. Blend everything together until smooth and creamy.
Grab a champagne flute and fill it with about 2 tablespoons of peach puree.
Now it's time to add the Prosecco! Slowly pour the chilled sparkling wine into the glass, being careful not to disturb the puree.
Give everything a gentle stir, and voila! Your bellini is ready to be enjoyed.
Repeat the process for as many Bellinis as you want to make, and serve them immediately.
Tips & Tricks
Use ripe peaches: The sweeter and juicier the peaches, the better your bellinis will taste. Make sure to use ripe peaches; if they're not available, use frozen ones instead.
Chill everything: To ensure a refreshing and crisp drink, make sure your peaches, lemon juice, and Prosecco are well chilled before you start mixing.
Adjust sweetness to your taste: If the peaches are very sweet, you might not need as much sugar. Taste your puree before you start mixing, and adjust the sweetness to your preference.
Use a fine-mesh strainer: This is only important if you're blender is giving you trouble, and leaving behind fibers from the peaches. Using a strainer will give you a smooth puree that's free of any chunks or fibers, making for a velvety, creamy bellini.
Pour slowly: When you're adding the Prosecco to the glass, pour it slowly to prevent the puree from getting disturbed.
Serve immediately: bellinis are best served fresh and bubbly, so make them right before you serve them.
Variations
Here are some fun variations on the traditional peach bellini that you can try:
Mango Bellini: Blend frozen mango with sugar and lemon juice instead of peaches to make a sweet and tropical bellini.
Strawberry Bellini: Replace peaches with strawberries for a juicy and fruity twist on the classic.
Raspberry Bellini: Use frozen raspberries instead of peaches for a tart and refreshing take.
Peach-Nectarine Bellini: Mix equal parts of peaches and nectarines for a sweeter bellini with a unique flavor.
Peach-Pineapple Bellini: Add a little bit of pineapple juice to the peach puree for a tropical and refreshing bellini.
Peach-Mint Bellini: Add a few fresh mint leaves to the peach puree for a cool and refreshing twist (This one is my particular favorite - and you can get a bit of the same effect if you garnish with fresh mint as well!).
How to Serve a Bellini
Bellinis are versatile and can pair well with a variety of foods. Here are some ideas:
Brunch: bellinis are often associated with brunch and go well with breakfast items like eggs, bacon, and pastries.
Seafood: Light and refreshing bellinis pair well with seafood dishes like crab cakes, lobster, and sushi.
Salad: bellinis's light and fruity flavor complements fresh and crisp salads.
Fruit: bellinis are a natural match for fruit-based dishes like salad or skewers.
Dessert: bellinis's sweet and fruity flavor makes them a great choice to pair with dessert items like fruit tarts or sorbets.
Making Them Ahead of Time
Bellinis are best poured and drank right away, but you can absolutely make the peach puree ahead of time. In fact, it's great if it sits and chills in the fridge for a few hours.
The peach puree can be made up to 2 days ahead of time (although it's best to be as fresh as you can make it). Make sure to store it in an airtight container in the refrigerator until you're ready to use it. Just remember, that the puree will lose some of its freshness over time, so it's best to make it as close to when you want to serve the bellinis as possible.
📖 Recipe
Bellinis
Bellinis are a classic cocktail. Bright, fruity, sweet and refreshing, there's nothing not to love here. Plus, they're easy to make!
Ingredients
3

C

frozen peachehs

thawed

3

tablespoon

sugar

2

tablespoon

lemon juice

1

bottle

Prosecco

chilled
Instructions
Thaw the frozen yellow peaches in the refrigerator overnight or in a bowl of warm water for about 20 minutes.

In a blender, puree the thawed peaches with sugar and lemon juice until smooth. Give the puree a taste at this point, and add more or less sugar and lemon juice as needed.

Fill a champagne flute with about 2 tablespoons of the peach puree.

Slowly pour Prosecco into the glass, being careful not to disturb the puree.

Stir gently and serve immediately. Garnish with fresh peaches or fresh mint, if desired.
Notes
If your blender isn't super powerful, and you're seeing some larger chunks of peaches afterward, p

our the puree through a fine-mesh strainer into a pitcher to remove any chunks or fibers.

This makes a pretty large recipe of bellinis, definitely to serve a crowd. To make it for 2-4 drinks, follow these instructions:
Ingredients:
1 cup frozen yellow peaches
1 ½ tablespoons sugar
1 tablespoon lemon juice
½ bottle of Prosecco, chilled
Instructions:
Blend the frozen peaches in a blender or food processor until smooth.
Add the sugar and lemon juice to the puree, and blend until well combined.
Divide the puree evenly between two chilled champagne flutes.
Fill each glass with Prosecco, up to ¾ full.
Stir gently to combine the puree and Prosecco.
Serve immediately, garnished with a slice of fresh peach, if desired.
Nutrition
Serving:
3.5
oz
Calories:
88
kcal
Carbohydrates:
12
g
Protein:
1
g
Fat:
0.2
g
Saturated Fat:
0.01
g
Polyunsaturated Fat:
0.1
g
Monounsaturated Fat:
0.04
g
Sodium:
14
mg
Potassium:
157
mg
Fiber:
1
g
Sugar:
11
g
Vitamin A:
188
IU
Vitamin C:
4
mg
Calcium:
11
mg
Iron:
1
mg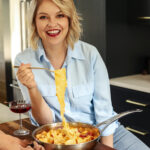 Hi, I'm Cara! I'm a food writer, journalist, and recipe developer. I'm obsessed good food, good wine, good cocktails and entertaining. I've picked up a few tips over the years, and love sharing them with others.